DONUT 1: Spurs 107, Heat 86 ...
Chris Bosh says it's time for the Heat to engage in some "soul-searching.'' LeBron James says, "There won't be much of that.''
And there, in seven out-of-synch words, you have Miami's dilemma down 3-1 in the NBA Finals after San Antonio's magnificent 107-86 dismantling of them Thursday in South Beach. Miami is not talking on the same page, thinking on the same page, playing on the same page.
It would be an error, though, for history to write this story as if the top headline is the "failure of The Heatles.'' The success of the Spurs -- the first road team to ever win back-to-back Finals games by 15-or-more points -- shoul be the central story here.
And increasingly, a sidebar to this Finals is Mavs-involved. Few clubs have been able to top LeBron's Heat in the postseason. The Mavs are on that shortlist. No teams have truly tested this year's Spurs in the playoffs. The Mavs are alone on that shortlist.
DONUT 2: Melo to the Mavs? ...
You -- and the
Dallas Mavericks
-- have attempted to march down this path before.
It goes all the way back to Joe Smith. Was a non-starter with LeBron James. Seemed half-assed with Deron Williams. Went nowhere with Chris Paul. Resulted in bridesmaid status with Dwight Howard.
And here we go again.
And here we must go again.
Anthony is an imperfect superstar - as most of them are. But as Dallas is in search of Dirk's heir, 'Melo simply must be on the Mavs' shortlist - especially if they are on his.
Here, a Premium examination of just how cartoonish 'Melo-to-the-Mavs really is.
Meanwhile, we're also working on a story that would demonstrate the nuts and bolts of
'Melo opting out (as the NY Daily News insists he plans to do)
and joining the Heat. Stick with DallasBasketball.com for that.
DONUT 3: International Man of Mystery ...
In what might've been way too much of a "throwaway paragraph'' on my part, I recently wrote:

The Mavs remain the best franchise in basketball when it comes to knowledge of and connections with overseas players. The rest of the NBA is catching up to GM Donnie Nelson in that department, but he gave himself a decade-long head start on most; he still remains an "international basketball ambassador'' in many countries.
Our man David Lord is preparing a counterpoint to my view ... and I think, preparing to roast the Mavs for riding this reputation way too long with nothing of substance to prove it.
Stay tuned.
DONUT 4: A recent pre-draft workout ...
The Mavs are continuing pre-draft workouts with eligible prospects. DB.com with one of our numerous looks inside the AAC:
Under the watchful eye of Mavs staffers Kevin Stacom and Mike Procopio, mid-week pre-draft workouts at the AAC featured Big East star Bryce Cotton, UNLV forward Mike Moser, OU wing Cameron Clark and 'The King of Memphis' Joe Jackson.
Mike Moser of UNLV, a 6-8, 204-pounder projected as a power forward. Moser is 23, started at UCLA before transferring, and as of two years ago was projected as a possible first-rounder. He's apparently second-round material now.
Joe Jackson is 6-0, 170, a playmaker who took advantage of the talent around him to serve as Memphis' distributor. His quickness allowed him to average 1.6 steals per game last season.
Jackson's nickname? "The King of Memphis.''
Cameron Clark is from Sherman, Texas, a product of the University of Oklahoma.
Clark, at 6-6, 210, might be able to play the 2 and 3. He's 23 years old and could be a mid-second-round pick.
Bryce Cotton has had workouts at San Antonio, Utah, Sacramento, the Clippers combine, Miami, Boston and now Dallas. His agents tell DB.com he is scheduled for Indiana, Wizards, Cleveland and Philly. He is tentative for New York and Charlotte.
At Sacramento, Cotton set the workout shooting record. At Boston he is now in the top three among performers of their "marathon" exercise.
Here's his highlight reel as he earned Big East tournament MVP honors:
Cotton (6-1, 165) is the Friars' fourth all-time leading scorer and this year also led the club and the Big East in assists (5.9) while finishing second in scoring (21.8). He'd been a 2-guard before this season, part of his growth with
Providence
after receiving few scholarship offers out of high school in Arizona.
Dallas had at least four more kids in on Wednesday for workouts, DB.com is told. Poke around the site for that information and so much more!
DONUT 5: Pre-Draft focus ...
DB.com is told the Mavs' pre-draft workouts will focus largely on two-way "hybrid'' 3/4's. But they will of course explore players at every position and players like the aforementioned who might be projected as late-second-rounders.
Dallas presently holds two second-round picks (at Nos. 34 and 51). But interestingly, DB.com has learned that at least two of the Mavs pre-draft invitees might be projected as first-rounders (
our list of Mavs pre-draft workouts which you can read exclusively here)
... and there was a day this week when the four 7-footers came to town ... so again, they are exploring.
The
interest in Dario Saric - a lottery-level kid -- is also very real
and worth exploring.
And DB.com will continue to explore right along with the Mavs.
DONUT 6: One-click info ...
Looking for specifics in
DB.com Archives?
For instance, our collection of Exit Interview stuff from Rick, Dirk, Devin, Marion, Vince and more? In this example, simply type "exit'' into the search box and in one click, you have at your fingertips all the information you need!
DONUT 7: Thanks to our sponsors! …
We can't do our think around here without the help and friendship of sponsors like
Red Rock Bar & Grill
,
LS Wealth Strategies
and
McKinneyDentist.com,
which has been with DB.com for 14 years and with the Fisher family for almost 20! Give 'em a click or a call!
DONUT 8: 'Oh my God!' ...
Speaking of DallasBasketball.com's 14 years: It remains one of the most popular pieces we've ever published. The talented Glenn Yoder -- a newspaper guy based in Boston but a lifelong Mavs fan -- captures perfectly the feeling we all had three years ago when Yes. We. Did.
"Oh my God... They're going to win!" I must have yelled that 10 times, each holler louder than the last, and within 30 seconds, as Dirk Nowitzki's face showed that he was experiencing the same thought, I cried.
On
the three-year anniversary of the Mavs' world title, a reminder of how it all felt.
DONUT 9: Father's Day ...
I highly recommend
Estilo Gaucho
for your special event. ... or to make any dining experience a special event! This is a perfect fit for Father's Day Weekend so call David and make your reservations today!
DONUT 10: Monta's role ...
I would love for Dallas to make Summer Shopping acquisitions that are so impactful that Monta Ellis becomes this team's sixth man.
I'm not very certain that's happening.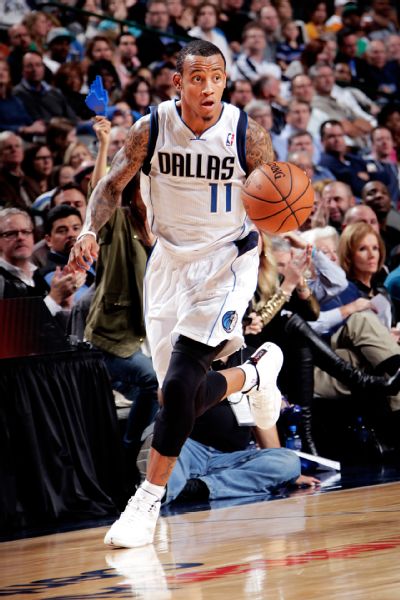 I would also love to be absolutely comfortable with the idea that Monta would accept a "Jet-like role'' without balking.
I'm not very certain that's happening, either.
DONUT 11: Raw Dirk ...
One of the aspects of DB.com that we're so proud of is the ability to bring you the Mavs in their own words. It's a long-standing Mark Cuban complaint regarding the media and I've heard it uttered in so many locker rooms over the course of 32 years of covering pro sports:
"I was misquoted.'' Or maybe misinterpreted. Or misunderstood.
DB.com's Willie Martin hustled around with Dirk Nowitzki the other day to record Dirk's thoughts on free agency and the Mavs ("I don't think we're as far away as some people think,'' he said.)
You can read the full story here and check out two more Dirk videos as he hoops it up with the kids.
But below you see the "in their own words'' benefit of a Video Visit with Dirk, leaving him "talking raw'' and leaving you, the DB.com reader, in charge of your own interpretations.
Enjoy!
DONUT 12: The Final Word ...
"Cuban is like an owner-slash-friend-slash-mentor to me ... We all know I kind of grew up here in the Mavericks' (organization)." - Dirk.