LeBron James shocked the basketball world Tuesday with news that he plans to opt out of his contract and become a free agent this summer. While it had been known that an opt out was a serious possibility for the Miami superstar, the timing was surprisingly abrupt. Bam, out of nowhere.
But what caused the most reaction was the news that LeBron's announcement was a unilateral decision, one made without consulting either teammates Dwayne Wade and Chris Bosh, team president Pat Riley, or owner Micky Arison. The announcement came from his agent and took the entire Heat franchise by surprise.
It came in the wake of a season that, despite LeBron's continued brilliance, went up in flames. The entire season was a struggle, Wade with constant health issues and being regularly mothballed to save him until later, and it culminated in a Finals so one-sided that the Heat set the embarrassing record of the worst margin of defeat in NBA history. At the end it looked very much like a sinking ship.
And there were plenty of culprits. Before and during the season, Arison jettisoned contracts and shunned added spending, willing to risk wins for the sake of his own wealth. The Medium Two (it's no longer the Big Three there) of Wade and Bosh, both on near-max deals like LeBron, no longer seemed capable of pulling their own share of the load as in years past. Gradually the team had morphed into more and more of a LeBron one-man show, totally dependent on LeBron to single-handedly carry them to wins, like what motivated him to leave Cleveland. After the season fell short, Riley chose a press conference to brazenly laud his own leadership, take credit for all the success, place the onus on the players for not winning the title, and deride as "gutless" anyone who might consider leaving the team.
Despite all that, before Tuesday there had been a belief in some NBA circles that LeBron might choose to forgo the opt out and give the Heat a year to right the ship, before locking himself into a long-term deal with anyone. Even the possible salary numbers encouraged that thought, as his existing deal for the 2014-15 season had been for $20.59M and a new one may have to be for less due to max salary restraints. (Max salary is based on the cap, which won't be known until July. His max cannot end up less than $20.02M, but is iffy to reach $20.5M with a cap around $63M as expected.) And, many asked, hadn't the Heat been to the Finals every year he has been there? Wouldn't he show some patience?
Yet in one swift act, LeBron served notice to everyone in Miami, and around the NBA. He's not willing to sit back and allow his future to be controlled by those who aren't willing to pay the price. Riley's in-your-face challenge to the Heat – and LeBron in particular – to do "whatever it takes" to stay together and take responsibility to solve the Heat issues was answered with a move that said: "Let's be clear: I can move forward with you or without you. Let's see what
you
have to offer."
It's far from a given that he will leave Miami. He has a home there, and they have had success, even if the most recent season ended in a spanking.
But the door is now ajar for him to leave Miami.
IMPACT ON THE LEAGUE
LeBron's announcement impacted all 30 NBA teams, either directly or indirectly, and the revelation that he's chosen to act alone (with the implication that he might readily be available) made it even more of a game-changer. That impact began immediately.
What is required to land him? As the league's best, LeBron is likely to demand a max deal as outlined above (in round numbers, a starting salary in the $20-20.5M range). Teams already positioned to chase Carmelo Anthony could easily join the chase for LeBron, in hopes of landing one superstar or the other, since Melo's max of $22.456M is bigger than one for LeBron. For example, within 30 minutes of the LeBron announcement, the Houston Rockets were already leaking a planned pursuit to their fans and the world via the Houston Chronicle's online edition.
So how will this work throughout the league?
• With $32 million in cap space, your Dallas Mavericks are clearly well-positioned to make a run at LeBron if they wish. If you choose not to invest yourself in that pipe dream, you are well-justified. But if you wish to know the details of how it look on the Mavs' part, you've come to the right place and we'll show below how that might work.
• There are 5 other teams who will have the needed cap space in July to offer LeBron a max deal: Phoenix, Philly, Utah, LALakers, Detroit.
• If you're curious, only Phoenix currently has more cap space on tap than Dallas, and if they make a qualifying offer to Bledsoe as expected, Dallas should enter July with the most spending room.
• Cleveland ($16.7M) and Atlanta ($14.5M) are two teams with not enough cap room but said to be considering how to get more and get in the hunt.
• Two other teams who have no cap room slated at all (Houston and Chicago) are believed to have already lined up ways to be able to clear the needed cap room for Melo (and now LeBron), and the LA Clippers (also without cap room) are reportedly scrambling to figure out if they can get involved as well.
• A cautionary note: the quest to get LeBron (or Melo) will not be decided by who has the most room, but rather by who can persuade them to join.
• As teams move to clear cap room, or move to make their team more appealing, many other players and teams than LeBron, Melo, and their destinations may be altered.
• Even teams on the outside of the chase, who might not appeal to either player, may be solicited to help provide cap room via trade.
• Other free agents are also affected, as they each moved one slot lower on the preference list of every NBA team.
• At max numbers or close to it, no team is positioned to land both LeBron and Melo. Even if a team could clear that much cap space, they would have two small forwards eating up almost 70% of their roster payroll, leaving a next-to-impossible challenge of adding all the other pieces needed to build a winner (big men, point guard, depth) with only about $17M to do so.
• Amid the flurry of trade activity surrounding the NBA Draft each year (which occurs this Thursday), there now may be the added opportunity of teams offering talent coupled with picks, to clear cap space for a superstar chase. Getting LeBron or Melo might not be the only way to "win" this summer's roster-building exercise; there may be giveaways galore.
WHAT CAN MIAMI DO TO KEEP HIM?
For Miami to keep LeBron, they have to deal with the problem of their crumbling talent core. The Finals showed that Wade – despite being coddled all season - is no longer the player he once was. Bosh has remade his game for the worse, from a 20/10 star to a perimeter-hanging, good-but-not-great stretch 4 whose production has sagged to 16 and 6. The roles players are aging (or done), the bench is thin, and only the ability of LeBron to pick up the slack all over the court made this team a contender this season.
To that end, it is believed that the route to keeping LeBron would require both Wade and Bosh to opt out of their $20M deals before June 30, thereby allowing the Heat to either sign them at a reduced salary or replace them. But it is unknown if such a plan has been discussed, or if they would be willing.
If any one of the Heat's threesome is unwilling to accept a discount, it is believed that none will. And in such a case, the team's most likely route to new talent would be to make do with a Mid-level Exception ($5.3M) and Bi-Annual Exception ($2.1M) while passing on the chance to keep some of their own existing free agents. Combined with the decline of Wade and the bare talent cupboard, such unexciting prospects fuel the perception that LeBron may indeed feel an urgency to find another team.
Significant salary discounts (such as Lebron, Bosh, and Wade taking new starting salaries of $19M, $15M, and $11M respectively) would enable the Heat to upgrade the remainder of the roster, especially at the PG and C positions where the Heat have struggled to find answers. But one issue they would have to resolve before agreeing to do would be Arison's recent salary approach, given that the Heat had cap-allowed opportunities to add talent this past season, but chose instead to put money in Arison's pocket by not using their MLE, and giving away backup talent. How do you regain that lost trust that once the players will do what it takes, the owner will step up as well?
HOW ABOUT THE MAVS?
Dallas is well-positioned to make a run at LeBron if they wish, as they had already made plans to try to court Melo with some of their $32M in cap room. Even after Dirk gets his new contract starting at about $10M or so, there will still be room for either player, if the Mavs can close the deal.


Outlining the Potential LeBron-Chasing Game Plan for the Mavs
At the start of July, barring any interim moves, the Mavs' roster (including Dirk) will look like this:
C – Dalembert, Wright
PF – Dirk
SF – Crowder
SG – Ellis, Ellington, Ledo
PG – Calderon, Larkin, Mekel
2nd round picks - #34, #51
Free agents - - Blair, B James, Marion, Carter, Harris
With the expected salary cap (to be revealed on July 8) of $63.2M, the Mavs would start with right at $32M in spending room (subtracting $500,000 for each empty roster slot, as the NBA does). We'll pencil in $10M to Dirk, which leaves $22.5M (we regain $500,000 since one of the empty slots has been filled).
Then, if the Mavs can sign either LeBron or Melo, they can fill all the following needs in one player:
• new younger starting SF (replace Marion's contribution)
• strong rebounder(replace Marion)
• score in a variety of ways, including the arc at times (replace Marion, Carter)
• back up Dirk at PF (replace Marion)
• shot-creator (replace Carter)
• bring the ball up the floor and pass (replace Harris, Carter, Marion)
• provide added defense (replace Marion) – this could be provided by LeBron, maybe not Melo
• physically dominant player who is not undersized (replace Marion)
Last season, it cost the Mavs almost $14M to fill those needs with multiple players. Getting all that done by one player, who can put all those contributions on the floor at the same time, would be well worth the $20M or so it will cost.
After signing Lebron (or Melo), the Mavs would still be able to add more talent. They could sign one player with their remainder of $~2M in cap room (with Dirk taking $10M and with a LeBron max, or also with Melo if he would sign for a similar amount as LeBron's max), and another with the Room MLE of $2.7M, plus others using minimum salaries. That might be enough to be able to find a way to satisfy most if not all of their free-agent veteran base of Marion, Carter, Harris, and Blair, if they wanted. And maybe in there they get a ring-chasing talent who wants to come aboard, like Ray Allen.
After all that, there's still the potential to package the likes of Wright, Ellington, and maybe others into a trade package (or sign-and-trade) to add another defensive-minded or two-way center to the mix, with the ability to take back $11.5M in salary (and even more perhaps).
Names like Asik, Gortat, Sanders, and Chandler fit here
, and
there may be others like Gasol once you plow through the semantic arguments, as well.
Then again, the Mavs may feel that they would be better served to keep Wright and Ellington and bank on system familiarity and internal improvement from the two 26-year-olds.
At the end of the pipedreamy day, the Mavs might be able to offer LeBron a potential depth chart lineup like this:
C – Dalembert, Chandler
PF – Dirk, Blair
SF – LeBron, Carter
SG – Ellis, Ray Allen
PG – Calderon, Harris
Developing – PF/SF draftee, Crowder, Ledo, Larkin
Are the Mavs really interested?


The Mavs have yet to comment on their intentions with LeBron, and they can't actually mention him on the record until July 1, due to NBA tampering rules. But based on what we know of their thinking, we have to assume that they will pursue him as strongly as they plan to do with Melo.
That means making both players a priority while also working on
backup plans in case they land neither (Luol Deng, Trevor Ariza)
, like they did last summer with Dwight Howard.
It needs to be noted that, in the past, we have been told by some who know their thinking that with all their looming cap space, "if" LeBron hit the market this summer the Mavs believe they would get a legit shot at him and would eagerly welcome the opportunity. The last time he was on the market, they had to downplay their interest because they lacked cap space and could only join the party with the cooperation of the Cavs, using what we called The Dust Chip. This time it's different.
One other point needs to be made about their willingness to pursue LeBron, as well as Melo.
Remember when the Mavs won that title, and then broke up that team because they felt they needed to prioritize their ability to chase superstars when they hit the market? Now's that opening. LeBron is the super-starriest player there is, and if they don't go all out, they have really lost their way.
If they don't think they can close this deal, and others like it, swallow some pride and hire a negotiator or salesman who can. This is really where Pat Riley won two titles for Miami, and the Mavs need to make it happen this time.
Is there any way to land LeBron or Melo?
It's widely assumed in many quarters (and even with Dirk), that even if the Mavs give it their best sales presentation, they can't win.
(At least that's what Dirk says privately. His 1-on-1 with DB.com paints a different picture about hi recruiting plans and more.)
LeBron and Melo are going to pick other teams, because the Mavs can't match up.
Is that true?
We think there's potential here. But the key should be to sell those players on what they can only get in Dallas, and nowhere else, and then let the chips fall where they may.
If they do it that way, I think there are two big advantages the Mavs have and should exploit. First is the fact that, other than SA, the place where you win by playing ball "the right way" as a team rather than as stars trying to be star-like is in Dallas.
Going to these young men and presenting "Dirk and Ellis" in a game of "show us your glitteriest running mates we'd get to play with" leads to comparisons to pairs like Howard and Harden (Houston), Noah and Rose (Chicago), maybe Griffin and Paul (Clippers), and more, and in light of Dirk's age the Mavs may have a hard time winning that test.
But if I'm the Mavs, I revise that focus to show (using game videos, in fact) that in Dallas, it's all a game about team, not "pile of individuals."
Yes, having stars is nice, and they can take you a long way in the NBA. But ultimately, as the Spurs reminded, winning is about the best team, not a collection of individuals. These are basketball guys, and they will be available to a new team because they have learned again what they were taught all the way back in AAU ball, that Team trumps SuperPlayer. Five are better than One.
The Mavs, in 2011, gave that very lesson to Miami and its star-studded threesome. This year the Spurs dominated Miami because 8 players playing team ball can beat the best player in the world having to do it all. Want to win? Come here, where we know how to play team ball …and we're really good at it. We have the system and the players to match and potentially out-team the team ball in SA, and with you we'll be the best.
If LeBron or Melo land here, they won't have to be the one-man show like elsewhere. There's a very distinct system already in place, one that just happens to have the exact need in the lineup that they can fill ideally. Without them, the system and team here almost beat the Spurs, and with them it can. No more hero ball, just a system of moving, passing, shooting, and defending that relies on team working together rather than alternating hero-ball.
Tired of being worn down from carrying the load? This is where a player should be, letting the system focus his superb talents rather than having to cover for everyone else.
"We already have a center (and maybe two, when the dust settles). We have shooters, ball-handlers, passers, guys who attack the basket, and lots of talented pieces that can take the load off. You'll stand out anywhere you go, but in Dallas you won't have to carry the load alone in any area. We have a superstar that knows what team is, and you can work together to win more. It's Rick, it's Dirk, it's Calderon and Ellis, it's a whole mindset here that's focused on using team to make it even better."
Make no mistake, especially about LeBron. He's shown all his career that he wants to play a style where it's about team and about playing the right way. A place like Dallas, where the hero ball is replaced by team playing together and winning, is where he can play the style of ball he really craves. And other than SA (which is not in the race for either player), no other team can offer team ball with the winning potential like Dallas. He can get to carry the load once again anywhere, alone or as part of a duo or trio, but he can be part of a real team that wins as one in Dallas.
That's Point One, and I think it's what LeBron really wants (and maybe Melo as well), even though he may think he needs to look for other iso-game glittery stars as the way to take the load off. The Mavs just need to make sure, with videos and more, that they see what it is they really want.
But Point Two may matter just as much to LeBron, in light of why he would be leaving Miami.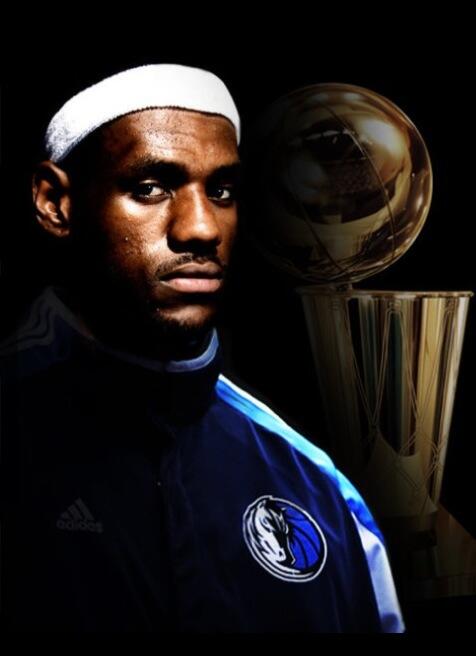 To put it bluntly, in Miami Lebron has just come off a year where he may feel that he was screwed over by the owner. Having sacrificed financially to go there in the first place, he found that when it came time for the owner to reciprocate and pay more salary and tax to fill some needs, Arison went the other way.
In contrast, Mark Cuban has fully demonstrated that he will pay the freight when he thinks there's a title on the line. Over the years, he paid more tax, and did so in more years, than any other team except the Knicks. When it's time to pay, he's not bailing out on his players.
If it was my presentation, I'd remind LeBron of the options that the Heat passed on, to save a few dollars for the owner. Then I'd bring out a chart showing all the green over the years that Cuban has spent to win, and compare it to the relatively little piles the other owners have owner been willing to invest. If you want an owner/partner in efforting to win titles, it should be Cuban and Dallas and nowhere else.
Will those points resonate? Can Dallas actually land the superstar this time? No one knows, but even if it looks like a pipe dream at this point, I'm eager for them to try like there's no tomorrow. Every great salesman knows that you never get the sale unless you ask for it.

Our focus again turns to the Mavs and the draft and free agency. And again, we'll share with you all the inside tips as we encounter them, to keep you abreast of the Mavs as they work to improve going forward. You can be a part of it via the depth of DB.com Mavs News including our inside stuff on "secret'' Mavs pre-Draft visitors and the latest on interest in Tyson Chandler and with 24-hour-a-day discussion on DB.com Boards. And we appreciate your enjoyment of and contribution to DallasBasketball.com on whatever level you choose.

But we also invite you to join us as a Mavs Premium Member as we let you into the practices, the locker room, the games and the front office ... Go Mavs and Go Premium!