Today's
Dallas Mavericks
Donuts are sponsored by our friends at
Red Rock Bar & Grill.
DONUT 1: Dirk meets Melo ...
During a recent at-large media session, Dirk downplayed the idea that his presence at a face-to-face meeting would serve as a Carmelo Anthony recruiting tool.
But that day is here. So is Melo. So is Dirk. And the truth all along? I asked Nowitzki in a 1-on-1 visit about his true role.
"It's not necessarily the thing I feel the most comfortable with,'' Dirk told me. "But it's part of the job and part of free agency. We never made a big deal about this last year but I was in Los Angeles to try to recruit Dwight (Howard). So yeah, if it's me and (coach Rick) Carlisle on somebody's doorstep over here and Cuban and Donnie over there, that's what I'll do. ... I will do whatever is needed there.''
The doorstep is in Dallas. What is necessary, obviously, is Dirk's presence alongside Cuban and Carlisle.
DONUT 2: The four key points ...
What does Cuban hope Melo values? He puts it into one sentence, telling 105.3 The Fan that he'll make clear "why we think it's better (in Dallas) than where you are or where your other options are. And so that applies to playing with Dirk, coaching, our style, our culture.''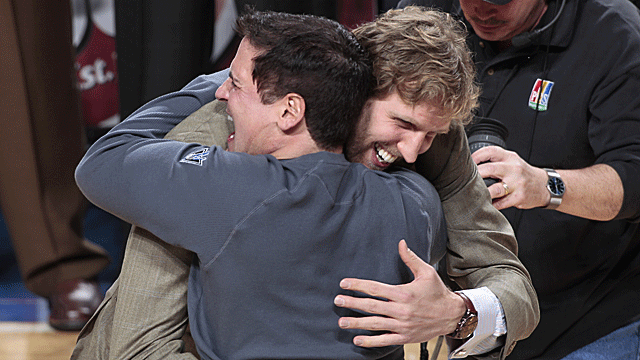 Let's expand on the four-point outline, including the Mavs organization's subtle belief that not only must it sell Melo on them, but also that they want to hear the right things from him:
Mark Cuban says the Mavs need to determine in this free-agent Summer Shopping process which players are in it for the money and which are in it for the title contention he believes Dallas can offer.
That explains why Cuban sent out, via an ESPN interview, a trial balloon insisting he doesn't wish to pay anyone a max contract of the sort Carmelo Anthony is due.
And today, Carmelo Anthony gets a chance to show whether he values contention as much as he does cash.
Yes, this afternoon sitdown is primarily about Dallas pitching itself to Melo and not the other way around. But in such a proposed marriage, it would be nice if both partners have shared values.
What does Cuban hope Melo values?
He tells 105.3 The Fan that he'll make clear "why we think it's better (in Dallas) than where you are or where your other options are. And so that applies to playing with Dirk, coaching, our style, our culture.''
And there's your four-step outline.
Soon enough we will learn who attended the pitch meeting along with Cuban, Carlisle, Donnie and Rick. (TY?). And where it was staged. (AAC? Steakhouse? Saloon? Private residence?) And just what dog-and-pony aspects were tailored to appeal to Melo. (Will there be superhero cartoons?) But for now, those four outline items: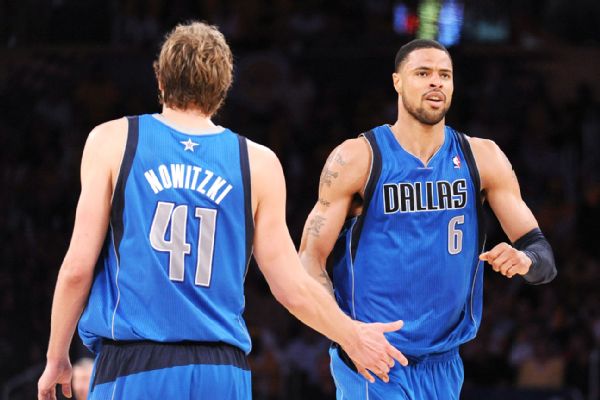 *Dirk's keychain.
Anthony has never had a teammate like Dirk, a star on his level who epitomizes unselfishness. This can be Dirk's team on the nights Melo wants it to be, or Melo's franchise whenever he wants that. Anthony will be the anointed one -- anointed by Dirk with the "keys to the city.''
The words "shared sacrifice'' will be used. Dirk is a $20-mil superstar willing to take substantially less to make room for Melo? That should strike a chord as Anthony watches powerhouses in Miami and San Antonio do the same. ... They are beating opponents AND beating the CBA.
*Carlisle's mentorship.
Cuban will stress that the San Antonio playoff series was a showcase for the sort of elite coach Melo will find nowhere else. The Mavs will demonstrate how Rick and staff turn scrapheap players into good players (Brandan Wright), how they turn bad reps into good reps (Monta Ellis) and how Carlisle adjusts on the fly to his talent and to situations.
There are only four active coaches with rings. Carlisle has one ... and in fact, has three, in a box, stashed in his office, representing his Albany Patroons minor-league title as a player, his Boston Celtics time as a player, and his 2011 title in Dallas, when his less-talented Mavs overwhelmed the gaudy and haughty Heat.
The Mavs will tell Melo that Rick will do all those things for him, give him all those same opportunities ... but with a lineup featuring Anthony, Dirk, Chandler and Ellis, neither Melo or Carlisle will have to be "undermanned'' anymore.
*Dallas' organizational style.
Cuban will stress to Anthony that he, as an owner, is in constant go-for-it mode, that this title-contention process has been going on for 14 years, that it will continue with a Melo-Dirk-Monta-Tyson quartet ... and march on next summer with some more Dry Powder and a chance for another big add.
("Melo, you can help bring LaMarcus Aldridge home!'')
Fourteen years under Cuban. Thirteen playoff appearances. Two Finals berths. And a title. That's the Cuban Era track record. The commitment here starts with fluffy towels in the locker room, extends to being cutting-edge with technology and extends towards big spending to support Dirk's heir in the coming "Melo Era.''
How much will Dallas mention that in Chicago, the Bulls have played in 23 playoff games since 2011 and their foundational star, Derrick Rose, ha participated in but one of them? Or that in Houston, the Rockets have won but one playoff series in the last 16 years? The Mavs will likely stress their own positives ... but somebody might wish to slip those factoids into the presentation.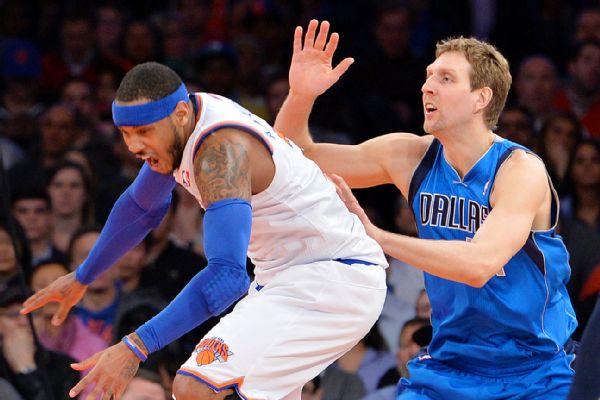 *The Mavs' 'culture.'
Dallas has done a tremendous job getting various personalities to meld, bond and fit. The zaniness in DFW generally comes from Cuban's outspokenness rather than nutty players or backstabbing coaches or disloyal staffers. The culture is a highly successful one that isn't just about fancy perks in the locker stalls; it's about the people and their commitment to success.
"I don't necessarily make it to a point to sell the city,'' said Cuban, wise because "Dallas vs. New York'' is not a winnable debate for a young millionaire and his celebrity wife. "I think that to me I try to lay it out in terms of, 'Here's our system, here's how you fit in the system, here's where the team is, as a result of that and where we are in the drive to the championship.' ... things like that. And to some guys that's important and to some it's not.''
During the Mavs' turn, they'll demonstrate their four-step commitment to winning ... and hope Carmelo is committed to the same things.
DONUT 3: The give-and-take ...
Melo's max can begin at about $22.5 million. Cuban is on-record as saying he doesn't want to pay anybody the max. But I still imagine the shorthand conversation going something like this:
Cubes: "I prefer you understand the concept of 'shared sacrifice' and what Dirk is doing to make financial room for you without you getting the max.''
Melo: "Cool. But if you give me the $22.5-mil max, I'll agree to a deal to join Dallas today.''
Cubes: "Deal.''
DONUT 4: "Cheap Trick'' ...
There is no change in the Mavs' prioritizing of Dirk. But there could be a contractual trick up Dallas' sleeve in the unlikely event Nowitzki is joined by LeBron or Melo. Here's how Dirk's 'respect money' could be granted with a unique cap move that could satisfy Dirk while also allowing the Mavs to have more cap room in both 2014 and 2015, if they land one of the big fish ... an idea we find pretty clever, if we say so ourselves:
What if Melo says yes? What if LeBron says yes?
According to our calculations, If the cap lands at $63.2 mil as has been projected, the Mavs will be left with $25.87 mil of open space. LeBron's max can be around $20 mil and Melo's max about $22.5 mil. But won't the Mavs be handicapped in their financial offer to those superstars once Dirk takes his guessed-at $10 mil or so from that cap room?
Under any circumstances, Dirk would still get a $10 mil-or-so slice of the remaining $26 mil or so, right? Maybe not.
During the courtships, we believe Dallas will discuss with them the concept of "shared sacrifice" but we wonder if, when it comes to the acquisition of the biggest of fish, that "shared sacrifice" concept could cause the Mavs and Dirk to consider a different sort of solution to the "respect" that Dirk wants demonstrated in a new deal, reduced though it will be.
As we've written before: What if the only way to sign Dirk's heir is to give that guy (let's say Melo) his $22 mil? (Yes, you'd like "shared sacrifice" from Sammy Superstar, too. We'll see.) And certainly, LeBron has let it be known that his price tag is a max deal - maybe take it or leave it.
Rather than abandoning the possibility of those superstars in Mavs uniform, here's an advantageous way they can get theirs and Dirk can still get his.
The Mavs sign Dirk to a two-year deal, but for a tiny amount. To take it to the extreme, we'll say it is literally the minimum, which on paper would pay Dirk $1.45 mil in 2014-15 and $1.5 mil the following season. .
In that event, Dirk could be signed last this summer, into one of the now-empty salary slots, and the entire $25.87 mil in cap room could be spent elsewhere.
But that second year in that scenario would be written as a player option. And the plan all along would be that Dirk opt out of that second year. At that time, in the summer of 2015, Dallas would still have his Bird Rights but the cap hold for his Bird Rights, coming off a minimum salary, would be the minimum rather than an enormous number.
That would allow the Mavs, with the expiring contracts of Tyson Chandler and perhaps Monta Ellis, to have sizable cap room again if needed, and more importantly would allow them money to land the superstar and form the foundation in 2014.
How does Dirk get taken care of "with respect" in that scenario? It's easy. After he opts out in 2015, and after the Mavs do their spending of any cap room, the Mavs could then sign Dirk to any size contract up to the max salary, which should be in excess of $20 mil. Combined with the $1.45 mil he would have already been paid in 2014-15, Dirk would still walk away with a total matching or exceeding what he would get if he signed for $10 mil or more this summer with a raise the next year.
Juggled properly, the Mavericks would then have: Anthony making the max, Dirk getting a monster raise, Chandler coming off the books but theoretically re-upping for far less than his present $15 mil (or leaving, providing more room), perhaps Ellis re-signing for a longer deal, and maybe $13 mil of Dry Powder.
This doesn't change Dirk as a priority and in fact, over the course of two years or more actually makes him more money. More money (just delayed a bit), Anthony, and the "respect" that comes with playing on a contender for a title.
Is it an extreme solution? Yes it is.
Nevertheless, it is an available CBA trick up the Mavs' sleeve if the need arises and the Mavs and Dirk want to go to extremes. ... all based on the possibility that a big fish says "yes.''
DONUT 6: Quotable ...
"Anytime you bring in a scorer of his ability, it makes it a lot easier on the rest of the guys. Obviously he draws so much attention, I think (Carmelo Anthony) would be great for us." - Devin Harris.
More of
our 1-on-1 Q-and-A with Devin here.
DONUT 7: Fish on 'The Fan' ...
Listen up!
I'm co-hosting "Nate & Fish'' all week on 105.3 The Fan from 7 to 11 p.m.
We'll be live and local sports as all the Mavs, Melo and NBA action happens and I hope you can give us a listen!
DONUT 8: 20 Doorsteps ...
Cuban reports that he and Mavs GM Donnie Nelson spent Monday night making "about 20'' touch-base contacts immediately after the 11:01 free-agent shopping window opened up.
Thanks to
DB.com reader 'DevilMaskRascal,'
we've got a handy "rumored contact list'' so far ... And we will keep updating the thread as we roll on.
Note again, some of these simply have to wait. Shawn Livingston just got a $5-mil-a-year deal ... maybe raising Devin's bar. But Devin has to wait. Vince Carter is desired elsewhere but if he wants a firm offer from Dallas, Vince has to wait.
The logjam must bust first.
DONUT 9: The 3 Financial Keys ...
Dirk thinks it's about giving a big fish 'the keys to the city.' Tyson says it's about 'how you approach Melo so he would understand what Carlisle expects.' But along with emotional approaches come financial ones. DB.com has learned that along with Cuban 'swinging for the fences'
there are three available 'keys' to open the door to the Mavs fitting in a superstar. Premium info here that is central to today's MeloDrama.
DONUT 10: Get in touch! ...
As has been the case for 14 seasons around here, we've got Mavs coverage coming all day and night with DallasBasketball.com. Stay tuned,
and hang out on DB.com Boards
as well for all the goods from inside the games, the practices and the front office ... through Summer Shopping and beyond!
DONUT 11: Small forward sitdowns ...
I'm told Dallas spent part of Tuesday
Last night, among many other things, setting up sitdowns with the next tier of small forwards.
Which means ...
*The February Flirtation
continues with Luol Deng.
*Trevor Ariza
figures prominently
though I wonder if the choice between him and Deng becomes less about talent and more about financial availability.
*Chandler Parsons is a Mavs target
even with the obstacles present for a RFA.
Gordon Hayward in Utah, by the way, is in the exact same boat.
DONUT 12: The Final Word ...
"I've learned with Mark and Donnie that anything is possible. Anything is possible with those two guys." - Dirk Nowitzki.