Cuban in Cleveland:
We've moved beyond the point of having to
double-check Mark Cuban's Cleveland whereabouts; he was there in recent days.
We've also moved beyond having to figure out the "why.''
Tucked somewhere into the Mavs owner's pitch to LeBron agent Rich Paul (who has his Klutch offices in his hometown of Cleveland and is conducting preliminary meetings without James present), I'm told Cuban is likely to have made two key points:
1) What if you didn't just play for a "Superfriends team'' but rather, played where the "team'' came before the "super''? Where an incredible collection of unselfish individuals could share the load (as opposed to Miami's possible future, in which it's LeBron "and them'')?
Team ball (and coaching) almost allowed Dallas to upset San Antonio in this year's playoffs. Team ball and coaching and LeBron?
Dallas will be better than the Spurs.
2) Did Miami do everything possible to win? Specifically, did Miami's ownership do so?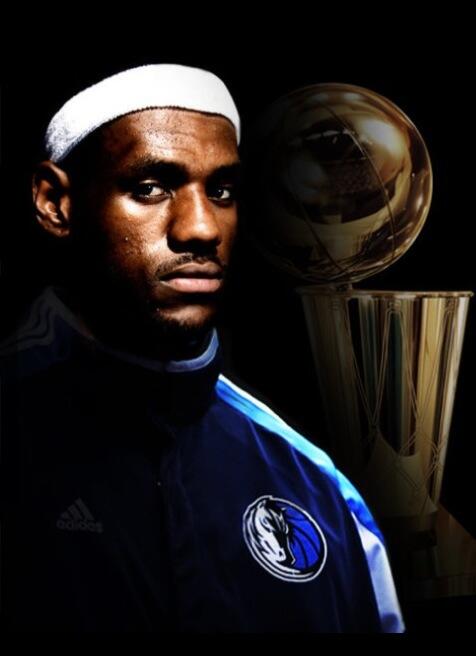 It's delicate; Cuban isn't going to blast Mr. Arison here. But James sacrificed financially to go to Miami, and this past year, it could be argued his owner didn't reciprocate with financial sacrifices of his own. With Wade and Bosh fading and in their final contractual years (with the opt-outs), wouldn't this have been the season for Arison to break open the piggy bank?
Again, treading politely, Cuban needs to note to Rich Paul that when a title is possible, Cuban is a spender. Dallas has paid more tax, and done so in more years, than any other team except the Knicks.
Much of Mark's communication this week has been on his CyberDust app, and a DB.commer on Saturday asked him "how the 'Shark Tank' commitment meeting in Cleveland went.''
Our inquisitive pal, of course, made the 'Shark Tank' reference because Cuban himself had done the same thing with ESPN in explaining his presence in Ohio.
"Extremely well, thanks,'' Cuban wrote back.
Aha!
Is it still a one-percent-chance thing? Yup. But it's a a one-percent-chance thing that went "extremely well.''
By the way: According to our calculations, LeBron's max cannot end up less than $20.02 mil, and is iffy to reach $20.5 mil with a cap around $63 mil as expected. Cuban can try to sell him on taking less, but when LeBron says he wants the max, those are the magic numbers.
The Devin Deal:
An NBA writer tweeted that Devin Harris' new three-year contract "will be worth'' $2.87 mil in the first year, $3 mil in year two and $3.129 in year three. That's possible, and as Dallas will wish the first-year number to be small so as to fit in other signings.
But that breakdown hasn't been determined yet by Dallas for certain. Remember, they don't have to do any such thing there until July 10, at the earliest. For now, and for the record: DB.com believes it could be $2.8 mil the first year with max raises equaling $9.03 mil total over the three years.
Here's the
story on the agreement, with a note that the $9 mil for three years is the "range'' and nothing more.
I can see Devin starting. Devin off the bench? OK, who is acquired by Dallas to make that possible? Felton, already here? Teague in a dump from Atlanta? A gear-shift to prioritizing a stud free-agent point?
Room for LeBron?:
Those numbers on Devin are important, as
are Dirk's as-yet-unknown specific numbers
, because they need to be part of the just-in-case flexibility for that big fish.
The way we figure it, Dallas still can have about 15 million in cap space after finalizing the Dirk and Devin deals. So LeBron has to sign here for $15 mil?!
Not necessarily.
Dallas can create almost $4 mil in cap room by salary-dumping Raymond Felton. Dallas could create $5 mil in room by doing the same with B-Wright.
So just-in-case financial options do indeed remain on the table.
1) Deng to Dallas?:
Luol Deng is presently engaged in meetings, including one with Miami. But there are suggestions he wants $12 mil, and the Heat as presently planning to construct themselves, can't do that.
I suppose they could un-construct without LeBron and have room, though.
The
Mavs have always liked Deng, as DB.com readers have known since February.
But they've never liked the idea of paying him $10 to $12 mil. I'd be in favor of overpaying because I've yet to see all that scary "cap hell'' as a result of other teams having done so.
But that's me, not Cubes.
Rondo rumors:
There are rumors about rumors regarding Rondo to Dallas. But nothing substantiated yet. I have a feeling somebody is regurgitating
(See more for yourself in our Draft Night Video Visits.)
the DB.com scoop from 13 months ago, when the Mavs really did call Boston.
Backup Bosh:
One of the least reliable reporters in the country is connecting Bosh and the Mavs. As they've already hooked up with Dirk and TY, that connection is ill-fitting. And with Bosh being seen as max-worthy by somebody, it makes little sense that he'd come to a franchise he's on-record as saying he feels no hometown passion for ... to be a backup.
As with Pau Gasol and others: If Chris Bosh is still on the street 10 days from now offering his services on the cheap? You bet. Come back up Dirk and TY. But that's not today's story ... therefore today's story is not a story.