The
Dallas Mavericks
own just two second-round picks in the June NBA Draft, as Nos. 34 and 51. Yet their hopeful pre-draft invitation list, obtained exclusively by DallasBasketball.com, includes at least two players projected to be first-rounders.
Those players:
Cleanthony Early,
Wichita State
, Sr., PF, 6-8, 219
K.J. McDaniels
,
Clemson
, Jr., SF, 6-6, 200
Make of that what you will, in regard to Dallas' willingness to trade up; or just consider it homework being done. And note, neither of those visitors are confirmed, but rather, hoped-for.
There are lots more names of guys less-heralded, with the Mavs planning to host many of them starting around June 9 for workouts at the AAC in Dallas. A collection of those names:
Josh Huestas,
Stanford
, Sr., PF, 6-8, 215
Jerrelle Benimon
, Towson, PF, 6-8, 245
Fuquan Edwin
,
Seton Hall
, SG, 6-6, 210
Jamil Wilson
,
Marquette
, SF, 6-7, 220
Jakarr Sampson
, St. John's, SF, 6-8, 210
Eric Moreland
,
Oregon State
, PF/C, 6-10, 225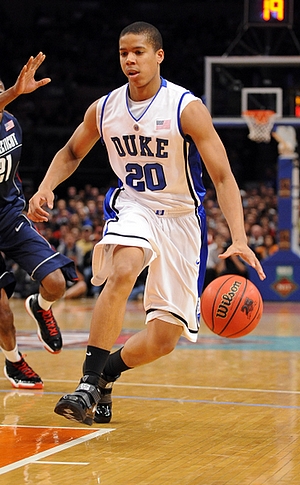 Add three more names to this list:
Okaro White
,
Mike Moser
and
Akil Mitchell
.
And then supplement all that with DB.com Premium Boards' work collecting the following names that are reportedly confirmed to visit Dallas: Bryce Cotton, Chris Udofia,
Chane Behanan
, Javon McCrea,
Andre Dawkins
and
Xavier Thames
.
Find
links to that collection of prospects here in this thread at DB.com Premium Boards.