DONUT 1: The totem pole ...
The paperwork totem pole, of course, starts with Chandler Parsons.
"He's a little old-school, tall, versatile, great guy in the locker room, can shoot it, fits our system,'' Mavs GM Donnie Nelson said. "We're pretty excited."
We
cover all that excitement here with most every angle on the three-year, $$46,084,500 offer sheet.
The reported breakdown of the contract (via ShamSports): $14,700,000 in year one, $15,361,500 in year two and the player' option $16,023,000 in year three.
Another tidbit: I'm told the Dallas-Houston sign-and-trade negotiations were extremely brief. As in, a proposal from the Rockets that the Mavs found absurd, and ... the end.
Donnie insisted that those involved on both sides are mindful of not making any of this personal ... but it's probably tiptoed beyond that now.
DONUT 2: The cutoff ...
From David Lord, the very best in the capology business:
My understanding has been that the NBA business day cutoff is 5 pm (ET) each day. But you won't find that in the 2011 CBA. In that document, it specified that the NBA would be moving into using electronic communication and notices and that the parties would work out the specifics later, which they did in 2012. While the details are buried out of sight, we've seen the waiver and amnesty process playing out using that daily cutoff, with the explanation that the NBA had decided to make that the end of their business day.
Why do we mention it? Because, while I figured that the league is using the same daily cycle for its Right of First Refusal process, and told you that the matching deadline for Parsons is 5 pm Sunday, that may not be the case at all. We're hearing from various reports that it's midnight (ET) Sunday instead.
So if you're awaiting a determination of whether or not the Rockets will match the Mavs' offer for Parsons, you may have an additional seven hours to wait.
DONUT 3: Thumbs-down after the wait? ...
The Mavs will have tied up Houston, cap-wise and roster-wise, with a contract they did not want to give (to Parsons). Not quite worth another party in an Orlando nightclub, but something.
And then they move as quickly as possible to the Arizas and Dengs, hoping that the LeBron Logjam keeps that cupboard stocked through the weekend. Logjam broken? Paul Pierce and yeah, Lance Stephenson are among those who enter the conversation. Yes,
Lance's 10-foot pole gets shorter.
DONUT 4: The most key point ...
This continues to be debated and we are not certain why; our original research on this and our numbers have been circulated into the mainstream (thank you, ESPNDallas and others) and it is not a debate point:
Houston
CANNOT max Bosh AND match Parsons.
Simply cannot. The Rockets can do other things to land both -- most notably, renege on their promise of a max offer to Bosh by convincing him to sign for less -- but otherwise, they simply cannot fit both square pegs into one financial hole.
Please click the link. The best info in the business is right there.
DONUT 5: Thumbs-up after the wait? ...
First thing that happens is Mark Cuban probably gets tipsy again.
Yes, I have it on the very best authority that Tony Cubes spent Thursday morning nursing a hangover after his club-scene offer-sheet signing of Parsons. (The video showing the signing and partying has been removed from YouTube, by the way, for whatever reason.)
Interesting, isn't it, that following Cuban's self-described "business-and-basketball'' meeting with Melo he followed it up with a "Meet The Parents and The Posse'' night of techno music and Parsons Partying?
A lesson learned? A target-tailored approach? I will be asking about this, because it speaks volumes, one way or the other.
DONUT 6: Cap room ...
It'll be pretty much gone.
If the Mavs do secure Parsons' services, that's about $15 mil worth of cap room gobbled up -- and $15 mil is about all Dallas has.
They could make minor trades. They could strip themselves of Raymond Felton. (What if they did that and lured a young budding star like
Isaiah Thomas in here? Cool idea. But last time the Mavs talked with Thomas' people, I'm told they mentioned the number "10 mil.'' As in, per year. As in, dollars.)
They could even fudge a bit on their agreements with Dirk and Devin, which as of Thursday evening were not finalized.
But without jumping through too many hoops. ... how to assemble the rest of the roster?
DONUT 7: VC's turn ...
Dallas would first turn to Vince Carter, who is in touch with the Mavs and understands the totem pole.
"Vince has got all kinds of options and we're happy to know we're still on the list," Mavs GM Donnie Nelson said. "We'll just have to see how things pan out. He's obviously not just a terrific basketball player, but a great person, and we're going to do everything in our power to get him back to the Mavericks."
That "power'' can come in the form of the $2.73-million Room MLE, the largest (conventional) tool Dallas would have remaining.
The veteran Carter, while a respected player and nice piece in Dallas, has also gotten feelers from many other clubs, including in Toronto, where "Vinsanity'' was born. The good news for Dallas: Vince hasn't rushed off and departed; that again means he understands the Dallas totem pole.
Vince's
thoughts on the subject are here in his "amazing for a fossil'' Exit Interview.
DONUT 8: Skipping Trix ...
Shawn Marion belongs in this conversation as well. He's earned that. But as much as he wants to make Dallas his permanent home, he's also earned a big payday elsewhere. I believe when the LeBron Logjam breaks, Trix starts to inch toward getting it.
He's not off Dallas' radar at all. Dallas just thinks it'll get outbid.
DONUT 9: The Merry Minimums ...
If 16-year vet Vince re-ups and takes that MLE? Dallas will likely have about four minimum-salary slots available to fill the roster.
Now, in Donnie's opinion, the Dirk/TY/Parsons/Monta/Devin fivesome, backed by rotation guys Vince, Crowder, Felton and B-Wright, constitutes a contender. (Ledo and Mekel are also in the mix, of course.)
"The West is so thick from top to bottom,'' Nelson said, "but I don't think we'd take a second seat to anybody.''
But there is room for more help. So you chase more help.
DONUT 10: Would Mo be merry? ...
That brings the Mavs to Mo Williams, the offensively skilled point guard. The Dallas resident (
we've got his scouting report and details on his "heart-healing'' DFW connection here)
would quite likely take that Room MLE if Vince doesn't want it; Dallas hopes, if the chips fall just right, he'll take the $1.3-mil minimum to join the club.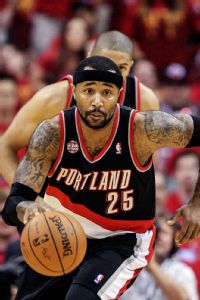 "Mo is just one of our favorites and certainly the kind of guy that we'd love to have in our locker room," Nelson said. "[He has a] family of five that lives here and would be the perfect fit in a lot of respects. ... It's just that he's got some decisions to make in terms of really what he's willing to take and what we can offer him and that kind of thing, but the discussions have really been ongoing. And we've been recruiting Mo for a few years now. Hopefully, this time we can make it happen."
DONUT 11: How about some bigs? ...
The Mavs will have to make even more happen after that to fill out a roster; it might be helpful that DeJuan Blair's agent is Mavs-friendly and it might be helpful that a roster led by Dirk, Parsons, Tyson Chandler and Monta Ellis could serve as a lure for cheap vets. Birdman on the cheap? Surely 7-footer Jason Smith won't stay homeless? Ivan Johnson off the Summer League squad? They might help as bigs. Rookie forwards Fair or McCrea? Coach Rick Carlisle is going to Vegas and he's not doing it for the dry heat.
DONUT 12: The Final Word ...
It belongs to Donnie, who held court at the AAC on Wednesday:
"We've got a lot of greaseboards in that office up there with lots of different scenarios," Donnie said, pointing up from the basement practice court to his catbird-seat office. "I can't tell you which scenario is going pan out, but one of them is going to pan out. We will have a small forward with the Mavericks next year. Guaranteed."
Hear "Fish on The Fan'' with
with live updates throughout from inside the Mavs on 105.3 The Fan.
Oh, and all next week I'm hosting 7-11 p.m. Join us!