The news from Miami on Thursday was that
the Heat's chances for a third straight NBA title are now on life-support
, with the Spurs totally dominating them in Miami for the second game in a row. San Antonio now has a 3-1 lead in the best-of-seven series, and no team in NBA history has ever rebounded from such a deficit to win a title.
But there was news of another sort surrounding the Heat a day earlier, as rumors hit the NBA grapevine that Miami was exploring a way to pull a free agency coup this summer. Reports from unnamed sources said that the team is looking to turn their "Big Three" of LeBron James, Dwyane Wade, and Chris Bosh into a Big Four by signing superstar forward Carmelo Anthony in July.
As
we analyze the viability of Melo to the Mavs
and
read about Anthony having met with the Knicks and leaning towards an opt-out
, we have to acknowledge Miami's track record in muscling its way into such a move.
Is this even possible? Let's take a look.
Miami's Current Cap Numbers
As we sit, the Heat's contractual commitments for 2014-15 total in excess of $70 million. Even if they renounced rights on all their free agents, and only added in cap charges for empty roster slots, they would still be more than $10 million over the NBA's expected salary cap of $63.2 million for the upcoming season, and obviously have no room to sign Melo or anyone else to a contract bigger than the "Taxpayer Mid-level Exception" of about $3 million.
Cap-Clearing Moves Available
However, almost all the Miami contracts are less than hard commitments at this point. The huge salaries due to James, Wade, and Bosh (for more than $20 million each) each contain an Early Termination Option which could be exercised by that player in June, which would void their remaining contract and allow them to become a free agent this summer. Udonis Haslem and Chris Andersen have player options for next season which would allow the player to erase their contract and become a free agent. Justin Hamilton's contract for next year is not guaranteed, which means he could be waived by the Heat with no cost to their cap. Only Norris Cole has set-in-stone money due, and as a young player on a reasonably inexpensive contract, the Heat might be able to give him away if they needed to, at no cost to their cap.
If the Heat wanted to start the summer with a completely clean slate, they should have no problem coming very close. Their big 3 could all opt out, they could waive Hamilton and trade Cole, and getting Andersen to decline his player option should be relatively easy since it's only for the minimum anyhow. The only contract that might remain would be Haslem's option year of $4.62M, which he would almost certainly be unable to replace as a free agent. But assuming he kept that year, they could waive him and use the stretch provision, which would reduce his cap hit from $4.62M down to $1.54M.
The Heat also have a first-round pick this summer, but they could choose to trade away the pick rather than be obligated for the guaranteed salary. Maybe they would need to attach the pick to Cole, to get some team to take him, or maybe they would simply sell it for cash.
A longshot, but perhaps possible, would be to work a deal with another team involving Haslem and the pick. The Heat work a prearranged deal, in which Haslem agrees to accept the reduced amount of $3M-ish if waived by Team X. Team X gets the pick (nominally worth $3M) and then waives Haslem for the reduced amount. Then next season Haslem returns to Miami for the veteran minimum of $1.45M. It's not exactly the same, but the numbers are close enough that it might work with a tweak of some kind.
If they were able to do all that, then what?
New Cap, New Possibilities
If the Heat cleaned out their entire roster as outlined above, they would start the summer with $0 of salary on their cap. Obviously, they might choose to keep a player like Cole, or be unable to get rid of Haslem's deal as outlined, but let's go to the extreme and say they do it all.
In that event, their cap actually wouldn't be $0. The league imposes a nominal cap charge for each empty roster slot, when figuring up how much money a team is allowed to spend. So after those cap charges for empty roster slots, and with a desire to split their cap between 4 players, the Heat would have around $58.64M to share between their new Big Four.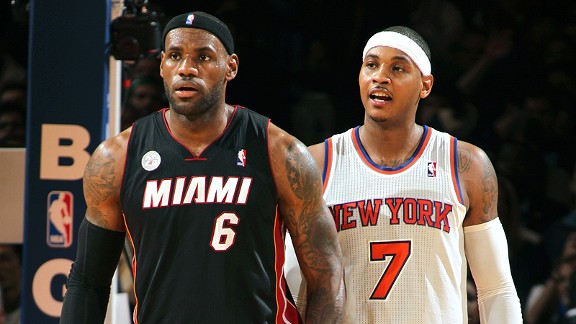 Per player, if divided equally they would each get a starting salary of
$14.66M.
Can It Happen?
In theory, it's certainly possible. The only thing standing in the way of Miami moving forward with a Big Four rather than a Big Three would be the willingness of each to accept a salary reduction of some sort or another.
But even in the most ideal cap scenario as outlined above, the reduction would not simply be a minor sacrifice of a relatively few dollars.
For James, Wade, and Bosh, if they opted out and signed a new deal with Miami at the max, each would get a starting salary around $20M. James and Bosh would get a total deal of about $115M over 5 years, and Wade (due to his age and the over-36 rule that limits contract lengths) would be get $89M over 4 years. Melo, if he stayed in NY, could get a max 5-year deal starting at about $22.5M and totaling $129M over the 5 years. But as a Big Four splitting the cap, the max totals would be around $84M each for James and Bosh, $65M for Wade, and $63M for Melo (4 year max).
In aggregate, they would be leaving over $150M on the table.
Yikes. That's not chump change.
Are There Other Ways Miami Could Approach This?
Cleaning out the entire cap, and then splitting it four ways, is certainly not the only choice for Miami. They could always detour a bit.
One detour might be to sign Melo, but as a replacement for one of their current Big Three.
In that scenario, the salaries of each of the 3 would start at about $19.72M and the two returning Heat players would get over $113M over 5 years, nearly the same as a full max.
Another detour would be to ask one of their current Big Three to play one year for the minimum while the others got almost-max money, with the promise to then give that one a jump from the minimum to a full 5-year max deal in the summer of 2016. That would cause one of their current Big Three to get about $18.5M less than the other two in year one, but even he should still come out ahead in comparison to the deal starting at $14.66M. (Note: Because of ages and over-36 contract rules, Wade could only sign a 3-year deal after a one-year minimum.) Then again, which of those Big Three would be asked – and be willing – to take one for the team like that?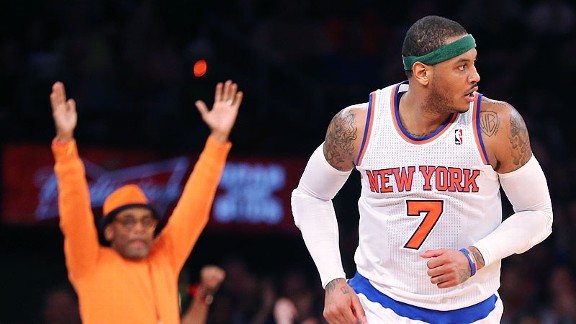 Will It Happen?
Is Miami really going to attempt to head this direction? No one but Miami knows what they might attempt, and given the dollars involved and the sacrifices needed, an attempt may go nowhere. At the moment, all we have are rumors. Maybe it's all a misdirection by the Heat, or a ploy by some agent or competing team.
The deadlines for exercising opt outs, player options, and so on will be June 30 (or earlier, in some cases). Contract negotiations don't start until July. That means that in order to head this direction, the Heat and some of their players would have to make choices in the dark, with no way to know the outcome down the road.
But that's for later. For now, Miami's big problem is the Spurs. In a game or three, perhaps reeling from falling short of a title, some tough choices may be the next item on the menu for the Heat.
Want MORE of this level of Mavs and NBA coverage? Sign on up! Take our FREE 7-day trial! It's about a dime-a-day for the very best in Mavs coverage from DallasBasketball.com. Go Mavs and Go Premium!