Dario Saric is a 6-foot-10 power forward from Croatia, who, playing professionally for Zagreb this year averaged 16.7 points and 3.2 assists per while shooting 50 percent from the floor.
My understanding is that a
Dallas Mavericks
traveling contingent led by Donnie Nelson and Keith Grant are bouncing back and forth for the three-hour drive from Treviso, Italy (site of the adidas Eurocamp) to Zagreb (where Croatia's Saric and Bosnia's Jusuf Nurkic, another lotto prospect, were playing for their Euroleague teams in the playoffs).
Saric was going to be a lotto pick last year -- and I know for a fact Dallas ranked him as a top-20 player -- before opting to pull his name out and return to Europe. This could be happen again this year, amid some reports that Saric only wants to come to the US to play for the Lakers or the Celtics.
Given Donnie Nelson's connections in this part of the world, maybe there is at least one more option -- though Dallas presently doesn't own a first-round pick, let alone a lotto pick.
But it's not difficult to understand the attraction.
Saric is a unique player. He is a scorer, a facilitator and can rebound and finish inside. He is sort of a "point forward'' (the vision of Donnie's father, Nellie) though he sometimes actually plays point guard.
He could be projected as "The Next Dirk'' -- as foolhardy as that exercise might be.
Saric dominated the FIBA under-19 tournament. He's a star on his senior national team. He stood out in the 2012 Nike Hoop Summit all-star game, when he was matched against the US's best same-age players. And for Cibona, his club team, he's the league MVP on the league's best team.
A year ago the Mavs told me they think Saric needs to become a more consistent jump-shooter and needs to add bulk. But again, even with those "negatives'' from a year ago, he would've been a very serious consideration at 16 (where Shane Larkin was selected) had he stayed in the draft.
And he's a better, more polished player now.
This offseason, the Mavs tell me they'd like to find "versatile'' two-way forwards who can play the 3 and the 4 and play on both ends. Saric certainly isn't a great defender but he otherwise fits the profile about as well as any draft-eligible kid can.
The Mavs remain the best franchise in basketball when it comes to knowledge of and connections with overseas players. The rest of the NBA is catching up to GM Donnie Nelson in that department, but he gave himself a decade-long head start on most; he still remains an "international basketball ambassador'' in many countries.
As I've noted many times: Because of Donnie, connecting Dallas to a foreign player always has some merit.
Maybe Dallas shouldn't be trading into the lottery for a "project'' and maybe their lack of athleticism (something coach Rick Carlisle has bemoaned for years now) causes some pause here.
However, as I wrote a year ago: There are people inside Mavs HQ who believe this about foreign kids: If they made the jump to America and played a year at age 19 at, say, Kansas or Kentucky, where would they be a year from now in terms of the NBA Draft? And where would they be two years from now in terms of being an NBA player?
In the case of Saric, it's completely logical to suggest that he would've been an All-American had he played this past year in the U.S. He would've often been the tallest and smartest player on the floor – and the best passer and ballhandler, too.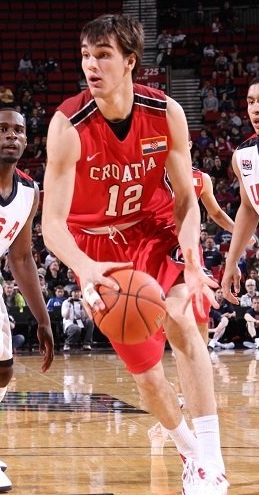 It is assumed that Saric can add weight and thickness. He's already got a good pull-up jumper but maybe needs to improve shooting off the dribble. He's a student of the "rip-and-run'' game, something we saw so much of from Dirk in his early years: Grab the defensive rebound and lead the break without an outlet pass.
I know they are careful to avoid comparisons. So let's do everybody a favor. Forget the "Next Dirk'' stuff. And even the "Next Kukoc'' stuff. (OK, you might get somebody to bend if you wanted them to compare him to Hedo Turkoglu). You see how limiting this game is when the comparisons all share a skin color.
To be sure: There is a connection here. But there is much to be learned, not only in regard to Dario Saric's desire to play someplace other than Zagreb, LA or Boston, but also in regard to the price, if any, Dallas is willing to pay in order for a chance to roll this dice.