DONUT 1: Out of the LeBron Chase? ...
Not as of late Tuesday, when sources told DallasBasketball.com that the Mavs had yet to be informed, one way or another, about a LeBron James decision.
"Not yet,'' we were told.
The Mavs continue to hope for a second meeting with the LeBron camp, following up owner Mark
Cuban's face-to-face in Cleveland last week with agent Rich Paul. (Which Cubes tells us went "extremely well.'')
And they wait for an update, one way or another, knowing full well that James is a solid bet to respond favorably to his Vegas meeting with Pat Riley and company -- a meeting that would bring James back to Miami.
James boomeranging back to Cleveland? That's in play, too, though
reports of "90-percent chances'' smell all wrong.
(Why don't we let him meet with Riley before pretending to set odds?)
Amid
a report from the respected Woj that LeBron has already eliminated Dallas,
when does he inform the Mavs of their fate? There is sense in him spending the next two days reading the landscape.
DONUT 2: 'Pushing an offer sheet'' to Parsons ...
I never understood the terminology when this sentence was reported on Monday and indeed, the Mavs don't understand it, either.
Dallas is calculating the circumstances surrounding Chandler Parsons and a way to steal him from Houston. The Mavs have prioritized this. But there was no Monday rush to move forward with the concept. Accelerator time comes nearer the July 10 date when deals can be signed. And in the case of RFA Parsons, Houston would have three days to match.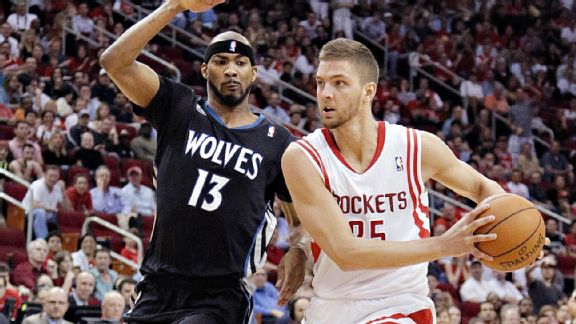 And that's all
unless Parsons isn't a RFA at all, but rather is a free agent. We'e got that exclusive breakdown here
and it's a domino that could fall if Chris Bosh accepts Houston's max offer.
DONUT 3: Dallas and Bosh? ...
A bogus report from a Cleveland reporter. There was never a connection. Houston and Bosh? That's the real deal. If LeBron leaves Miami, that likely triggers Bosh to the Rockets.
But I believe Bosh is coattailing on LeBron, first. (And who can blame him?) If James is back in Miami, Bosh is likely to follow.
One NBA writer insists, "If Bosh goes to Houston, LeBron bolts to the Cavs guilt-free.'' But that's not the order in which these dominoes are falling.
It's a LeBron Logjam, not a Bosh Bottleneck.
And Dallas is only involved with pursuit of the former, not at all of the latter.
DONUT 4: Dallas and Mo Williams? ...
He was on the Mavs' radar a year ago.
Mo Williams is on the radar now.
Williams is a Dallas resident who might be willing to play for the vet's minimum. A shooting point guard would make sense in tandem with Devin Harris. ... no matter which of them starts.
DONUT 5: Dumping Felton ...
Talk of this is all conceptual at this point. If Dallas needs to make room for a big-fish acquisition, trading away Felton (and taking "nothing'' back in return) can yield almost $4 million of cap room.
But Felton and the Mavs are proceeding as if he's in the mix, the ex-Knicks point guard
speaking to the DFW media on Tuesday and saying,
"When you come off a season like I had last season, you have to prove yourself again. Trust me, I look forward to doing it. ... It's going to be a lot of fun and a lot of help to have him (ex-Knick mate Tyson Chandler) with me."
Dallas isn't completely done believing Felton can end up being a functional player if he ends up not being a fat player.
DONUT 6: Touching base with Crawford ...
A source tells DB.com very specifically: "Sure, at a vet's minimum, maybe.''
The Clips are reportedly willing to move their high-volume shooter and national reports have attached Dallas. But this is not a Mavs pursuit at this time -- as much as Dallas would love to quit having to play against him.
DONUT 7: Why no interest in Marion? ...
Oh, the Mavs have interest. But everything at small forward is in a holding pattern until LeBron and Melo decide. That's not just in Dallas; it's most every place else, too, and with most other guys at the small-forward position. The Wiz have a reason to push for Ariza now and the Hawks have a reason to push for Deng now, but as of this morning, those deals aren't happening yet, either.
(The Bobcats' offer sheet to Utah's Gordon Hayward looks like a notable exception here.)
Once the big fish start swimming, agents will feel free to chase deals, and the Mavs will have a better idea of what Trix' real price is going to be.
Now, it's still very possible he gets squeezed out here, I think. But Marion's got roots in Dallas now, is building a new home here, and
Trix says he wants to be a "Dallas local.''
Both sides have reasons for just a bit more patience.
DONUT 8: Maybe Isaiah? ...
The Mavs
think Isaiah Thomas is a fine supplemental point guard, a Microwave. But his reps, I'm told, have expressed the idea that the Kings explosive little point guard is a $10-mil-a-year player.
And that was pretty much the end of that conversation.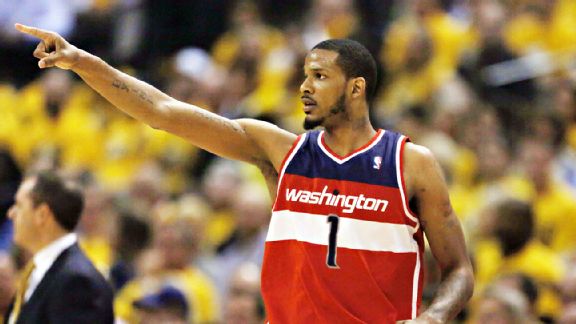 DONUT 9: Deng vs. Ariza ...
Who does Dallas like best, Trevor Ariza or Luol Deng? The Mavs have smartly kept a lid on the answer to this, as they will likely end up flirting with both simultaneously.
The eventual answer, I think? Which guy will be the most affordable.
DONUT 10: A softened Stance on Lance ...
Once upon a time, Dallas' position on Lance Stephenson was all about a 10-foot pole. But what happens if the sales bin starts to empty
and the gifted wing is gathering dust? "He's on the (Mavs) radar,'' a source tells DB.com. The full story here.
DONUT 11: Sarge gone? ...
Yes,
Bernard James sees the writing on the wall. Mavs
Summer League play in Vegas (those details here)
will be in part about showcasing Sarge -- one of the good guys -- for his next gig.
DONUT 12: ... Untouchable LaMarcus ...
LaMarcus Aldridge is a Mavs dream -- but this week in a fine piece in The Oregonian,
LA said all the right things about wanting to remain with the Blazers.
Still, for a guy who surely loves Portland, LA's real-estate habits indicate he surely loves DFW, too. He's working now on providing upgrades to the lovely home he purchased for his mother, which is located in Southlake.
So this dream doesn't die yet. And next February at the trade deadline and next July 1 during Summer Shopping season, the Mavs will likely endure this exhilarating but-often-disappointing process again.