You -- and the
Dallas Mavericks
-- have attempted to march down this path before.
It goes all the way back to Joe Smith. Was a non-starter with LeBron James. Seemed half-assed with Deron Williams. Went nowhere with Chris Paul. Resulted in bridesmaid status with Dwight Howard.
And here we go again.
And here we must go again.
The smartest available money says Carmelo Anthony (who according to ESPN has until June 23 to make his opt-in/opt-out decision with the Knicks) notifies New York of his plans to remain with the club and collect one more monster contractual paycheck of $23.3 million before becoming a free agent in 2015.
The presence of Phil Jackson in New York solidifies that.
But if 'Melo decides against staying,
ESPN reports, the Mavs join the Bulls and the Rockets on his destination wishlist.
First: Is that information credible? Certainly. For the same reasons Dallas has been "in the mix'' with Anthony's contemporaries, Dallas can be in the mix here. (No way author Marc Stein simply tossed Dallas' name in here as a matter of rote, though it's conceivable that Stein's source did so.)
Next: But Dallas (even with almost $32 mil in available cap space) is destined to be a bridesmaid on this one yet again, right?
Well ... yeah. Most likely.
The Knicks are re-constructing in a way to take advantage of rules that help stars remain with their existing teams. Jackson's overseeing helps that. ... and may help lure other stars as well. The Knicks can spend the next season clearing out the cap room (in ways that include the salary-dumping of Mavs target Tyson Chandler) to lure a player like LeBron James to New York.
That's a great reason for 'Melo to be part of a rich-get-richer scenario in the Big Apple.
Miami's James has his own opt-in decision, yet another moving part here. It is conceivable that LeBron remains with the Heat and in 2015 lures Anthony to South Beach.
Is playing for a team owned by Mark Cuban, coached by Rick Carlisle and led by Dirk Nowitzki an attractive proposition? Yes, but it's not as alluring as playing with LeBron.
The Knicks don't have salary-cap space now. This upcoming season could be a poor one for them, record-wise, with a rookie coach in Derek Fisher and a salary-dump strategy. (Hey, maybe even a tanking strategy.)
And then the Knicks start dreaming big, with LeBron in 2015 or with Kevin Durant in 2016.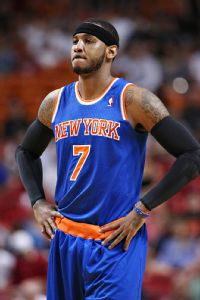 Finally: As heartbreaking as this path can be, it must be traveled, right?
Right.
Erase from your mind whether Anthony "fits.'' ("Fits'' alongside Dirk or "fits'' into Carlisle's defensive desires or whatever.) Dallas' front office is in the Talent Acquisition business and unless the superstar is a cancerous knucklehead -- and heck, maybe even then -- he must be pursued.
Dwight Howard, to cite the most recent example, is flawed. And is a bit of a knucklehead. But Dwight in Dallas would've given the Mavs a massively expanded chance at contention over Dalembert in Dallas. So ... you find out the oversized juvenile Howard likes cartoons and
you hire an artist to pain Dwight as an animated superhero. ... and then when it fails, we dissect the heck out of your strategy.
The biggest crime this organization can commit is failing to take a free shot at the seemingly impossible. ... because beyond the cost of airfare and of creating a Dwight Howard cartoon, that shot truly is free.