As fans of the Dallas Mavericks, we needed this.
Undoubtedly, it's greedy in the wake of a championship only three years removed, but after the perception of striking out on LeBron James (twice), Deron Williams, Dwight Howard and Carmelo Anthony, beside a pair of first-round exits sandwiched around missing the playoffs entirely for the first time in twelve years; we all needed something to fall in the column on the left. We needed an offseason win.
We needed the Mavs to "win" Chandler Parsons … as well as the return of Tyson Chandler.
We've turned to tales of hope more than a few times in this space. At its heart, sports' fandom can be broken down to three basic rivers of emotion, each fed by a wealth of tributaries, and each constantly fighting for dominion over our hearts.
There's hope. Elation or happiness. And, there's the widest and deepest of them all, a current of white caps and hidden hands so often given avenue to drown us all: dejection, doubt, and anxiety, all close cousins feeding on or to the pain of loss.
Across all of them -- hope, joy and hurt – everything flows through the prism of expectation, for better or worse.
Is this an oversimplification? Yes. There are shades of gray everywhere. There's anxiety and tension, surprise and inspiration, and a wealth of emotion too vast to ever envelope completely in words, but most feed in one way or another to hope, joy or hurt.
With the championship fading into a horizon that simultaneously feels so close and so very far, we've tripped forward three years and an eternity in the same number of steps. We needed to have our hope given fresh blood, we needed to believe Dirk Nowitzki wasn't merely wondering the broken final miles of a sports' life meandering to a quiet conclusion in relative, discounted irrelevance.
Even if we haven't truly reached that, we needed to find our head above water, to see that the sun could climb once more without being filtered through the churning waters of a disheartening ending that was becoming all too easy to envision, we needed to be granted a respite, a clean breath.
At no time do hope and fear wander such murky boundaries as the offseason, justifications are thrown and swallowed relying on only little more than unsubstantiated inklings. Like trying to place a book on a fog bank, we rationalize the fall or the magic that will lift the story once more to the cradle of NBA history, to personal mythology ("you see, the season was hatched with the false-disappointment of getting 'only' Tyson Chandler …" we'll tell grandchild we'll trick ourselves into believing are enthralled with the "Tale of 2011" ...and the above photo by Brandon Colston.).
It's in this time of sweetly-haunted uncertainty we needed something positive, after what feels like too much of the opposite (the fact that we are venturing into ridiculousness given the success so recently tasted is irrelevant to a fan's heart). Even Monta Ellis, the biggest triumph of the post-championship summers, came riding a bag of mixed feelings, on the reputation of a me-first, shot-hunter who fired indiscriminately with minimal efficiency … and blatantly obvious talent.
Sure, there's the whisper of Parsons' admittedly bloated contract, but there's also the rejuvenation fed to an ember that's fought to stay alive beneath waves, the protective bubble solidified three years ago quickly fading, leaking, allowing the drowning waters in. In a dichotomy of spirit, hope is both hard to kill, as the fans of the Bucks or 76ers, and frighteningly fragile.
Houston deciding not to match the Mavs offer sheet has reinvigorated us, or at least, many of us. It's granted us a reprieve from the bargain bin, from settling for the "best available" or the "best of what's left" after missing on previous swings. True, this isn't Chris Paul or Dwight, and comes after pitches to Melo and LeBron's agent, but it is something we cast our hearts to, whispering that our attempts were in vain as we longed for them not to be.
This was a love letter sent to Cindy Crawford (don't hate me because I'm old) … that was answered, somehow, and reciprocated.
We can hear national or Houston-based writers say the Rockets got a better "shooter" in Trevor Ariza, apparently ignoring the fact that Parsons worst 3-point percentage, which came in his rookie year (33.7), is better than Ariza's percentages in eight of his ten seasons. We can bemoan the "untradeable" contract, or note that a 25-year-old was treated as an asset to this team rather than the trade market. We can fear the team's depth, almost across the board, but give us a moment to gather around what was gained. We can harbor anxiety over the health of Tyson and Devin, but let us dream for a moment of what could be.
It's not perfect. No one is pretending it is. However, perhaps it is better than the expectations fostered by the blueprints laid out after the returns of the last three summers. We, fans, doubted a trade for Tyson was possible. We were sure the Rockets would match, logic screamed that they would. Both are now on the Mavs roster.
What could this mean on the court?
For one, we may see the corner 3-pointer become more of a factor in the offense. Dallas excelled in converting corner threes last season, shooting the second highest percentage (42.2), but attempted only the 23rd most in the league. Given the drive and kick abilities of Monta Ellis, Devin Harris and now Raymond Felton and Parsons, as well as Dirk Nowitzki's own passing skills when a defense collapses, this would seem to be a prime attack point.
Looking at four players that have moved on in comparison to those likely replacing them in the roster's totem pole, we can see an obvious advantage in the new faces … outside of Jose Calderon's brilliance: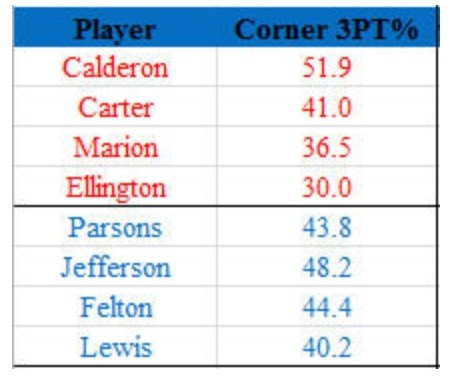 Of those who have moved on, Vince Carter was the second most efficient from the corner over the course of the regular season (thus, not including a certain playoff game-winner). Parsons, Jefferson and Felton (surprisingly) each converted at a higher rate, with Lewis coming in just below. All four are well above Shawn Marion or Wayne Ellington.
Marion led the Mavs in corner-three attempts with 85, followed by Calderon (77), Crowder (63) and Carter (61). It's not hard to envision those shots now falling to the four new names listed above.
Some may also be surprised to see that Jefferson falls so closely to Calderon. Unfortunately, this isn't the sole similarity they share, more on that below.
There also stands some chance of a small defensive renaissance, though this may be completely dependent on the health of Tyson Chandler, as well as Devin Harris, the commitment of Raymond Felton, and the will to improve on that end of the court by Parsons.
Heading into the All-Star break last season, Dallas ranked 22nd with a defensive rating of 105.2. After the break, they slipped to a rating of 107.4, though that was good enough to also rank 22nd. So, while consistently bad in relation to the league, the defense slipped considerably after the break. Nagging Injuries may have been a part of this, and likely, so was age.
Outside of Parsons (25) it's hard to say the age issue has been corrected when Carter (37), Marion (36) Calderon (32) and Samuel Dalembert (33) were replaced by Tyson (31), Jefferson (34), Felton (30) … and Lewis (34). (Though we should tap the breaks on Rashard now, Fish reporting last night that he signed his Merry Minimum contract with a knee problem the Mavs knew nothing about. Oh-oh.)
However, the shift of minutes from Marion to Parsons could prove to be significant as Marion's decline over the course of the season on the defensive end played a role in the team's slip, per MySynergySports Marion allowed 0.86 points per possession at the break (on par with the majority of his previous time in Dallas), but rose to 0.92 by the end of the season.
Marion saw a similar decline in isolation points-per-play allowed, from 0.86 at the break to 0.91 by the end of the season, easily his lowest as a member of the Mavs (previous worst was 0.85 in 2010-11).
Here's a look at a few of the outgoing and incoming players' defensive numbers allowed (per MySynergySports.com) for the 2013-14 season:
We're not claiming these to the be-all-end-all of defensive measurements, far from it, but they do capture a glimpse that somewhat reflects our eye-test observations. Crowder was included as he's likely to see an increase in minutes with the shift in roster.
This shows that Ellington was the worst of the group, though he also played the fewest minutes and never got a shot to set his feet and find a rhythm. It's not surprising to find Richard Jefferson with the next worst showing, measuring as nothing short of a defensive sieve by these statistics (remember that other similarity to Calderon we mentioned above, here it is).
Parsons had the safety net of Dwight Howard behind him, but his struggles become a little clearer on the "isolation" side of the chart above, but he's young enough to improve, and the hope is that Chandler can return to being a "safety net" here.
From these nine players, by far the most surprising find was Raymond Felton's isolation defense, ranking better than everyone included but Crowder … though we're not putting too much stock in this, we thought it was an interesting find.
For the sake of fairness, when comparing this group the context of Marion's role differs greatly from the rest. He alone was asked to regularly defend the opposition's most significant offensive threat, and did so from power forward to point guard, embracing the mismatches from Chris Paul or LaMarcus Aldridge. While he cannot be fairly compared with the other eight players shown here, the decline in comparison to his own returns over the course of his time in Dallas cannot be dismissed, particularly as the minutes collected. As previously stated, the Mavs defense will likely come down to the health of Tyson Chandler, and the hope that he'll shed the disappointment of last season to again show the form that anchored the Mavs in 2011, earned him a Defensive Player of the Year award in 2012 and an all-star nomination in 2013 … but there's hope, even a logical justification, for improvement at both ends of the floor.
For the moment, that's all we really have, all we've been given: hope … for Ellis to take another step forward, for health, for Dirk to keep being Dirk just a little while longer. But, that's what's so great about this time, about the infusion of energy that "winning" a pair of Chandler's has delivered. For the moment, anything is possible as we float on our backs down a river and dream of where it may take us … whether it's ultimately to hope, doubt, elation or hurt.
Take a minute and anything seems possible, but in this respite from the truth of on-court results, it was with joy that I updated the Mavs roster on NBA 2K14, I may have bitched about the fact that Parsons had only a 76 rating, but did so through a smile.
It feels like it's been a long time since I did this with such unbridled enthusiasm, even as the doubts have caught up and crept in, they've done so mingled with the sweet intoxication of that little ghost: hope.
We needed this. It doesn't matter how greedy it defines us … we needed this.