DONUT 1: Cuban in Cleveland ...
I'm hoping we've all moved beyond the questioning of why Dallas MUST "run out the grounders'' on the big fish like LeBron James; can you imagine the embarrassment of growing impatient, moving onto Deng or Ariza with a July 10 signing, and then on July 11 learning that LeBron wanted to come here?
I also know we've moved beyond the point of having to
double-check Mark Cuban's Cleveland whereabouts; he was there in recent days.
We've also moved beyond having to figure out the "why.''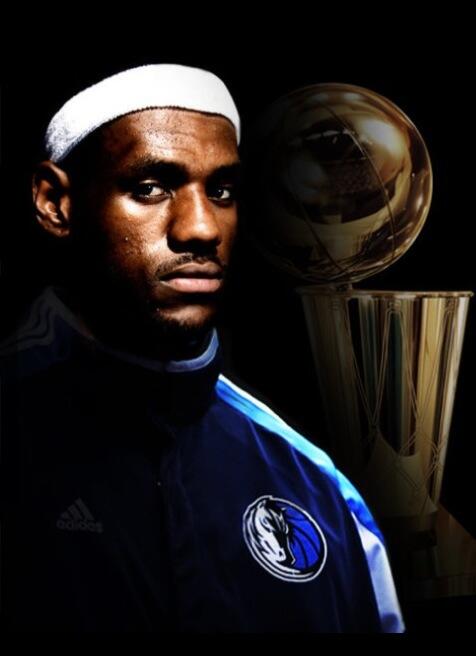 Much of Mark's communication this month has been on his CyberDust app, and a DB.commer on Saturday asked him "how the 'Shark Tank' commitment meeting in Cleveland went.''
Our inquisitive pal, of course, made the 'Shark Tank' reference because Cuban himself had done the same thing with ESPN in explaining his presence in Ohio.
"Extremely well, thanks,''
Dallas Mavericks
owner Cuban wrote back.
Read that in any way you wish. Now, is it still a one-percent-chance thing? Yup. But it's a a one-percent-chance thing that went "extremely well.''
More on
that story here.
DONUT 2: Undoing Dirk ...
Is Dirk's deal done? Not exactly.
Nowitzki's
agreement still counts as the first Mavs domino to fall.
. But it's interesting to note that the specifics of the "around three years and $30 mil'' deal haven't been released. I might even suggest they haven't been cemented because they need to be part of the just-in-case flexibility for that big fish.
The way we figure it, Dallas still can have about 15 million in cap space after finalizing the Dirk and Devin deals. So LeBron has to sign here for only $15 mil?!
Not necessarily.
DONUT 3: Other avenues ...
Dallas can create almost $4 mil in cap room by salary-dumping Raymond Felton. Dallas could create $5 mil in room by doing the same with B-Wright. (This is not to say these guys can't play. In normal circumstances, Felton for $4 mil as a split-time point guard is feasible. But LeBron-to-Dallas wouldn't be "normal circumstances,'' would it?)
LeBron's max will start at about $20.3 mil. The Mavs may have been reluctant to throw those sort of numbers at Melo (a decision that bears examination) but there can be no reluctance here.
If Dallas gets that precious second Cleveland meeting, wheels start being set in motion on an assortment of related moves.
DONUT 4: Deng to Dallas? ...
Luol Deng was reportedly engaged in weekend meetings, including one with Miami. But there are suggestions he wants $12 mil, and the Heat as presently planning to construct themselves, can't do that.
I suppose they could un-construct without LeBron and have room, though. And this illustrates why the LeBron Logjam exists: History Deng isn't likely moving anywhere until LeBron moves somewhere. (Ariza is on this list, too. We'll see if Pierce and Marion are also in-waiting. ... as James is reportedly scheduling his Miami meeting for early this week. Oh, and while this doesn't quality as starting-small-forward news, Dallas is still working to bring Vince back.)
Is anybody poised to screw up history? Sure. Atlanta could do it with Deng. Washington could do it with Ariza. Neither of those teams are in the LeBron Sweepstakes so they could conceivably push.
Meanwhile, the
Mavs have always liked Deng, as DB.com readers have known since February.
But they've never liked the idea of paying him $10 to $12 mil.
Me? When the time is right, I'd be in favor of overpaying (for Deng or whomever) because I've yet to see all that scary "cap hell'' as a result of other teams having done so. Remember when the Knicks "overpaid'' for Tyson Chandler? What, exactly, was their penalty? Now that's he's traded -- back to the team that once refused to "overpay'' -- what will ever be the penalty?
Chris Broussard insists that Lance Stephenson be tossed onto this pile, too. Dallas and Lance would represent a flip-flop from the previous 10-foot-pole position. I think we're looking at a bottom-of-barrel option here, but we will monitor. (UPDATE: Lance is indeed "on the Mavs radar,'' a source tells DB.com. Stay tuned.
DONUT 5: Musical Chairs at PG ...
There are rumors about rumors regarding Rondo to Dallas. But nothing substantiated at all. I have a feeling somebody is regurgitating
(See more for yourself in our Draft Night Video Visits.)
the DB.com scoop from 13 months ago, when the Mavs really did call Boston.
More compelling: A Jeff Teague dump in Atlanta? (Will they need room?) A Jarrett Jack dump in Cleveland? A Mavs team that might have to
settle on Dallas-lovin' Mo Williams?
An investigation into why, exactly, Sacramento seems so disinterested in hanging onto budding star Isaiah Thomas? (Carlisle thinks Thomas has "balls.'' The Kings coaching staff might be less enamored with him.)
DONUT 6: Don't forget Devin ...
An NBA writer tweeted that Devin Harris' new three-year contract "will be worth'' $2.87 mil in the first year, $3 mil in year two and $3.129 in year three. That's possible, and Dallas will wish the first-year number to be small so as to fit in other signings.
But that breakdown hasn't been determined yet by Dallas for certain. Remember, they don't have to do any such thing there until July 10, at the earliest. For now, and for the record: DB.com believes it could be $2.8 mil the first year with max raises equaling $9.03 mil total over the three years.
Here's the
story on the agreement, with a note that the $9 mil for three years is the "range'' and nothing more.
And as with the aforementioned Dirk deal, none of this is binding yet, anyway. July 10. Big day.
DONUT 7: Music to my ears ...
True story and music to my financial ears: One of my sons is saving up a little bit of money and he sits me down to ask me what he should do with it. Then he says, "I guess I should call Bill and Woody."
I am raising a couple of smart boys over here and Bill and Woody at
LS Wealth Strategies
-- Mavs season-ticket holders and friends of DB.com -- are making them smarter. Thanks fellas!
DONUT 8: Disappearing centers …
Emeka Okafor has been mentioned around the internet as a potential solution for the Dallas Mavericks at center, in a backup role, as part of the multi-headed approach the Mavs favor.
But he hasn't been mentioned by DallasBasketball.com in that way.
What are we missing? Or what are they missing?
Remember our
rather detailed list of who Dallas does and does not like at center?
It was written before the FA window. It delved into eight candidates -- or non-candidates -- and predicted a trade for Tyson Chandler.
What it also did was not mention Emeka Okafor. Our David Lord explains why:
In the 2013-2014 season, Okafor was a workhorse inside, averaging 9.7 points, 8.8 rebounds, 1.2 assists and 1.0 blocks per game while shooting 47.7% from the field and 57.1% from the line.
What's not to like? That was then. This is now. And now, it seems, Okafor is an injury-related persona non-grata to a lot of personnel people in the NBA.
I've done a bit of scouting around about him, and I'm left with serious doubts about the viability not only of some "nuance'' as it relates to some level of Dallas interest but whether Okafor is completely out of gas.
Here's his history: He missed an entire season, had neck surgery, and there was talk at the time it might prove career-ending. He never had to report to Phoenix after he was traded there, because he was (supposedly) staying in NY to rehab (with the Suns' permission).
Given the Suns' medical staff's tremendous reputation, that's odd. But there's more.
From what I found from my scouting search on Okafor, hhey never saw him in Phoenix. There are no articles about him as a team member. There are no mentions of him as an asset (except as a possible salary filler for a deadline trade with LA). No one seems to have even talked to him. He was just a name on the payroll, and nothing more.
To top it all off, this is the time of year when a player who had health issues gets trotted out for show, by his agent, to prove he is healthy and to stir up interest. Remember
Andrew Bynum last year, whose bloated corpse was dragged around the country (Dallas included)
to eat big meals and talk about how he was going to be healthy and dominant again some day?
They started the PR push in June, and in July the Cavs fell for it.
But, Okafor? Not a peep lately. It's eerily quiet, and I'm close to concluding that the Mavs -- barring unforeseen nuance -- will have to look elsewhere for a reserve center behind TY and with B-Wright (unless he's trade-dumped for space) who can actually be counted on to play.
DONUT 9: Welcome aboard! …
As has been the case for 14 seasons around here, we've got Mavs coverage coming all day and night with DallasBasketball.com. Stay tuned,
and hang out on DB.com Boards
as well for all the goods from inside the games, the practices and the front office ... through Summer Shopping and beyond!
DONUT 10: Bosh as a backup? ...
One of the least reliable reporters in the country is connecting Chris Bosh and the Mavs. As this club has already hooked up with Dirk and TY, that connection is ill-fitting. And with Bosh being seen as max-worthy by somebody, it makes little sense that he'd come to a franchise he's on-record as saying he feels no hometown passion for to be a backup.
Now, if Chris Bosh is still on the street 10 days from now offering his services on the cheap? You bet. Come back up Dirk and TY. But that's not today's story ... therefore today's story is not a story.
The real Bosh story isn't about coming home to a DFW that he's never found inviting. The real Bosh story is about Houston giving him big money to steal him from Miami ... and, as it relates to Dallas, whether Houston could then own Bosh and still afford Mavs target Chandler Parsons.
DONUT 11: Devin quirks ...
A Devin Harris contract quirk: because he's an eight-year vet with four years with the same employer, he has the right to ask the Mavs for a rare No-Trade Clause. We don't know that he' doing that. But we know that among NBA players, if Devin gets such a clause he'd join Dirk, Kobe, Duncan and Garnett as the only guys who have one.
DONUT 12: The Final Word …
After first tweeting late Sunday night, rather cavalierly, "Cleveland has replaced Miami as my frontrunner to land LeBron James,'' Chris Broussard quickly followed it up with, "These convos aren't sourced enough 4 me to report as fact. But I've heard enough to believe "the wind is blowing" LJ back home. We'll see...
"We'll see'' seems like an excellent policy, yes.