Mavs Donuts brought to you today by Bill and Woody at
LS Wealth Strategies
-- Mavs season-ticket holders and friends of DB.com -- available to make all of us smarter with our money. Give them a click and a call!
DONUT 1: Creating a rivalry ...
In 2001, Mark Cuban's
Dallas Mavericks
weren't quite on the national map. Heck, they were struggling to find their way to the front page of the DFW papers.
Cuban's marketing brain took to solving that. So he poked the legendary Phil Jackson, calling him "Bucket Boy.'' When Nellie instituted "Hack-A-Shaq'' and O'Neal responded by labeling his innovative tormentor a "Clown Coach,'' Nellie volleyed back by actually showing up to a Mavs-Lakers match wearing a red, round clown nose.
And the way the Lakers were constructed financial during some of those years? Cuban poked again, slyly referencing Robin Hood and derisively calling them "Kobe and the Merry Minimums.''
All the verbal taunts were designed to fuel a rivalry that would stir up interest and sell tickets, allowing the embryonic Cuban Era some coattails to ride on.
But suddenly, "The Merry Minimums'' seems a viable way to pursue a ring. ... for the Mavs, that is.
DONUT 2: It starts with Dirk ...
Nowitzki is not at the minimum. But
Dirk's deep discount
is literally one-third of the $75 million he could've demanded had he required a full max deal.
Instead, Dirk's annual wages read like this: 2014-15 salary; $7,974,482; 2015-16 salary, $8,333,334; 2016-17 salary: $8,692,184
That's not "Minimum.'' But in terms of roster building, it is decidedly "Merry.''
"And that's just Dirk being Dirk,'' Cuban tells DB.com. "He is a special guy who understands sacrifice and who understands what it takes to accomplish our goals."
DONUT 3: Everything is not a bargain ...
And so
Dallas overpaid for Chandler Parsons.
DFW's new favorite "bro'' has a three-year deal worth $46 mil.
Just as "The Merry Minimums'' concept is now being utilized in Dallas (as you will see below), the Mavs have flipped the script on Dry Powder and budget-minded spending.
Parsons is not "worth'' $15 mil a year. But $15 mil a year was the cost of the Mavericks getting better. So they are suddenly ecstatic about paying it.
DONUT 4: The same logic at center ...
Tyson Chandler's boomerang to Dallas
follows a similar shift in philosophy.
After the 2011 title season, the Mavs balked at paying TY a salary that would've made him one of Dallas' top-two-paid players ... and let him go to New York.
The contract Chandler received from the Knicks is the one on which the Mavs are now writing checks to him, to the tune of $14,846,888 this season. This, frankly, represents as close as you'll find to an admission that Dallas' front office misgauged the impact of the new CBA that forced Chandler out of town.
They thought TY unworthy of that money then, believing it would be a part of NBA "Nuclear Winter.'' Now? Donnie Nelson tells me Chandler is "as close as we have to a modern-day Bill Russell.''
Wow.
DONUT 5: The littlest thing ...
Proper handling of CBA wrinkles isn't always about the $15-mil decisions. It can also apply to the $509,000 decisions, as evidence by the Eric Griffin story DB.com brought you on Friday.
Read the crafty contract details on the summer-league standout here.
DONUT 6: Mininum shooter ...
Richard Jefferson comes aboard not as the guy who once averaged 22.6 points per game for the Nets, but rather, at age 34, a guy who shot 41 percent of from 3 for the Jazz last season.
He was a 27-minute starter for Utah (at 10 points per). In Dallas? He gets to ring-chase as a guy who might fill some of Vince's old role, or even better, might be down the totem pole a bit filling Ellington's end-of-rotation role.
DONUT 7: Minimum stretcher ...
Rashard Lewis was pursued by the Mavs a decade ago. He's 34, no longer the All-Star he was in his Seattle days. But here's what he can do: Spell Dirk as a stretch-4 in a way that allows Dallas to keep its offensive structure close to the same when Nowitzki rests.
Lewis didn't do much for Miami last year until the Finals, when the 6-foot-10 forward made some big shots and demonstrated he can still defend big forwards in short stints.
Lewis and Jefferson are both on one-year deals at $1,448,490.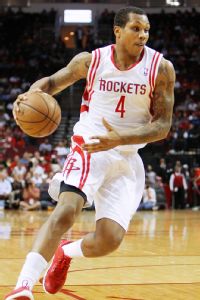 DONUT 8: Minimum center ...
They tried to get Rashard a decade ago. They've tried to get center
Greg Smith for two years, says Cuban, who seals the deal in a "nothing'' trade with Chicago
that allows the 6-foot-10, 250-pounder to jump into DeJuan Blair's old spot.
"He's a thick body and a banger,'' Donnie says ... and he's 23. And cheap, with a minimum one-year deal ($947,276) but Early Bird Rights with that, if Dallas so chooses.
There is a knee issue to work through here. But two years ago, Smith was a very effective role player for Houston, when he put up six points and 4.6 rebounds in 16 minutes per game.
DONUT 9: Bargain-bin shopping ...
Dallas was successful in this area last year with Devin Harris and DeJuan Blair as minimum guys. The developmental concept - as noted above with Griffin -- remains a work in progress with Ledo and Mekel, who are not expensive but will have to actually contribute at some point to be considered "bargains.''
DONUT 10: Oh, about Devin ...
He eventually got his,
in the form of a four-year deal worth $16.55 million.
But that all came together only after last summer when the club reacted to a toe injury by tearing up a three-year, $9-mil offer to reduce him to the minimum, and only after this summer when the club promised him he'd get taken care of if he could just be patient as Dallas juggled properly the order of its shopping.
"Devin, in the end, got all our spare nickels,'' Donnie tells us. "We appreciate him being patient, and he deserves those extra nickels.''
Donnie is not exaggerating about Dallas having used up all its coinage right to the filling of the cap sheet. Our David Lord has
an exclusive to-the-penny look at that here in DB.com Premium Boards.
DONUT 11: Welcome aboard! …
As has been the case for 14 seasons around here, we've got Mavs coverage coming all day and night with DallasBasketball.com. Stay tuned,
and hang out on DB.com Boards
as well for all the goods from inside the games, the practices and the front office ... through summer shopping and beyond!
DONUT 12: The Final Word ...
Finally, the Mavs' cupboard is no longer bare. Trades? Dallas can make them. Moves? They still have room to make them, including the use of their $2.7 million room-MLE. Potential and optimism? It's returned and its justified, not as a marketing ploy as was once the case but rather as a result of using that old derisive slogan as a rallying cry.
This year, it's the "Mavs and the Merry Minimums.'' And philosophically, the basketball team seems the better for it.