The desire to party is just beginning. But so is demand for patience.
A Mavs source told
DB.com on Wednesday afternoon that the club was "done waiting'' for the LeBron Logjam to break. A few hours later came the Parsons Pinch: a three-year, $46-million offer to Houston restricted free agent Chandler Parsons.
Last night in Florida, Parsons assembled with friends and family to sign that deal ... and then was part of a celebration hosted by Mavs owner Mark Cuban.
Cuban posted photos of the event on his Cyber Dust app, clearly relishing the deal from all angles - the chance to steal Parsons, the chance to promote the app and the chance to knock down the competition in Houston.
And to listen to techno music in an Orlando nightclub.
But the Rockets aren't knocked down yet. They can utilize their right to match the offer for the restricted free agent within the allotted three days. Their problem, as
DallasBasketball.com illustrates in great detail here,
is that they cannot move forward with their plan to pay Chris Bosh the max AND retain Parsons.
Bosh could allow them to renege on their pledge to pay him his max of about $20.64 million, slicing that down in order to fit him in. So Houston needs to persuade him to take less than his desired (and promised) max and Houston needs him to decide quickly ... plowing around the LeBron Logjam that has him and most of the rest of the NBA on freeze.
If somehow the Mavs lose out here? Note Cuban's stated philosophy on bidding on restricted free agents: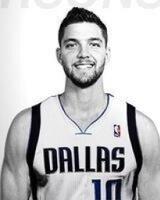 "It's not really a 'danger','' the owner recently told recently told "Ben & Skin'' on 105.3 The Fan. "A lot of people will say if you go after a guy and you don't sign him that's a bad sign ... I think that's ridiculous. That's like saying if I don't walk in to a company and make the sale that I never should have tried and that's just not the way I approach these.
"It's not like if you sign a restricted free agent and (the other team matches) and all of a sudden you've lost all that cap room … You've got as much money and you've really lost nothing for trying and I can make an argument that worst case, even if you don't get the restricted free agent you've made the other team lock up their cap room.''
There is one wild-card worth mentioning,
dreamed up by DB.com Boards' "Hamez.''
What if the Rockets match Parsons, and then sign-and-trade for Bosh? Our David Lord helps break this down:
In such a trade, the Rockets would execute their trades of Asik to New Orleans and Lin to Philly, but add an incoming Bosh from Miami in a four-team trade. It would have to be a 125-percent trade match, since the Rockets would end up as taxpayers, but the trade matching still works with that simple 2-for-1.
Obviously there are draft picks already slated to go here and there in the Asik and Lin deals, and at the very least Miami would insist on also getting compensation for cooperation. If they do cooperate, the deal might look something like this:
• Asik to New Orleans
• Lin, Montiejunas, Rivers, and Pelicans No. 1 pick to Philly
• Houston No. 1 pick to Mia
• Bosh to Houston
Is that enough compensation for Miami? Obviously the Rockets might be able to tweak it by adding another pick, a player, and so on. But there's always the potential that the return won't be enough to motivate Miami, or that Miami might simply want to keep Bosh, and pay him the max, so they decline to participate to make it harder on Houston to steal him away.
Even with Miami's cooperation, the details will get tricky because Houston can't take a player in sign-and-trade and also exceed the "apron" limit of $80.829 mil in team salary at any time thereafter in the 2014-15 season. And with the addition of both Parsons' max salary as well as one for Bosh, it will get tight. But with the above trade, it will work if they can sign their first-rounder Capela to less than the customary 120 percent of rookie scale.
Here's their apron calculation with a lesser salary for Capela:
[Note: the apron calculations are figured a bit differently than normal salary calculation.] Notice that Houston couldn't run more than a 13-man roster for the entire season, with no latitude to add extra bodies in case of injuries. Other than doing a trade of more salary for less, they would be stuck there. But, they might feel it's worth it.
As we speak, Houston GM might be on the phone asking for Pat Riley's help in signing Bosh. Will they get it? Meanwhile, what if Dallas catches wind of this concept and calls, say, Philly, and intercedes with its own offer to supersede Houston's?
But barring all those machinations ...
Houston's real chance to get both players is to renege in one form or another on Bosh' money while still charming him into a "yes'' and retaining Parsons, at which time the Mavs will move on to other targets.
(Our volume of coverage in that vein is here.)
(While hoping there are enough targets behind the LeBron Logjam to move on to.)
Another option - Mavs GM Donnie Nelson talked openly about a sign-and-trade deal with Houston to bring Parsons to Dallas.
We've scribbled down some of those details here.
... but at 2:06 p.m. come reports that the SnT is off the table and that Houston is in receipt of the offer sheet.
Again,
full details on how this works here
... and DallasBasketball.com will update day-and-night throughout this process.