DONUT 1:
The
Dallas Mavericks
are not shy about voicing their view of Chandler Parsons as a "perfect fit,'' a future All-Star, a "franchise guy'' and even as an heir to the iconic Dirk Nowitzki.
Chandler Parsons talks as if he's ready to step forward into that mode while also retaining his underdog roots.
DONUT 2:
"I'm definitely a team guy and I'm all about winning,'' Parsons says. "I put the team before myself … but I have goals individually as well as for the team. I'm going to keep working, I'm going to keep proving people wrong. My whole career people have doubted me. They didn't think I could go [Division I], they didn't think I'd be drafted and I was a second-round pick. But I've always kind of been that underdog."
DONUT 3:
Of course, there is no more "under the radar'' for Parsons now, having vaulted from being an underpaid Rockets second-rounder to being one of the most fascinating stories of this offseason and the centerpiece of a Mavs-Rockets rivalry that is housed both in the front offices and on the floor, where his pal (former pal?) Dwight Howard says Parsons won't be missed in Houston, where they lost the match-and-retain game but replaced him with Trevor Ariza.
Parsons spent part of that long weekend in limbo assuming Houston would keep him, inasmuch as he was previously part of the Rockets' long-term plan alongside Dwight and James Harden.
DONUT 4:
"I definitely thought they were going to match,'' says Parsons, the 6-foot-9, 227-pound small forward who in the end gets his $46 mil from the Mavs instead of from Rockets general manager Daryl Morey, who termed Parsons' "untradeable" due to Dallas' clever contract construction.
Now, clever'' doesn't mean wrong. And "untradeable'' doesn't really mean "untradeable''; Morey recently constructed similarly complex deals for Asik and Lin, and this summer gave them away in a failed pursuit for Melo or Bosh.
DONUT 5:
And this is where some of that "heated rivalry comes into play.
For what seems like the first time in his reign in Houston, Rockets-watchers are wondering if "clever'' is good enough when the team never actually wins anything -- and I'm not talking about titles, I'm talking merely about that one playoff series success in the last 16 years.
The author of
this takedown of Morey is obviously not a fan of the GM;
but he does have his facts straight about how there is more stroking being done in Houston than there is winning. Yet Houston and Morey are seen as such an intellectual threat in Dallas
that Mavs-vs.-Rockets is a brainiac battle that the combatants take personally, as Mark Cuban explains to DB.com here.
DONUT 6:
Brother-vs.-brother in front offices? Compelling enough. Brother-vs.-brother in a summer war of words that is keeping the Mavs and Rockets in the offseason headlines?
It's so comical that it almost seems WWE-staged, with Dwight Howard, James Harden and Parsons taking turns playing the heel.
DONUT 7:
These three absolutely were friends in Houston. I presume they still are friends. And yet ...
*Here's
Harden saying that Parsons wasn't a cornerstone.
"Dwight (Howard) and I are the cornerstones of the Rockets," said Harden. "The rest of the guys are role players or pieces that complete our team. We've lost some pieces and added some pieces. I think we'll be fine next season."
*Here's Dwight saying essentially the same thing about the departure of Parsons: "It won't affect us at all. We have myself and James. We have the best center and the best two guard in the game on the same team. It's on us."
*Here's Parsons' response, including the word "ridiculous'' but in full context: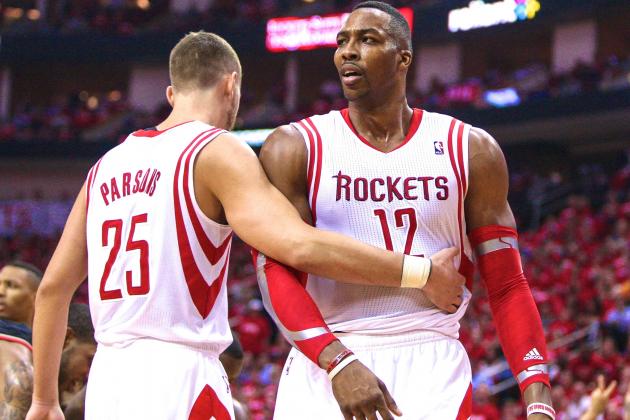 "I know (Dwight) didn't mean it. He's one of my closest friends. He's got to be confident with the Rockets moving forward with or without me there, so I understand where he's coming from. I think it's a ridiculous statement, but at the end of the day, he has to stick up for the Rockets and I don't think he meant it in a bad way and didn't try to bash me at all."
Can insults hurled in July really have any impact on basketball through the winter to next spring? I don't know. Can insults hurled in July help ticket sales?
I do know the answer to that.
DONUT 8:
Is there some truth in the framing of Parsons as being limited when he himself likes to go with the "underdog'' tag?
In addition to what we already know about the 6-9 Parsons (a 16-points/four-assists guy whose numbers can inflate here based on how he'll be used), the Mavs think he can play defense with the aggression he showed as a rookie. They think he can play some backup 2, where Dallas looks a little thin. And importantly, they think he can back up Dirk at the 4, too, in a way that allows them to attack offensively in the same manner even when only one of them is on the floor.
But none of those things makes him Carmelo Anthony.
DONUT 9:
Anthony is among the "overdogs'' -- the sort of player teams move mountains for. Parsons can't really be insulted by the different. He seems aware that starting in 2014-15, when he's due to make $14.7 million in Dallas, his low-profile days are numbered. ... and the expectations that come with the big salary will accompany him.
"It's crazy when you look at it that way," said Parsons of the fact that Houston's unwise release of him caused his salary to increase from $960,000. "But that's why I'm so grateful to them, because they really did me a solid by letting me out [of the contract] a year ahead.
"I have no hard feelings toward them at all."
That really should be the last offseason word on Mavs-vs.-Rockets. Why do I get the feeling it won't be?
DONUT 10:
Give our friends and sponsors a click and a call, please!
*
McKinneyDentist.com
*
Red Rock Bar and Grill
*
Dee Lincoln's
*
LS Wealth Strategies
*
Estilo Gaucho Brazilian Steakhouse
DONUT 11:
Parsons wants to make that last utterance resonate following a Yahoo interview in which he said he felt "disrespected'' by the Rockets' handling of him. That didn't play well for a guy who has a reputation that earned him a team captaincy in Houston at the tender age of 24.
"I didn't mean to sound ungrateful or disrespectful in any way," he said. "I just simply meant that I was offended that they didn't view me as that core piece to their team going forward. ... I'm a very confident guy and that's the reason why I wanted to come to Dallas, because they do view me as that guy."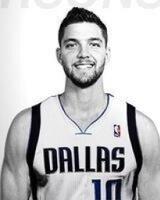 DONUT 12:
Chandler Parsons was already close to Dirk, is building a friendship with owner Mark Cuban, is viewed as a central piece by coach Rick Carlisle and is described by GM Donnie Nelson as a "perfect fit. ... our 'Plan A' right after (the failed pursuits of LeBron and Melo).'''
You don't get to be a Rick/Donnie favorite and be "low-profile.'' You don't get to hobnob with Dirk and Cuban and be "under-appreciated.'' You don't get $15 mil a year to be an "underdog.''
Parsons seems to get all of this.
"I'm definitely excited for a bigger role in Dallas,'' Parsons says. "And to be that guy on the team that can hopefully be here for a long time and be a big building block going forward."
He is about to be "that guy'' or, at least, a heartbeat away from being "that guy.'' And "that guy'' is an "underdog'' no more.