DONUT 1: The Final Roster? ...
I believe the
Dallas Mavericks
have this thing narrowed down and figured out.
Look for final roster might look something like this, and if it is so, I think you'll agree with me that it's an example of an interesting and compelling roster-building concept.
If we assume that Griffin, Ledo, and Mekel are in the D-League with regularity (with Fish and RJ Choppy in TV-land attendance) the working roster will look like this:
C - Chandler, Wright, Smith
PF - Dirk
SF - Parsons, Crowder, Jefferson, Aminu
SG - Ellis
PG - Nelson, Harris, Felton
What we see: Plenty of Cs, plenty of PGs, and "wings" in-between. That, and the starting lineup is quite traditional.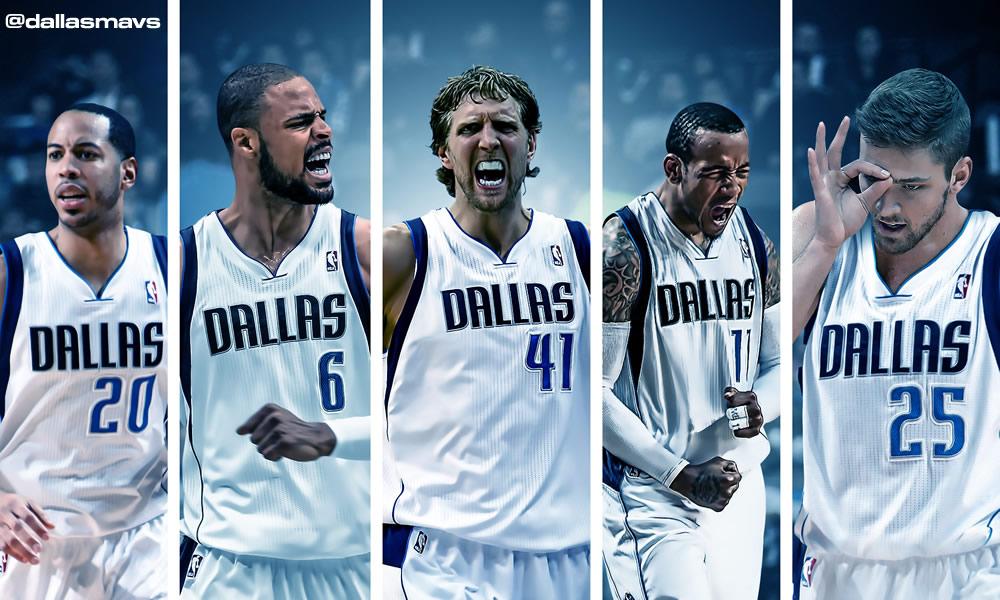 DONUT 2: But then comes the non-traditional …
But behind that starting five? I can educated-guess that the obvious intent seems to be to always use a center and a point guard, and then plenty of tall-and-long wings who can cover ground and shoots 3s to do the rest, with the Small-forward crew getting minutes at the 3, the 4 and the 2. (Cuban tells Fish that Parsons is the backup 4 behind Dirk, so that says a lot.) All of this should allow for some interesting experiments by Carlisle in combinations and rotations.
My bet is that he is up to, and up for, that task.
DONUT 3: Climbing the bandwagon …
Our guy Michael Dugat does
a wonderful job here expressing the joy of a Mavs fan over this successful offseason ... In an analytics way and an emotional way.
But I suggest that serve as just the start.
DONUT 4: The 2014-15 Official Mavs Bandwagon ...
If you've been a lifelong Heat fan ever since they drafted LeBron, or a Rockets fan enthralled by Morey's intricate title-winning expertise, or that guy who shows up to a Mavs game with your just-purchased Kobe jersey, then this probably isn't for you.
If you're excited about the Mavs offseason, we've already started up
The 2014-15 Official Mavs Bandwagon, if you want to get the jump on your friends. ... It's here!
DONUT 5: The necessary paperwork ...
If you're fleeing from another bandwagon that fell in a ditch, DallasBasketball.com has your official NBA form to transfer to the Mavs Bandwagon.
DONUT 6: The sign-up sheet ...
For most of us, the bandwagon has always been fueled up -- 14 seasons of fuel around here! We've got Mavs coverage for you to enjoy in many ways at DallasBasketball.com. Stay tuned,
and hang out on DB.com Boards
... Come
inside the games, the practices and the front office with Mavs Premium
at just pennies a day ... Get
caught up with the Mavs News Archives
... Enjoy!
And seriously, your participating at DB.com - at whatever level you wish - is "sign-up sheet'' enough!
DONUT 7: Escapism …
The Mavs Bandwagon does not allow us to fully escape real-world problems.
You are undoubtedly aware of the Paul George injury, for example. This triggers
a familiar Mark Cuban-powered debate about the risks of NBA guys in international play ... as Cuban first columnized about in 2004.
Mark is right about the financial incentives for international basketball to use athletes as it does. Now, to this fresh Cuban statement:
"The greatest trick ever played was the IOC convincing the world that the Olympics were about patriotism and national pride instead of money. The players and owners should get together and create our own World Cup of Basketball."
Join the DB.com Boards discussion in that link.
DONUT 8: Comings and goings …
There are changes big and small.
If you're struggling to understand
how Shawn Marion hasn't fit, we've got you covered.
Interested
in the coaching-staff change? It's discussed here.
Wondering why there is so much
in-house excitement about a backup center you've never heard of? Handled here.
DONUT 9: One no, one yes ...
DB.com is also the place to learn that, contrary to a zany report, the Mavs have no interest in zany Michael Beasley ...
And if you are a Mavs Insider here you knew long ago that while the Rashard Lewis contract was ripped up due to his knee problem, Dallas isn't quite yet done with the relationship.
Because Rashard needs a place to rehab that knee. Which will soon be fine. Maybe right about the time a team could use a backup big shooter.
DONUT 10: Get inside ...
You can get
inside the AAC starting with the preseason games, here.
But of course we'll take you inside every minute of training camp as well ... and when the regular season starts, DB.com partners up with FOX Sports Southwest to bring you the Mavs on TV ... featuring our own Mike Fisher.
DONUT 11: Best ever!? ...
It happened at the start of Summer Shopping,
when the Mavs knew they had a Dirk Discount in their pocket - but couldn't know just how delightfully deep that discount could go.
It happened at the end,
when the room-MLE netted a starting point guard - a new team leader? -in Jameer Nelson.
Outside of not getting LeBron James in a Mavs uni, this marks Dallas' most successful summer ... Ever!?
DONUT 12: The Final Word …
From "ReunionMav," who just signed on as a DB.com Premium Subscriber and in his first post writes:
"I bought my tickets in 1981, and helped lead the Reunion Rowdies. Dirk now has his sidekick Tyson Chandler, his bud Chandler Parsons and the closest to a legitimate Robin he has ever had in Monta Ellis. We have our best coach ever (sorry Dick Motta etc.). The bench depth will have to prove themselves as will the point guard trio but this should be a very good team. The summer season has been fun to watch with good potential for success.




"We as fans have to prove ourselves too. This team will need our help to be a true title contender. ... It's time for everyone to get up for this season. The bandwagon needs to prepare to be intense!"