Today's Donuts are sponsored by
McKinneyDentist.com
... with us since 1995! Give "the finest dentists in the land'' a click and a call!
DONUT 1: Scheduling quirks ...
The
Dallas Mavericks
have themselves
a schedule and we have the analysis of it here.
Yes, Dick Motta was right; it's 41 at home and 41 on the road. But the more you dig, the more you find some "personality'' in the thing.
Example: Dallas plays Houston four times, of course. On each of those four occasions, the Mavs will be playing on the second night of a back-to-back.
Blecch. That hardly seems fair. But it might be balanced by another example:
Dallas joins Utah as the teams with the most games to play in which they are more rested than their opponents, 28. (The Hawks and Celtics have the fewest of those games, 13).
So it balances out - though it might not seem like it on four nights against Houston.
DONUT 2: The lousy QO ...
Big man Greg Monroe says he never got the big offer from the Pistons, so negotiations that never went anywhere leave him nowhere but to sign the team's one-year, $5.5 million qualifying offer.
Is there any long-term guaranteed money he's leaving on the table? Not if he's telling the truth when he says no such offer was made. Monroe took to Twitter to shut down rumors of him having declined a five-year, $60 million offer and a four-year, $58 million offer.
So Monroe will play out this season -- probably in a foul mood -- before becoming an unrestricted free agent next summer and putting the Pistons in his rear-view. ... because 24-year-old bigs who average 15.2 points, 9.3 rebounds and 2.1 assists per game get paid.
And what they don't do, pretty much ever, is find themselves locked into such a sour deal. (One report notes that Monroe will become only the 14th first-round pick sinc 2003 to sign a qualifying offer.)
But what if this is happening twice?
DONUT 3: Bledsoe's QO ...
Eric Bledsoe isn't just not signing with the Suns. He's not even talking to the Suns, owner Robert Sarver tells the Arizona Republic.
Bledsoe declined a four-year, $48 million contract offer and now might end up locked into his QO. Is the situation salvageable?
Well, it'd help if the team was even speaking with Bledsoe.
"We haven't heard from the guy in four months, so I couldn't tell you,'' Sarver said. "I do know that when he played here, he felt good about the organization, his coaching staff and his teammates at the end of the season. We had the same feelings toward him."
"The guy''?
That doesn't sound very warm.
What does all this mean for the Mavs?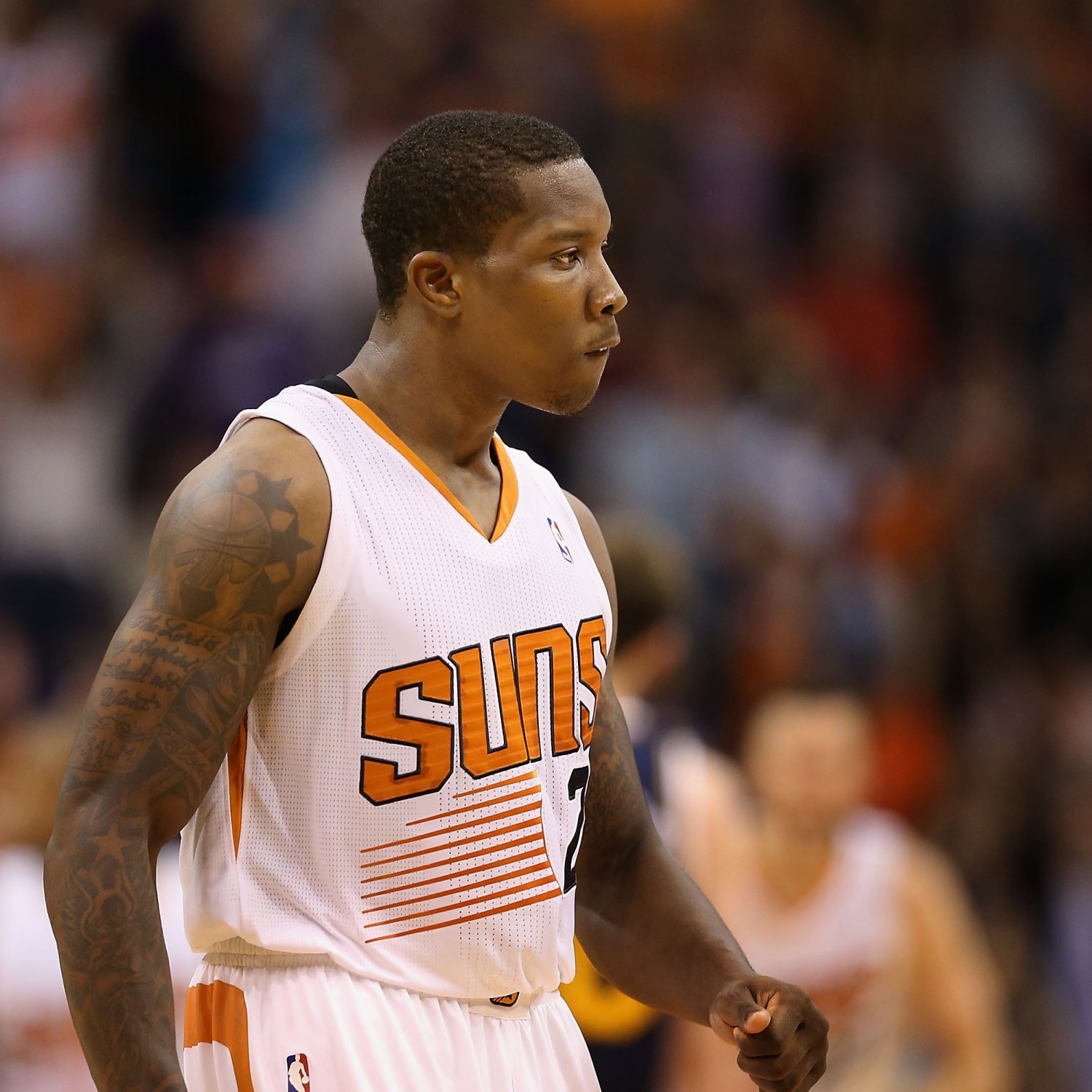 There aren't deals to be made at this time. There is free agency to explore next summer. And the more bodies who are underpaid and disgruntled in their final contractual years in their present cities, the more the Summer of 2015 is an invitation to more Mavs shopping success.
DONUT 4: Trix travels ...
The Pacers are openly noting they want in on Shawn Marion, as do LeBron James' Cavaliers. Said Larry Bird after meeting Trix: "What I came away with was he's undecided with where he wants to play and what he wants to do. But he does want to play for a contender."
Where Indy and Cleveland cannot help him much is at the pay window. Cleveland is restricted to offering him a vet-minimum salary of $1.4 million and the Pacers are unlikely to give him more than $1.7 mil because that would vault them into lux-tax territory.
And if you're wondering
Why Shawn Marion couldn't just take that same sort of salary in Dallas? We broke that story weeks ago and the status never changed.
DONUT 5: The Sterling Stench ...
The Clippers are officially rid of one Sterling. But the stench of another Sterling lingers on.
The NBA has completed the sale of the team to former Microsoft bigwig Steve Ballmer. That closes the official books on Donald Sterling, V Stiviano, racism, sexism and whatever the hell else was going on out there.
Donald Sterling can still sue for financial damages, but as David Lord explained long ago, the league is indemnified against any lawsuit, so Donald Sterling would essentially be suing ... Donald Sterling.
But what Shelly Sterling? Why is she still officially involved with the Clippers? Isn't her involvement as a potential "beard'' for Donald still having his grotesque finger in the pie? If she's being "rewarded'' for being the one who testified that Donald is "mentally incapacitated" and who pushed the sale to Ballmer ... doesn't the "reward'' get shared between her and her husband?
The ugliness is officially over. But the Sterling Stench lingers on.
DONUT 6: Plus, he can't sing a lick ...
The Raptors have something called a "global ambassador.'' That person is somebody called "Drake.'' He used a Toronto concert appearance to "recruit'' (if you will) Kevin Durant to the Raptors.
That's technically a no-no and has resulted in a $25,000 fine. The NBA reportedly offered to drop the fine if the Raptors dropped Drake. But surely he's worth $25,000, right?
Unless, that is, you've ever heard him sing.
DONUT 7: PJ's DUI ...
Suns forward P.J. Tucker has been suspended for the first three games of season following a May arrest for driving under the influence. The charge: "super extreme DUI, " as he registered a blood-alcohol level of .222 after being pulled over by Scottsdale Police.
Like Ray Rice in the NFL (in a vastly different circumstance) fueled "what's-the-right-penalty'' arguments. My answer: As long as a league has a consistent policy, it's "fair'' enough. The NFL's problem with Rice is that domestic violence isn't specifically addressed in a manner that can lead the league to across-the-board penalties for offenders.
Every case is different. But aren't some cases so across-the-board heinous that there can be a hard-and-fast punishment?
DONUT 8: They do like Bass, but ...
Why don't the Mavs go get them some Brandon Bass?
Here's why.
DONUT 9: Mavs roster snapshot ...
A snapshot of that roster, including the salaries? Nobody does it better than David Lord,
who provides that Mavs snapshot here.
DONUT 10: Melting Melo ...
You are by now
familiar with the Incredible Shrinking LeBron.
Now we see Carmelo Anthony following suit.
And in need of getting those suits tailored.
DONUT 11: Ladies first ...
CBS Sports says it "will make television history'' with its in September debut of "the first all-female sports talk show.''
I don't care if it's historic. I just care if it's good.
An all-female cast? Great, I guess. Produced and directed by women. Good, right?
The trick is going to be to determine whether this is definitively a "female show'' -- the way its apparent model, "The View,'' certainly is -- or whether it simply wants to be good.
And to determine whether it wants to be like "First Take'' -- the fastest, cheapest way to ratings attention -- or whether it would rather be good.
If it's good enough to tell me things about sports I don't already know, to educate and entertain, I'll give it a look.
If it's "First View''? I'll ignore it like I ignore the two aforementioned programs.
12: The Final Word ...
Barkey, at the Heroes Game a couple of you, with his infamous "Dude, Who The Hell Are You?'' Dirk presentation: