Today's Donuts are sponsored by
Red Rock Bar & Grill
... our North of Dallas hangout for sports and live music!
DONUT 1: The Big Lead
Let's first engage in some clean-up from last week, when the new
Dallas Mavericks
were formally introduced to both fans and media in a press conference held at American Airlines Center.

While the day was mainly for the Mavs fan base, owner Mark Cuban, forward Chandler Parsons, and center Tyson Chandler had three of the days most "newsworthy" quotes, presented here by DallasBasketball.com ...
The Mavs, highly cooperative as they are, were still talking Monday at
Mavs Media Day, and we've captured all of that good stuff here.
DONUT 2: Practice All-Access Day 1
And then camp Practice Day 1, with the first day of camp workouts featuring a defensive-first session in the morning and then another practice later in the day. The first thing an observer notices: Who is gathered together with the "Whites'' (jerseys for the starters) vs. who is assigned to the "Blues.''
The Whites: Dirk, TY, Parsons, Monta and ... Jameer Nelson. (Other members of that "team'' included Ledo, Mekel and Sarge).
The Blues were led by Devin Harris, Richard Jefferson, Aminu, Crowder and Brandan Wright, with Felton and Greg Smith also wearing the Blues.
Coach Rick Carlisle isn't handing out starting jobs just yet. In fact, it's not just lip service when he talks about "competition'' at the point guard position (and elsewhere).
"I see Jameer, Ray Felton and Devin Harris all playing both guard positions," Carlisle says. "With the way our roster is set up, we like attackers, we like guys that can make plays both with and without the ball. ... People look at it and I get a lot of questions about the minutes crunch. I'm not worried about it. I just want good basketball players that want to win, and I think we have that."
DONUT 3: PG x 3
Of course, somebody still needs to start. And they all want to.
Says second-unit leader Devin Harris: "It's our job to make it competitive and it's our job to make it hard for Coach.''
Says first-team unit leader (and yes, that's what he is) Jameer Nelson: "Our job is to play and his job is to coach," said Nelson, who was an institution as a 10-year starter in Orlando. "There's a reason why he's won a championship and has been the coach for a long time and a great coach for a long time.''
And the great coach has started by giving Nelson the inside lane to the starting lineup.
Carlisle talks of Jameer's "grit and toughness.'' And "his personality.'' And his skills as a "natural leader.''
That's how you talk about a Day 1 starter.
DONUT 4: Bulk or Belly?
Chandler Parsons wanted to "bulk up,'' ostensibly to be able to take and administer some pounding when he plays the 4 this year. And in fairness, his arms do look like he's spent some time in the weight room.
"I just think (adding) strength was the biggest thing for me," Parsons says. "I wanted to be able to guard (4's) in the post, not have to front and do stuff like that. I think the added strength will definitely help."
But ...
"One man's bulking up is another man's not-quite-in-shape-yet,'' Carlisle says, smiling.
DONUT 5: Monta's 3 Secrets
Last year, Monta Ellis was, as usual, a 19-points guy. But he did it in an unusual way, taking better shots than his rep would suggest, and fewer, too. Ellis reverted to his glory days as a kid in Golden State, when the priority was exploding to the rim, working off screens with Dirk, and doing something more than playing passing lanes on defense.
And now it's time to add more tools to the toolbox, as Monta tells DB.com in this fun visit about his "Three Secret Things'':
A teardrop? I think I'm right in suggesting that would be a killer. A softer touch with some use of the bankshot? That can work. And something even grander than improved ball-handling as the third of "Monta's 3 Secret Things''?
"I'm trying to be really sound and really explosive at the same time,'' Monta tells me, and as the Ellis secrets unfold themselves, that does sound like something to build on.
DONUT 6: No time for limping
Mark Cuban is still limping a bit, the result of a hip-replacement surgery that, he admits humbly, is coming along way more slowly than a fellow patient who is in her mid-70's and is pretty much running laps around the NBA owner.

Cuban can afford a slow start. His Mavs? With a goal of being "special,'' they cannot, as Tyson, Coop and Carlisle help me explain here in my Premium Mavs column.


DONUT 7: One click, all Mavs!
Keep it here on DB.com as we will keep you posted in a variety of ways from inside your team ... Here on the HOME page,
and here on DB.com Boards
... Thanks for joining us as we launch our 15 season inside the Mavs!
Oh, and if you want to be
a Mavs Insider with Premium coverage? Click here
to take our free 7-day trial and then for 10 cents a day, you are among the most informed Mavs followers on the planet! Go Mavs and Go Premium!
DONUT 8: Wanna bet?
While one set of oddsmakers have Dallas winning fewer than 50 games (?), Bovada has them in the mix as a potential Western power. Cleveland is at 5/2 to win the NBA title. The Spurs are at 4/1, Chicago at 11/2, OKC at 6/1, the Clips at 12/1, and then Houston is at 16/1 and the Mavs are at 18/1.

Yes, they have Houston ahead of Dallas. Expect Mark Cuban and Daryl Morey to both conduct playfully angry press conferences in protest.


DONUT 9: Championship Cement
How does a title cement a man's reputation in the minds of not only his public, but his peers?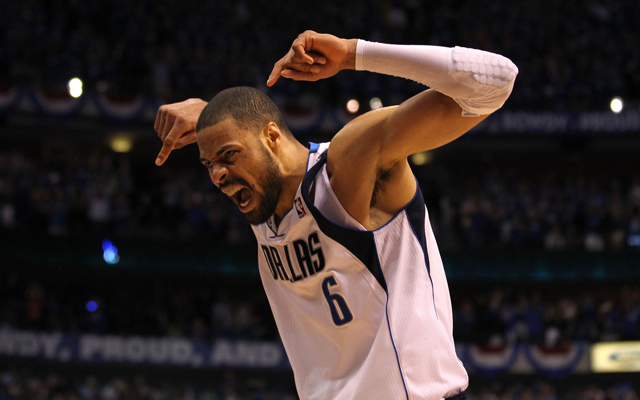 "I spent one year here and everybody equates my career to being here," Tyson Chandler says. "Even guys around the league (will ask), 'How many years did you play in Dallas?' And I'll say one. And they say, 'What?' Everybody thinks I was here four, five or six years. It was one really long, incredible year. I am definitely tied here and it's a great thing that I am."
DONUT 10: The longshot
The last player to leave the court after the Tuesday morning session was long-shot kid Eric Griffin, who spent considerable time working with Carlisle on his outside shooting.
So far, what we know about
Griffin is his cleverly constructed three-year contract.
But after watching Rick the Teacher work with him, we see more: A kid who is willing to work, to be sure, but also a kid with some glitches in his shot. Carlisle worked with him on everything from release point to arm angles to how he makes the mistake of arching his torso back when he shoots, changing by inches the distance between his hands and the front of the rim.
It was educational for me to watch. I hope it was educational for Griffin, too.
DONUT 11
The Mavs continue to talk about shaving Nowitzki's minutes. Move it from 33 per game last year to ... well, what's "shaving''?

The coaching staff talks of something closer to the 30-minute range ... but then the game starts. And it's close. And while you "manage'' minutes over the course of the season ... you NEED Dirk. "I did a lot of work this summer," Nowitzki said. "I feel ready to play with whatever comes. And I'll use these four weeks (of preseason) to get in even better condition and I guess I'm ready. In the playoffs, I averaged close to 35 or 40, so whatever comes, comes. I'll be ready for it."


DONUT 12: The Final Word

"Who I've been throughout my career is a tough guy, not a guy who cracks easily or gives up. There's going to be tough times and you need guys in the locker room that can get you through those tough times. We have a lot of leadership and guys lead in different ways, so I'll just do my part. I'm not going to come here and change who I am and play different. I'm going to play the same way. That's why they brought me here." - Jameer Nelson.