DONUT 1: The Big Lead
The Mavs return to the gym today and then play host to the Grizzlies tonight in a 7:30 tip at the AAC. Memphis, of course, is yet another Southwest Division threat with Zach Randolph and Marc Gasol capable of dominating inside and out. Tony Allen is back as their stopper and now Vince Carter -- unable to wait on what Dallas might eventually offer for him to stay -- has his three-year deal in Memphis and is battling through an ankle injury on his way to giving the Grizz some instant offense.
We'll have info throughout the day here and
on Twitter
(including thoughts on Yuki Togashi possibly appearing in this final home preseason game before being released to
the Texas Legends)
and we'll see you tonight at the AAC!
DONUT 2: The offense assembled
DB.com's Mike Marshall with the "Heat Check'' graphic ... Note where the present Mavs players shoot from ... and how well they shoot it ... and understand why LeBron James says Dallas is among the "top three or four best offenses in the league ... you don't get any better than Rick Carlisle's offense.''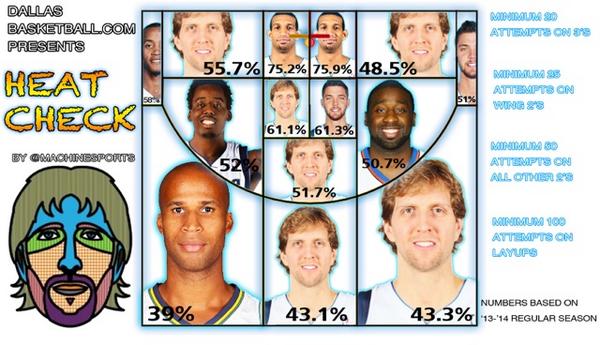 DONUT 3: Beauty in Cleveland
The
Dallas Mavericks
had been slow to assemble their regular-season starting lineup on an NBA floor due to a handful of minor injuries. But in Cleveland on Friday, there was nothing slow about the way the quintet clicked.
In fact, for most of the 108-102 preseason win over LeBron's Cavs, there was no offensive combination for Dallas that failed to show some dynamism. ... and LeBron's rating of the Mavs offense looked spot-on.
"We moved the ball beautifully, shared it and shot it well,'' said Dirk Nowitzki, and we love when he uses poetic words like that to describe ...
poetry
.
The success started at the top, with point guard Jameer Nelson pairing with Monta Ellis in the backcourt and Chandler Parsons and Dirk flanking center Tyson Chandler upfront. Dirk and Jameer combined for a quick 12 points to start the game. Nelson ended up playing 29 minutes and scoring 19 points on 7-of-9 shooting, with open looks galore.
That's what we call an "open look.''
Parsons also scored 19 (on 7-of-15 shooting to go with five rebounds and four assists), and included in his burst was perimeter work and a cut to the basket that allowed him a highlight dunk over LeBron (12 points on 3-of-6 shooting), with whom he battled much of the night.
That first group allowed the Mavs an early 13-point lead as Dallas shot 12-of-21 in the first period, with Dirk working the boards (five early rebounds and a total of nine as he scored 16) and Ellis adding 13 points. Dallas was largely unstoppable early, scoring 37 points in the first quarter and shooting 57 percent from the floor. But the next wave of Mavs did its part, too, against a Cleveland team that had been undefeated in the preseason and still looked loaded enough even with ex-Mav
Shawn Marion
and Kevin Love sitting out.
"It's exhibition season, so (the win) doesn't mean a whole lot,'' said coach Rick Carlisle. "Everyone at this time of year is really studying their own team for the most part, and sure you're trying to win, but everyone's got an idea of minutes that guys are going to play and within those thresholds, you've got to try and win the game.''
The
full story of Friday night in Cleveland is here.
DONUT 4: What's Dirk good at?
If
Dallas Mavericks
star
Dirk Nowitzki
is healthy, this team believes (rather privately) that it is a top-four-tier contender in the West.
If Dirk is healthy enough to play golf -- albeit badly -- Dirk is healthy.
Dirk is healthy enough to play golf, socialize and bust chops, as he did all day Tuesday, an extremely positive sign as the right hip contusion that kept him from playing in the first two games of the preseason is a thing of the past.
"Golf is not my game,'' Nowitzki said, mastering the obvious while practice-swinging his freakishly long club. "I'm better at handball, tennis and water polo.''
And basketball. But Dirk wishes not to brag.
We've got
the full story of DallasBasketball.com's day on the links with the Mavs -- Premium stuff! -- here.
DONUT 5: Swimming forward
It's sports, so every team is an injury away from disaster. The Mavs are no different, which is why they breathed a collective sign of relief when Monta's injury turned out to be nothing serious.
"When he went down, I think everybody was really depressed that whole day, thinking our season is kind of swimming away," Nowitzki said. "It looked ugly. He was down for a while. He had to get carried off. That was bad news. I thought our season might take a hit.
"And then in the afternoon, he texted me and said, 'It's all good.' So that was a huge sigh of relief. I thought he'd still be out for a few weeks, then next thing you know, the other day he was going full-contact practice.
"He's just a warrior."
Monta's health is just half of what I think is the cool news here. The other half? That his list of people he felt obliged to provide a medical update to was ... The Uberman.
DONUT 6: Mekel shines in Indy
The Saturday meeting in Indy was an "exhibition game'' in every sense of the word, the Mavs having already flexed their starting-lineup muscle the previous night in a win over LeBron in Cleveland.
That was a game about offensive firepower, a Heat Check for all the things Dirk, TY, Parsons, Monta and Jameer can do together.
Against the Pacers? That quintet sat, as did sixth man Devin Harris, leaving time and space to the likes of
Gal Mekel
, who is essentially running out of both -- and performed as if he wishes to change fate's direction.
"Mekel's playing great," coach Rick Carlisle said following a 98-93 defeat that included a 14-point first-half lead and a 52-42 edge at intermission. "He's really playing extremely well, and he had really good command of the game. He got a little tired at the end. You know, 42 minutes is a lot for a guy that's been playing 12 or less most of the time, but he did a great job and there were a lot of good things."
What Mekel did: 19 points on 7-of-14 shooting, with nine assists. The second-year prospect quarterbacked his first unit (Jae Crowder, Ivan Johnson, Greg Smith and Richard Jefferson, good for 19 points on 7-of-11 shooting) well enough that Dallas led 82-68 with 7:49 remaining before the Mavs faded on this second night of a back-to-back. There were boosts, too, from Al-Farouq Aminu (who continues to work on that 3-pointer and totaled 11 points and 12 rebounds), from Charlie Villanueva (who keeps blowing up Dallas' original roster plans, in a good way), and from Brandan Wright's (10 points on 4-of-6 shooting).
But this was Mekel's night, a chance to breathe from the bottom of the depth chart, where he is perched well below
Jameer Nelson
, then
Devin Harris
, then presumably
Raymond Felton
, even as Felton nurses a high-ankle sprain and readies to serve a four-game suspension to start the season.
"(This was) one of those games ... we can take a lot of good things,'' Mekel said. "A lot of guys got their opportunity, and most of the guys played great."
In true point-guard fashion, Gal Mekel, is spreading the wealth. But for one night, with a limit on roster room and time to alter the tide, the most notable guy who "played great'' was
Gal Mekel. We've got the story here.
DONUT 7: One click, all Mavs!
Keep it here on DB.com as we will keep you posted in a variety of ways from inside your team ... Here on the HOME page,
and here on DB.com Boards
... Thanks for joining us as we launch our 15 season inside the Mavs!
Oh, and if you want to be
a Mavs Insider with Premium coverage? Click here
to take our free 7-day trial and then for 10 cents a day, you are among the most informed Mavs followers on the planet! Go Mavs and Go Premium!
Also, hook up on Twitter with
Fish
,
Mike Marshall
,
Michael Dugat
,
Jonny Auping
and
David Lord
.
DONUT 8: The Legend of Dirk (and Pitino?)
Donnie Nelson has told us for years that Rick Pitino's Celtics were sniffing around Dirk just as the Nelsons and the Mavs were. It seems Pitino is happy to let that legend grow ...
But wait. DB.com's David Lord thinks this retelling merits a tad of cynicism. From D-Lord:
It's hard to separate fact from fiction in the Pitino story, but details that he relates simply don't fit with the facts in so many ways.
As Pitino relates it, the Celts were waiting to grab Dirk and watched as Detroit picked Traylor, except it wasn't Detroit picking Traylor. And, even though Milwaukee eventually ended up with Traylor, it wasn't Milwaukee that was announced to the NBA as taking him, either. It was Dallas.
He also relates that after that, with Boston set to draft Dirk at 10, Dallas called trying to swap picks with them and jump past them in the draft, creating concerns that the Mavs found out about Boston's interest in Dirk and were trying to steal him from the Celts. But that makes no sense on many levels, starting with the fact that Dallas began the day with a pick at 6. And if the Mavs had known of Boston's interest in Dirk, why would they have called and risked alerting Boston?
Memories can mix up who picked whom (as to Traylor) and the sequence of each player picked, but the key point of his draft-day story really doesn't add up. I'm not sure what really happened on draft day, other than the fact the Mavs swapped from 6 down to 9 and took Dirk while also picking up pick 19 as well. But Pitino's tale of the day is more of a storyteller's legend rather than a factual account.
As a result, it suggests that the rest of the story relating to how he supposedly worked out Dirk and (if he did) how he reacted could very well have been embellished, modified, confused, and a blend of fact, mistake, and storytelling fiction as well.
It's
a fun conversation on DB.com Boards and we invite you to join it!
It's free, fun, frustrating, fantastic ... basically, it's what being a fan is all about!
DONUT 9: Quoteboard
"I'd cut Dirk if it made us better,'' said Mark Cuban, referring to Dallas' guaranteed-contract roster decisions. "It ain't gonna make us better. But if it made us better, I would.''
DONUT 10:
Nowitzki's remarks about a shorter NBA season continue to reverberate through the NBA -- mostly because ESPN misconstrued what Dirk said.
The
original text of Dirk's remarks, and ESPN's manufacturing of those remarks into a controversy -- is here.
As a result of not understanding the original text or context, now we have none other than Michael Jordan tip-toeing towards questioning Dirk's want-to.
"I love both of those guys,'' Hornets owner Jordan said of Dirk and fellow commenter LeBron, "but as an owner who played the game, I loved playing. If I wasn't playing 82 games, I still would've been playing somewhere else because that's the love for the game I had. As a player, I never thought 82 games was an issue.''
It's not an issue. It's really not.
DONUT 11: Thanks to our pals and sponsors!
Here's
McKinneyDentist.com
... with us since 1995! Give "the finest dentists in the land'' a click and a call!
Thanks to
Red Rock Bar & Grill,
our north Dallas hangout for live music and sports!
Meet
LS Wealth Strategies,
with Woody and Bill helping to guide my family and available to do the same for you!
And
Dee Lincoln's,
the famous DFW restauranteur now with a new location near Park and Preston!
DONUT 12: The Final Word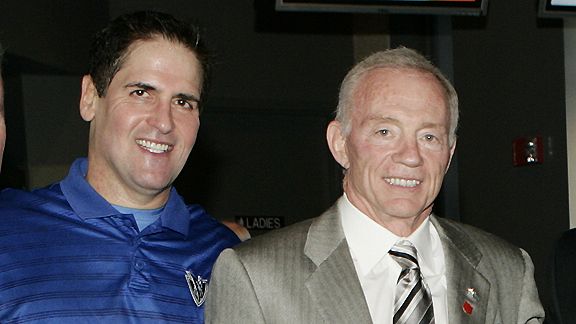 "This is my Super Bowl prediction: It is going to be the Cowboys versus the Broncos, with the Cowboys coming on top, 53-51, in the highest-scoring Super Bowl ever." -- Mark Cuban, to "Good Morning America.''