HATE-ABLE HOUSTON
It's OK, really it is, if Chandler Parsons opts not to hate the Houston Rockets.
"It was crazy playing with my new team against my old team,'' said Parsons, who scoring 14 points in 24 minutes in a 111-108 Rockets win. "It was fun to get out there and play against someone else other than yourself. Obviously we wanted to win ... But once the ball goes up in the air all the awkwardness and weirdness went away from me playing Houston."
Acceptable. Understandable. Forgivable. But let's get this out of the way (until we bring it up again every time Dallas plays Houston this year): We hate the Rockets. We hate James Harden. We hate Dwight Howard. We hate Daryl Morey.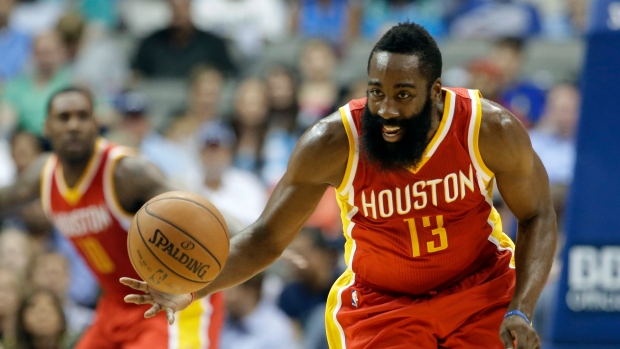 "Hate'' is a strong word (per your mom ages 5-to-12) but we are wordsmiths and we know what it means and we truly do hate the Rockets and James Harden. We think if he wasn't a max-contract player that he would get laid the hell out once a game by the opposing team's goon. He's the player in the league that makes basketball most resemble baseball, and baseball is boring as hell. His constant knee-to-the-stomach tactic is chicken scat.
We also hate Dwight Howard and his let's just say "hypocritical lifestyle." We hate Daryl Morey and his idea that you can construct a championship team with cap space and a smile in an easy-bake oven. So, this isn't just a preseason game to us. Anytime the
Dallas Mavericks
roll their best 12 men against Houston's, we want to beat them into dust.
Unfortunately, a large majority of what we werw watching for was Rick's early rotations but with 12 personal fouls in the first quarter and the referees ruining a perfectly good basketball game, Rick was operating a quart low. We typically give zero poops about the officiating, but 55 free throws in the first half of a preseason game just seems like something that shouldn't happen. Maybe the hate between these teams showed itself in physicality, i.e. personal fouls.
This game -- done in the final tick on a debatable call that gave Houston the free throws to win it -- was excellent for practicing ... well, more free throws.
As we take the scalpel to this one, let's separate this into "Giant Men With Whom We Are Familiar and "Giant Men We Ain't So Familiar With.''
NEW-GUY IMPRESSIONS
Chandler Parsons
got us thinking about his defense immediately after he made a nice rotation on the Rockets first possession to seal off Dwight and force a contested field-goal attempt that should have been a turnover.
Just how good can Chandler Parsons be on defense?
Really, his advanced numbers aren't that bad (108 defensive rating the last two years) considering the pace at which Houston runs their offense (fourth highest in the league last year) and the fact that Harden regularly drifts off like a 6-year-old at Discovery Zone.
Can Rick Carlisle make Parsons something of a nuisance on the defensive end given his size and activity? We vote "yes.''Maybe it's not necessarily as an on-the-ball defender; but a 6-9 help defender can cause a lot of problems. That's just something we'll have to keep an eye on, but all of his rotations in this game seemed solid and he was even willing to take a charge against Howard. To be honest, we were very worried about Parsons' adjustment to a free-flow offense that isn't based on strictly 3's and layups and his taking to Rick Carlisle and all that can mean. We're not so worried at this moment. He just has to be willing to put forth the effort.
And he's not alone there, Carlisle specifically pinpointing where Dallas needs to be defensively, eventually.
"We know that to get where we want to be, we've got to be top-10 defensively,'' Rick said. "Stay committed, we have a chance.''
Another aspect of Parsons' game that you don't really get a feel for unless you're watching him consistently is his transition game. It's incredibly under control and effective for a guy at his length. As point of reference, Trevor Ariza (the guy the Rockets replace Parsons with) shot .56.8 percent on layups last season, needing assists on over 30 percent of such shots (so basically 70 percent of his layups came off of his own ball-handling). Parsons made .58.1 percent of his layups while only need assists on 28 percent of them. He's silky-smooth in transition and incredibly efficient at drawing fouls while not really putting himself in harms way. Parsons finished 88th in the league last season in FTAs per game but you have to remember that he was playing with two guys that ranked second and third in the league in FTAs per game in Harden and Howard, respectfully. We have to believe with Parsons' ability to put defenders in awkward positions, he's going to nearly double his FTAs per game this season.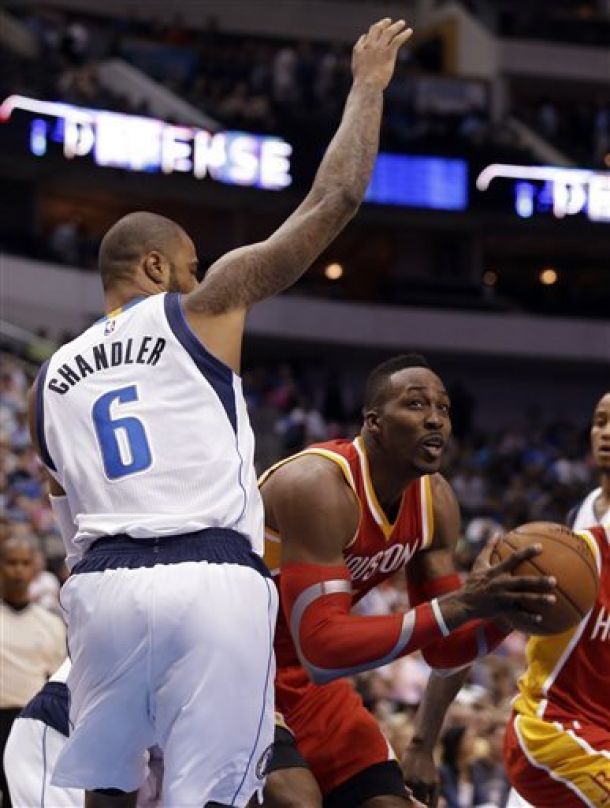 There were notable things about
Tyson Chandler
's game other than the full-on internal freak out about him being back. He looked really good on Howard and consistently beat him to his spot on the floor with well-timed challenges on most attempts. Honestly, Donatas Montiejunas was more a problem for TY because he has more of a post game and isn't something that resembles a crane being set into position.
Tyson even showed off a mid-range jumper which honestly, we forgot he had in his arsenal ... but we trust our DB.com buddy Mark Followill's assertion that TY exhibited one in 2010-'11.
But even with the trust ... we still went back and checked and here's what we found: In the 2010-2011 season, 9.3 percent of Tyson's shots came from outside 16 feet, and he shot 42 percent from such distance. In his first two seasons in New York less than 2 percent of his shots came from outside 16 feet. Last season he finally got back to it, shooting 8.4 percent of his shots from 16 plus feet, hitting 44 percent of them.
So, he has that trick in his bag, but chooses not to showcase it for seasons at a time. Perhaps it's back.
Maybe the most important moment of the game from Tyson came when Monta Ellis hit the deck hard with 1:17 left in the first half, and TY bounced up from his spot on the bench to help his mate off the court.
Greg Smith
was the first big off the bench, and we don't think that will be the case in most games.
Brandan Wright
would be that guy in most scenarios, but it was just an admission that besides Tyson Chandler the Mavericks have nobody that can guard Dwight Howard (most teams have none). Smith has to learn how to not be a foul-per-minute type guy if he was to stay in the rotation. He's never averaged more than 2.5 fouls per game, so let's just assume it was a unique situation of guarding Dwight Howard and some over-eager referees. It still leaves me with the question of whether he can be the "DeJuan Blair type'' or is
Al-Farouq Aminu
going to have to be that guy ... and the Matrix Starter Kit ... and the energy defender ... and the rebounder. We hope not. Too much to ask.
"The chief has arrived.'' That's what
Al-Farouq Aminu
means in Nigerian. (Yes, The 75-Member Staff speaks a bit of Nigerian.) It kind of looked like he was late to the party after playing a handful of the most inconsequential minutes possible in the first quarter before getting turnt up in the second quarter.
Aminu drew four different personal fouls while pulling down five boards and being all over the court like Nightcrawler in the second frame. Our real questions with Farouq are, "Can he be an on-ball defender for stretches and will he space the floor enough without heavy staggering in the second unit?''
Give him this, though: Starting in place of Dirk at the 4, he did some of the same "best-rebounding-small-forward'' stuff he did in New Orleans, with a game-high 11 rebounds in 20 minutes.
Farouq and Wright as the second wave of bigs seems like a very spacing-limited group, which paves the way for more minutes for guys like Charlie Villanueva and Ivan Johnson.
Villanueva looked like a legit stretch-4 line-driving in a trio of three balls (13 points in 14 minutes) before fouling out. The thing with Charlie V is you'd like to think a guy of his size and position could pull down more than one board in 14 minutes but that's never been his game even when he was drawing 20+ minutes a night (career high 6.7 rpg in 27 mpg).
Nevertheless, if it's just a matter of keeping the best 15, Villanueva is making this team. He did in this game what he's done every day of training camp, which is, pop up your eyebrows on the offensive end. DB.com has been told that Charlie V sticking with the big club was never really in the plan ... but his play is pushing for a change in the plan.
"He can put the ball in the basket, we know that,'' Rick said. "As a situation guy, he's valuable because he can come in and he can get hot very quickly. We're one game into this. We'll see where this goes as far as the roster and all of that kind of stuff.''
Ivan Johnson
looked super-confident chunking threes but it was the whole resembling-something-that-might-go-in part of the equation that didn't add up. Keep working on that jumper with Rick, sir.
Jameer Nelson
finally knocked down a spot-up three, and if you're looking for a dude to replace the instant splash effect that went North with Jose Calderon, this is your guy (four different seasons of shooting over 40 percent from 3). Nelson moved the ball well, especially with Felton, as he routinely made the skip pass. (Rick, true to his word, played the PGs together for a bit.) A few times, we were disappointed in Jameer's decision-making when not swinging the ball for the extra pass, ala Devin. Maybe that will just take some adjustment, as he's been forced to manufacture offense in Orlando for the last several seasons.
With this offense? Even on a night when Dirk sat out with a hip contusion, not much needs to be forced.
OLD-PAL IMPRESSIONS
Harp pegged
Devin Harris
as "the best backup point guard in the league" and without clicking on any depth charts, we might have to agree with him (if you don't consider any of the Phoenix guys "backups" and you don't like what Reggie Jackson has to offer). Devin entered at the 10-minute mark and that makes a ton of sense going forward. The Mavs have three very capable point guards, so why not keep them all fresh? Devin knocked down his open threes, played good defense and was very steady with the ball.
Copy and past that 82 times this season and this a top-four team in the West.
Jae Crowder
entered the game at the six-minute mark in the first quarter at the power forward position. We really really want Jae Crowder to be a good NBA player. We like the guy. ... liked him since he accidentally drunk dialed me (Mike Marshall) his rookie year (more of that story in Premium Content but not really) ... but we just don't know what he does well.
That's not an indictment. Just an evaluation.
On-ball defender? OK, but we did just see him foul a dude that hadn't hit lick the entire game on a last-second three. Jae still has multiple WTF moments on the offensive end in every game where we're certain he's more interested in drawing fouls than initiating the offense. He still dribbles baseline and pulls up while fading, creating a shot that only Kobe Bryant hits on a consistent basis, and this Jae's third season doing this. In this league you have to do something exceptionally well - as Carlisle himself says. We don't know what that is for Jae, who maybe does a lot of things OK and certainly works his tail off doing so (he's noticeably leaner and still muscle-bound as has been a camp standout on the defensive end).
We think the standard deviations of Jae Crowder's career could propel this team into that upper echelon ... or he could be a guy that loses minutes to Charlie Villanueva because he can deliver something tangible on a regular basis.
Please be good, Jae. Because we like you.
For just a second there, until we did our "Three Secrets'' video with
Monta Ellis
, we'd almost forgotten how much we love his spirit. Dude takes a charge on James Harden in a preseason game (nevermind that it wasn't called) and gets fired up about it. He's a rock. A positive rock.
"We know it's going to be different without Dirk on the floor,'' Monta said. "The defense is just going to play us different. You know, we just have to look at that on the positive side. Like I said, just keep going and everything else will work itself out. For the first game we did alright, we had our ups and downs but everything I took away from it was positive."
Positive, positive, positive.
Monta is proving our theory of "Different Situation/Different Guy. You can't read much into what a player is while playing on one of the third-world country teams (see Milwaukee Bucks) and he might a completely different animal on a winning team. You gotta spot the talent and go from there. With all that's gone on this off-season we nearly forgot about Monta. Even in a preseason opener that went on too long and ended in a loss, we find joy in being reminded that "Monta Basketball" is here.
MAVSELLANEOUS
We're told Doron Lamb has an understanding that his work in Mavs camp is a warm-up to his eventual move to the D-League Legends, where he might be good enough to serve as a go-to guy ... Hey, Rick was the whistle with two seconds left that gave Houston its winning FTs the right call? "Whether it was the correct call or the right call at the end, it saved all of us five minutes of basketball agony,'' the coach joked ... Mavs fans just like you
kick it around here on DB.com Boards!
THE FINAL WORD
"We had a bunch of guys that haven't played together much, so that can explain some of our haphazardness with the ball. But the truth is, we've got to get better - fast.'' - Rick Carlisle.