The
Dallas Mavericks
launch a 2014-15 campaign that is already marked not only by unusual optimism from the fan base ... but optimism inside team HQ, too, as smart basketball people view this club as a top-tier threat in the impossibly tough West.
That doesn't mean coach Rick Carlisle isn't available to preach sense, of course.
"We're a relatively new group that understands we've got to earn the right to win, and we've got to start by how we compete and how we play together,'' the coach says. "And from there we've got to build it up as the season goes along."
Indeed, as I'm joined by Mike "The Machine'' Marshall so we kick around some Mavs season keys ... stuff Dallas worked on in the basement and stuff that can start coming to fruition tonight. We recognize it's about earning it and building it ... But we're still giddy:
It'll be done "collectively,'' as Rick would say ... (and in front of Spurs fans who will see championship jewelry handed out before the 7 p.m. tip but won't see injured starters Kawhi Leonard and Tiago Splitter participate) ... and here are the individuals who will collect together for what has the promise of a 50-plus-win club (graphics courtesy Mavs.com):
DONUT: Ricky Ledo - No. 1
THE PROFILE: Ricky Ledo lines up on some depth charts as the backup 2-guard, but he's a ways away from that with Dallas planning to allow the kid another year of seasoning with multiple assignments to Frisco ... His 2013-14 stats: 1.7 PPG, 0.2 RPG, 0.2 APG, 37.5% 3P% ... At 6-7, he's got remarkable length and some almost-point-guard skills to go with them, but the organization is focusing on him working as a wing ... Ledo skipped from high school to (a year off) and then to the NBA Draft, so given the second-round contract and his youth (Ledo is 22) this is a project worth waiting on.
THE QUOTE: "He's learned a lot in a year's time. He's gotten in better shape. He's gotten more immersed in what the NBA life is all about, with the NBA process and how to be a pro and those kinds of things.'' -- Rick Carlisle.
DONUT: Raymond Felton - No. 2
THE PROFILE: He begins the season as the third point guard -- but isn't really that yet as Felton remains sidelined with a high ankle sprain and then, when he returns to health, will serve a four-game suspension on a gun charge ... Stats last year with the Knicks: 9.7 PPG, 5.6 APG, 3.0 RPG, 31.8% 3P%. And it's that shooting percentage that's in need of repair. ... The Mavs liked him a great deal a few years ago when he reached a peak as a playmaking, scoring guard in Charlotte, but his weight in recent years have kept him from those heights ... Felton will get a chance to play some 2-guard behind Monta Ellis, and will thus be part of an undersized backcourt that Carlisle will attempt to utilize to SmallBall advantage. ... The Mavs think his "combative'' personality will add to the team's chance at a tough-guys persona, but more important than that is getting him back to where he is a pick-and-roll threat, something the Knicks asked him to be last year, with poor results.
THE QUOTE: "We're all going to get on the court, sometimes together, sometimes not. Somebody's going to start. Somebody's not. That's just what it is. We're cool with that. Whatever my role is, I'm going to accept it. At this point in my career, it doesn't really matter. I just want to help this team win." -- Raymond Felton.
DONUT: Charlie Villanueva - No. 3
THE PROFILE: The 6-foot-11, 232-pound Villanueva has a chance to be a Cuban special, a Fallen Angel, a reclamation project, all because he has classic stretch-4 skills. ... The 30-year-old Villanueva averaged double figures in his first six seasons in the league. ... He will struggle to defend bigs and may struggle defensively in many ways. ... He holds a key to Dallas' rotation because if he really can replicate some of what Nowitzki does, Dirk can be afforded the luxury of fewer minutes.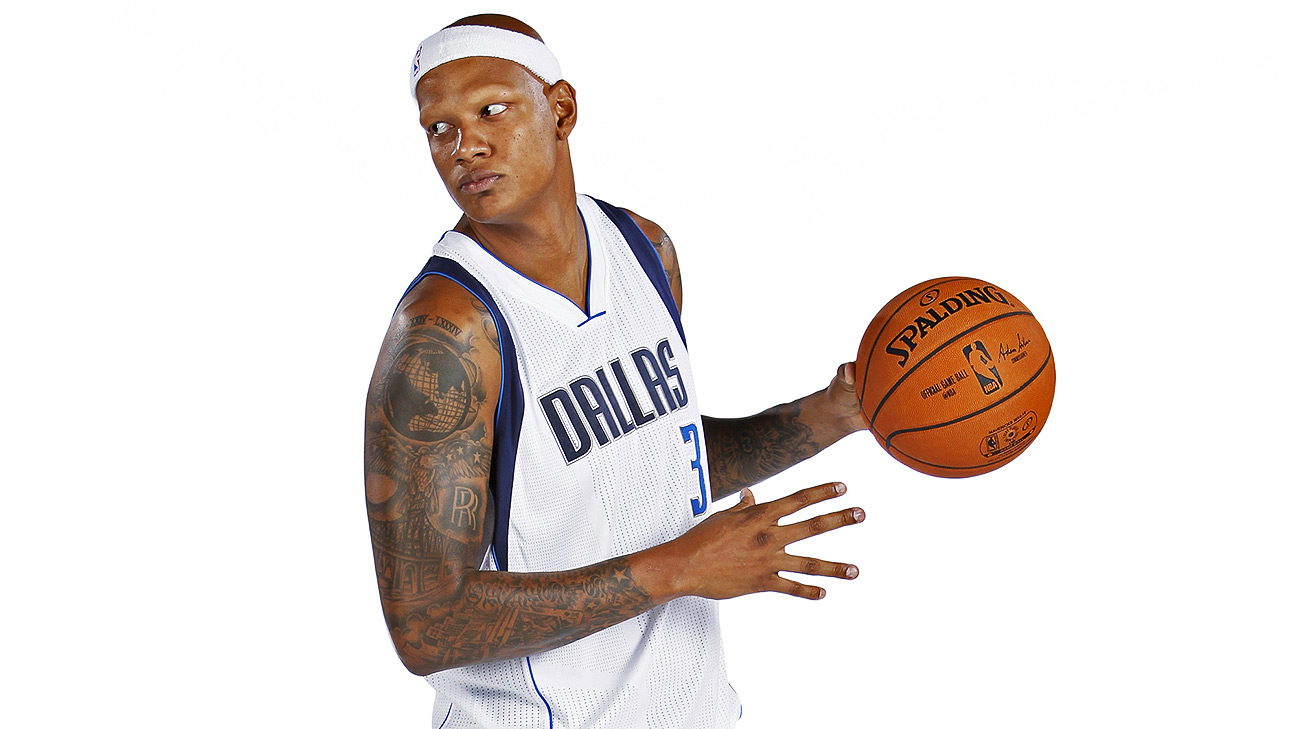 THE QUOTE: "He can score and he can shoot it. That's his skill and that's his gift. I'd like to see him do a better job defensively, particularly in the post, where he got hurt. And I think he's capable of doing that." -- Rick Carlisle on Villanueva.
DONUT: Greg Smith - No. 4
THE PROFILE: Dallas thinks it has a diamond in the rough in the 6-foot-10, 250-pound Smith, who in limited minutes before being dumped by Houston averaged 5.3 points and 4.1 rebounds in over the past three seasons ... He's a "traditional'' center, ideal for the Mavs in the sense they like the idea of having two (with TY) on the roster ... Smith is a banger with good hands near the rim but very limited range ... Carlisle will often be tempted to stick with B-Wright as the No. 2 center, which might keep Smith out of the regular rotation.
THE QUOTE: "He's got a skill set that we need in our front line. He's thicker and he's got the right combination of experience and youth. We think we got a really good young player that can provide us punch in our front line." -- Mavs GM Donnie Nelson.
DONUT: Tyson Chandler - No. 6
THE PROFILE: Tyson Chandler was the defensive centerpiece the last time the Mavs were truly great -- championship great -- and Dallas coaches consider him a "star'' because of all he brings to the table ... Defensively, he'll clean up a lot of messes made by his smallish backcourt, but the Mavs think he's being underrated as an offensive threat. Yes, he's still got the dunks off the pick-and-roll game; so much of what allows B-Wright to thrive can work for the 7-1, 240-pound TY, too. But Dallas is encouraging him to add a little shooting range to pull opposing centers away from the basket ... Tyson Chandler's 2013-14 stats (with New York): 8.7 RPG, 9.6 RPG, 1.1 BPG ... Chandler is a healthy season away from being what Carlisle calls "a top-five center in the league,'' and in terms of being a high-quality and emotional leader, he might be even higher than that.
THE QUOTE: "I'm going to make (teammates) defend. We're going to defend. You can score as many points as you want, but at the end of the day, defense wins championships and that's what we're going to do. Guys don't have to be the best individual defenders in the league, but we are going to be a great defensive team. You have to do your assignment. We're not going to take plays off."
DONUT: Al-Farouq Aminu - No. 7
THE PROFILE: Aminu is a wildly athletic 6-foot-9, 215-pounder with a 7-3 wingspan and the potential to do some of what Shawn Marion used to do here defensively, at least in terms of versatility ... Aminu, 24, needs to be more than just an "energy defender'' and become consistent at it. ... His advanced numbers as a defender in New Orleans were poor; Dallas thinks he was miscast there. ... Some are going way to far in mentioning him in the same breath with Scottie Pippen. But the Mavs are getting him to develop some range on his shot and the numbers say he is an elite rebounder when playing the 3.
THE QUOTE: "There's an awful lot to like about him, not the least of which is that he's a younger guy that we can plug into our system and hopefully have here for a while." -- Carlisle on Aminu.
DONUT: Jae Crowder - No. 9
THE PROFILE: Crowder tells DB.com he's dropped 11 pounds in an attempt to be more explosive offensively, as he's trying to make a statistical leap from his first two seasons averaging 4.8 points and 1.0 assist in 16.7 minutes per game ... He's a wild card in the rotation because by the numbers, he's a top-notch defender Crowder but positive-wise he's somewhat of a tweener.
THE QUOTE: "I'm trying to make plays on the other end, not just be one-dimensional. I'm a much better player than just a defensive player.'' -- Jae Crowder.
DONUT: Monta Ellis - No. 11
THE PROFILE: Monta Ellis concedes to us that he needs to revert to his early NBA days as a high-quality ballhandler in traffic, something he's worked on this summer. ... He's also trying to develop the teardrop, is working on bankshots, and knows that a 2-guard with mediocre percentages from the arc won't cut it ... His 2013-14 stats: 19.0 PPG, 5.7 APG, 3.6 RPG, 1.7 SPG, 33.0% 3P% ... Ellis is a go-to offensive player for the Mavericks, though the addition of Chandler Parsons might require a period of adjustment. ... Ellis joins Devin Harris as probably the fastest Mavs ever ... Monta is not a high-quality defender, but survives by playing passing lanes and recording steals. ... Worth watching: Does Dallas still ask Ellis to be the "unofficial point guard'' in key moments?
THE QUOTE: "It is a business, but at the same time, I'm going to look into everything with my family, sit down with my wife, my kids and we're going to go from there. But I'm with the Dallas Mavericks for the next two years and hopefully throughout the rest of my career." -- Monta Ellis.
DONUT: Jameer Nelson - No. 14
THE PROFILE: Jameer Nelson is downshifting from a team in Orlando when he was often the centerpiece of their chances to win to a Dallas squad on which he simply needs to be a faciliator and then hit wide-open weakside jumpers ... His 2013-14 stats (with Orlando): 12.1 PPG, 7.0 APG, 3.4 RPG, 34.8% 3P% -- and he won't necessarily be asked to match all of that here. ... Nelson, in part by the force of his "strong-silent'' personality, wasted no time, from the first day of camp, in winning the point guard job that was supposed to be a wide-open competition ... While only 6-0, Nelson has a habit of muscling his way to success as a pick-and-roll defender.
THE QUOTE: "The system is new. Things are different. Learning on the fly is a little tough, but I'm smart enough, picking it up pretty fast and learning guys' sweet spots on the floor, learning when I need to shoot more. All that stuff will come." -- Jameer Nelson.
DONUT: - Devin Harris No. 20
THE PROFILE: A long-time favorite of the front office and a "family'' member even after being dealt away ... Devin could be asked to be a closer even though he'll start the game on the bench ... Harris' 2013-14 stats: 7.9 PPG, 4.5 APG, 30.7% 3P% ... He's by far Dallas' best on-the-ball perimeter defender and fearless in using his quickness to draw charges ... He is the "sixth man'' of sorts though Carlisle's rotation won't make that as "official'' as it once was with Jason Terry and then Vince Carter ... Harris' signature play is the pick-and-oop to Brandan Wright, and an upgraded percentage as an outsider shooter would help to make that signature even more deadly.
THE QUOTE: "This is the first summer that I've been completely healthy, that I've been able to just stay in one spot, not coming in and not knowing what to expect. Just to be able to come in and work hard day in and day out. … Going into the season full-strength rather than catch up to everybody else, I'm excited." -- Devin Harris.
DONUT: Richard Jefferson - No. 24
THE PROFILE: At 6-foot-7 and 234 pounds, Jefferson is bigger than you think. And as a 40.9-percent 3-point shooter, he may have more gas in the tank than you think, too. ... Will he be Peja II (a situational shooter) or Vince II (a regular high-rotation piece)? Asking him to be Vince II might be too much, even though RJ had some high-flying moments in the preseason ... His 2013-14 stats (with Utah): 10.1 PPG, 1.6 APG, 2.7 RPG, 40.9% 3P% ... He's got a history of being a very sound defender ... The Mavs are mystified as to why, before landing in Utah last year, his two-year stint in San Antonio was such a failure. ... Can some magic be recaptured from 2007-08 and 2008-09, when Jefferson put up 22.6 points per and 19.6 points per, respectively?
THE QUOTE: "I like to believe myself to be an everyday contributor. ... For 13 years, I feel like I've been an everyday contributor, and I feel that I can be an everyday contributor here. Whether it works out that way remains to be seen, but my job is just to stay ready.'' -- Jefferson.
DONUT: Chandler Parsons - No. 25
THE PROFILE: So much of the focus on Chandler Parsons will be on the $16-mil-a-year deal, but Dallas plans to milk him for every bit of that, making him a potential leading scorer, a unique playmaker, and eventually, an heir to Dirk as a "face of the franchise.'' ... His 2013-14 stats (with Houston): 16.6 PPG, 4.0 APG, 5.5 RPG, 37.0% 3P% ... Parsons will undoubtedly get more opportunities here than he did with James Harden and Dwight Howard in Houston, where both of those stars are ball-dominators. Dallas will swing the ball, and quickly, with Parsons almost always involved ... The Mavs need him to improve his defense, maybe back to where it was in his rookie year when he was at least a try-hard guy ... Parsons wishes to become a better post defender, in part because he thinks he'll be asked to play some 4 behind Dirk. ... This is a perfect "culture'' fit for the Mavs. The biggest question is how long the on-court acclimation will take.
THE QUOTE: "We have no problem being the underdog. We know how good we could be, and we know how hard we worked this camp. It's definitely a process, but we're definitely fine with that." -- Chandler Parsons.
DONUT: Gal Mekel - No. 33
THE PROFILE: This may not be a long-term set-up as the Mavs chase J.J. Barea (should he clear waivers on Wednesday night). But Mekel has caused some in the organization to reverse field with a fine training camp in which he demonstrated a mastery of the offense at point guard, worked hard to become a better perimeter shooter, and labored to overcome some slow-footedness on defense ... At one point the Mavs were engineering a buyout deal that would send Mekel overseas. Felton's injury changed that -- but Barea's availability might put that option back on the front burner.
THE QUOTE: "[Outside shooting] is what me and the coaches are talking about, especially the three-point shots. If I'm going to make them consistently and a good percentage, I can really help our team during the season. And this is what I want to work on." -- Gal Mekel.
DONUT: Brandan Wright - No. 34
THE PROFILE: All the sudden, Brandan Wright is entering his seventh NBA season, representing a rebuilding of a career in Dallas that in 2013-14 meant the following stats: 9.1 PPG, 4.2 RPG, 0.9 BPG ... Wright is the first to say he needs to up those rebounding numbers in order to be a true backup NBA center -- though if he gets a vote, he'll play more 4 this year ... Wright's above-the-rim game is among the NBA's best, and his teammates are fueled by his momentum-grabbing dunks. ... Wright has spent the last two summers adding bulk to his naturally slender frame. ... He's another strong candidate to be an unorthodox "sixth man'' in the rotation.
THE QUOTE: "I want to help our in-the-paint scoring, make sure we're hitting the boards and get myself playing above the rim ... to be another piece that can help this team elevate." -- Brandan Wright.
DONUT: Dirk Nowitzki - No. 41
THE PROFILE: Owner Mark Cuban says not even Dirk Nowitzki will be required to be a 20-points scorer this season, and maybe that's why folks are penning their annual
"Dirk Is Not A Superstar Anymore'' columns.
But after all this time, only a fool bets against The Uberman, who last year was good for 21.7 PPG, 6.2 RPG, 2.7 RPG, 39.8% 3P%. ... As usual, he's trying to add to his toolbox, this year with a quicker release on his jumper and with some more muscular post moves ... The 7-0 footer, the all-time greatest player in franchise history, is closing in on records that make Dirk -- who has in many ways reinvented the 4-position -- an elite player in NBA history, too. And the manner with which he carries that honor is key to Dallas' outstanding team chemistry. ... He jokes often about his advanced age of 36, but few take care of their bodies better than the 12-time All-Star ... There is a steady career decline in rebounds and there is a purposeful decline in minutes, too -- or at least that's the plan. But then the bullets start flying and there are precious few men any basketball team would want on its side more than Dirk Werner Nowitzki.
THE QUOTE: "We've got a good and deep team now, and we just want to make our own destiny." - Dirk Nowitzki.