DONUT 1: "No Time For Limping'' ...
"I think this year it's very important that we start right now,'' Tyson Chandler says. "That's the thing that we really concentrated on the first time around when I was here. It's not going to happen if we decide to pick up things come the playoffs or after the All-Star break or late in the year. It's very important that we start (today) in the first day of training camp.''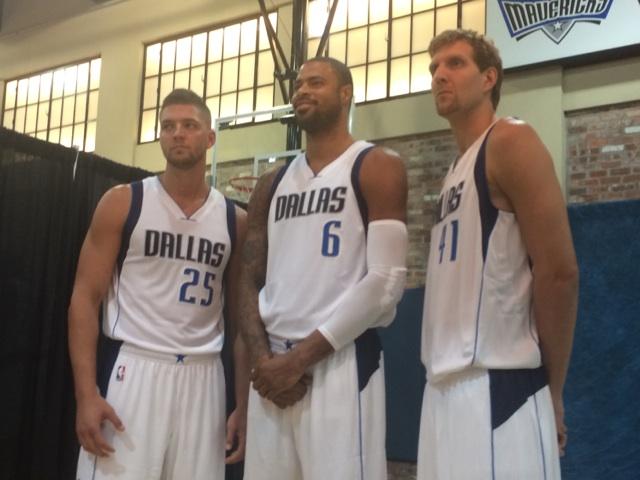 My "Fish On Mavs'' column takes you inside the start of
Dallas Mavericks
camp and how Mark Cuban might be coming out of the gates limping ... but a team with such an abundance of new talent and feel-good buzz needs to avoid doing so.
"No Time For Limping'' for Premium Mavs Fans is here.
DONUT 2: Uberman Unchanged ...
The Mavs are talking a lot about "new leadership alongside Dirk'' and "reduced minutes for Dirk'' and there is some validity there. The "old-guy'' jokes are just now starting for the 36-year-old 12-time All-Star ... and us old guys know, the jokes gain steam the more you lose steam.
Now, who is ignorant enough to believe that Dirk Nowitzki -- who played in 80 games last year, averaged a team-high 21.7 points, fell just percentage points shy of a 50-40-90 season, moved ahead of Oscar Robertson (26,710) for 10th on the league's all-time scoring list and is clearly inspired by the return of Tyson Chandler -- is losing steam?
"Just winning is all it's really about,'' Nowitzki said, "when you get old."
See? Even The Uberman can't resist.
"When you're young, making All-Star games is fun. But, as you get old, it's all about being on a winning team. Winning is the only thing that matters, and it's fun. So, after the championship, I think we had a couple of down years. We didn't make the playoffs one year and we were an eighth seed another year, so I think we've got a good group again this year and we should fit together pretty well. Just going for it, having some fun out there and win.''
And endure 82 games more of "old-guy'' jokes.
By the way, Dirk says, "I signed on for three more years. I'm obviously looking to complete that contract. So it's three more years of "old-guy'' jokes, really.
DONUT 3: 'I am a bully' ...
"I am a bully,'' Mavs owner Mark Cuban says, laughing. "I just can't help myself.''
We take a look inside Cuban's remarks here from inside the AAC ...
As our Jonny Auping
writes here in his full report on the latest in the Mavs-Rockets feud
, Neither Cuban or rival Daryl Morey is good at letting jabs go unanswered. Some might call it immature, but it sure feeds into a rivalry between two championship contenders. In reality, they are both men who were at the forefront of analytics in the NBA and two of the most successful roster constructors in all of basketball. They're just having fun with each other. At least, Cuban is.
"There's no personal animosity whatsoever," Cuban assured. "But we're competitive. Like I said, he's smart and it's fun to pick on him."
They're probably the two biggest nerds feuding in basketball, but they're both fighting for the same thing at the end of the season. ... and the chance to bully each other during it.
DONUT 4: Fan Jam ...
How fast is the Mavericks' clock moving? They'll will host the annual Fan Jam this Saturday at 1 p.m. at the AAC. The event is free and open to the public and no ticket is required to enter the doors. Parking is available for $5 in the AudiPark Garage. The highlight of the day's events, of course, is the 2 p.m. open scrimmage.
If you can make it? DB.com will see you there. If not? DB.com will see you ... here at DB.com, with full coverage.
DONUT 5: TY is all-in ...
TY isn't just talking the talk about wishing to lead Dallas into being a better defensive team. He's actually got a philosophical plan in place, based in a terrific level of unselfishness and trust.
"I just told [coach Rick Carlisle] that I just want to be aware of the strategy and what we're trying to accomplish, because I want my teammates to be fully aware of what we're trying to accomplish and I want the guys to feel secure and safe,'' Chandler says. "You now, nobody should ever feel like they're on an island or they have to be the best defender in the league. We just have to play together."
"Feel secure and safe.'' Who talks like this? A rim-protecting leader with a philosophical plan in place, that's who.
DB.com's Annabel Stephan has more on Chandler's thoughts on this year's Mavs:
DONUT 6: 'Where are you, man?' ...
Chandler Parsons is moving out of the shadows of Dwight Howard and James Harden. Hopefully he'll cast a shadow alongside Dirk, TY and Monta.
"I was fortunate enough to play with two superstars in Houston to where I learned from those guys, too,'' Parsons says. "(But) I'm ready for that next step of my career. I'm ready to come here and have a bigger role, be more of a leader, and that's why I came here.
"I've worked extremely hard this summer. If they haven't seen me, they will this year.''
The Mavs have raised Parsons' profile by giving him a three-year, $46-million deal to steal him from Houston. But along with the glitz comes the "grind'' (more on that particular word, and how it relates to Parsons and me, later in the day). A really good way to emerge from shadows, when you play for Rick Carlisle, is to grind.
"He's persistent, man, and he's all over me,'' Parsons says affectionately of his coach. "He'll send me a pic at like 7:30 from the locker room (as if to say), 'Where are you, man?'''
Where Chandler Parsons is, is ... getting ready to cast his own shadow.
DONUT 7: Thanks to our pals and sponsors! ...
Here's
McKinneyDentist.com
... with us since 1995! Give "the finest dentists in the land'' a click and a call!
Thanks to
Red Rock Bar & Grill,
our north Dallas hangout for live music and sports!
Meet
LS Wealth Strategies,
with Woody and Bill helping to guide my family and available to do the same for you!
And
Dee Lincoln's,
the famous DFW restauranteur now with a new location near Park and Preston!
DONUT 8: Quoteboard ...
We got all the talent in the world,'' Dirk says. "We just got to make it work. The chemistry has got to be there. The top teams in the league are loaded and stacked. We have to work hard during the season and get the highest seed possible and we'll go from there."
DONUT 9: Follow our action live ...
By becoming a free member on
DB.com Boards
and by hooking up on Twitter with
Fish
,
Mike Marshall
,
Michael Dugat
,
Jonny Auping
and
David Lord
.
The Mavs have a pair of practices today and DB.com will be inside the AAC for all the news, notes, quotes and analysis as we begin our 15th season as your home for the best in Mavs coverage! Here's the week's tentative schedule:
Today: Practice 10—12 p.m. & 4:30 p.m.—6:30 p.m.
Wednesday: Practice 10 a.m.—12 p.m.
Thursday: Practice 10—12 p.m. & 4:30—6:30 p.m.
Friday: Practice 10—12 p.m.
Saturday: Fan Jam 1—3:00 p.m.
DONUT 10: Is bench scoring an issue? ...
"Scoring'' in general should not be. (Which is why today's camp-opening practice will be all about D.) But what about bench scoring? Last season, the Mavs' bench averaged 35.7 points per game. That was good for No. 6 in the NBA ... and it was largely about now-Grizz Vince Carter.
Is Al-Farouq Aminu a scorer? No. Jae Crowder? Not sure where he fits. Raymond Felton? Well, I bet he's one of the best-scoring third point guards in the league ... except that there really is no such thing of significance.
I had a long talk this week with Brandan Wright, and he's got his theory: In addition to Richard Jefferson as part of the second wave (and he can certainly shoot it), B-Wright sees himself playing some 4, in tandem with Devin Harris, of course, but also alongside Tyson Chandler.
"We'd have to make sure we really dominate on the boards with that lineup, but I think we could do a lot of damage scoring inside, too,'' B-Wright tells me.
So Devin Harris (who averaged just over eight points a game off the bench last season) as the leader of the second wave. B-Wright as a 4. And enough mixing and matching with starters who have chemistry with that group (like Chandler for certain, but others, too) that even if the 35.7 shrinks, the overall effectiveness does not.
DONUT 11: MontaBall...
Monta Ellis told the media-at-large that he's just planning to be "the same Monta Ellis.''
He's fibbing.
Stay tuned. Monta and DB.com have a "Three Things'' project in the works ...
12: The Final Word ...
"I just like the roster. I love that we have Tyson Chandler back. That's really a huge acquisition for us, and really all the new guys that we got all add something. ... So I just see the team taking on a bit of a different personality than in the last couple of years. There's going to be at least seven new guys on the roster and possible eight or nine, depending on how it goes and who wins jobs. So, there's a lot to be determined, and that's exciting." - Rick Carlisle.