DONUT 1: The Big Lead
Dallas Mavericks
coach Rick Carlisle has a plan for how he's going to use his starters in the Friday/Saturday b-2-b trips to Cleveland and Indiana.

But he ain't gonna tell you.

Rick, saying he "likes our plan,'' will only add that the Mavericks' starting five will make its preseason-game debut together in Friday at Cleveland.

"We're going to play our normal group Friday,'' Carlisle said, "and then we'll go from there.''

There isn't much reason to push this same all-five concept to Indy, especially with Monta Ellis coming back from a knee and Dirk Nowitzki coming back from a hip. Dirk, for one, is almost certain to not participate Saturday.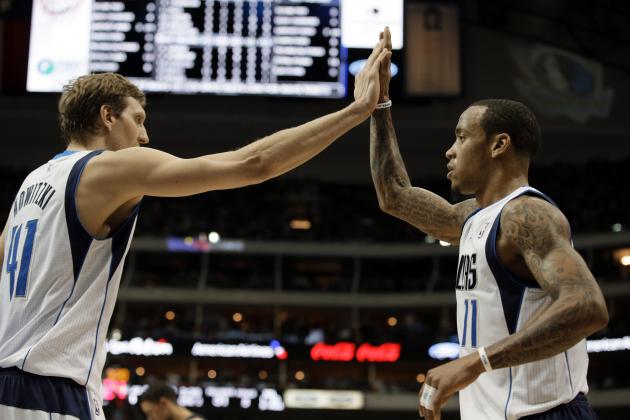 One focus in practice has been to insert more of the playbook, and we will see that in action on Friday. ... with Tyson Chandler, Dirk, Chandler Parsons, Jameer and Monta Ellis.

"I'm looking forward to seeing how (the starting five) works in a game," Nowitzki said. "We put in a lot of new sets here the last couple of days, so I think it's going to take a few reps and a few games to get everybody on the same page. But, yeah, it should be a fun game."


DONUT 2:
Is Al-Farouq Aminu a threat from 3?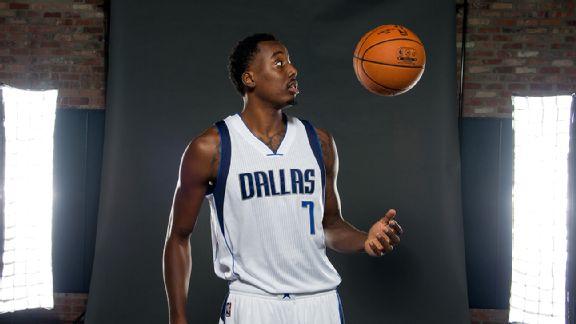 The 6-9, 215-pound defense/rebounding ace wasn't necessarily that in New Orleans last year, where he made just 13-of-48 from the arc for 27 percent. But he certainly was in Wednesday's practice, when during 3-point drills he drilled 20 of 25, causing the traditional ringing of the ceremonial bell and a shout of "Hear-Ye, Hear-Ye!''
Usually, it's assistant Darrell Armstrong who mans the bell. This time it was Carlisle himself.
The Mavs talk a lot privately about how they think the Pelicans mishandled Aminu, not fully utilizing his skill set. Is this one of the areas they're talking about?
DONUT 3: A 3-point PS
The Mavs team record for 3-point accuracy in the drill (which requires players to shoot five sets of five from five different points beyond the arc) is held by Peja, by the way.
He went around the arc ... and kept going, with a total of 98 of 100.
The bell was ringing like nuts that day.
DONUT 4: The roots
Maybe it helps to beat your enemy if you know his roots.
A unique Spurs-angled look at Pop's roots here.
DONUT 5: The Charlie V decision
We've got insight into
what the Mavs will do with Charlie V
and those around him ... or now, below him ... on the roster, with the help of Villanueva and Donnie Nelson, among others, here.
Here's a quick a look at the sweet, effortless stroke of Charlie V at practice.
DONUT 6: Another roster heads-up
Prediction: The Mavs will line up Japanese point guard Yugi Togashi on their 20-man camp roster with his "training-camp contract.'' Then they will cut him, and his rights, having gone through this process, will belong to the Texas Legends, where Yugi will spend the season.
And then the Mavs will do the exact same thing with another point guard. I do not know who, as I just know of the logic. Which is: Another 20-man roster guy who would otherwise be entered into the Nov. 1 D-League draft. Quickly run through camp and then cut. Then quickly shuffled off to Frisco, where -- because of that time spent in camp -- is Mavs/Legends property.
It's a smart way to "stash'' and develop, if you will, and a continuation of the area of truly treating a D-League team as a direct minor-league affiliate of the big club, a department in which Dallas is trying to remain an innovative, "Asset-Managing'' leader.
Speaking of Yuki ...
An always-playful Dirk sought out the 21-year old after practice to goof around with a little one-on-one.
Yuki eventually nailed a baseline fadeaway over Nowitzki's outstretched arm, resulting in Dirk celebrating with the kid with the jump-in-the-air shoulder bump. The full-body high-five, if you will.
DONUT 7: One click, all Mavs!
Keep it here on DB.com as we will keep you posted in a variety of ways from inside your team ... Here on the HOME page,
and here on DB.com Boards
... Thanks for joining us as we launch our 15 season inside the Mavs!
Oh, and if you want to be
a Mavs Insider with Premium coverage? Click here
to take our free 7-day trial and then for 10 cents a day, you are among the most informed Mavs followers on the planet! Go Mavs and Go Premium!
Also, hook up on Twitter with
Fish
,
Mike Marshall
,
Michael Dugat
,
Jonny Auping
and
David Lord
.
DONUT 8: Dirk fake controversy
On Wednesday, Dirk addressed the idea of the 44-minute game being experimented with this weekend. His conversation with a small group of us veered away from the idea of a shortened game to the idea of a shortened season.
"I think you don't need 82 games to determine the best eight in each conference," Nowitzki said. "That could be done a lot quicker, but I always understand that it's about money, and every missed game means missed money for both parties, for the league, for the owners, for the players. I understand all that, and that's why I don't think it's going to change anytime soon."
And that's the essence of it. Dirk did add that he's no fan of the schedule crunch that includes back-to-backs and four-games-in-five-days runs.
"Honestly, I never was a big fan of back-to-backs even when I was 20 years old," said Nowitzki. "I think that you should never have to play at the highest level there is two consecutive nights and flying in between. You obviously make it work. We have the best athletes in the world, we feel, but I think it hurts the product some. Last year, some teams get here for the fourth game in five nights and we've been sitting here on rest and just blow them out.
But then he circled back to what, for him, is an important point. He's not bitching. He's not flexing his muscle. He's not "challenging'' anybody.
"I don't think it's good for the product, but I also understand that 82 games is where it's at. It's a business, and everybody's got to live with it."
And after all that comes the headline writer in Bristol, who manufacutures:
"Dirk CHALLENGING NBA to shorten season.''
Nowitzki intended to do no such thing and did no such thing. He answered a question carefully but thoughtfully, cautiously but honestly.
If you've ever wondered why athletes view the media with distrust, why they answer questions with robotic blandness, why Mark Cuban started his own blog where he could simply "quote himself'' ... now you know.
DONUT 9: Quoteboard
"We've got tough guys. Everybody on our team I feel like is pretty tough. You know, I just have to bring what I have in terms of toughness in different areas. I like to get down there with the bigs and block out and bang a little bit, so maybe that's what it is. Maybe that's my toughness or whatever. Also, I'm not a guy who cracks mentality easily. So, I'll just continue to be who I am." -- Jameer Nelson.
DONUT 10: The Best of Chandsome
Chandler Parsons and some of the fellas discuss their involvement in "The Nicholas Sparks Book Club'' on "Jimmy Kimmel'':
To love, indeed.
DONUT 11: Thanks to our pals and sponsors!
Here's
McKinneyDentist.com
... with us since 1995! Give "the finest dentists in the land'' a click and a call!
Thanks to
Red Rock Bar & Grill,
our north Dallas hangout for live music and sports!
Meet
LS Wealth Strategies,
with Woody and Bill helping to guide my family and available to do the same for you!
And
Dee Lincoln's,
the famous DFW restauranteur now with a new location near Park and Preston!
DONUT 12: The Final Word
"
Dirk Nowitzki
will be a top-five scorer all-time when it's all said and done." -- Rick Carlisle on Sirius radio.