DONUT 1: The Big Lead
One final time, the
Dallas Mavericks
flexed their considerable offensive muscle against an Eastern foe that simply could not keep up.
This latest example comes in Dallas' preseason finale, a 117-92 blowout of the Magic in Orlando featuring 24 points from Chandler Parsons, 16 more from Dirk Nowitzki, a homecoming for Jameer Nelson, and, just as an added tease, a defense that contributed to Orlando posting a preseason-high 26 turnovers.
Dallas coach Rick Carlisle again went with his projected opening night starting five of Parsons, Nowitzki, TY, Monta Ellis and Jameer, all of them getting 20-plus minutes in this dress-rehearsal game in preparation for Tuesday's regular-season opener at San Antonio.
"We're all here for the same thing,'' said Parsons, who scored 15 in the third quarter, part of an offensive domination that included Dallas shooting 55 percent for the game. "There's no egos, no hidden agendas. We're here, we're here to win big."
DONUT 2: Magic ups and downs
Orlando played following the news Friday that second-year guard Victor Oladipo -- expected to be among this team's top performers -- would have surgery Saturday for a facial fracture he sustained after being accidentally elbowed in practice. catching an inadvertent elbow in practice Thursday.
But the emotional lift would come from a visitor, Jameer Nelson, who'd played 10 wonderful years in Orlando and earned a pregame video tribute in the arena:
Said Jameer (as quoted by Earl K. Sneed) on his return to Orlando: "I had to wait for Jae Crowder to go to the (visitors) locker room, so I knew which way to go."
DONUT 3: The roster
Gal Mekel has pushed himself into the roster picture as the 15th guy, in part because of Raymond Felton's ankle injury and in part because he's simply been darn good during his turns.
We talked to a Mavs staffer yesterday to confirm a roster that looks something like this:
Dirk, TY, Parsons, Ellis and Nelson ... then Harris, Wright, Jefferson, Aminu and Jae ... then Smith, Charlie V, Felton and Ledo.
That's 14. Our understanding is that for a player to be cut from the roster and be eligible to immediate ship to Frisco, the first move must be made by Saturday evening, and
that's what's happening with Renaldo Balkman, who worked out at the AAC on Friday morning and is finalizing visa issues, sources tell DB.com
, and will be with Dallas' D-League squad, as will, Yuki Togashi and Doron Lamb (and hopefully, for
the Texas Legends,
Griffin, too.)
And then comes Monday's final cutdown, and the squeeze is on Ivan Johnson vs. Sarge vs. Mekel ... and Mekel seems to have -- in a come-from-behind-rally, really, because at one point Dallas was making arrangements to help him find work elsewhere -- won that final job.
DONUT 4: FOX Sports Southwest treat
We're flattered to have been invited back to be part of the Mavs' "home team'' on FOX Sports Southwest, with a debut Saturday at 5 p.m. (or so, following college football) and at 2 p.m. on Sunday of "Mavs Insider'' featuring Ali Dee, Earl K. Sneed and yours truly, along with a roundtable that includes Chuck Cooperstein.
We'll also be part of all Mavs road games with pre- and postgame analysis alongside Dana Larson and Bob Ortegel ... oh, and that group is nominated for a "Lone Star Emmy'' and Mrs. Fisher has already cleared off a spot on the mantel for the trophy ...
So wish us luck and thanks for watching!
DONUT 5: The Ambassador
Friend-of-DB.com Marc Stein brings the goods
on his profile of Stevie Nash and the apparent end of his career.
Nash, of course, goes down as an all-time great Mav who became an all-time great, period. And even though we were burned by his departure (we probably need to apologize to his face for calling him "Steve Cash'') we can tell you this guy has been nothing but gracious to us from the very start.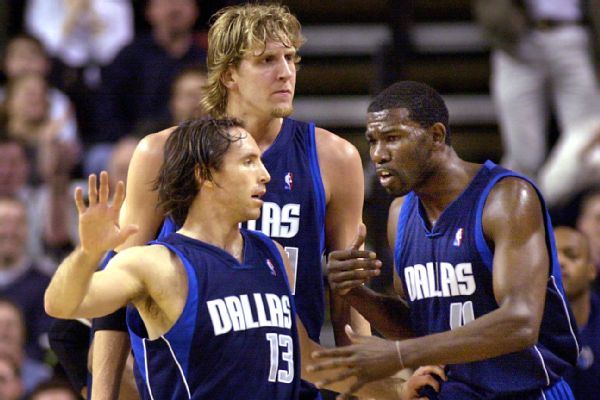 Nashie is known around here as being "Dirk's best buddy'' but he's conducted himself in such a way -- an ambassador for everything he's connected to -- that Steve leaves everyone feeling like they're his best buddy.
DONUT 6: Aminu for 3
When Mark Cuban first told us that Dallas thought New Orleans "mis-cast'' Al-Farouq Aminu while he was there, it didn't totally register. Wasn't he a defensive spark and an outstanding rebounder from the small-forward spot? What else did there need to be?
And then, first, DB.com's Mike Marshall noted that Aminu needed to develop into more than just an "energy defender'' and rather, a "consistent'' one. And then, secondly, we noticed Aminu spending a great deal of time at practice working on the corner 3, one day at a workout getting Carlisle himself to "ring the bell'' after Aminu made 21-of-25 treys in an exercise.
On Friday in Orlando, there was Aminu, shooting 3-of-5 from the arc. And suddenly, now, we start to see the blossoming of what Cuban was telling DB.com over the summer.
"When they're open and he can step into them, he's going to need to step into them,'' said Carlisle, encouraging Aminu on offense. And elsewhere? "His rebounding is good, he's active, his shooting is improving, and defensively he is one of our better guys. He has a tenacity going after the ball, and he runs. He is a multi-position player and he can probably defend four positions. He is an important guy in this equation."
DONUT 7: One click, all Mavs!
Keep it here on DB.com as we will keep you posted in a variety of ways from inside your team ... Here on the HOME page,
and here on DB.com Boards
... Thanks for joining us as we launch our 15 season inside the Mavs!
Oh, and if you want to be
a Mavs Insider with Premium coverage? Click here
to take our free 7-day trial and then for 10 cents a day, you are among the most informed Mavs followers on the planet! Go Mavs and Go Premium!
Also, hook up on Twitter with
Fish
,
Mike Marshall
,
Michael Dugat
,
Jonny Auping
and
David Lord
.
DONUT 8: Rick's balance
Rick Carlisle believes in balance and even-keelness and, probably moderation in all things. So it's probably not surprising that his Mavs post a 4-4 record in this preseason and that it's the fifth time in the coach's seven Dallas seasons that they've done so.
Moderation in all things. Even in preseason wins and losses.
DONUT 9: Quoteboard
"We can be a deadly team." -- Chandler Parsons to Coop, after playing in his hometown of Orlando.
DONUT 10: Excitement or dread?
We are all bubbling with excitement, obviously, for Tuesday night, Mavs at Spurs, national TV (TNT) ... and maybe the chance to essentially make this the "Game 8'' continuation of last spring's incredible series.
But we'd be lying if we don't admit to harboring some dread, too, because ... well, the Spurs are the Spurs, and they are receiving their rings, and that barn will be jumpin' because we hear the fans will also receive "rings'' of a sort ...
And then we listen to Dirk.
"It should motivate us,'' Dirk said of "Ring Night.'' "It should motivate us to reach high goals."
DONUT 11: Thanks to our pals and sponsors!
Here's
McKinneyDentist.com
... with us since 1995! Give "the finest dentists in the land'' a click and a call!
Thanks to
Red Rock Bar & Grill,
our north Dallas hangout for live music and sports!
Meet
LS Wealth Strategies,
with Woody and Bill helping to guide my family and available to do the same for you!
And
Dee Lincoln's,
the famous DFW restauranteur now with a new location near Park and Preston!
DONUT 12: The Final Word
"We're ready for practice on Sunday, and then we'll be ready for practice on Monday. And then we'll be ready." - Rick Carlisle.