DONUT 1: The Big Lead
I'm not a big fan of surveys and polls. The sample sizes are too small. The questions can be skewed to produce certain answers. Whims can override all. Oh, and a lot of people are dolts. ... including We, The People, and including folks who take it upon themselves to interpret the results.
A great recent example of this for me is a recent survey of fans who decided the Denver Broncos are the most popular team in the NFL, not the Cowboys. This passes no test of logic at all, except that Denver -- by virtue of its Super Bowl participation last year, it's Peyton Manning-led profile and its presence on CBS almost every weekend -- is top-of-mind with some fans.
It's also worth nothing that only 2,000 people were surveyed ... and apparently half of them did not describe themselves as especially passionate NFL fans.
So ... too small, too skewed, too whims-ish.
And then comes the interpretation, made by many in the national media: The Denver Broncos are the new "America's Team.''
I lived in Northern Colorado through my high school and college years and my first "big-time'' newspaper job was covering the Broncos. I have deep respect for that fan base ... but that fan base cannot come close to matching the Cowboys'.
And even if it has ... temporarily ... that doesn't change the identity of "America's Team,'' which belongs to the Cowboys (by virtue of NFL Films' tagging them so in the late 70's) through good and bad. It is the Cowboys' nickname, the way the Aggies own "The 12th Man'' (when the Seahawks aren't trying to swipe it) and the way Yankee Stadium is "The House That Ruth Built'' (even through moves and renovations).
The Broncos can't be called "America's Team'' anymore than the hill near the Cowboys' Valley Ranch facility can be called "The Rocky Mountains.''
Having said all that ...
DONUT 2: Vote for Rick!
NBA.com
conducted its 13th annual survey of GMs
to ask a variety of questions about teams, players and coaches. Tucked in there, among the 56 topics, Dirk Nowitzki and Tyson Chandler get some love.
Not tucked in there is much love for Rick Carlisle.
The offending section:
Who is the best head coach in the NBA?
1. Gregg Popovich, San Antonio -- 92.9%
Also receiving votes: Lionel Hollins, Brooklyn; Tom Thibodeau, Chicago

Now, Rick is mentioned thusly ...
Which head coach makes the best in-game adjustments?
1. Gregg Popovich, San Antonio -- 46.4%
2. Rick Carlisle, Dallas -- 42.9%
Also receiving votes: Mike Budenholzer, Atlanta; Doc Rivers, L.A. Clippers; Tom Thibodeau, Chicago
And one more time ...
Which head coach runs the best offense?
1. Gregg Popovich, San Antonio -- 77.8%
2. Rick Carlisle, Dallas -- 11.1%
Also receiving votes: Doc Rivers, L.A. Clippers; Flip Saunders, Minnesota; Erik Spoelstra, Miami
My argument, obviously, isn't against Pop. I guess I'm a little surprised that Carlisle isn't universally regarded as the NBA's second-best coach, given his proven ability to teach, to motivate, to do more with less, to do even more with more, to conduct himself with his unusual form of prickly grace, and in the end, to flash jewelry in ways that, among his contemporaries, only Pop can exceed.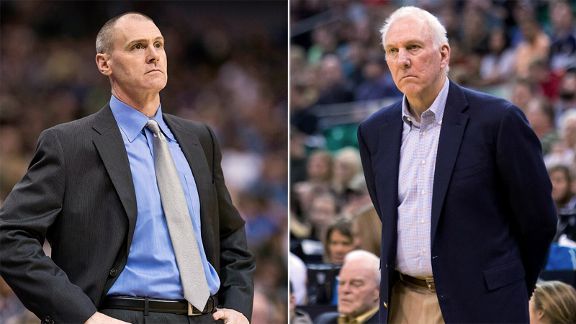 I am undeniably and without apology a homer (and/or the beneficiary of seeing Carlisle in action on a daily basis). But you take your Lionel Hollins and your Flip Saunders and your Erik Spoelstra and your Mike Budenholzer.
I'll take Rick Carlisle ... and I'll enjoy watching him spend this season racking up votes for next fall's NBA.com GM survey.
DONUT 3: Monta - big contract news?
"I'm a Dallas Maverick for the next TWO years," Monta Ellis says on on the 'Ben & Skin Show' on 105.3 The Fan, and our man Skin's interpretation of this? Monta is, in a subtle way, saying he won't opt out next summer.
You can and should
hear the Monta interview here, and discuss it here with Mavs fans on DB.com Boards.
But you know what else this story requires? In addition to a check-back with Monta (my department), it requires analysis from the best in the business, David Lord. That's coming later today.
DONUT 4: The formula?
LeBron thinks Dallas has a top-four offense. Carlisle thinks Dallas must have a top-10 defense. We wonder if that speaks to a very specific and positive result if the Mavs achieve both statistical goals.
So, is there a
formula for being a top-something on offense and a top-something on defense and ending up going deep into the playoffs? Come into the DB.com lab and find out!
DONUT 5: The Strangled by the Mamba
From Henry Abbott:
The Lakers have been in near free fall.

It would seem that the only connection fans have to the Lakers' title tradition is Bryant, the man who helped make the franchise one of the most popular brands in sports. Now 36, he's a lock to have his statue outside Staples Center someday. He's the reason celebrities line up 10 deep inside. He's also, say sources both in and around the Lakers' organization, the primary reason the team has fallen so mightily.




For years the Lakers lived by the Mamba. This is the story of how they're dying by him.
Abbott's long-form piece gets no argument from me. Kobe, Lakers Nation, even Phil Jackson, are pissed about it. But which part is inaccurate, untrue, wrong?
DONUT 6: A Balkman plan
Renaldo Balkman
has been pursuing a path back into the NBA, where he was once a promising Knicks 2006 first-round pick. Amid speculation that Balkman, 30, might make himself eligible for the D-League Draft, DallasBasketball.com has learned that the
Dallas Mavericks
are visiting with the former
South Carolina
star about signing with Dallas, thus making him the property of the Mavs organization, leading to an assignment to
the Texas Legends, the NBA D-League affiliate in Frisco.
Balkman, 30, appeared in 221 NBA games from 2006-12 and was in Dallas' camp last year, earning the praise of coach Rick Carlisle for his toughness -- and his tattooed eyelids.
The 6-8 forward, once the 20th overall pick, has spent recent years playing overseass and most recently appeared with the Puerto Rican National Team this past summer. Balkman is trying to recapture the promise of his rookie season, when he played in 68 games, averaging 15.6 minutes, 4.9 points, and 4.3 rebounds.
DONUT 7: One click, all Mavs!
Keep it here on DB.com as we will keep you posted in a variety of ways from inside your team ... Here on the HOME page,
and here on DB.com Boards
... Thanks for joining us as we launch our 15 season inside the Mavs!
Oh, and if you want to be
a Mavs Insider with Premium coverage? Click here
to take our free 7-day trial and then for 10 cents a day, you are among the most informed Mavs followers on the planet! Go Mavs and Go Premium!
Also, hook up on Twitter with
Fish
,
Mike Marshall
,
Michael Dugat
,
Jonny Auping
and
David Lord
.
DONUT 8: Ranking the Greats
Sports Illustrated is assembling its all-timer rankings. ... the top players at each position. SI has Dirk Nowitzki rated fifth all-time among power forwards behind Malone, Duncan, Barkley and KG.
The company The Uberman keeps there is so impressive I'm not even sure it merits further debate. (Duncan's a center! Malone and Barkley never won a title! Garnett's a punk!) Move one guy up, or another guy down. It's still five "wows.''
DONUT 9: Quoteboard
"It wasn't going to be running quicker or jumping higher, so I figured I'd work on something that I can control." -- Dirk, on tinkering with a quicker release of his shot.
DONUT 10: Emotion in Orlando
The Mavs will close out the preseason with back-to-back roadies, tonight at New Orleans in a 6 p.m. start and then Friday in a 7 p.m. start at Orlando.
Do preseason games get emotional? They might if a foundation piece of a quality team goes home after a decade of leadership in that city.
"I can't just say it's going to be another game in another city, because (I'd) been there for 10 years,'' said Jameer Nelson, now Dallas' starting point guard. "The organization and the city was good to me, so I'm looking forward to it. It should be fun."
The Mavs, of course, only play at Orlando once this year in the regular season. So no matter Jameer's level of participation on the second night of a b-2-b in an otherwise relatively meaningless circumstance (amid hints that the Friday game might be the regular-season tuneup for the real rotation) ... yeah, preseason games get emotional.
DONUT 11: Thanks to our pals and sponsors!
Here's
McKinneyDentist.com
... with us since 1995! Give "the finest dentists in the land'' a click and a call!
Thanks to
Red Rock Bar & Grill,
our north Dallas hangout for live music and sports!
Meet
LS Wealth Strategies,
with Woody and Bill helping to guide my family and available to do the same for you!
And
Dee Lincoln's,
the famous DFW restauranteur now with a new location near Park and Preston!
DONUT 12: The Final Word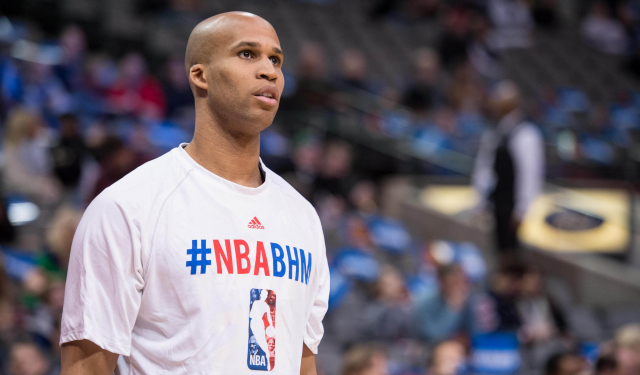 "There's always a difference between a quality team and a team that's still trying to figure it out or they have a ton of young guys. Obviously it starts at the top with Dirk and with Coach Carlisle. We have a great staff here - from the training staff to the coaching staff. Everyone is on top of their game. That's not to say other places aren't, but you can tell. They have nightly shooting, times scheduled for everybody. When you work and train consistently and hold everyone accountable you get consistent results. What I've seen here is what I expect and why I'm excited to be here." -- Richard Jefferson.