Dirk's day on the links
If
Dallas Mavericks
star
Dirk Nowitzki
is healthy, this team believes (rather privately) that it is a top-four-tier contender in the West.
If Dirk is healthy enough to play golf -- albeit badly -- Dirk is healthy.
Dirk is healthy enough to play golf, socialize and bust chops, as he did all day Tuesday, an extremely positive sign as the right hip contusion that kept him from playing in the first two games of the preseason is a thing of the past.
"Golf is not my game,'' Nowitzki said, mastering the obvious while practice-swinging his freakishly long club. "I'm better at handball, tennis and water polo.''
And basketball. But Dirk wishes not to brag.
Monta Hangs In There
Monta Ellis
has not played much golf; speaking of the aforementioned sport of tennis, he was, as a youngster, a national-level player.
"I never lost a match,'' he told me, while chillin' in a golf cart wearing a black T-shirt with a photo of a kitty cat and the "Hang In There'' slogan emblazoned above. And it's true: Let the record show: From fifth grade and through high school, the Mississippi native was undefeated. But he's yet to challenge teammate Dirk to a match.
"You know,'' I said to him, "Dirk would have one advantage over you: Being 7-feet tall gives you some angles on the tennis court.''
Replied Monta with a smile: "Dirk has that one advantage. I'd have lots of them.''
DA, Jae and WWWIII
I had a great visit with Jae Crowder, whose daughter is about to turn 1, who didn't much bother to golf, preferring to join Donnie Nelson as a gladhander of sponsors, and who has a very specific reason for getting more lean this year.
"We went back and looked at it, and the last couple of seasons I kind of hit a wall when we got to about the 50-game mark of the season,'' Jae told me. "So I've cut down about 11 pounds, and I feel great. I don't feel like I've lost anything else. I bet my stamina goes way up.''
That test comes later. Jae's Monday test was dealing with a Hackberry Creek Country Club golf cart with an engine that kept backfiring. As he approached one tee box, where assistant coach Darrell Armstrong was waiting, the cart make it's explosive sound, and as you can see above, DA hits the deck like America's just been invaded.
"It was like a gunshot and he hit the grass!'' Jae said. "It was epic.''
The roster scoop
I'll have more details on all this in the coming days, but let me rattle off some quick stuff here:
*Charlie Villanueva making this club on his non-guarantee is virtually a done deal.
*That lessens the importance of an eventually reunion with Rashard Lewis, who has no official connection to the Mavs while he rehabs ... but is in their plans as a stretch-4 when healthy. ... or was in the plans, because doesn't Charlie V do that exact same thing?
*The Gal Mekel experiment is fading. It's time for the club to start exploring options there. He's certainly an option to be dumped (though I promise you there is no clamoring for him by trade-minded teams). Sarge James is a candidate to be dumped to make room for Charlie V, instead of Mekel, though, because Raymond Felton's injury might cause the Mavs to keep Mekel as third PG -- for a short time, anyway.
Mavsellaneous
Tyson Chandler on Monta's practice work after his knee-injury scare? "I was shocked. You know, his speed is just unbelievable." ... Dirk was in attendance Monday at the Paul McCartney concert ... Rick Carlisle continues to pretend he's not good at golf. He's good at the game -- and great at sandbagging. ... Yuki Togashi was in attendance, as planned (his deal having been done last week, as reported exclusively by DB.com). He'd never before stepped foot on a golf course, but after three days in DFW, his favorite thing is? Chipotle.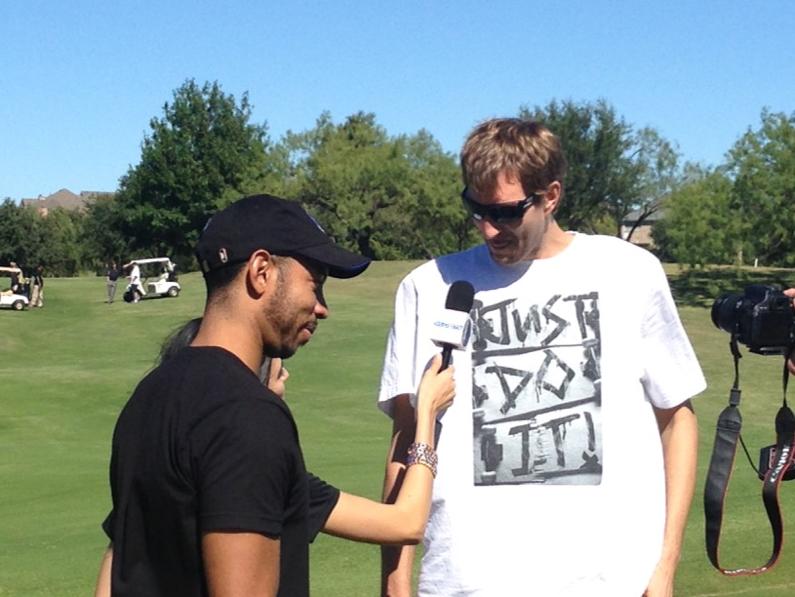 The Final Word
"I'm having fun, except that Dirk keeps talking on purpose during my backswing.'' -- Devin Harris.