DONUT 1: The Big Lead
The major
Dallas Mavericks
storylines? They are beginning to unfold, and will take shape in a public forum with Saturday's Fan Jam, which is open to fans and features a 2 p.m. scrimmage at the AAC.

Fish and Mike Marshall discuss some of those storylines -- including the fit of Chandler Parsons and Tyson Chandler in this video report from inside the AAC basement:

DONUT 2: The roster with dollars
DB.com has assembled the roster basics, plus the salary and contracts involved: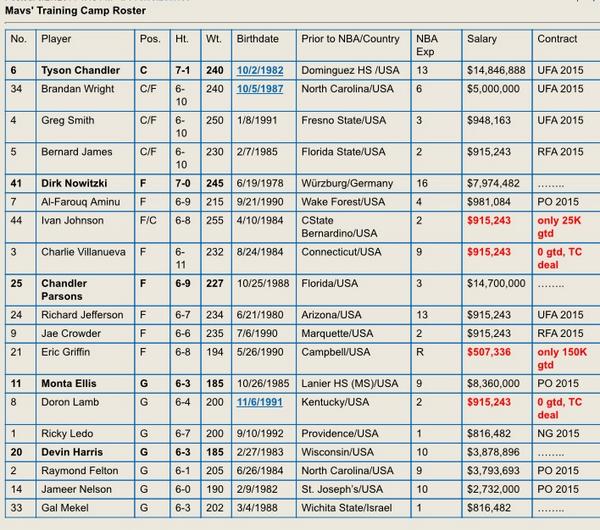 DONUT 3: Now, about that roster ...
Assorted notes on what you're seeing above:
*I've grouped the players by expected position (each position group begins with a player in bold print), then listed by 2014 salary. [Note: This grouping "by expected position'' is not necessarily info provided by team or coaches.].
*Players without contract notes have existing an contract extending through (at least) 2015-16 season
*Players with $915,243 salary, with greater than two years of prior NBA experience (Jefferson, Villanueva), receive additional salary from the league.
*A "training-camp deal'' indicates a special contract that is non-guaranteed and in which the player comes to training camp at his own risk in the event of injury. (With other contracts, if the player is injured in camp, they continue to be paid until they recover from the injury, even if the contract was non-guaranteed or less than fully guaranteed.)
DONUT 4: The roster limits
Regarding roster limits:
*The off-season player limit is 20, and the Mavs have 19. The 15-man limit begins at the start of the regular season.
*On their current roster, the Mavs have 15 fully guaranteed contracts, and four others with little-to-no guarantee (Griffin, Johnson, Lamb, Villanueva).
*If you want to know how the Mavs look at the players and who is likely to make the team, we got some insight after the Mavs signed Sarge James (the 15th guaranteed contract), after already having inked lightly guaranteed Griffin and Johnson. A few days later, there was a rumor that the Mavs were looking at some other unknown-to-us player, and we inquired about it. The answer: "We have our 15 already."
*Since then, the Mavs have added Lamb and Villanueva, but neither has a penny of guaranteed money, and both are on TC deals. Again, you keep the best 15 ... but the 15 guarantees are not insignificant.
DONUT 5: The D-League factor
When we're watching these Mavs, we're also watching
those Texas Legends.
*The Dallas Mavs' D-League affiliate gets D-League allocation rights on up to four players waived in training camp by the Mavs, and those four players won't be subject to the D-League player draft if they sign a D-League deal with the Legends after being waived and before the D-League draft. This is pertinent to those players who are willing to play in the D-League, aren't signed by another NBA team after being waived by Dallas, and are willing to sign with the D-League, but the player has no obligation to play in the D-League if they are waived in camp and don't wish to sign/play there..
*Any player not on an NBA team's 15-man roster, if he goes to the D-League, that NBA team does not retain any player rights to him even if he is one of their four who is waived in camp and then signs with the affiliated D-League team. In relation to the NBA, such players remain NBA free agents, playing in the D-League and available for any interested team to sign.
*If you haven't noticed, the D-League has progressed to where it's more of a minor-league type setup, with almost every team being exclusively affiliated with one (and only one) NBA team. There are 18 D-League teams; 17 of them are affiliates of a single NBA team, and the other D-league team (Ft. Wayne) is the affiliate for the other 13 NBA teams.
The Mavs are wise to get all the benefits of the relationship. It's why Eddie Najera (Legends coach) is an attendee at all the Mavs workouts this week. Heck, it's why our own Mike Fisher does the TV telecasts for the Legends!
DONUT 6: A "world' of talent?
Dirk says these Mavs have "all the talent in the world,'' and then of course adds a "but.''




His "but'' is about working hard and working together. I have another "but.''

No team has a roster void of weaknesses. The trick is to find ways to blend strengths with weaknesses in your rotation so that you maximize the various pluses and minimize the various weaknesses in each individual player. An example comes to DB.com this week, with B-Wright telling Fish and Jonny Auping that he thinks he'll play some backup-4 with Tyson Chandler staying on the floor to play center with the second unit.

I trust Rick Carlisle to figure it out, sooner rather than later, because I agree with Dirk's general premise: there are a TON of talented players here to fill every need you want to cover (offense, defense, shooting, rebounding, whatever) with some flexibility.


DONUT 7: One click, all Mavs!
Keep it here on DB.com as we will keep you posted in a variety of ways from inside your team ... Here on the HOME page,
and here on DB.com Boards
... Thanks for joining us as we launch our 15 season inside the Mavs!
Oh, and if you want to be
a Mavs Insider with Premium coverage? Click here
to take our free 7-day trial and then for 10 cents a day, you are among the most informed Mavs followers on the planet! Go Mavs and Go Premium!
DONUT 8: Believe the hype?
A great example, to me, of how the fantasy of mixing and matching meets the reality, is Chandler Parsons' true role.

When he was first acquired, folks talked dreamily of how he is so versatile he might even play some 2-guard. The notion was an attractive one in part because Dallas lacks some ideal size at the 2.

The reality? Rather than transforming his body to fit that idea, it sounds like Parsons has gone the other way and bulked up to play some backup 4. And rather than Parsons suddenly becoming a great defender, I think it'll be more interesting to see how often Dallas shifts into a zone in order to deal with the realities of his skill level.


DONUT 9: Quoteboard
"'Chandler' who? It's 'Tyson' or it's 'Parsons.'" - Rick Carlisle, playfully chiding the media for not being specific enough in its questioning.
DONUT 10: Monta's secret
Just a great job by Fish sitting down with Monta Ellis and having some fun with
Monta's "Three Secrets.'' It's a must-see for Mavs fans
... and I think I know what the "third secret'' is.
I think the third thing is Monta's plan to upgrade his ability to hit the open 3-pointer. Reason being, it was mentioned early in the off-season as a specific item he was asked to work on. What to make of the fact he wants to kinda keep it a secret? I think that indicates the hard work has made a significant difference and he wants to keep it a "mystery" until it shows itself in games.
The fact that he didn't want to tell Fish, I take as a major positive. No bragging. Just doing.
DONUT 11: Aminu as Pippen
Meanwhile, the Mavs are talking up Al-Farouq Amini as a Scottie Pippen play-alike.

Easy, now.




I'm in favor of Aminu studying other springy defense-first players. And he might as well start at the top. DB.com also knows all about the Mavs coaches' private belief that Aminu was misused and miscast in New Orleans, and believes they can help him blossom.

But it's a lofty enough goal to get Aminu to mimic in any way what Trix did last year, even as Marion was declining a bit. Let's start there. In fact, maybe we should get him to clearly beat out Jae Crowder for the job.


DONUT 12: The Final Word

"He's one of the most popular one-year players in the history of any franchise. In a couple speaking engagements I had, the first thing I said was, 'Tyson Chandler is back,' and everybody stands up and goes crazy.'' -- Rick Carlisle.