DONUT 1: The Big Lead
The Mavericks faced off against the Oklahoma City Thunder Friday night and walked out of American Airlines Center with a 118-109 loss. Those two teams will see each other plenty more in the regular season, however, and the games will look quite different. Dirk Nowitzki sat out of his second consecutive preseason game nursing a minor hip injury and Monta Ellis sat out after hurting his knee in practice.
"It would be ideal for us all to be healthy and all playing together, but that doesn't happen often,'' said Chandler Parsons. "I know those guys are professionals and they're doing the rehab and they're doing everything they can to get back. Hopefully we can get a game or two in the preseason where everyone is playing so we can set our rotations and get going so it's not brand new on Oct. 28."
DONUT 2: Warming up
How the fellas loosen up before the game ...
DONUT 3: Ledo Shuffle
Prior to Friday night's game, Mark Cuban said that he expects second-year player Ricky Ledo to get more minutes this season. That's quite the expectation considering the depth of the Mavericks' roster and Ledo's inability last season to translate the progress he made in the D-League to the limited opportunities he had in NBA games.
But with Ellis sitting out of the game, Rick Carlisle gave Ledo the opportunity to justify Cuban's expectations. Ledo was inserted into the starting lineup and played more first-quarter minutes than any other starter. Not only that, but Carlisle drew up a play for him on the first possession of the game. Ledo came off a screen and missed a three-pointer. It didn't seem to negatively impact his confidence or poise, though, as he came down and hit a three just two minutes later.
"I thought he did some good things,'' Carlisle said of Ledo. "He's still young and there are some mistakes he's got to filter out of his game. He's come light years over the last year and several months since we signed him. The only way for him to really learn is to get out there against good teams and have this kind of opportunity."
Ledo finished the game with eight points, two rebounds and an assist in 19 minutes of play. He looked calmer than he has in many other opportunities, perhaps, because of the confidence boost of being inserted in the starting lineup. Ledo has driving, shooting and passing abilities that could translate to a nice NBA game. We'll see if the opportunities present themselves and if he continues to build on those opportunities.
DONUT 4: Felton goes down
Unfortunately, Friday's preseason game also featured the one thing that no one wants a preseason game to feature: a potentially serious injury.
Just a few minutes after checking into the game in the first quarter, Raymond Felton tweaked his right leg in transition and was in visible pain before being carried off the court. He didn't put any pressure on his right leg as he left for the locker room.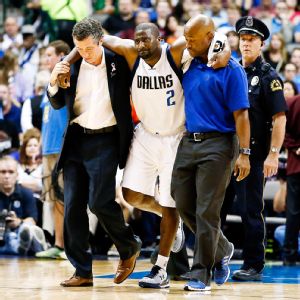 Just prior to the game, Carlisle claimed that Felton could play a similar role for the Mavericks that J.J. Barea played in his time in Dallas. The injury is all the more troublesome because Felton will be suspended for the first four games of the regular season for legal issues. The preseason was an especially important time for Felton to get adjusted to his teammates and his role on the team.
"I know he's got a sprained ankle, I don't know the severity of it,'' Rick said. "I know it was a little bit unusual the way it happened because he got his foot stepped on at a kind of weird angle. We hope it's not serious. I don't anticipate him playing on Sunday, so we'll update you on Monday."
DONUT 5: About OKC
It's hard to take much from the Mavericks' defensive performance because of the Thunder's irregular rotation except that, like the rest of the league, Dallas will have its hands full trying to defend Westbrook and Durant (they combined for 25 points, each playing exactly 17:56). Naturally, the defense looked better when those two were not in the game. You also may want to go ahead and factor in Steven Adams as a prominent player in the upcoming season. Adams looked like a starting-caliber center on Friday scoring 19 points, grabbing five rebounds and four steals and only missing one shot—while sharing the court with Tyson Chandler for much of that time.
DONUT 6: Rick Carlisle's presser
Key comments from the coach:
DONUT 7: Crowder's role models
The preseason being the time for comparisons and announced expectations, Cuban talked prior to Friday's game about a couple of players Jae Crowder can model his game around to establish a consistent role in the NBA. Not surprisingly, both players were known for their defense.
First, Cuban mentioned Tony Allen of the Memphis Grizzlies, a player who came into the league without many offensive skills, but his relentless defense and ball denial have allowed him a long and productive career. Cuban made note of Allen's ability to defend and frustrate his opponent without getting called for many fouls.
Crowder's defensive effort is apparent and is the primary reason he gets minutes, but he is often unable to refrain from fouling against some of the league's better scorers. He committed three fouls in 22 minutes of play Friday night.
Cuban also mentioned an old Dallas rival: Bruce Bowen. The Mavericks want Crowder to be able to hit corner threes and open shots, similar to how Bowen found offensive success in the second half of his career. Crowder struggles with consistency in his shot. Friday night he was 0-3 from behind the three-point line.
The one thing Crowder can do potentially better than both of those players is drive to the basket and finish. He showcased that against the Thunder, scoring 14 points. The offense will never run through Crowder, but his constant motor gives him opportunities to make plays out of nothing around the basket. Crowder is still learning his role, but his effort will always give Carlisle a reason to plug him in when he needs a spark.
DONUT 8: Thanks to our pals!
Here's
McKinneyDentist.com
... with us since 1995! Give "the finest dentists in the land'' a click and a call!
Thanks to
Red Rock Bar & Grill,
our north Dallas hangout for live music and sports!
Meet
LS Wealth Strategies,
with Woody and Bill helping to guide my family and available to do the same for you!
And
Dee Lincoln's,
the famous DFW restauranteur now with a new location near Park and Preston!
DONUT 9: How's Chandsome looking?
The Mavericks signed Chandler Parsons with the hopes of him combining with Ellis and Nowitzki to form a great offensive trio. Parsons, however, also joined the Mavericks with the hopes of being somewhere he can blossom into the All-Star caliber player he believes he can be. With Ellis and Nowitzki sitting out of Friday's game, Parsons got the opportunity to lead the Mavericks against Durant, Westbrook and company.
Parsons didn't get regular-season-level minutes, but he showcased the versatility that he is capable of. In 20 minutes of play Parsons recorded nine points, six rebounds and six assists. His scoring would have been higher had he hit a few three pointers that he is capable of making, but it's a promising sign that he did not try to dominate the game offensively in his teammates' absences. Parsons understands the balance of his game and how it can help the team. He is more than capable of hitting open shots and keeping the ball movement going, but his ability as a driver allows him to be a great playmaker and finisher. In other words, he brings a lot to the table.
"I hope to do a little bit of everything,'' Parsons said. "Defend, rebound and make the game a little easier for everybody else. Shooting will come. Training camp was tough and I don't have a lot of legs right now, but that's what I plan on doing."
DONUT 10: But what about the weight?
Rick says Parsons "looked tired out there'' and is "working on losing some weight.'' The Mavs want him to get down from 230 to 225.
What does Parsons himself think of this idea?
"His opinion is different than mine,'' Chandler said. "We go after it every day ...''
Um ... oh.
Is this the start of a long-running problem between coach and budding star? Nah. They often speak admiringly of the other, and Carlisle runs this show, not the players.
But again, Carlisle made note of this issue at the start of camp, as the 6-foot-9 Parsons -- who usually plays at between 215 and 220 pounds -- showed up nearer 235. At that time, the coach noted that "one man's 'bulking up' is another man's 'not-quite-in-shape-yet.'''
It's probably time to heed that message.
"An increase of 18 to 20 pounds is just too much," Carlisle said on Friday. "We talked about it today. We talk about it a lot. He'll get there. ...
"I don't mean to call him out in public or ridicule him, but it's just a fact. He's an important guy for us. We just need him to get to his right conditioning and weight level so he can play his best, because we're going to need him to play a lot of minutes over the course of 82 games."
Ultimately, Parsons appears to understand that this particular Battle of the Bulge is not one he can win.
"At the end of the day, I respect (Carlisle's) opinion,'' Parsons said. "After training camp, my weight fluctuates. I'll get it down."
DONUT 11: Devin Video Visit
Devin Harris offers his summation of the night ... and expresses his excitement about Dirk's planned debut in Sunday's visit from the Pacers:
DONUT 12: The Final Word
What we've seen from the key members of the
Dallas Mavericks
thus far has been largely positive. Expect most of the preseason to continue to largely feature players like Al-Farouq Aminu, Richard Jefferson, Brandon Wright, Greg Smith and Crowder. They are all rotational players, but who gets more minutes and when is yet to be determined. They are all making strong cases for themselves already, which is very promising. ... and the injuries are increasing their chances.
Of course, we'll like these Mavs even better when second-level guys are getting fewer chances and first level guys are healthy ... and fit.
"We just got to make our way through (the injuries) and continue to get better,'' Devin said. "As we continue to add guys back into the rotation we'll get strong again."