DONUT 1: The Big Lead
When
Dallas Mavericks
coach Rick Carlisle says, "We're stirring the soup,'' what does he mean?
He means this (Fan Jam on Saturday and the preseason opener against the Rockets on Tuesday and the next few weeks) is the time to try different ingredients, different combinations. A pinch of salt here. A spoonful of sugar there.
An example: Last year, as a matter of course, Dirk Nowitzki started (obviously) and then took a quick break before re-entering games alongside the second unit. The formula worked to the satisfaction of the coach. But is there a guarantee Dallas does it the same way?
Heck, at this early stage, there isn't even a guarantee Dirk himself does everything the same way, as he's:
*Practicing a quicker release
*Trying to add to his toolbox with an improved post game
*Once again, in a perennial experiment, efforting to make the hook shot a genuine weapon.
"Once I got a running start, I can actually shoot it OK,'' The Uberman says of the Kareem-like sky hook. "The problem is, at 36, I don't get a lot of running starts."
And of the power moves inside?
"I want to expand a little bit on the block,'' Dirk says. "I don't want to rely on the (One-Legged Euro) fadeaway all the time. I've just got to mix it up a little more."
Mix it up. Stir the soup.
DONUT 2: Devin's ramp
Across the street from the AAC is the AudiParking Garage. It serves a dual purpose to Devin Harris, because it's also a gymnasium. Devin, who says he's healthier than he's been in years, is also in better shape than he's ever been ... and threatens to be an even more complete player.
"This summer,'' Devin says, "I've been able to just stay in one spot, know what system that I'm coming into, know what to expect and just be able to just come in and just work hard day in-and day-out.''
Carlisle says, "All of our best players aren't going to start,'' adding that Devin is among his "three or four'' best players.
That math gets a little tight. But don't bother figuring out its precise accuracy. Instead, get the gist of what the coach is trying to say here, how heavily he's complimenting Harris for taking less money and a lesser role than he might've received elsewhere ... and for running those ramps at the AudiGarage.
DONUT 3: Not a superstar, but ...
Carlisle refuses to refer to Chandler Parsons as a "superstar.'' And there are two reasons for that.
First, because that puts unnecessary pressure on a guy already loaded down the demands of a three-year, $46-mil contract.
And second ... because he's not.
Teammates see Parsons as growing near that level. Says Dirk: "His basketball IQ is off the charts. ... He's going to help us tremendously."
But Rick?
"Parsons is a really good player,'' Carlisle says. "How good? I'm from Missouri, so show me.''
Carlisle is not from Missouri. But you get the point.
DONUT 4: The Fan Jam in Review
The Blues (backups) topped the Whites (projected starters) 40-37 in an intrasquad scrimmage in front of 6,440 fans at the AAC on Saturday, the AAC workout featuring two 10-minute halves and lots of interaction with the audience.
"Great time today practicing/playing in front of my new home town,'' Jameer Nelson tweets. "I really appreciate the love and support.''
Carlisle is no fan of unveiling intentions before necessary, but as noted at the beginning of the week when training camp opened, the starting lineup is indeed taking shape. ... and the coach is giving Nelson that same "love and support.'' The first unit included point guard Nelson joining
Monta Ellis
,
Dirk Nowitzki
,
Chandler Parsons
, and Tyson Chandler.
"I know everybody is into who's going to start and all that stuff, but that's not the important thing,'' Carlisle says. "The important thing is that we keep working to be competitive and efficient, and that we get better as a team. And we're going to need a lot of people to contribute."
Mavs contributions certainly came from the Blue squad, led by Devin, who has said he is comfortable setting in as the leader of the second wave. Mavs coaches also are praising non-guaranteed forward Charlie Villanueva, Jae Crowder (who Carlisle says has been Dallas' second best defender so far behind TY) and reclamation project Raymond Felton, who helped the Blues "beat (the Whites) asses pretty good, huh?'' Rick says.
Nowitzki did come away with a slight limp; Carlisle said it's nothing serious. And backup big man Greg Smith chipped a tooth. Otherwise, the workout (which went on without Gal Mekel, who was observing Yom Kippur) went on without a hitch.
"I thought it was positive," Carlisle says. "There were some good things out there. We need more work, obviously. It's only been five days, I guess. We've got a day off (Sunday) and we'll pick it back up on Monday."
DONUT 5: Beyond the 15
We
explain here what the Mavs roster looks like, with its 15 guaranteed contracts
and the likely sense behind those dollars. But the Mavs swear they will eat contracts to get the best 15. And Dirk says the non-guarantee guys are creating a great deal of competition in the first week of training camp.
"Usually you have your 15 guys and the rest are just camp invites,'' he says. "That's not the deal this year. You have to compete for everything. ... None of these guys are here to leave. They want to make the squad. There's been a lot of competing going on ... and it's been fun."
One such guy: Charlie Villanueva, trying to re-invent himself after a high-profile career that's gone off the tracks.
"You've got to guard Charlie,'' Carlisle says, "when he walks through the tunnel.''
DONUT 6: The New TV Deal
A new NBA television-rights deal is coming, and according to our David Lord's calculations, so is an eventual new salary cap for teams possibly nearing $85 mil. D-Lord with the latest:
There was major NBA news Sunday, as the
New York Times reported an agreement on a huge new NBA TV rights deal
, a deal so big that we can guarantee it will explode the league's salary cap when it hits.
The report made the following points:
*The NBA has reached agreement on a long-term deal with ESPN and TNT.
*It will be worth $24 billion over nine seasons, an average of $2.667B per season.
*The prior deal with these TV outlets averaged $0.93B per season.
*The new deal begins in the 2016-17 season and runs through the 2024-25 NBA season.
*This does not include the Finals rights.
*Look for Adam Silver to announce the new deal(s) in a news conference Monday morning.
From our knowledge of the cap and the way the revenues work, since this is money that begins in 2016-17, this deal shouldn't change the cap for 2015-16 at all. The CBA is a "share as you go" setup and this deal pertains to TV rights that begin in 2016-17. But it's always possible that they might roll the last year of the old deal into the new one, where some of this increased money hits early, thereby smoothing out the looming increase in revenues and cap.
Our prior working estimates, based on this deal increasing these annual rights revenues to $2.1B, had shown an $80M cap in 2016-17. Now, with an actual $2.667B average, that cap jump in 2016-17 could easily go to $85M or more.
We'll have more on this, from a Mavs perspective and beyond, throughout the coming days.
DONUT 7: One click, all Mavs!
Keep it here on DB.com as we will keep you posted in a variety of ways from inside your team ... Here on the HOME page,
and here on DB.com Boards
... Thanks for joining us as we launch our 15 season inside the Mavs!
Oh, and if you want to be
a Mavs Insider with Premium coverage? Click here
to take our free 7-day trial and then for 10 cents a day, you are among the most informed Mavs followers on the planet! Go Mavs and Go Premium!
Also, hook up on Twitter with
Fish
,
Mike Marshall
,
Michael Dugat
,
Jonny Auping
and
David Lord
.
DONUT 8: MFFL
When Deron Williams became a primo free-agent target for the Mavs (and the focus of the Nets in terms of retaining him), we all had some fun comparing the Mavs and the Nets, their levels of attractiveness, their quality of foundation.
We will contend again, as we have for three years, that the Nets talk the talk about sustained success while the Mavs (thanks to Cuban do a lot of talking) but also walk the walk. The latest example?
Not even the Nets owner -- the Russian powerhouse who was going to change the face of basketball forever -- is actually committed to the Nets.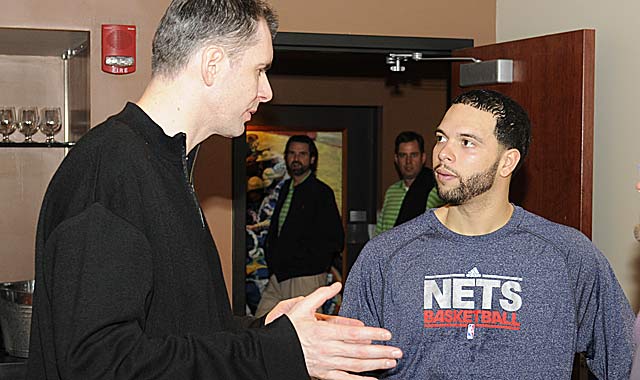 Cuban, Dirk, Carlisle, Donnie ... they are not perfect. They've lost, they've erred, they've goofed. But ... by God, they do seem incredibly
committed
, do they not?
DONUT 9: Quoteboard
"I saw him dunk some here the last two days. He showed me he can still play above the rim with the best of them.'' -- Dirk on Tyson Chandler.
DONUT 10: Youth is served
The Mavs like to point out that they have gotten younger than last year ... but the reality of the roster is that they have a funny way of showing it. Dirk isn't younger than last year. Tyson isn't substantially different, age-wise, than Dalembert was. Jameer isn't substantially different than Jose Calderon was.
The departure of Vince and Trix is going to automatically adjust your team's average age. And certainly there will be an energy boost from Parsons and Aminu ... and TY's energy level is infinitely greater than Dalembert's was, age aside.
But right now it's all talk, with Nowitzki, Chandler, Devin, Jameer and others being of a "mature'' age.
"Jameer is a young 31,'' Carlisle argues. "Aminu, Parsons and Crowder are all a part of what We needed, which was to get shorter in the tooth.''
"Shorter in the tooth''? See, I told you they have a funny way with showing/saying it.
DONUT 11: Thanks to our pals and sponsors!
Here's
McKinneyDentist.com
... with us since 1995! Give "the finest dentists in the land'' a click and a call!
Thanks to
Red Rock Bar & Grill,
our north Dallas hangout for live music and sports!
Meet
LS Wealth Strategies,
with Woody and Bill helping to guide my family and available to do the same for you!
And
Dee Lincoln's,
the famous DFW restauranteur now with a new location near Park and Preston!
DONUT 12: The Final Word
"I can promise you one thing: He's up for anything if it's for winning — that's where he's at with this whole thing. He's been one of the guys that's been a real leader for our group. He's a massively important guy to us." -- Rick Carlisle on Devin Harris.