DONUT 1: Who's No. 1 at the 1? ...
Mavs coach Rick Carlisle tells me it's pretty much the No. 1 question he's been asked this offseason after Dallas loaded up on point guards by signing veteran Jameer Nelson after having traded for Raymond Felton to add to a club that was always planning to employ Devin Harris.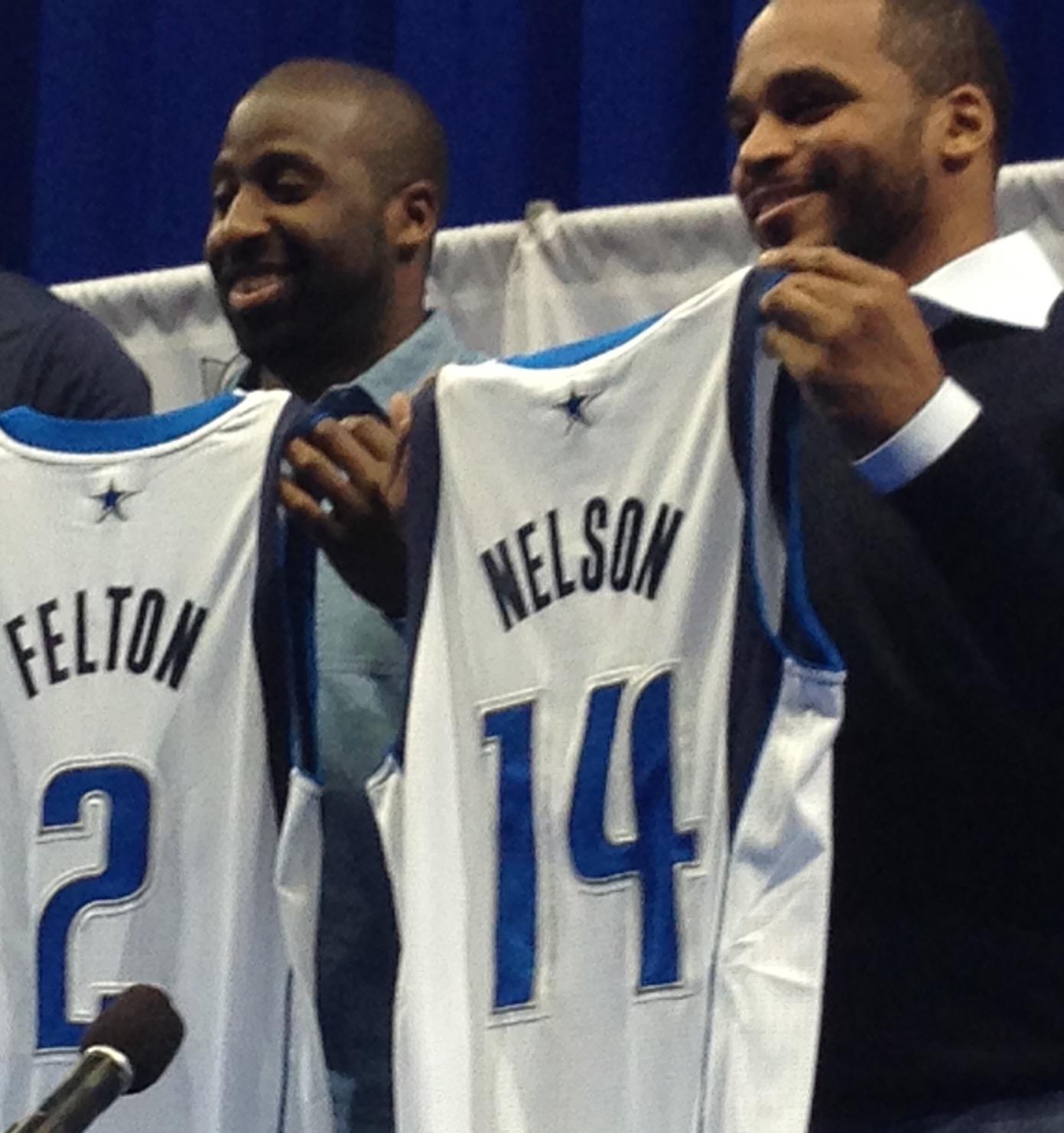 "My prediction,'' Rick says, "is that we have competition.''
As always, the media (and I suppose fans, too) want this thing wrapped up into a neat bow. Let Jameer run the team as he did in Orlando. Bring Devin Harris off the bench as the leader of a second wave that can feature Brandan Wright and more. And have Felton fight his way back to respectability by first providing that he's a Cuban "Fallen Angel'' who is done falling.
I bet that's the way this eventually unfolds. But what's in it for Rick to announce such a thing? Why not stick with the announced idea that they all are starters, all could be backups, all might play some 2, all are important?
Because I think we know so much about how other pieces fit (both Chandlers included), the question of who is No. 1 at the 1 is our No. 1 Donut entering the new season, with Media Day today and camp launching Tuesday.
DONUT 2: Fish & Coop ...
Fans and media were formally introduced to the new Mavs last week, with thoughts from owner Mark Cuban and Carlisle.

Moving forward, Mike Fisher and Chuck Cooperstein join forces to discuss the biggest takeaways from the moment, including the return of Tyson Chandler, building rivalries, the new uniform reveal, and more...
DONUT 3: Half-empty or half-full? ...
The Mavs' glass is half-full? Of course it is. All one has to do is envision the game-opening first-play alley-oop from a penetrating Monta Ellis to a pick-and-rolling Chandler ... and the season momentum rolls from there.
The Mavs' glass is half-empty? Well, Shawn Marion is gone as this team's almost singular defender ...
Video and analysis helps Jonny Auping decide:
Is the Mavs' glass half-empty or half-full?
DONUT 4: No time for limping ...
Tonight, my "Fish On Mavs'' column on how Mark Cuban might be coming out of the gates limping ... but a team with such an abundance of feel-good buzz needs to avoid doing so. "No Time For Limping'' coming up for Premium Mavs Fans!
DONUT 5: A Chandler concession? ...
I don't think Tyson's presence here now promises a future here following the expiration of the one year left on his contract; that's just now this business works.
But that doesn't stop Mark Cuban from answering a question about having let TY go once by suggesting he won't do it again.
"Let's just say I learn from my mistakes," Cuban says.
Cuban is, of course, referring to the Mavericks' controversial decision to not re-sign Chandler to a long-term deal after he helped deliver a championship to Dallas. Cuban offered Chandler a massive one-year deal, but wouldn't match New York's four-year $55 million offer due to a number of things, from injury concerns to, most famously, the belief that the new CBA would make such a contract for TY imprudent. Chandler was extremely productive in his first year with the Knicks and most of his second year, but had a noticeable drop off in production last season, making it hard to say whether or not the Mavericks made the right choice in 2011 considering the financial commitment. Regardless, the Mavericks will happily pay Chandler for the fourth and final year of his contract.
Beyond that?
Here we examine "Mark's Mistake - A Chandler Concession'' and try to make some sense of it.
DONUT 6: What is 'watchability'? ...
A confounding piece of Mavs analysis here by USA Today
in which they label Dallas as only "the 14th most watchable team this year'' (I don't even know what "watchable'' means) and then rave about Dallas' additions only to predict that the Mavs will drop from last year's 49-win level to: "projected record: 45-37, miss playoffs.''
The whole thing is so pretzel'y that is seems like one take or the other is a typo.
DONUT 7: Thanks to our pals and sponsors! ...
Here's
McKinneyDentist.com
... with us since 1995! Give "the finest dentists in the land'' a click and a call!
Thanks to
Red Rock Bar & Grill,
our north Dallas hangout for live music and sports!
Meet
LS Wealth Strategies,
with Woody and Bill helping to guide my family and available to do the same for you!
And
Dee Lincoln's,
the famous DFW restauranteur now with a new location near Park and Preston!
DONUT 8: The Top 12 Quoteboard ...
"We're obviously very excited about this team," Carlisle says. "Coming into this year, we know we're going to be a better team than we were last year just based on the analytics.
"Last year's team was not a good defensive team on paper, and unfortunately we performed that way the majority of the time. This year, we're slightly better on paper, and with Tyson back he basically promised that he's going to 'will' us to become a really good defensive team."
Rick was half-joking when he mentioned TY's "will,'' a reflection of something Chandler himself has said. But only half-joking.
"When we start practice (Tuesday),'' Rick said, "our first practice will be on defense.''
We've got more
of the Mavs Top 12 Quoteboard here.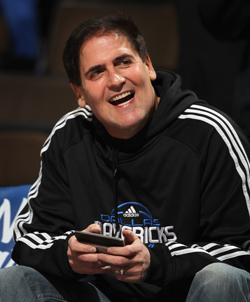 DONUT 9: Follow today's action live ...
By becoming a free member on
DB.com Boards
and by hooking up on Twitter with
Fish
,
Mike Marshall
,
Michael Dugat
,
Jonny Auping
and
David Lord
.
DONUT 10: Turn-off ...
DB.com will, of course, have cellphones and cameras and recorders and whatever we need all over the AAC all year, as we have for 14 seasons. But the Mavs' players? Coach Rick Carlisle frowns on that stuff in his locker room
"We have rules against cellphones in the locker room after a certain point before a game," Carlisle tells NBA.com. "If someone's cellphone goes off, the guy gets hit with a pretty hefty fine. And we all have a good laugh about it. If it happens again, we may have to have a serious discussion about it. And the fine's going to be heavier."
So scary I might even be careful today with my cellphone at Media Day.
DONUT 11: Where's the ball? ...
Dallas Mavericks
owner Mark Cuban opened last Tuesday's press conference by revealing the winning design in the crowdSPRING jersey design contest.
The new alternate uniform, designed by DB.com lifer Geoff Case, features the Dallas skyline and will be on display on the court in the 2015-2016 season.
Case -- who happens to be a DallasBasketball.com member dating all the way back to 2000 when he was a teenager -- submitted designs that included white, black and green unis. But only the blues will be used, for about eight games, in the 2015-16 season.
There is a minor error in the mock-up as displayed at the presser, and our Mike Fisher got to the bottom of it: The actual design features the familiar Reunion Tower as part of the skyline (of course) ... but the mock-up shown at the presser sort of eliminates the "ball'' at the top of the tower.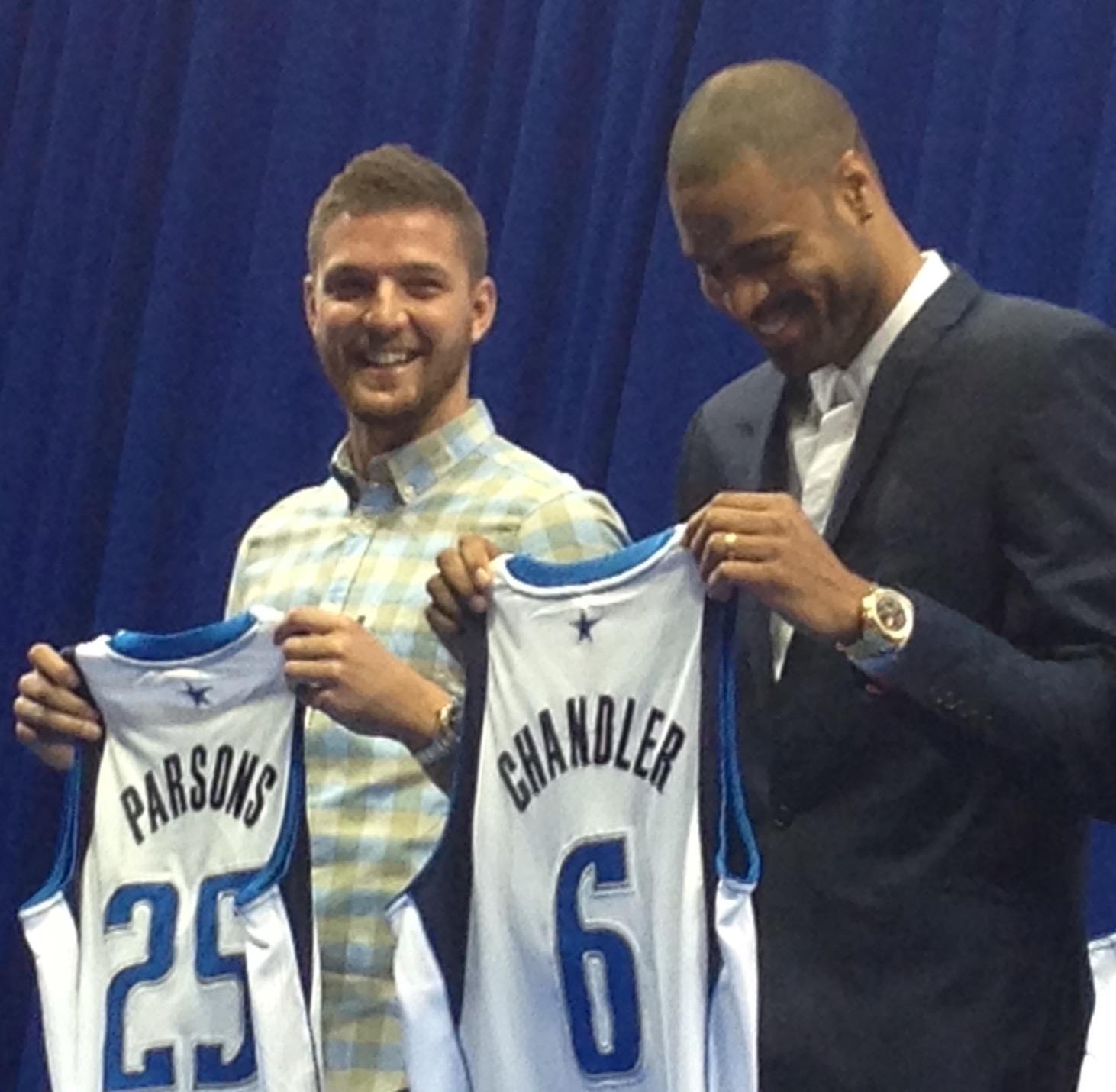 That will be corrected in time for the uniforms ... and is already in place in T-shirts that Mark Cuban promises with a wink are "affordably priced'' at Mavs retail shops.
12: The Final Word ...
Where I was coming from, offense was our main goal, and now we've got to win games on the defensive side. I'm totally locked into that. I've been getting stronger, staying in the weight room, getting faster and just learning from guys like Tyson and the veteran guys that are experienced and been through a lot of stuff." - Chandler Parsons.