Today's Mavs Donuts are sponsored by
McKinneyDentist.com
... with us since 1995! Give "the finest dentists in the land'' a click and a call!
DONUT 1: 'Meet The Mavs!' ...
In North Texas, it's as sure a sign that Fall is here as the weather not changing. It's the "Meet The Mavs'' and Select-a-Seat get-together at the American Airlines Center, scheduled for Tuesday, with AAC doors opening at 9 a.m., the presser featuring the new Mavs and the Dallas brass at noon, and a chance to get a first look at the new Mavs jerseys for the 2015-16 season 12:30 p.m.
Expected to be sitting in the above chairs (photo courtesy Dallas Mavs): Tyson Chandler, Chandler Parsons, Jameer Nelson, Richard Jefferson, Raymond Felton, Al-Farouq Aminu and Greg Smith, with Mark Cuban, Rick Carlisle and Donnie Nelson also in attendance.
(If you are finding your way around DallasBasketball.com today,
click into our Mavs News Archives here and type in any of those names ...
and find out all the details of their contracts, their roles, their quotes and the like!)
Fans will join the media in participating in a Q-&-A with the new players and staff and throughout the day up to 4 p.m., fans can also select seats for the 2014-15 season, with full-, half- and mini-plans available. (Buy two tickets and receive a signed photo of Tyson Chandler, too.)
Free parking will be available in the AudiPark garage. and fans can enter through the North Doors. Complimentary popcorn and soft drinks will be provided and of course, DB.com will be there as well.
Come by and say hi!
DONUT 2: How a Maverick Rides A Camel...
Chandler Parsons admits he has no idea. Wisconsin native Devin Harris fakes his way through it by pretending that "camel racing is something we do in the Midwest.'' But ... off they go, and without helmets, too.
DONUT 3: Why Shawn left ...
Former
Dallas Mavericks
forward
Shawn Marion
was a foundation piece of the team's NBA Championship run in 2011. Now he wants to do it again, with Dallas in his rear-view mirror ... but the ring isn't the only reason the four-time NBA All-Star signed with Cleveland this offseason, where he will team up with
LeBron James
.
"When you become a father,'' Marion says, "everything changes.''
Marion concedes that leaving Dallas is "tough,'' and as he tells Shan & RJ on 105.3 The Fan, picking a new city after
the Mavs and Marion mutually agreed to part,
"was up in the air. I was contemplating a lot of different things, but I felt like I really wanted to pursue another championship and I felt like this is the best way for me to do that."
And of course, the Cavs are considered a favorite in the Eastern Conference, particularly with
Kevin Love
joining the young core and James in Cleveland. But a bigger driving force: Marion welcomed the birth of his first son in April. His son, Shawn David Marion (as 'Trix tells DallasBasketball.com, not a "junior'' because Daddy's middle name is Dwayne) will be living in Chicago, a puddle-jump from Ohio.
"It wasn't about the money,'' Trix says. "I got offered more money from different teams. It's just a matter of what I'm comfortable with. And also, from Cleveland to Chicago is not that far. It's drive-able and a quick flight."
In addition to a new city and a new baby, Marion is trying his hand at the music business. Here, you be the judge of that:
Marion has frequently expressed his plan to make Dallas his permanent base, and is building a home here. He says there are no hard feelings towards the organization or owner Mark Cuban. "We still talk,'' Marion says. "We've been friends for a long time. Prior to me coming to Dallas and being a player. That's my guy.''
And Trix is still "our guy.'' Kinda.
DONUT 4: Stretching Jet ...
Speaking of all-time faves: Nobody likes Jason Terry more than I do. But
an attempt to paint Jet's acquisition by Houston as some sort of "under-the-radar'' impact move is a painful stretch.
DONUT 5: The second-best things in life ...
The best things in Mavs life aren't always free.
A Mavs Premium subscription is indeed the best. But it costs you about 10 cents a day
, which barely pays for Michael Dugat's haircuts that he never gets. But the second best thing in
Mavs life is a DB.com Boards membership. And it's FREE!
DONUT 6: We're No. 9! ...
The
Mavs are the ninth-best franchise in all of sports.
Or not. I've never been sure how anybody knows these things.
DONUT 7: Hoodwinked! ...
Michael Dugat, Skin Wade and myself got sucked into a Tyson Chandler vacuum the other day. (As opposed to a Tyson vacuum, which is actually a real thing. We were sent
(via Twitter, where you should come over and follow me!)
what appeared to be a "scouting report'' of sorts from someone with knowledge of the inner-workings of the Melo/Chandler/Felton Knicks.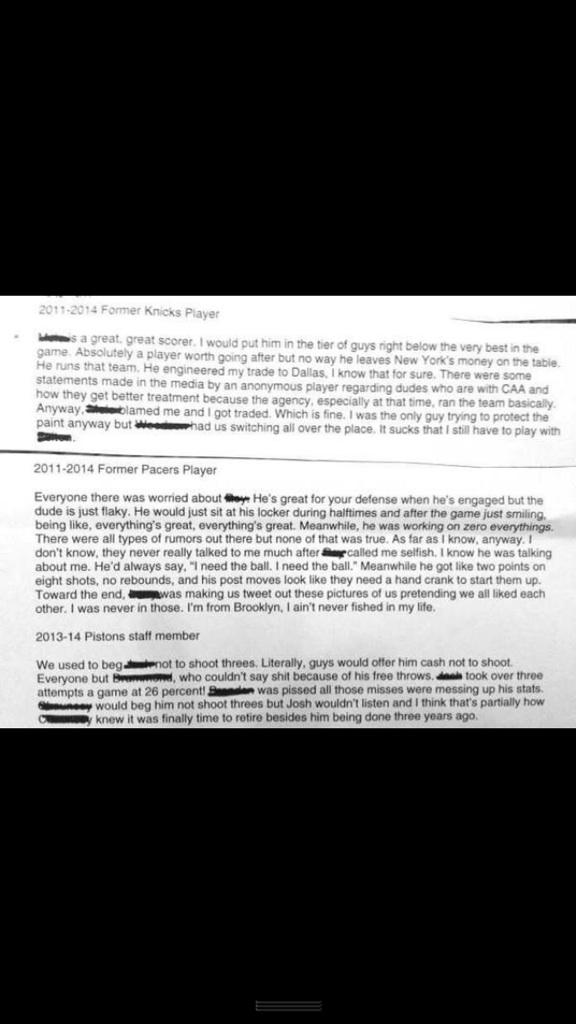 Amid all that juicy, semi-redacted info is what would seem to be Tyson Chandler having seemingly told somebody,
"It sucks that I still have to play with Felton.''
Wanna come behind the curtain? Michael Dugat, Skin Wade and myself started "WTF!'' texting each other, trying to make sense, trying to get to the bottom, trying to match that behind-the-scenes expression with what TY tells us on the record:
"Ray's a tough guard. I think Ray's gonna be able to provide a lot for this team. He's able to bring a floor presence and he's really able to get after it defensively. I'm excited for him to team up with Coach Carlisle, to be quite honest. I think Coach Carlisle will help him understand how to run this team … how to run this system and I think he's really gonna blossom. Also, being in the locker room with guys the likes of Dirk and a lot of other vets, myself, Devin. Guys that are really gonna help him understand the culture around here."
That sounds like TY falling well short of raving about Felton ... but certainly expressing optimism about teaming up with him in Dallas. So what's the deal?
A
Grantland attempt at "redacted humor'' is the deal, parodying the Hawks/Deng scouting controversy.
This wasn't clever or funny to me ... though maybe I'm just bitter because Michael Dugat, Skin Wade and myself spent way to much time chasing down this stupid-ass thing.
DONUT 8: TY inspiration ...
More valid info on TY here ... Want to get fired up about a Mavs training camp that is now only days away?
Check in with Tyson Chandler in his Q-and-A and get yourself inspired.
"Physically I'm in an incredible place,'' Chandler says. "I haven't felt this good in a long time. ... I think I'm better in understanding the game … better mentally. ... Over the years you learn different things, and I think the more you're able to play this game the better you are mentally. I'm excited to bring that to the table here again.''
DONUT 9: Thanks, pals! ...
We can't do our think around here without the help and friendship of sponsors like
Red Rock Bar & Grill
,
LS Wealth Strategies
and
Dee Lincoln's Steak & Burger Bar.
Give 'em a click or a call, please!
DONUT 10: A Cuban sombrero ...
Don't miss your Donuts. Ever.
And top them off with some Taco Bell, served to you by a sombrero'ed Mark Cuban.
DONUT 11: Play on, Dirk ...
Dirk Nowitzki
is on a promotional tour in Germany to let the world know about the documentary "'Nowitzki. Der Perfekte Wurf'' ("The Perfect Shot'') starring the
Dallas Mavericks
superstar. This means Dirk must appear on TV talk shows. (And bring his buddies on tour with him in Germany, as you can see in the photo below.) Which means he must go along with the old story of how young Dirk once said he calmed himself at the free-throw line by singing to himself.
And the one song that popped into his head when describing the habit?
"Looking for Freedom," a late-'80's hit performed by David Hasselhoff, who with his German surname and "Baywatch'' stardom was pretty cool in 1989 ... especially when his song topped the German charts for months ... but is decidedly retro-uncool now ... which is why Dirk's association with him is so funny.
But Dirk plays along ... and plays:
I have a feeling Dirk is actually looking for freedom from being associated with "Looking For Freedom.'' But he's not only a great sportsman; he's also a good sport.
So play on, Dirk. Play on.
12: The Final Word ...
Shawn Marion isn't especially interested in dissecting the 2014-15 Mavs roster, something, again, we get to start doing on Tuesday, face-to-face with all the fellas. But Trix? He's more interested in Mavs Nation as a whole.
"I think they're solid and deep,'' he says. "Anything is possible. I'm not going to sit here and pick them apart. I wish them the best of luck. ... I love DFW. Mavs Nation is great. We're bonded together for life.''