Today's Donuts are sponsored by
McKinneyDentist.com
... with us since 1995! Give "the finest dentists in the land'' a click and a call!
DONUT 1: Fireball Cuban ...
"I am so fired up, you have no idea," said The
Dallas Mavericks
owner Mark Cuban this week at the "Meet The New Mavs'' AAC press conference. "You know how important I think chemistry is, so just being able to get a feel for how all the guys get together and how they get along ... Everybody's fired up, everybody pushing each other. Dirk has got a big old smile on his face. So it's exciting."
DONUT 2: Rick's analytics ...
"We're obviously very excited about this team," coach Rick Carlisle said. "Coming into this year, we know we're going to be a better team than we were last year just based on the analytics.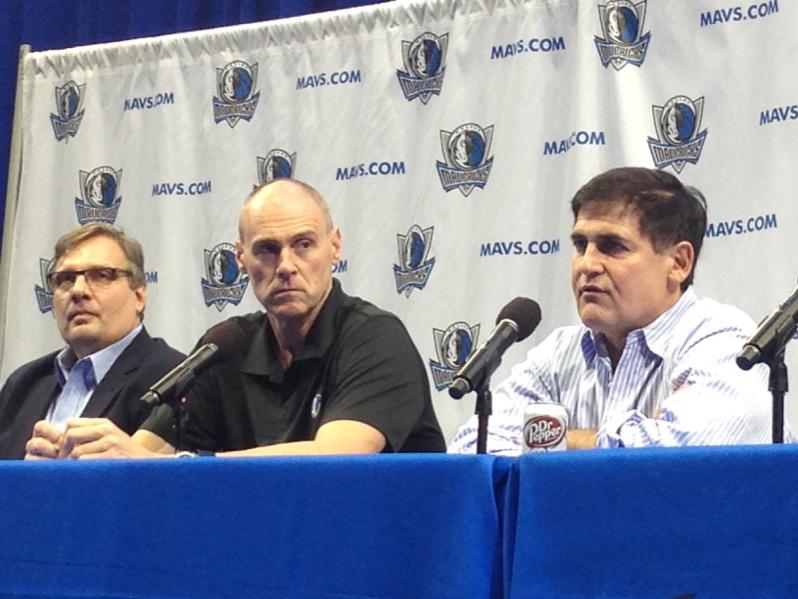 "Last year's team was not a good defensive team on paper, and unfortunately we performed that way the majority of the time. This year, we're slightly better on paper, and with Tyson back he basically promised that he's going to 'will' us to become a really good defensive team."
Rick was half-joking when he mentioned TY's "will,'' a reflection of something Chandler himself has said. But only half-joking.
"When we start practice (next Tuesday),'' Rick said, "our first practice will be on defense.''
DONUT 3: Cuban's "Fallen Angels'' ...
"Chandler (Parsons) is one of those fallen angels in some respects, where he does so much more than people give him credit for because [Houston] had guys who liked to dominate the ball,'' Cuban said. "I think, when asked, he can score, he'll pass, he finishes. He was top-five in the league in percentage on floaters.
"There are guys that teams had a lot of high expectations for that kind of fell through the cracks. [Al-Farouq Aminu] was the No. 1 rebounding small forward in the NBA the last two seasons but New Orleans didn't really trust him for some reason, so they let him go. We're thrilled. ... Greg Smith became available because Chicago was trying to get a big piece, and we've been trying to get him for a couple of years. Raymond wasn't just a throw-in in the Tyson deal, he was somebody that through the 2010-11 season we were 'thisclose' to signing him. These are all guys that we've had our eyes on for a long time, and so when other teams get off of them, we're excited to sign them.''
DONUT 4: Parsons on D ...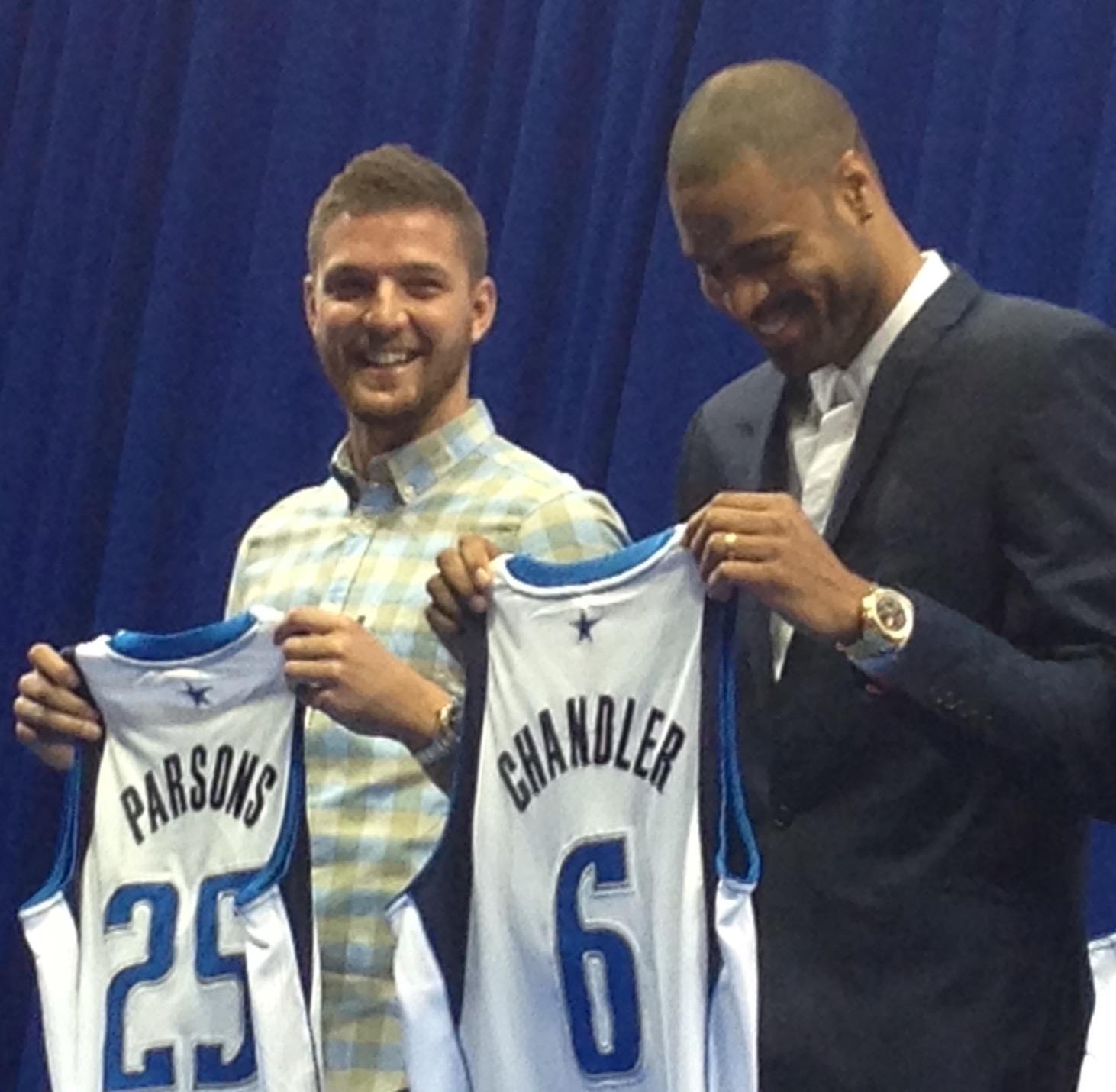 Chandler Parsons was invited to address defense on two different fronts. First, what he is doing to be a better defender. He talked about spending more time in the weight room. Then he was asked to compare and rank the defensive skills of ex-teammates Lin and Harden vs. a camel like the one the Mavs are using in their hump-day promos.
"It's a push,'' Parsons said.
DONUT 5: TY's fortune ...
"I feel very fortunate to be back," Tyson Chandler said of his trade-related boomerang back to Dallas. "The biggest thing is for us to come out and compete night in and night out, and compete in practice. ... "I absolutely missed playing here, the organization, and the fans."
Indeed,
Cuban is for the first time admitting that letting TY go in the first place might've been an error that won't happen again.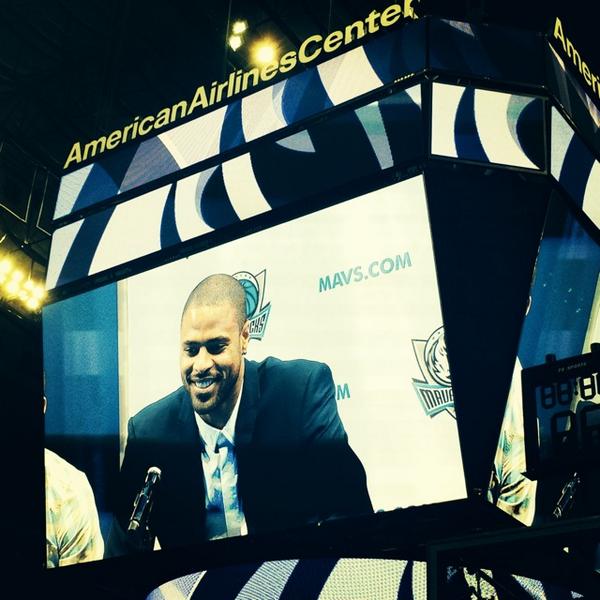 DONUT 6: Blue-collar, blue unis ...
"The guys in the locker room — whether it's Jameer, Dirk, Tyson, Chandler — they're locker room, blue-collar guys who encourage other guys and push guys to work out and understand the team concept," Cuban said. "To me, that's the most reminiscent of 2011 where we didn't have 'me-guys,' we had team guys."
Oh, and
the info on the blue unis is here.
DONUT 7: Felton's feel ...
"It feels great'' to be a Mav, said Raymond Felton. "I'm looking forward to a fresh start. .. I look forward to coming out and giving everything I've got."
There is a great deal of cynicism when it comes to him,
but we can see an upside to Felton being one of Dallas' "fallen angels,'' as we explain here.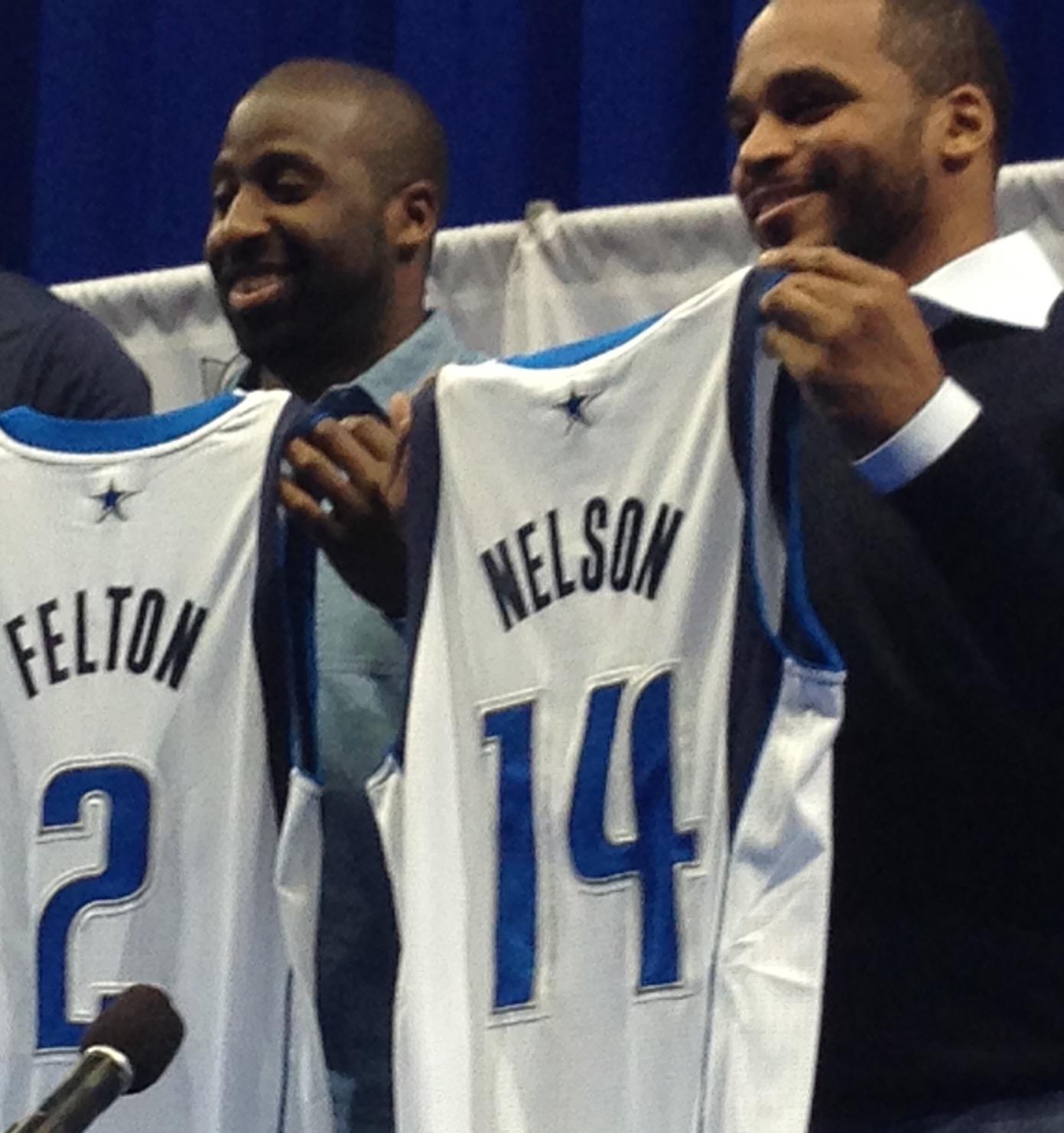 DONUT 8: 20-20 foresight ...
"I'm not expecting anyone on our team to be a 20-point scorer,'' Cuban said. "Not Dirk. I don't want him to be a 20-point scorer."
Our
full story on Cuban's thoughts here -- they are balance-related -- is here.
DONUT 9: All-World ...
Tyson Chandler on what Dirk Nowitzki means to him: "Dirk means the world to me. Dirk is the leader."
As TY was uttering these words upstairs, Dirk was finishing a morning workout in the AAC basement, working on perfecting his free-throw stroke.
DONUT 10: Donnie on 'good looks' ...
"Our feeling is we may not be as good-looking a team as we were last year," said GM Donnie Nelson, poking fun at "Chandsome'' and mates. "But we're going to be better defensively, we're more talented and we're smart, which is a good combination. Generally speaking, that wins games in the NBA."
DONUT 11: Partying Parsons ...
Parsons, remembering back to
that now-famous nightclub-offer-sheet night with Mark Cuban
, said he enjoys the Dallas scene and the fact that the city is "clean.''
But there is such a thing as partying too much, right?
"No more partying for this guy,'' Parsons fibbed. "Me and Mark did enough when I signed.'
12: The Final Word ...
"We think this team can be special." - Rick Carlisle.