Today's Donuts are sponsored by
McKinneyDentist.com
... with us since 1995! Give "the finest dentists in the land'' a click and a call!
DONUT 1: Racism in Atlanta ...
Our David Lord writes:
Bruce Levenson, co-owner of the Atlanta Hawks, outed himself for insensitive things said in an email two years ago. Now another of the owners has said he asked for GM Danny Ferry to be fired in June (and was apparently ignored) due to Ferry's involvement with a disturbingly racially-laced scouting report.
The owner's two-year-old email was discovered because of the Ferry incident. Ferry was discussing free agency and included a racist remark from the background report of Luol Deng. The Hawks higher-ups, upset over Ferry's unedited comments, decided to conduct an investigation led by a law firm, which recorded 19 interviews and scanned 24,000 documents, one of which was Levenson's email.
The
text of the comments by Ferry have now been released along with the news of "discipline''
and, in the current climate, it's surprising that he hasn't been fired already. How can you keep this sort of person -- or at least someone associated with this sort of action -- in your front office now?
After you read those comments, consider this:
Ferry says he has apologized but really didn't do anything other than claim he used and repeated the comments of someone else. (My reaction: "You're claiming you HAD to use those offensive metaphors, because someone else did? Really?") He also says he will not resign, and the Atlanta owner says he will not be fired. ... though as more is revealed
(did Ferry once call Bonzi Wells the n-word?!) more could be done.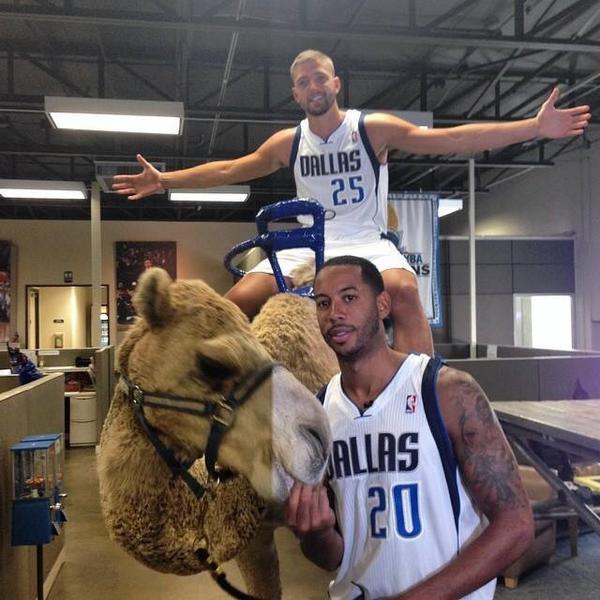 Looking for a
smart place to discuss all the ramifications of this? David Lord leads such a discussion here on DB.com Boards.
DONUT 2: Meanwhile, at Mavs HQ ...
Meanwhile, the The
Dallas Mavericks
are cavorting with camels. (Photo courtesy of the Mavs.)
DONUT 3: The Current Climate ...
D-Lord mentions "the current climate.'' I would suggest that the climate isn't just about the Hawks. It's Sterling, Ray Rice, Jerry Jones, college sports ...
a ripe and fertile place for lawsuits ... and for motivation to locate our moral compasses, as I write here.
DONUT 4: Zoran with a 'Z' ...
There seems to be some confusion between "Goran Dragic'' and his brother "Zoran Dragic.'' There is also confusion regarding the Mavs' interest in the former.
DB.com clears it up in this exclusive look at Dallas' thinking on Zoran.
DONUT 5: A lanky pitcher ...
Chandler Parsons threw out the Wednesday night first pitch at the Rangers game and also reflected on his baseball career that wasn't.
"I played growing up and I made varsity as a (high-school) freshman,'' the new Mavs forwards said. "But then I just had a crazy growth spurt and just kind of started getting good at basketball. ... I was a pitcher and a shortstop. Being a 6-9 shortstop didn't work out too well.''
A
Q-and-A with Chandsome is here.
DONUT 6: Thanks to our sponsors! ...
Red Rock Bar & Grill,
our North Dallas hangout for sports and music!
LS Wealth Strategies,
the smartest money men in the business!
Dee Lincoln's Steak and Burger Bar,
a unique dining experience starring a legendary restauranteur!
Give our friends a click or a call, please!
DONUT 7: The scoop on Charlie V ...
He's fallen off the map, even as a shooter -- something he once did at a very high level for a big. So as DB.com
broke the story of Dallas' hot pursuit and deal-closing on Charlie Villanueva, we make sure it's complete with the logic behind the non-guaranteed deal.
DONUT 8: The summer winners ...
That would be
your Dallas Mavs, as our Michael Dugat details here
in this joyful analysis ...
DONUT 9: The summer losers ...
And I have to handle
this, with the NBA's Bottom-10 Offseason Losers.
DONUT 10: Legends lunacy ...
We've
got ourselves a Texas Legends schedule and if all goes well, it'll be R.J. Choppy and myself doing the TV play-by-play and analysis ...
and coloring outside the lines just a little bit ...
DONUT 11: The 'Modern Owner' ...
In an interview with Bloomberg TV, new NBA commissioner Adam Silver was asked to cite an example of the "modern owner of an NBA team."
"You know, I think in a lot of people's eyes, Mark Cuban has become the modern owner," Silver said. "And I give him a lot of credit, because when he came into the business, he made it really cool to be upfront and visible.''
I'm not really sure what a "modern owner'' means. But I know it beats being the opposite of that.
12: The Final Word ...
Dirk Nowitzki
says
he and the rest of the Nowitzkis "had an awesome summer in Europe. We visited my wife's family in Sweden. But the USA is our home." He also adds that he is working with Holger Geschwinder on his shot, the goal being to "shoot quicker.''
Be afraid, NBA. Be very afraid.