Today's Donuts are sponsored by
McKinneyDentist.com
... with us since 1995! Give "the finest dentists in the land'' a click and a call!
The
Dallas Mavericks
have reunited with Tyson Chandler, and in this visit with
"Ben and Skin'' on 105.3 The Fan,
he lets it all hang out ...
DONUT 1: On his so-far summer ...
"I've just been training, man. I took about two weeks off at the end of last season and got back at it. You know I didn't like the way things ended last year (in New York) so I wanted to make sure I was prepared for this season and then things ended up working out even better because I ended up coming back home."
DONUT 2: On regret over not 'keeping the band together' ...
"I think right after and definitely the year following (the 2011 title). But as time goes by, you can't continue to look back in the past. You've got to move on to the future. But I've got to be honest, initially, yeah I did, but after that, no. And then this summer when I got that call (that the Mavs had traded for him) to come back, I was ecstatic because I felt like it was another opportunity."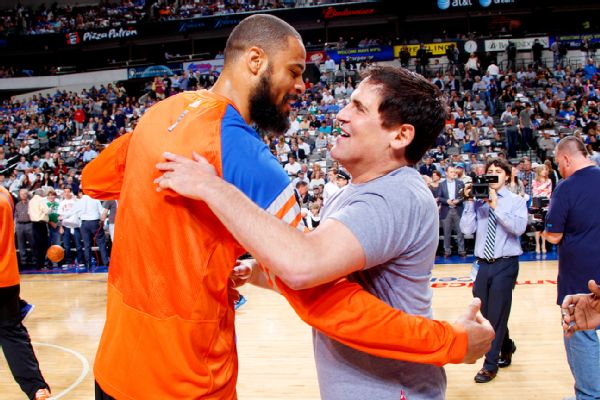 DONUT 3: On 'Lightning in a Bottle' vs. continued contention ...
"Absolutely I feel like that team we had would've had a shot (at contending going forward). We were an incredible team. I remember the day I got traded I was in the gym and I was talking to my family and I'm like, "Look this team has a real shot. It's been a great team offensively for years and I just felt like they lacked some things (a rim protector) and I felt like I could bring that to the team. I thought at minimum we would make it to the Western Conference Finals and then from there we would just see what happens. Then we came out at the beginning of the season running off games, had a great start and then we had some injuries. I can't remember who went down first but I think Dirk went down first, then Caron. So we had our trials and were able to overcome that, and then we started clicking at the exact right time. We got it back together before the playoffs, and when you have guys, veterans and a nice mix that understand how to play together that are all unselfish, it was an incredible mix. So yeah I definitely think that team could've (contended for years). I mean, we could go there all day though: coulda, woulda, shoulda."
DONUT 4: On being a Mav in conflict with Chris Paul ...
"That kind of damaged our friendship. (Laughs.) What happened there was I think everybody knows I played with CP for 3 years and we were like brothers … and just like anybody, you protect your brother and do whatever it takes. CP is a bulldog on the basketball floor and he kept being chippy with our bench and I'm like. "Look, we aren't teammates anymore, I'm on this side." So things got chippy between the two of us and there was a collision. There was words and this and that, but it happens on the basketball court. Tempers flair and it was kind of just, "Alright look this is my team and I'm not gonna let anybody run over my team no matter who it is. No matter if you're my brother … when we're on this court in between these lines it is what it is."
That was tough, because it was the first time that had ever happened between the two of us in our relationship."
DONUT 5: On that moment as a launching pad for that Finals run ...
"Yeah, because I think everybody understands what CP means to me and even at that moment, I think the guys on the team took it as "Look, that's like a brother to him and if he's willing to do that for us, we've gotta stand by each other through anything. It was a big moment and there were several moments throughout that year that every player had.
"For me, one of them was Caron going down and walking off the court like a soldier, with his kneecap dislocated and he didn't want his family to see him laying on the court. And then not putting his head down but showing up every single day staying on top of us making sure that we stood together and fought hard and didn't hang our heads because he went down. During that championship (run), he was the biggest cheerleader over there (on the sideline) and coach. It was the makeup of that team that once we realized we had something special, we would do anything for one another."
DONUT 6: More on 'Tuff Juice' ...
"He's got a tough mind … that tough mindset. Coming down the stretch, you've gotta have a belief that there's no way the opponent can beat me. There's no way. I don't care what type of gameplan they put together … I don't care what they do. We want it more than they do, and that's the way we approached the floor. You've got to have the right amount of guys that have that attitude in order to have success in this league, because if it's only a few and it doesn't carry over it doesn't work.''
DONUT 7: On former Knick teammate Raymond Felton...
"Ray's a tough guard. I think Ray's gonna be able to provide a lot for this team. He's able to bring a floor presence and he's really able to get after it defensively. I'm excited for him to team up with Coach Carlisle to be quite honest. I think Coach Carlisle will help him understand how to run this team … how to run this system and I think he's really gonna blossom. Also, being in the locker room with guys the likes of Dirk and a lot of other vets, myself, Devin. Guys that are really gonna help him understand the culture around here."
DONUT 8: On his own physical state ...
"Physically I'm in an incredible place. I haven't felt this good in a long time.''
DONUT 9: On his own mental state ...
"I think I'm better in understanding the game … better mentally. ... Over the years you learn different things, and I think the more you're able to play this game the better you are mentally. I'm excited to bring that to the table here again.''
DONUT 10: A Dirk memory ...
"When I first got here I remember coming back late at night to try and get a lift in or work on free throws or this and that, and every single time I got there he (Dirk) was there putting up shot after shot after shot. It just shows he's never gonna settle … he doesn't settle, he only wants to win and he's willing to do whatever it takes. A lot was made about what I did and what I accomplished the year I was here, but he's The Man.''
"When you have the top dog leading that way, you can't help but fall in line."
DONUT 11: More on 'The Uberman' ...
"First of all, we don't have enough time on this show for me to explain the type of respect I have for Dirk Nowitzki. He and Jason Kidd are the two most incredible teammates I've ever been around. As far as two future Hall-of-Famers … you would not know it walking into the gym and walking into the practice facility. They're in every meeting, at every practice, super humble … always passing credit along. (It's) just the type of guy … that I would want to start my team with (if I was a GM/President/Owner). He's given Dallas everything.''
12: The Final Word ...
"I love the makeup of this team."