Today's Donuts are sponsored by
McKinneyDentist.com
... with us since 1995! Give "the finest dentists in the land'' a click and a call!
DONUT 1: Bass reunion? ...
The
Dallas Mavericks
still have an affinity for Brandon Bass. You should know that.
What they really don't have is roster room.
The Celtics continue to be in tanking mode and wish to strip down. The headline-grabber there would be Rajon Rondo (go ahead, lick your chops). But on a lesser level, how about Brandon Bass?
Bass is just 29, has a $6.9 million expiring contract, and is one of Dallas' best-ever scrap-heap stories. He remade he career with the Mavs, becoming the sort of backup power forward pretty close to well-worth that $6.9 mil.
The Celtics are shopping Bass but getting no traction league-wide.
And there's not much cooking in Dallas, either.
Team sources tell me that in another circumstance, a bruiser like Brandon would be very welcome here as a backup 4. But the Mavs have made their bed, if you will, by committing to the idea of Parsons playing some minutes at the 4, of Aminu doing that banging inside, and maybe eventually looping back around to a healthy Rashard Lewis being on this roster as a stretch-4.
All those names and all those guaranteed contracts leave no roster spots. And you can presume that there's no trade the two teams wish to make that a) doesn't leave Dallas with a hole and b) doesn't alter Boston wish to be crummy.
The Mavs think Brandon Bass has value. But, it seems, not here and not now.
DONUT 2: Going nowhere ...
LeBron James is essentially promising to spend the rest his career with the Cleveland Cavaliers. He said as much this weekend by arriving in Ohio and announcing, "I'm not going anywhere.''
Of course, once he got to Miami he promised enough rings that the simple math meant he was never going to leave the Heat. Oh, and if he's so committed to Cleveland, why is his contract for only two years with an opt out next season?
Because by doing so, he'll make more money on his next deal. And the most money and years by re-upping with Cleveland.
DONUT 3: The Love Connection ...
ESPN notes that the NBA is giving the side eye to the interworkings of the Cavs and Wolves talks regarding a Love-for-Wiggins trade. Technically, there can be no agreement between Love and his future Cleveland team.
But there is. Right?
Minnesota knows this advanced level of contract talks with a player in this circumstance is illegal - and paid the price when it did so in 2000 when it broke the rules with Joe Smith. The side-eye penalty: a fine of $3.5 million and the loss of four first-round picks.
But ... is that consistent with Miami paying no penalty for quite likely flirting with LeBron while he was still a Cav? And is that consistent with Chancellor Stern voiding the Paul-to-the-Lakers trade?
I think the NBA would help itself, image-wise and otherwise, to have a hard-and-fast rule in place, with a clearly-drawn penalty. Drive 56 in a 55, you get a ticket. Period. Not doing so raises suspicions about bias in the league office ... about privately wishing certain players would land in certain markets. And it doesn't matter if it's true.
What matters is how easy it would be to rectify that chapter of the "NBA-is-fixed'' Big Book of Accusations.
DONUT 4: Bandwagoning is good! ...
Have you joined David Lord
on the 2014-15 Mavs Bandwagon yet?
DONUT 5: A LeBron farewell ...
Earlier this month, Christopher Coronado, a 28-year-old Texas man, died in a car crash. He was, quite obviously, a huge LeBron James fan. And therefore his family and friends honored him in that particular way.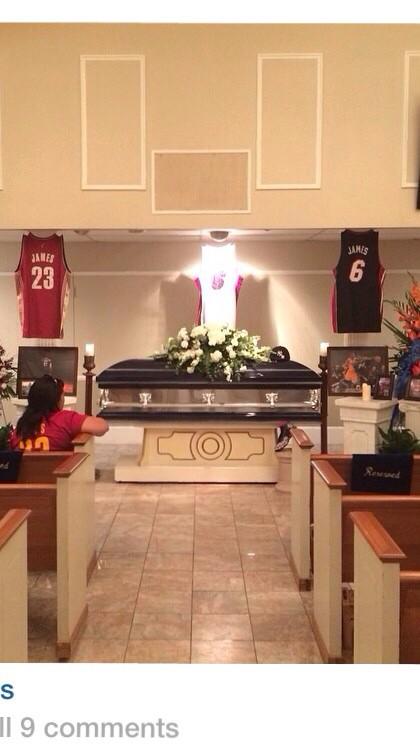 Rest in peace, Christopher.
DONUT 6: Meet 'Sparkle Smith' ...
The NBA Rookie Transition Program is a sharp idea. Teach these young men -- like most young men unaware of the ways of the world -- how to cope ... especially with a million bucks in their vulnerable pockets.
So it's "how to dress'' and "how to act'' and such.
The most titillating part of the session, of course, involves the ladies. The ladies of the evening, and otherwise.
"Her name is probably not really Sparkle Smith"
is, in my opinion, the most important part of the whole process, and a branch of the tree of my infamously wise blanket advice to young men:
A three-pronged prediction: These young men will figure out how to dress. They will figure out how to act. They will, in case after case, not figure out the Sparkle Smith part.
DONUT 7: Violent suspensions ...
It appears ESPN hands down harsher penalties for talking about domestic violence than the NFL hands down for actually being guilty of it.
DONUT 8: The Ironmen...
What do new Mavs Aminu and Jameer have in common?
DB.com shows you how they serve as NBA ironmen.
DONUT 9: Donald's tacos ...
The
irrepressible Donald Sterling on a date. With a woman. At a taco stand.
Wow. And I don't just mean "wow'' at him. What sort of self-loathing woman of color - hell, any color -- must you be to be the successor to V.?
DONUT 10: 'Der Perfekte Wurf' ...
A Dirk Nowitzki movie?
As they say in Germany, "Getcha popcorn ready.''
DONUT 11: We hate Melo, but ...
Carmelo Anthony took the money. And there's nothing wrong with that. Carmelo Anthony is also acknowledging that he knows that there's virtually no chance that the Knicks are winning a title this season.
The shorthand quote making the rounds: "I do not expect to win a championship this year."
The full quote, courtesy of PrimeraHora.com:
"I do not expect to win a championship this year. That's something that takes time and everything has to be in sync, from management to players. We have much work to do, but something that drives me. I know we can start creating the foundation of what we do. It's the start of a good process. Next year we will have enough money to spend within the salary cap. But this year it is important to take the necessary steps towards those who will in the next year. I want to concentrate on building what we want from this year.''
There is nothing unreasonable about that, and nothing self-defeating, either. It's actually a smart take, leaving us to search elsewhere for all the things we might hate about Carmelo Anthony.
12: The Final Word ...
I've never seen this before ... and now I cannot un-see it.
Michael Jordan and Charles Barkley ... and old pals Jason Kidd and Michael Finley ... teaming up against gigantic Sumo wrestling legends? Cherish this!