Today's Mavs goodness is sponsored by the guys and gals at
Red Rock Bar & Grill, one of our favorite North Dallas hangouts ... live music on the weekends and that 200-inch screen bringing you a great look at your Mavs!




Thanks, Red Rock!



Rise of 'The Chief'


Before Saturday's game against Portland, owner Mark Cuban referred to
Al-Farouq Aminu
as the
Dallas Mavericks
' "Scottie Pippen."
Aminu is no Scottie Pippen. He's not yet Shawn Marion, the comparison Mavs officials made when Dallas signed him last summer as a free agent. But comparisons aside, he is playing damn good basketball lately.
I've always liked Aminu,'' coach Rick Carlisle said. "He's had some monster rebounding games against us. He had two 20-rebound games against us last year playing the small forward position, which is really unusual. He's an extremely hard worker. His game continues to grow in all areas and he's made himself one of our core guys, which is a testament to how hard he's working."
Aminu has played at least 20 minutes in each of the last seven games. He played a season-high 31 minutes against the Blazers after Cuban's comparison and has had his fingerprints — and long arms — all over the outcomes in a very positive way. He has taken less than 10 shots in each of those seven games, but was acquired by the Mavericks for his overall activity and that potential has been realized as of late. He has 47 rebounds in those seven games. Aminu (USAToday photo) has been making himself available for passes with his movement and has been occupying the passing lanes on defense, getting steals without gambling.
AFA's last five games averages: 25 minutes, 6.6 rebounds, 1.6 blocks, 1.8 steals and 7.6 points.
Most importantly though,
"The Chief'' (see Donut 3)
has displayed a level of versatility that has been crucial to a team currently trying to fill a few holes. The backup big man situation has been the Mavericks' most glaring issue since trading away Brandan Wright in December. Dwight Powell and Greg Smith have failed to show any signs of consistent production and Charlie Villanueva seems determined to break the record for shots per minute ... and when he isn't making those shots he is not exactly helping the team.
(All of which is why DB.com has brought you the breaking news on not only Jermaine O'Neal, but also on Amare Stoudemire and Andray Blatche.)
Experimenting with
Aminu in the lineup became a necessity. (DB.com has pushed the idea of more of the same, as we think there are benefits to having Monta be the guy who slides to the sixth-man role.)
As of late, he has been the first frontcourt player off the bench and he has played just about every role one could ask of him. He has even played spot-minutes at center and it has actually worked. Defensively, he has protected the rim with weak-side help and has taken defensive assignments that would be a burden to just about anyone on the Mavs' roster besides Tyson Chandler.
Saturday night, for example, Aminu drew the challenge of guarding 6-11 power forward LaMarcus Aldridge, who has thrashed the Mavericks in the past. Granted, AFA was not alone; Aldridge was double-teamed nearly every time he caught the ball. The key to what Aminu was able to do was maintain position before Aldridge got the ball. He has the size and strength to avoid being stuck in a position that allowed Aldridge to get the ball for an easy score or with space to shoot. He kept him away from the basket and waited for the double team help to come. Having a player with that kind of ability who can also guard perimeter players is a huge advantage for Dallas and takes the burden away from other players. ... and AFA was a key to
Dallas' thrilling comeback and OT win over the "heavyweight" Blazers.''
Offensively, he has followed the simple formula of turning effort into points. Aminu grabs offensive rebounds, he runs the floor in transition and he moves without the ball instead of planting his feet and waiting behind the three-point line.
Aminu might not have been in the game during the most dramatic moments of Saturday's game, but he was one of the best Mavericks from start to finish.
"That's what they look for me to do,'' Aminu said. "I know that's why they wanted me on the team, in order to bring energy, get out on the break, make hustle plays and different things like that. I owe it to my teammates to do those things.''
This is all well and good, but the real question is whether or not Aminu will be able to maintain this level of play and continue to get these kinds of minutes
when Rajon Rondo returns from injury.
His shooting may be the ultimate determiner of this. Any time that Aminu, Rondo and Chandler share the court the Mavericks are seriously void of shooting and are put in an offensive bind.
Rondo will create open three-point shots for Aminu and he will need to find a balance between knocking those shots down while still not settling on his sometimes-creaky jumper. It is a balance that Shawn Marion mastered in his career. The Matrix was far from a conventionally great shooter, but he wasn't afraid to put up a shot and he was never much of a liability because of all the other things he did to compensate. That's what Aminu -- the 6-9, 215-pounder still young at 24 -- will have to do to have the same impact he's having now when Rondo returns. ... while playing with the same pride he exhibits as part of Dallas' "second wave.''
"The second unit, we got a lot of talent,'' Aminu said. "We're just trying to come out in waves. ... It gets us hyped ... That's just what we try to do, try to bring something good to the game as well."
Aminu's energy and versatility are something the Mavericks need to be able to take advantage of. As predicted when AFA was first signed after his time in New Orleans, the former first-rounder has an ability to be effective in ways that change the course of the game and don't take away touches or shots from his teammates. The Mavericks' bench goes nuts every time Aminu makes a big play. This is surely because of the authority at which he makes such plays, but perhaps also because it is clear how much Aminu wants to prove that he can contribute to this team.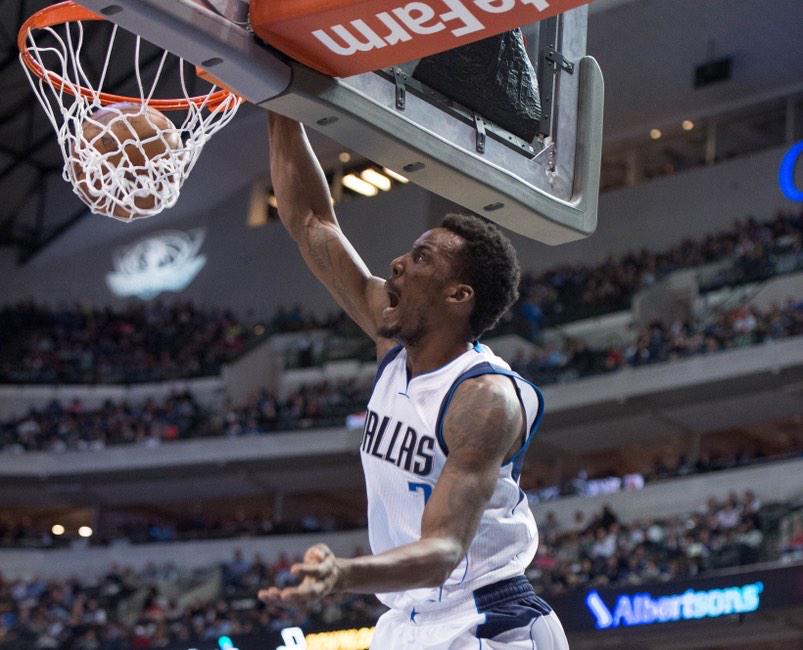 If he keeps doing what he's doing then he'll be able to prove it night-in and night-out. ... and another of those nights comes now, with
the Blake Griffin-less Clippers
-- at 33-19 just a tick behind the 35-18 Mavs in the thick Western Conference playoff race -- in Dallas tonight for the home team's second-to-last game before the Break.
The Mavs got Aminu for two years at the minimum with a second-year player option. In the previous four seasons, Aminu played 303 games (out of a possible 312), has averaged over 23 minutes per in his career and last season logged 2,045 minutes last season. As a comparison, only four Mavs last season played more minutes: Dirk, Marion, Ellis and Calderon.
The collective point being, before he came here, AFA was a regularly-used starter and the Mavs are getting him for the minimum. ... but now on a regular basis he's giving them the maximum. He doesn't need to be Pippen or 'Trix. Just the maximum of what he is.
See what Mavs fans are saying here!
Related Story: Exclusive: Mavs' planned pursuit of Amare

Related Story: Mavnalysis: Start Aminu over Monta?

Related Story: Rondo Injury Options