Today's Donuts are sponsored by
Red Rock Bar & Grill
... our North Dallas hangout for Mavs games and live music!
DONUT 1: Chandsome coming home ...
There is nothing "unpatriotic'' about the
Dallas Mavericks
. And every time someone who disagrees about Mark Cuban's oft-stated views on international play attempts to play the "unpatriotic card,'' I steer them here to
The Fallen Patriot Fund
and here ...
Cuban puts his money where his mouth is on the subject of true patriotism. So do the Mavs and so do their fans.
So MavsNation shouldn't feel guilty -- and I hope it's OK if I'm fairly elated -- that
Chandler Parsons
was recently given his walking papers by Team USA.
We will get to September and the Mavs will hold their pre-camp introductory presser and Parsons will tell us all that he is disappointed at not making the final cut but that it was a wonderful experience and that he'd like another crack at it next time.
And then he will enter Mavs camp in one piece, which, if you are a Mavs fan, is at least as important to you as your budding star forward sitting the bench in a Team USA exhibition game against ...., right?
DONUT 2: Cuban on ice ...
Speaking of Cuban ...
He spent an extraordinary amount of time on Friday visiting with "Ben & Skin" on 105.3 The Fan. He was his usual provocative and non-linear self, even when it came his non-acceptance of the "ice bucket challenge."
"We've gotten to the point now where it's not so much about ALS or raising money," he said. "It's really a social-media phenomenon and I'm starting to feel bad for a lot of the other charities who are going to have a far more difficult time raising money. A lot of people are going to try to copy what ALS has done and it's going to be impossible. Someone else is going to have to come up with something completely different. Not to take anything away from ALS. Whatever amount of money they raise, good for them. It's a terrible disease. ... I don't want trying to coming up with an idea to fund raise to be about who is the most creative on social media. I don't want to see a lot of charities waste a lot of money trying to come up with the next social-media phenomenon. I just don't feel comfortable with it at this point in time. Had I done it early I would have been like, 'Yeah I was one of the early ones.' That's just my style."
See? Provocative and non-linear ... and we all get to think for ourselves here. I believe the fight against ALS is a winner here (having raised $50 mil so far) and deserves to be the winner as a result of this grass-roots phenomenon. So I'm not obliged to agree with Mark and, heck, even his own brother obviously doesn't agree with him, either!
DONUT 3: The Love announcement ...
The Kevin Love-to-Cleveland trade has been a foregone conclusion for quite some time. But there still needed to be an official breaking of the story and an official announcement from one of the teams and I don't believe it's ever been done quite like this before.
Make sure you get this: it's not a newspaper story beating Twitter, which would've been a rarity itself. No, this one of the teams BUYING A NEWSPAPER AD to make the blockbuster transaction official.
I assume tugs is Minnesota trying to generate positivism inside its fan base. I don't know that it'll work; the team losing the established star is almost always the "loser" in these deals. But it certainly generated something: revenue for the newspaper.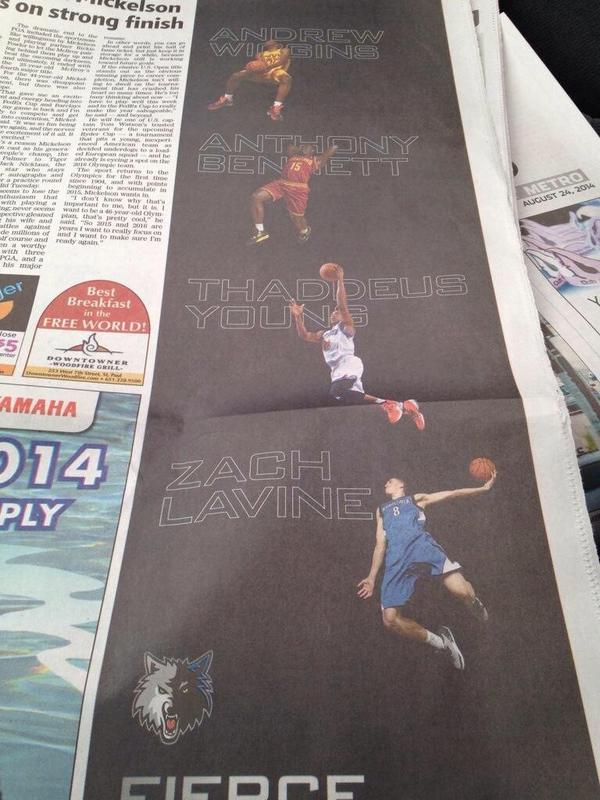 In an era when the print product isn't likely to break a story, it's cool when ad revenue allows it to break even.
DONUT 4: The Love blowback ...
So the Cavs are pretty loaded. The Timberwolves start over - again. But there are more branches on this tree.
What if Klay Thompson feels disrespected by his Warriors' willingness to swap him fir Live? What if Andrew Wiggins, like Love and Garnett before him, decides he doesn't wish to be a lifelong Minnesotan? What if the Suns' inquiry about a Love-for-Bledsoe trade signifies a Phoenix interest in moving and shaking their situation here?
This we do know: We've got
the exclusive details from inside Mavs HQ on their position on a Bledsoe trade
... It's Mavs Premium Stuff.
DONUT 5: Thanks to our sponsors! ...
We can't do our thing without the help of ...
*
McKinneyDentist.com
.. the Fisher boys' dentist since 1995! ...
*
LS Wealth Strategies
... Bill and Woody have opened wonderful doors for my family. Give them a click or a call and let them do the same for you!
*
Dee Lincoln's Steak and Burger Bar
... truly one of DFW's finest dining experiences experiences!
DONUT 6: Not my fantasy ...
Jay Glazer wants to give Fantasy Football advice? I can certainly see why some of us would want in on that. Jay Glazer is hosting a TV show called "Fantasy Football Uncensored'' with Hollywood's Jerry (Turtle) Ferrara and David Spade in which the gang brags and argues about their Fantasy teams?
No thanks.
First off, there is little chance David Spade knows more about Fantasy Football than you do. And second, there are few things more mind-numbingly boring than listening to other men boast about their Fantasy Football teams. Those few things include:
*The great golf shot they almost hit.
*The cheerleader they almost made out with.
*Bitcoin advice.
See? It's a damn short list.
DONUT 7: Two big dribbles...
Let's watch Giannis Antetokounmpo go the length of the court in two dribbles ...
That's the 7-foot small forward who is going to be a terrific player in Milwaukee, which selected him 15th overall in the same draft in which Dallas traded down from 13 to 18 to pick Shane Larkin.
Dammit.
DONUT 8: The Felton Window ...
Last night at 11 p.m., the window opened to the aggregating of
Raymond Felton in a Mavs trade-away. What are Dallas' plans here? We've got the exclusive with Mark Cuban.
DONUT 9: BOGO! ...
What we've been doing for 14 years inside Mavs HQ now has us as excited as we've ever been for Mavs basketball ... and that's reflected in everything we do at DallasBasketball.com ... and Mavs fans who want the in-depth, fun and accurate coverage of our favorite team can now advantage of a soon-to-expire offer from us and the network.
Wondering what it is like to be a premium member at DallasBasketball.com? Looking for a reason to return or explore? Well, your time is now.
DallasBasketball.com now offers you a chance for all levels of Mavs news, analysis and scoop. Our provides wall-to-wall coverage for any true Mavs fan. ... and it's just 10 cents a day to get inside ... and to also be an insider of your other favorite teams, Cowboys, Longhorns, Aggies, Sooners, you name it!
The BOGO - which gives you a free month after you get on board with a monthly, 6-month or Annual subscription - makes this the best bargain in sports journalism. We'll comp you the the next month free following the billing after the free trial. ... and you'll join the thousands of Mavs fans who have come aboard in recent months!
Already a monthly or 6-month subscriber?
Simply click the link and upgrade to the annual subscription and we will give you two months free as well!
Or you can call the Scout sales center at 1-888-501-5752 between 9am-6pm CST to take advantage of this great offer.
Thanks for giving us a try ... Our podcasts, videos, analysis, news, access and commitment to covering your Mavs THE RIGHT WAY is second to none ... and we look forward to fulfilling your needs inside Mavs HQ and beyond!
DONUT 10: Sterling's sex ...
Donald Sterling likes to play dirty.
Take that in any way you wish to take it, especially now that V. Stiviano is filing a lawsuit that claims the ousted Clippers owner is gay.
No, it's not the sexuality that is newsworthy (to me, anyway). It's the fact that the lawsuit seeks to prove that she wasn't his girlfriend but rather an employee -- employed as his beard, with the full knowledge of Donald's wife Shelly knew about it.
What Sterling is, certainly, is sexually "odd'' by what we judge as "normal.'' It's why he's testified in court to the following:
"Well, I fool around sometimes. I do. When a girl seduces me and tells me all of these hot stories and dirty things and tells me how much she wants to suck on me and takes my shoes off and licks my feet and touches me.''
Ick. Enough.
This does not have basketball relevance, except of course that Shelly remains in the NBA family. This does, for certain, have Hollywood relevance as I assume HBO and Lifetime are in a mad battle to get the Donald Sterling biopic slapped together.
DONUT 11: Make your plans! ...
The Mavs regular-season schedule and analysis of it?
DB.com has you covered here!
12: The Final Word ...
Life as a journalist - what with the spelling and the math and especially the sourcing -- ain't easy: