"I was on pins and needles all night with this deal,'' says
Dallas Mavericks
owner Mark Cuban, in his first interview since the completion of the trade for Rajon Rondo. "I have seen so many times a deal like this fall through once we get to the trade call.''
That trade call (the official completion of the already-agreed-to) deal occurred at 8 p.m., hours after the Mavs and Celtics made their arrangement. TV personality Keith Olbermann, backstage at the "Colbert Report'' final show, is touting the idea that he witnessed it all go down ... when it fact what he witnessed was Cuban (also at the show in Manhattan) basically nodding his head while the deal already orchestrated by him and GM Donnie Nelson was being recited on a conference call.
Maybe Keith will get to sit in for real on the next Mavs deal, though ... because the next deal is coming.
With the Rondo trade complete, the Mavs landscape has changed considerably.
"Pins and needles'' for Rondo has been going on for 15 months, as first chronicled by DB.com.
... But to that changing landscape ... That includes not only on-court, but also finances in relation to the cap and tax. Here's an early look. ...
Cuban has said in the past that he's willing to pay tax as needed to have the players to compete at an elite level, but with the way the repeater tax setup works, the team is undoubtedly going to prefer to stay just below the tax line for as long as they can. So what's the situation going to be this summer?
Their current commitments are sparse, but some very rough but perhaps reasonable hypotheticals on the summer spending show that the dollar outlays should skyrocket to the point of concern.
We have created a spreadsheet (below) showing the situation. On the left are the actual hard-dollar commitments, assuming the non-guarantees (Powell and Ledo) are waived, and with the worst case scenario for the Mavs on options (both Aminu and Ellis declining player options while Felton does not). On the right, I have plugged in some guesstimated new deals, based on the choices the Mavs should have and the expectations of what they might opt to do.
As a backdrop, the Mavs will have lots of flexibility. They'll almost certainly operate as an over-the-cap team with MLE, BAE, and minimum salary exceptions at their disposal for roster-building, and will also have some added options with their own possible free agents, as follows:
Tyson Chandler – full Bird rights – can go over the cap and pay him up to a max salary
Rajon Rondo – full Bird rights – can go over the cap and pay him up to a max salary
Monta Ellis – early Bird rights – can go over the cap and pay him up to 175% of prior salary
Greg Smith - – full Bird rights – can go over the cap and pay him up to a max salary
Dwight Powell – has a non-guaranteed minimum salary already in place, if desired
Al Aminu – has a player option for a minimum salary, can decline and Mavs could go over the cap and pay him up to 120% of prior salary using non-Bird rights
Charlie Villanueva – non-Bird rights - can go over the cap and pay him up to 120% of prior salary
Richard Jefferson – non-Bird rights - can go over the cap and pay him up to 120% of prior salary
J J Barea – non-Bird rights - can go over the cap and pay him up to 120% of prior salary
Ricky Ledo – has a non-guaranteed minimum salary already in place, if desired
We made the following assumptions. We used a cap of $67M (a tad higher than the "official" NBA unofficial guesstimate), with a corresponding tax line at about $81.62M. With the starters, we guessed TY gets a modest initial decrease but still makes a healthy salary, Ellis gets a raise to his Early Bird limit, and Rondo gets a raise to the same vicinity as Ellis and Parsons (but not a max). We used every penny of the MLE and BAE, splitting it into new deals for Barea, Aminu, and a backup big man. The rest of the roster is filled with veterans making the minimum, with perhaps one or more of the ones here this season.
So where would that put the Mavs' 2015-16 payroll?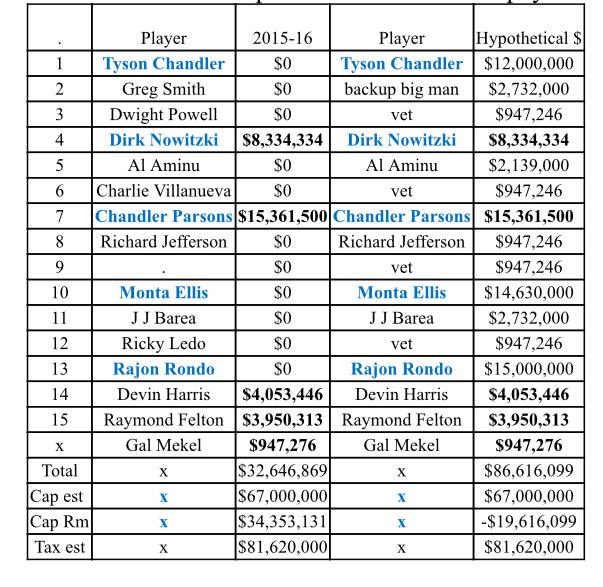 The result is a payroll about $5M over the tax line. (And if the salaries for Rondo and/or TY are higher, which is certainly possible, the gap will be even larger.) That would present more than a financial problem, because a team loses its BAE, has to use a smaller MLE, and has several other restrictions if they pass the "apron" at $4M over the tax line.
Of course, with the apron at $4M over, if the Mavs were at risk of exceeding that number by only $1M,, they could and would whittle their spending via MLE, BAE, minimums, and so on to stay below that threshold. And these are only guesses at the cap, tax, and future salaries, so this problem may not be a problem when real numbers are plugged in.
But if there is a looming issue, there are ways the Mavs might be able to address this. Here are two of the ones that could have a bigger impact.
One would be to find a way to get Felton's salary off the payroll, and replace him with a veteran making the minimum. That would save about $3M, and when his contract is seen in this light, it becomes clear that finding a taker for Felton between now and the trade deadline might be a fairly high priority for the Mavs. Perhaps they would be able to persuade Felton to reduce the guarantee on his future salary in the event of a trade-and-buyout, to facilitate a trade, in a way that still gets him fully paid more or less, but that also helps him to ultimately find a place to play rather than sit. (This is similar to the process that led to the buyout that Barea negotiated with Minnesota.)
Idle thought: given the Mavs' need for more help at forward with the loss of Wright, is there any way to send Felton (with a somewhat reduced guarantee in the event of waiver, as noted above) to Philly for the unneeded Kirilenko? Maybe the Mavs can package Felton-with-a-reduced-guarantee, all the cash they are allowed to offer ($3.3M), and a future 2nd, and kill several birds with one stone. In addition, if they do so today, they would leave the door open to re-trade Kirilenko in a trade deadline package, in case he didn't pan out with the Mavs (given his iffy situation this season). Or maybe target another team and player using the same Felton concept.
The acquisition of another big, somehow, must happen. Jermaine O'Neal waits on his couch in Southlake. Emeka Okafor? We're told his injury issues are concerning ones, but Dallas is monitoring there.
Anyway, back to the future.
Another possibility for dealing with the payroll/tax issue is that Ellis might decide to wait until the summer of 2016 to become a free agent, as he has implied he intends to do. In that scenario, instead of a raise to the early Bird limit of $14.63M, he would exercise his player option to play for $8.76M in 2015-16, a savings for the season for the Mavs' payroll of about $6M. Although he's kinda said he intends that, we're in wait-n-see mode.
If he does forego free agency this time, that alone would reduce the Mavs' payroll in the above scenario by enough to be entirely below the tax line. It should be noted that, because he'll only be an Early (2 year) Bird free agent in 2015, his options for a contract with the Mavs using those rights would be limited to $14.63M (rather than the max) and would have to be for a minimum of 2 seasons, eliminating the possibility of him opting to be a free agent in both 2015 and then again in 2016 when the big cap jump will hit the NBA.
An alternative Ellis could consider, allowing him to benefit both now and later, would be to use non-Bird rights to get a 20% raise for one season (to $9.984M), with a player option for another. That sort of deal would give him a bigger raise in 2015, still allow him to be a free agent in 2016, and would reduce the Mavs potential payroll to near the tax line in our scenario.
Of course, with the cap and tax expected to take a huge jump in 2016, maybe the best solution in the summer of 2015 will be to get the core all in place for several years, pay tax if they must but scramble to stay below the apron and preserve the ability to sign players this season, and let the chips fall where they may.
For certain, the core is in place for now, with coach Rick Carlisle charged with the responsibility of making alterations that fit Rondo. And if Carlisle's alterations are your biggest problems, you don't have many problems.
(For us? B-Wright for Rondo - maybe the fourth-best PG in the NBA -- represents a no-brainer.)
And Rondo himself has the positivity nailed,
as he says he "looks forward to building something special in Dallas.''
Cuban wishes to issue a classy farewell to the ex-Mavs Wright, Crowder and Nelson in this deal -- "Amazing guys on the court and off.'' But he also has visions of the Rondo deal mirroring Dallas' trade for Jason Kidd, like Rondo an unusually skilled point guard who, eventually, helped the Mavs to a title.
"Both Jason and Rajon had something to prove,'' Cuban tells DB.com. "Hopefully it turns out with the same results.''