The roots of a Mavericks/Rockets rivalry are deep and still growing.
On Monday,
Yahoo reported a few choice comments that Rockets' GM Daryl Morey offered
about
Dallas Mavericks
Mark Cuban, who had earlier this summer given his less-than-flattering opinions on the Rockets' notably analytic approach.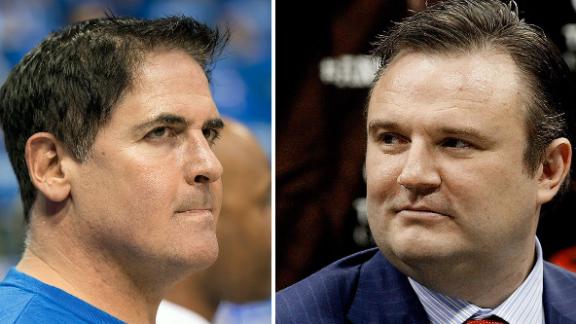 "I think he's pissed that we went after Dirk in free agency, however unsuccessful it was," Morey said, trying to get to the origin of the bad blood.
And very unsuccessful it was. The Rockets attempted to lure Nowitzki away from the Mavericks with a reportedly near-max contract offer, but the cornerstone of the Mavericks refused to open up negotiations.
Nowitzki sported a big smile on Monday when asked about the rivalry between Cuban and Morey, but chose to remain uninvolved in the off-court feud. He also said that Houston called him, but that he made it clear to them that his first priority was re-signing with Dallas. Because there were never real negotiations he claimed that he could not confirm any of the numbers being thrown around in the media.
Morey also referred to Cuban as a "bully," but his most direct statement was a comparison between the two franchises.
"Let's be clear: If the money's equal, I think players are picking Houston," Morey told Yahoo. "Every time … if you want to win you're going to join our organization."
As expected, Cuban disagreed with such a comment. (But not the "bully'' part).
"You know what?'' Cuban said. "The money was pretty much equal with Chandler (Parsons), right?"
Cuban, who knows his way around a sports beef ("I miss picking on Phil (Jackson) and that was always fun"), agreed with Morey's tongue-in-cheek claim that he was "outgunned" by Cuban in a war of words because his owner "stays above the fray."
"In social media he is (outgunned)," Cuban responded. "He hasn't stepped up to the plate yet … The only reason I'm responding is because I respect and like Daryl, who's smart. He's got some Donald Trump in him where he doesn't really understand media all that well, but he's a smart guy and one of the smartest general managers in the league.
He even agreed with Morey's name-calling.
"I am a bully,'' Cuban said, laughing. "I just can't help myself.''
Morey's comments stemmed from comments that Cuban made earlier suggesting that math is more important to the Rockets than chemistry. Morey responded by accusing Cuban of breaking up the 2011 championship team, which was full of chemistry.
We take a look inside Cuban's remarks here from inside the AAC ...
Neither of these men is good at letting jabs go unanswered. Some might call it immature, but it sure feeds into a rivalry between two championship contenders. In reality, they are both men who were at the forefront of analytics in the NBA and two of the most successful roster constructors in all of basketball. They're just having fun with each other. At least, Cuban is.
"There's no personal animosity whatsoever," Cuban assured. "But we're competitive. Like I said, he's smart and it's fun to pick on him."
They're probably the two biggest nerds feuding in basketball, but they're both fighting for the same thing at the end of the season. ... and the chance to bully each other during it.
See what Mavs fans are saying here!
Related Story: See the Skyline (but where's the ball?)

Related Story: Mark's Mistake - A Chandler Concession

Related Story: Is Mavs Glass half-empty or half-full?

Related Story: Monday Mavs Donuts