The Big Lead
They don't allow you to have bees in here. ...
"Murder-mayhem-melodic-music."
"Murder-mayhem-melodic-music." A lyric from Run The Jewels 2 or a description of the Mavericks offense this last week?
Really, whichever you're more comfortable with. Including Monday's 107-80 deep-water asphyxiation of the Charlotte Horncats, the Mavericks are averaging 116.8 points per game with an average scoring margin of +25.5 over their last four games. Let's take out that oil spill that was the 76ers game just for shits and gigs. It would still be an average margin of victory of 16.3 (11.1 on the season overall) points per while dropping 116 points a game.
Mercy.
A sneaky stat that I'll slide on in there is that the Mavericks are leading the league in personal fouls drawn per game with 25.8 in that stretch. Just gonna assume whatever message was delivered after that disastrous Heat game hit the back of all 15 cerebellums and stuck.
Clowning on Charlotte
With the Mavs' annual pilgrimage out to Charlotte to clown on whatever Frankenstein Michael Jordan has constructed this season we quickly found out what team lost the Jannero Pargo lottery this off-season (I like to think all 30 teams gather and one is drawn for the rights to own Jannero Pargo each season). Just a little wisdom, if Jannero Pargo is playing 10-plus minutes for your team then something has gone terribly wrong in your front office. The video of Pargo trying to shake Dirk and then shooting the basketball off the top of the backboard has already gone viral so enjoy ...
More fun ...
More fun with the Hornets roster. They started Marvin Williams at the 4 (*holds up the index finger and bows to the audience that's nearly at a fever pitch of applause*). The last idea I heard that's worse than starting Marvin Williams is that hat that Melo wore last week ...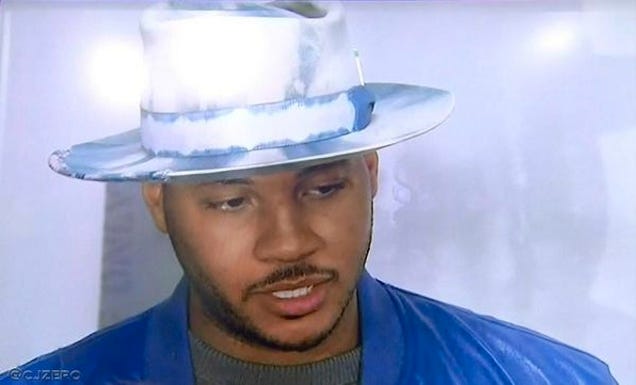 But for real, I know MKG and Noah Vonleh were having their own injury issues but how can you honestly expect to win a single game with a starting power forward that's towing around an 8-percent rebound percentage? Trick question, you don't. Williams has played 10 games this season and is yet to shoot a free throw. When the idea of Marvin Williams being a real-life Mavericks back-up plan this off-season came to the light I literally cleaned the local booze emporium out of wine coolers for three days straight (for whatever reason, wine coolers are more socially acceptable than liquor so screw you people). Exceptionally happy that didn't happen.
Make no mistake, Marvin Williams was the reason the Hornets lost. Williams pulled down one rebound in 20 minutes doing his part to contribute to the -15 rebound differential. Wings of his mold have been a real problem for the Mavs this season (Green, Deng, Gay) to the point where the Mavs were averaging a -8.8 ppg deficit at the small forward position. Before you jump to conclusions, that's not entirely Chandler Parsons' fault seeing as he's logged a quarter of his minutes at the power forward spot. He still hasn't been good (allowing 24 points, 8.5 rebounds and seven assists to small forwards per 48) but I don't believe he's the reason to blame. I'm pretty sure it's more to blame on the three-guard lineup and that's just a trade-off for the offense they can pour in.
CP's rhythm
While we're on CP, I don't know if I've ever seen a shooter as good as him that can get knocked out of rhythm so badly so quickly (except myself but I have a completely surgically reconstructed shooting wrist so lay off, jerk). In the first quarter I was convinced he was going to have his first 30-point game with the Mavericks as he went a perfect 3-for-3 with nine points and made P.J. Hairston look like he should be back in college (seriously, what stupid crap do you have to do to get kicked off the North Carolina basketball team?). Then it got all weird as Chandler knocked down two of his next six shots with a few that looked like he didn't know where the ball was going because he had too much time to shoot (that's a real thing). Overall it looked like a really superb effort from him this game with 17 points on 5-of-10 shooting with nine boards (thanks Marvin) but there was the potential for him to burn that building to the ground.
I just want to see one game where I'm not worried about his psyche.
Big Al
I've been a big fan of Al Jefferson's ever since he was a young fella (still looked like he was 46 then) with the Celtics. I thought he could do magical things for the Mavericks when he was set free from that hell in Utah prior to last season but the Mavs never seemed interested in the slightest.
Coming into this one I was really concerned about how anybody on the Mavericks not named Tyson Chandler was going to deal with Big Al. The answer turned out to be, spectacularly. Big Al just didn't have it. Somehow we've arrived at this place where we're more astonished when his over-the-shoulder-baseline-ballerina game doesn't work. There was zero ballerina action to be had here as he was continuously challenged prior to his textbook post up by TY then Wright and even AF Aminu at times. With a depleted roster like Charlotte rolled out there, Rick knew their only way to even stay close to what the Mavs have been doing is for Al to get cooking. He never did (3-of-12 for 6 points) and what really strangled the Hornets was the complete inability to rebound the ball without Al pulling it down. He plays so close to the baseline that it leaves a lot of opposite angle boards for the other big man on the court (like Zach Randolph). That guy didn't exist here. The Hornets seemed very disinterested in offensive rebounds in general. They pulled down seven but five of which were Bismack Biyombo and three of them were in the fourth quarter when the game was over.
On the warpath
Charlotte's defense is very good but without MKG and with the refs setting the tone early on Pargo and Hairston trying to suffocate the ball-handler they never stood a chance. Almost every alley-oop to Tyson Chandler came from a lack of the opposite wing defender sinking down into the passing lane and I have to believe Michael Kidd-Gilchrist would do a better job of that than Kemba Walker.
Nevertheless, Tyson Chandler has been on a warpath in his last four games averaging 12.3 points, 11.5 boards, shooting 76.9 percent from the field and only having to play 24.8 minutes a game. This could have been a blockbuster stat line for TY but we'll live with the 14 and nine on 7-of-7 in only 23 minutes. That's what it looks like when your center is an average of +18 per game in plus/minus.
And he can act. At least as well as the other Chandler.
I say he's a solid pick for
Who deserves "The Dirkie.'' But vote your conscience.
Physical backfire
Back to the Hornets for a moment: their brand of ultra-physical on-ball defense is pretty astounding considering they allow the second fewest number of free throws per game (19.6) while playing that tight on-ball. Here it backfired as the Mavs were in the penalty with two minutes to go in the first.
Lance is exhausting
Lance Stephenson has one expression and it's that "I just smelled my own fart" look. He's like Monta in an alternate universe where efficiency isn't a thing that NBA teams worry about. I'm exhausted with Lance talk so I'll give him a pass here. Glad it worked out the way it did.
Double hand-clap
Double hand-clap for my man AF Aminu who's looking like he belongs in the rotation of a top 4 team in the West. I'm yet to see a game this year when I think "Aminu is really costing us here.". He looks ultra-confident and his activity remains incredible. Dude can go zero to one hundred real quick, like so ...
He keeps on taking and knocking down those threes and flirting with double-doubles (nine points 11 boards here).
Another hand-clap
Another
Dallas Mavericks
hand-clap for JJ Barea. He just looks comfortable. His entire game is based around anticipation and I was really worried at the beginning of the year when he was dribbling into dead-ball situations with no one to pass to and throwing up bad shots. He's confident in his attack right now. It feels like he's realized to just keep his dribble alive and someone will get open or he can always rely on that nice floating fade he showed off here. Eight points and seven assists is more than enough from him.
Slack-cutting
I'll lay off Jameer Nelson for a night. This was his best game of the year as he dropped in 11 points with eight dimes and largely stayed out of the way when Monta was on the court creating and the offense was humming. He has a role if he can just live with being a spot-up shooter for large chunks of the game and voluntarily hiding on defense. Just do this like 71 more times and I won't have to pick on you.
Dirk for 27K
Dirk Nowitzki
reached another notable milestone Monday night as he joined Karl Malone, Kobe Bryant, and Michael Jordan as the only players to score 27,000 points with one team. It looked like this:
"It means a lot to me that I was able to do it with one team. ... Hopefully there's more baskets to come,'' said Dirk.
The Final Word
Even last year when the Bobcats gave the Mavericks hell I couldn't help but think "these poor Charlotte people." A once proud franchise that was home to Larry Johnson, Glen Rice and Alonzo Mourning has been gutted and promised the potential of Michael Jordan in his weird jean jackets turning this recycle bin into an Eastern Conference challenger. Emeka Okafor and Kemba Walker being your best franchise players of the last decade must suck ass. I feel for you folks.