It is not unfair to say that the
Dallas Mavericks
are made up of pieces that fit together beautifully ... with Jameer Nelson's work as the starting point guard serving as a notable exception.
Nelson's early numbers with the Mavs (per-36-minute stats of 11 points, six assists on 36-percent shooting entering December) were not good, and he's playing on a modest one-year deal (worth $2.732M) with a second-year player option. He's been on the injury list lately, too.
With that as the backdrop, Mavs watchers are in search of the next big thing at PG.
Goran Dragic? Rajon Rondo?
Wait a sec. First things first.
What about
Raymond Felton
?
?The Mavs owe it to themselves to explore any number of options for now and for the future. We've already seen JJ Barea bump Jameer from crunch-time minutes in a big win in Washington - but he's not the purest of PGs.
Is Felton?
Unfortunately, 20 percent of the way into the season, we still have no idea if Felton offers anything useful. He began the season with a gimpy ankle, got well enough to serve a suspension, and then came up lame again from a few days of practice. All of this was after having done nothing useful in NY last year.
Yet ... I'm hopeful, assuming he can get well enough to be on the floor sometime soon.
Rick Carlisle's team has been the site where Fallen Angels willing to work to recapture success do so. Monta,  Tyson, Wright and Barea owe their careers to this realization. I'm betting Aminu and maybe Jefferson and others might do the same. 
So I'm interested to see Felton get a rotational shot.
He was definitely a throw-in to round out the trade for TY, but sometimes throw-ins turn out to have way more value than anyone expects (see Stevenson, DeShawn, and way before that down in SA, see Johnson, Avery). Calderon for Tyson? That trade was a huge winner for Dallas even if Felton can't play a lick.
But Felton's history says he could play at one time ... And might again.
In the meantime, the PG rotation has turned into Harris and Barea, with a healthy Jameer getting just 16 minutes in Sunday's win over the Bucks. Both have proven useful but seem to be relied on way too much in the present setup. So the Mavs have to be looking, right?
What about sexier "someday'' names to Dallas? 
How about Rajon Rondo as a 2015 free agent? Or Goran Dragic? Both will be free agents and should command strong contracts.
Without delving into whether they merit a chase at all (for now, anyway), let's note one crucial item: the Mavs need all sorts of dominoes to fall to even be a player for max FAs next summer.
First, the way to the MOST possible cap room for the Mavs is the scenario in which Ellis exercises his option (as he suggests he wishes to) and is on the books for $8.72M. In that event, there's no need to allot more than that amount for the SG position.
That's also the way to keep a building block, obviously.
?But even in that scenario, it would still probably take four more things - ALL of them - to have spending room for a premium FA. Assuming a $67M cap, which is slightly higher than the NBA estimate, here are the steps needed to make room for that new pricey PG:
ONE. The Mavs have to let Wright walk.
He's been a bright spot this season, the NBA leader in shooting percentage and among the leaders in high-flying thrills and earnest effort on both ends, and he's coming off a contract that paid him $5M annually. But in order to have the cap room to sign a big-money PG in free agency, the Mavs can't pay him $5M (or perhaps even more) to keep him.
TWO. Both Felton and Nelson have to either decline their player options and walk, or they have to be cleared from the payroll in a giveaway trade where the other team doesn't send back any salary.
If still on the roster, together they will eat up almost $7M in cap room, and that wouldn't be a luxury the Mavs could afford if they wanted to spend on a big-money FA.
THREE. TY has to re-sign for much less than he's getting now.
Mark Cuban has vowed to not let him go again, and Chandler obviously loves it here. But he's making $15M, and would have to be willing to take a sizable pay cut from that number.
FOUR. Secondary rotation players like Aminu and Barea might have to be let go
, if they are not willing to take small deals. No real money left.
If all of the above happened, fitting in the salary for a big-salary PG would still be tight. If we pencil in TY for only $10M, assume both Felton and Nelson walk, and don't set aside any money for Barea or Aminu, how much money could be spent on that new PG? Only about $12-13M, which is several million below a max salary.
The odds of all of that taking place? Tiny, in my opinion.
And even in that ideal scenario, they still have well under max money to offer and they lose Wright. So I suspect that if the Mavs decide to chase a PG for their future, their answer will lie in a very different scenario than a cap room signing of a top PG.
At the same time, we might consider that the Mavs think they already have their guy for the next few years, in Devin Harris, with multiple bodies to supplement his minutes.
Unless things go awry between now and next summer, the obvious strategy for the Mavs will be to operate above the cap, using Bird rights to keep TY and Wright, and making it easier to also retain valued players like Aminu and Barea (using Mid-Level or Bi-Annual exception money). In that event, there's no way to chase a big money PG in free agency.
How about a trade this season, to bring in someone like Rondo or Dragic (who just got done roasting the Mavs in a Friday win by the Suns), getting Bird rights to re-sign them without cap limits next summer? That inserts a different problem into the mix – the packaging of the right assets to entice a deal – and it's even less likely to get the guy they want that way unless they pay through the nose.
Ideally, the guy to complement what they already have is a big guard, who can run the offense, defend and hit 3s superbly. (I said
ideally
.) They have lots of skill in their guard rotation, but their players are undersized and most of the pieces are not very good on the defensive end. But is that guy even out there?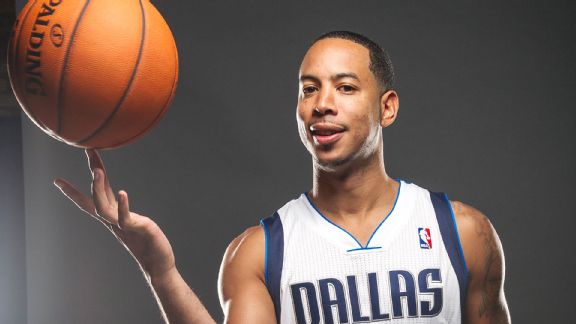 Adding it all up, maybe we should consider Donnie Nelson's "acquisition business" for the point guard position as already done. It's hard to imagine the Mavs finding a way to swap their scraps for someone that is ideal (and not sure who he would be). And the idea of a big-money PG signing next summer is also looking remote. Perhaps what we'll see is an answer-by-committee: keep the numerous bodies that are here, try to coach 'em up in ways that mask the flaws, and hope for the best.