The
Dallas Mavericks
have been slow to assemble their regular-season starting lineup on an NBA floor due to a handful of minor injuries. But in Cleveland on Friday, there was nothing slow about the way the quintet clicked.
In fact, for most of the 108-102 preseason win over LeBron's Cavs, there was no offensive combination for Dallas that failed to show some dynamism.
"We moved the ball beautifully, shared it and shot it well,'' said Dirk Nowitzki, and we love when he uses poetic words like that to describe ...
poetry
.
The success started at the top, with point guard Jameer Nelson pairing with Monta Ellis in the backcourt and Chandler Parsons and Dirk flanking center Tyson Chandler upfront. Dirk and Jameer combined for a quick 12 points to start the game. Nelson ended up playing 29 minutes and scoring 19 points on 7-of-9 shooting, with open looks galore.
That's what we call an "open look.''
Parsons also scored 19 (on 7-of-15 shooting to go with five rebounds and four assists), and included in his burst was perimeter work and a cut to the basket that allowed him a highlight dunk over LeBron (12 points on 3-of-6 shooting), with whom he battled much of the night.
That first group allowed the Mavs an early 13-point lead as Dallas shot 12-of-21 in the first period, with Dirk working the boards (five early rebounds and a total of nine as he scored 16) and Ellis adding 13 points. Dallas was largely unstoppable early, scoring 37 points in the first quarter and shooting 57 percent from the floor. But the next wave of Mavs did its part, too, against a Cleveland team that had been undefeated in the preseason and still looked loaded enough even with ex-Mav
Shawn Marion
and Kevin Love sitting out.
Devin Harris, the bench leader, scored 11, including a momentum-grabbing 3 before intermission and another big 3 midway through the fourth to give Dallas a 10-point edge. Brandan Wright also finished with 11 points, and Al-Farouq Aminu is worth noting as he continues to try to be more than just an "energy guy'' for Dallas, which moves to 2-2 on the preseason and will almost certainly have a different look Saturday night at Indy on the second night of a back-to-back.
"It's exhibition season, so (the win) doesn't mean a whole lot,'' said coach Rick Carlisle. "Everyone at this time of year is really studying their own team for the most part, and sure you're trying to win, but everyone's got an idea of minutes that guys are going to play and within those thresholds, you've got to try and win the game.''
Dallas did that with "minute thresholds'' that had a regular-season look for his starters, with Jameer registering the aforementioned 29, hat will likely mark a time for Carlisle to rest stars, experiment with combinations and tinker with the idea of a zone defense, which was used extensively on Friday.
"In the second half, we picked up our defense a bit,'' Dirk said. "We tried a lot of zone today, and that's been a good weapon for us over the years so it's a great game-changer. ... Overall, it was a game where it felt like we played hard, competed and tried to get better."
But the offense? Check out Mike Marshall's chart below, to see what is being built here, by the five who debuted together Friday and by the whole gang that could come together in what Rick Carlisle believes can be a "special'' way: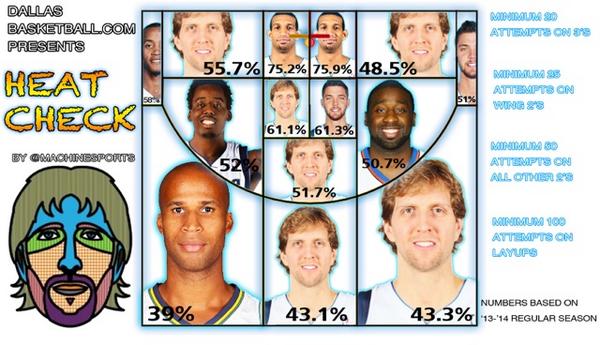 "Against a team like this, they're going to challenge you defensively,'' said LeBron, maybe aware of our "Heat Check'' while suggesting Dallas is among the "top three or four best offenses in the league ... you don't get any better than Rick Carlisle's offense.''
See what Mavs fans are saying here!
Related Story: Mavs' plans (trades?) with Mekel, Sarge and Ledo

Related Story: Abpocalypse Avoided: Rick apologizes to Parsons

Related Story: Exclusive: Japanese PG coming to Mavs/Legends