The
Dallas Mavericks
season is upon us, and the action begins in San Antonio tonight for Game 1 with new players everywhere. More than half this roster wasn't here last season.
How will they all fit in? Who will do what? What can we expect? Based on how the Mavs managed their preseason, here are a few possible answers to some of those burning questions as we head to to the opener ... and beyond.
Who will start for the Mavs?
Tyson Chandler (C), Dirk Nowitzki (PF), Chandler Parsons (SF), Monta Ellis (SG), Jameer Nelson (PG)
Who will be the Mavs' "6th Man" this year?
If that means "the first man off the bench in each half," our money is on Devin Harris, about halfway through the first quarter.
However …
Who will be the offensive catalyst for the backups this season, to replace Vince Carter?
If we define "6th Man" as the player who drives the offense while the starters are resting, we think that role will be given to Dirk this season.
In the preseason, the rotation featured Dirk making an early exit while the rest of the starters played on without him. In Dirk's absence, the Parsons-Ellis pairing provided the scoring punch, and eventually all the other starters ended up sitting when Dirk first returned to the game.
How does that Dirk-led "second unit" look? In particular, who will see as the main backups for TY and Ellis?
The backup center will be either Wright or Smith, depending on the opponent. Against most teams, Wright will get the nod, but against the bigger bodies look for Smith as TY's primary backup.
Dirk, of course, will play PF and be the offensive catalyst for that second unit.
Playing the wings (including the backup to Ellis), look for two players we see as SF types – typically two of the following: Crowder, Aminu, and Jefferson.
The PG will typically be Harris, especially when Wright is playing center.
How will Parsons justify that big contract?
The value in Parsons will be in his ability to upgrade several rotation slots at once. The Mavs are going to want him to be a more productive two-way player in the starting lineup (replacing Marion's limited offensive production and 36-year-old's defense), provide the offense needed that frees Dirk to key the backups (replacing Carter), and be a better replacement for Dirk at PF (when needed) than Marion was able to be.
The Mavs loved the contributions of Marion and Carter. But they were each nearing the end, and each was only able to provide part of what the Mavs wanted. If the Mavs landed a replacement for all of that, all in one person with the potential of many years ahead, and he can blend his various skills with the talents of Dirk, Ellis, and so on in different rotations, the Mavs will be thrilled.
Will we see any SmallBall, especially those super-small lineups Carlisle seems to love?
Probably so. In fact, if the preseason is any indicator, the first substitution of each half will replace the 7-0 Nowitzki with the 6-2 Harris and leave the following super-small lineup:
C – TY 7-0
F - Parsons 6-9
G – Ellis 6-3
G – Harris 6-3
G – Nelson 6-0
Yes, that would be 3 players 6-3 or shorter in the lineup at the same time. And it looks like it may be a regular part of Carlisle's rotation this season. Against the bigger SF's of the league, like LeBron, Durant, and SA's Leonard (who is apparently out with an injury for tonight), it remains to be seen how (or if) Carlisle will be using this group, and presumably we'll see a lot of zone defense played by this lineup.
Besides Harris, are there any other backups that will play a lot, in most or all games?
As we've mentioned, it looks like Wright will be the primary backup to TY, except in games against the bigger stronger centers. In addition, Aminu should be used a lot, especially if he continues to be able to contribute on offense by making the open 3, to complement his plus defense and rebounding.
We also think Crowder and Jefferson will get regular opportunities, although their minutes may be more sporadic.
How about Felton and Barea?
It remains to be seen if the Mavs end up with Barea. And we really know nothing as to how (or if) Felton will be used much by Carlisle, since he's been sidelined for most of camp with injury.
Our best guess is that, barring injury to someone else, Felton will have a hard time getting many PG minutes, with Nelson set to be the starter at PG and Harris the first man off the bench. As for Barea, his most likely possibility will be to provide backup minutes for Ellis, in the same sort of "attacking off-guard" role he played for the Mavs before, rather than being slotted in the already-overmanned PG slot.
But for either to get much time, they'll have to be really good when they get an opportunity, because there won't be minutes to be given away. They'll have to be earned and taken from someone else.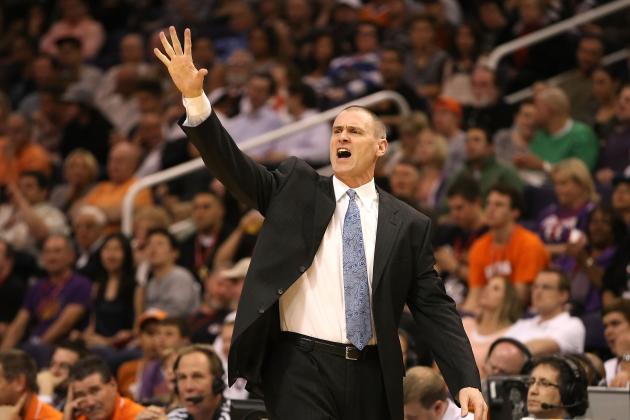 Who will close games?
Look for TY,
Dirk Nowitzki
,
Chandler Parsons
, Ellis, and Harris to close each half, with a few specialty substitutions (such as Aminu or Crowder for added defense, or Villanueva or Jefferson for extra outside shooting) as situations demand.
See what Mavs fans are saying here!
Related Story: OMonday Mavs Donuts: The Final Countdown

Related Story: How to Intepret Monta's 'Promise'

Related Story: Mavs Formula: Top-5 O, Top-10 D