DONUT 1: The Big Lead
The
Dallas Mavericks
roster is finalized.
For now.
There are familiar people and familiar patterns in the construction of this roster. The Mavericks, who have a final workout Monday morning at the AAC before opening the season Tuesday against the San Antonio Spurs, have stars and potential stars beyond just Dirk. They have depth, a second group that they think rivals anyone's. There is a veteran backbone but there are also some kids for coach Rick Carlisle to teach, one of his favorite parts of the job. There is speed and SmallBall weaponry. There is the chance for a a multi-headed traditional play at center. But there are also unique and versatile pieces that are tinker-worthy.
"We like the roster," Carlisle said. "The guys that are here have earned their way here. We had some difficult decisions to make, but ultimately we feel like these guys are the right guys at this point and time."
Most of all, the familiarity is this: This looks like a 50-win-plus team, a legit threat to crash the top-four-teams-in-the-West party.
DONUT 2: Charlie V's pad
The zaniest roster development so far is the come-from-nowhere story of Charlie Villanueva, who didn't just beat out the released (and guarantee-contracted Sarge) for the 15th spot; Charlie V is higher on the totem pole than that, a Fallen Angel veteran who might end up with some early-season chances to be Dirk-Lite on offense.
Said Villanueva: "I've got the best in the world to watch in front of me – Dirk. I kind of do similar things that he does."
Once upon a time, Charlie V was a budding star with the Pistons. You sense this process has been educational ... and maybe humbling.
"It's been a roller-coaster ride for me," said Villanueva. "You know, from the beginning not knowing where I was going to end up and then having an opportunity here, but having all the odds against me. They already had 15 players guaranteed bringing me into camp. ...''
Suddenly, there is some level of permanence. Again, nothing etched in stone; what happens later in the year if Rashard Lewis (not on anybody's NBA roster but still on Dallas' radar) gets healthy, for instance?
But Charlie V deserves to settle in, just a little bit.
"I've got to look for places (to live) now,'' Villanueva said. "I'm tired of room service."
DONUT 3: The formula
The The Dallas Mavericks' offense is going to turn heads this year. At this point its less of a prediction and more of an understood fact that this Mavericks' roster has an embarrassment of riches when it comes to scoring options that can play off of each other.
LeBron James admitted as much when the Mavericks traveled to Cleveland to face off against the Cavaliers in the preseason. James praised Dallas as having one of the "top three or four offenses in the league." He would know something about the subject, as his Cavaliers are one of the few teams that should rival Dallas in offensive firepower just as any roster graced with James' presence is liable to do.
So, is there
a formula? Be a top-five offense and a top-10 defense, say? We think there is, yes.
DONUT 4: We won a bunch of Emmys!
I'm flattered to once again be part of the Mavs' "home team'' on FOX Sports Southwest, as I'll join Dana Larson and Bob Ortegel in-studio for Mavs pre- and postgame analysis. I'm also darned excited to join Dana and Bob in the winner's circle as the three of us, along with the incredible production crew of our "Mavs Live'' postgame shows, have each won a "Lone Star Emmy!''
I have a feeling Dana and Bob have a closet full of statues. But this is a first for me, and I'm really proud of being part of the FOX Sports Southwest team.
DONUT 5: The Barea interworkings
Nobody better than DB.com's David Lord to walk us through the mechanics of J.J. Barea's likely availability to the Mavs. Here goes:
As
Fish outlined here, right now we're hearing that Barea and the Wolves are negotiating a buyout.
And there are also waivers. So how does that all work? Here's the details of the process, step-by-step.
BUYOUT
Barea (or, more likely, his agent) is currently interacting with the Wolves to come to a buyout agreement that will alter the terms of the money owed him.
*Without a buyout agreement, if they waived him, Minny would owe him the guaranteed portion of the remainder of his contract after he cleared waivers. He only has this season remaining, it's fully guaranteed, and it's for $4,519,500
*By rule, the salary amount itself cannot be changed. But the guaranteed amount can be. So what they will negotiate is the amount that is guaranteed, and they are free to agree to any adjustment. The guarantee could become $0, or it can be any amount up to the full salary. The change can only be made if both sides agree.
*Since Barea is wanting to sign with Dallas, who only can offer minimum salary ($1,310,286), it's very likely that they will haggle over a reduction of the guaranteed amount by some or all of that amount, since he will have a high likelihood of getting it anyhow.
*The buyout agreement will also be conditional and say something like this: if Barea is waived before the season by Minny and clears waivers, his guarantee amount will be reduced to $____.
*At some point between now and 5 p.m. today, they will reach an agreement, and then Minny will place Barea on waivers.
WAIVERS
*Barea will get placed on waivers, and while theoretically he can be claimed by any team, in reality only a few will have a choice to make.
*In order to claim him, a team must have one of the following that is as big or bigger than his salary: (a) cap room, (b) a trade exception, or (c) a disabled player exception.
*Teams with enough cap room: the list is probably MIL, PHI, UT, ORL.
*Teams with a big enough TE: I know HOU, BOS, TOR have one big enough. Not sure if there are others.
*Teams with a DPE: if LAL has received a DPE for Nash (they are not automatic), they would qualify.
*The waiver period begins at 5 pm and runs 48 hours.
*During that time, any eligible team can place a waiver claim. It is NOT a first-come basis, however.
*At the end of the period, if more than one team has made a claim, he is awarded to the team that is lowest in the standings.
*A team that successfully claims him will owe him his full salary of $4.5+M, and the buyout agreement will be void since he didn't clear waivers.
IF HE CLEARS WAIVERS
*Minny will owe him the negotiated guaranteed amount (aka, buyout amount). Typically this gets paid on the same schedule as if he had not been waived, not as a lump sum.
*Once he clears waivers, he will be free to sign with any team. He becomes a free agent.
*If it gets to that point and the Mavs want to sign him, they will need to free up a roster space to do so, at that point.
Now you see why Fish keeps writing about the "hoops to jump through.'' And there are more ...
DONUT 6: A Mavs trade?
Go back to Donut 1 and look at that roster.
C - TY, Wright, Smith
PF - Dirk, Aminu, Villanueva
SF - Parsons, Crowder, Jefferson
SG - Ellis, Ledo
PG - Nelson, Harris, Felton, Mekel
There are 15 on the Mavs' roster right now. The limit is 15. How does JJB get squeezed in here, assuming all those other hoops are jumped through?
*Sending a player to the D-League, while retaining his rights (as they are expected to do with Ledo and Mekel this season), does not reduce the number on the roster. They must clear ties with a player contractually in order to open up a spot.
*One way to do so is to trade away a player, but as we begin the season, few teams have an open roster slot. The other team might have to clear a roster slot to do such a trade, so while a trade is possible, it's a long shot for them to find one.
*If the Mavs can't find a trade to move a player, they would have to waive a player - essentially, the same process that Minny is doing with Barea. This would involve paying guaranteed money for a player to leave.
*The obvious choices that the Mavs might select to try to move are the players at the bottom of the pecking order. the least expensive solution is a trade, which moves the salary to another team and costs the Mavs nothing.
*If they have to waive someone, here are the ones who are probably at the bottom of their pecking order, with the guaranteed amount owed:
Villanueva - $0 guaranteed
Ledo - $816,482
Smith - $948,163
Mekel - $1,763,758
Felton - $7,744,006
*Money is certainly not the only consideration. The expected contribution, along with potential for the future, are also factors that will be considered, as well as who can be traded (if anyone). The expectations make Mekel seem like the odd-man out.
*Assuming Barea clears waivers (which I think is much more likely than some believe) and that a deal is worked out to sign with the Mavs, the entire process of somehow swapping out one to-be-determined player and bringing Barea in could be completed by the middle to the end of this week.
BOTTOM LINE
Fish says the Mavs are "exploring'' this idea, and remember, because he's still Minnesota properly, Dallas is wise to be careful in talking too openly about any of this. Meanwhile, for team-chemistry reasons, the Mavs are unlikely to offer a peek at their thinking until and unless Barea clears waivers. Also wise.
JJB in Dallas would add to a crowded and smallish backcourt. How much of an impact would he be? Would he be better than the 8-ppg player he's been in Minnesota? Could he elevate himself to being the second 2 guard behind Monta?
Our read is that Dallas is about to do more than just "explore'' this.
DONUT 7: One click, all Mavs!
Keep it here on DB.com as we will keep you posted in a variety of ways from inside your team ... Here on the HOME page,
and here on DB.com Boards
... Thanks for joining us as we launch our 15 season inside the Mavs!
Oh, and if you want to be
a Mavs Insider with Premium coverage? Click here
to take our free 7-day trial and then for 10 cents a day, you are among the most informed Mavs followers on the planet! Go Mavs and Go Premium!
Also, hook up on Twitter with
Fish
,
Mike Marshall
,
Michael Dugat
,
Jonny Auping
and
David Lord
.
DONUT 8: D-League Donut
In addition to Mavs TV, I'll also join R.J. Choppy in Frisco to telecast
the Texas Legends
games ... and DB.com will continue to chronicle the Big-Brother/Little-Brother relationship that I think ends up benefiting the Mavs.
Frisco is where Eddie Najera is developing as a coach, and where, as DB.com reported exclusively, Nick Van Exel will join him. What if having
Renaldo Balkman in Frisco
results in the development of somebody like Ledo, or Doron Lamb or Eric Griffin (the latter two recent Mavs cuts who DB.com is told have agreed to play in Frisco)? Can Yuki Togashi play? If Gal Mekel is retained here, can he get better by playing with the better players being stocked in Frisco?
DONUT 9: Quoteboard
"It's always been fun games down there my whole 16-year career. Every game down there has always been special because they've been basically good my entire career." - Dirk on visiting San Antonio, something he's preparing for with late-night work in the AAC basement with Holger Geschwindner.
DONUT 10: Felton's wait
Raymond Felton must miss the first four games of the season as he serves his suspension stemming from those gun charges from last season. But unfortunately, NBA rules prevent his suspension sit-outs from occurring while he's already sitting out with high right ankle sprain.
"He's walking, but he's quite a ways away," Carlisle said. "We're going to make sure he's right. He's made big-time progress, but we're not close to him being declared healthy yet. It's going to be at least a week, probably longer."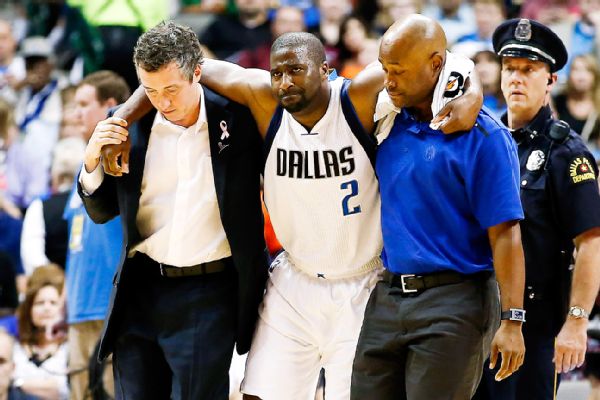 Could a team try to trick the system, and pretend a player is healthy when he's not? Theoretically, though I'm told the fine and punishment for getting caught trying to pull such a trick is too substantial to bother.
DONUT 11: Thanks to our pals and sponsors!
Here's
McKinneyDentist.com
... with us since 1995! Give "the finest dentists in the land'' a click and a call!
Thanks to
Red Rock Bar & Grill,
our north Dallas hangout for live music and sports!
Meet
LS Wealth Strategies,
with Woody and Bill helping to guide my family and available to do the same for you!
And
Dee Lincoln's,
the famous DFW restauranteur now with a new location near Park and Preston!
DONUT 12: The Final Word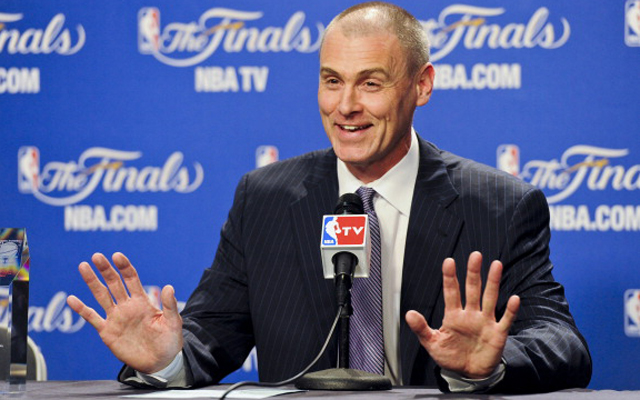 "I don't know that this is going to be one of those teams where you can chart out a rotation. You know, our interchangeability gives us certain advantages, but one of the advantages is not certainty with the rotation. We've got too many guys that can do too many things, and I've talked to the guys about it. And we're going to have to be a group of guys that's always ready and always ready to compete.'' -- Rick Carlisle, who turns 55 today.