THE BIG LEAD
We should have known something was aloof when Chris Kaman dunked a basketball in an NBA game or when Rachel Nichols showed up in Mariah Carey's jacket from the "Always Be My Baby" video (it's the one with the tire swing don't act like you don't know). The very existence of Meyers Leonard might have thrown the universe off its axis, who's to say?
After yet another third-quarter bloodletting the
Dallas Mavericks
ran into an animal new to this environment, the Portland Trailblazers defense. I used to not fear the Blazers as a real threat to the Mavericks and it came down to my theory from last season that the Mavericks could handle any jump shooting team (Spurs don't count their ball movement is from the future and they can always get a quick six points out of Duncan on the block when they're in a pickle) but if their below-average defense jumps into the elite range then you have my attention.
Terry Stotts is the man to thank for that as he's getting basically the same collection of players to play at a suffocating level of defensive intensity (5th in defensive PER). You get noticed with nice offensive numbers but you win consistently with defense and rebounding (imagine if they would have gotten Roy Hibbert in restricted free agency!). Portland did both. They were +19 on the boards and held the Mavericks to a 37-point second half (their lowest scoring half of the season) on their way to 108-87 rout on national television that will surely leave the talking heads saying "See, I told you about these Mavericks" when the truth is any road game against the top 10 in the West has no guarantees.
THE ELEPHANT
Let's not ignore the elephant anymore: third quarters and particularly third-quarter defense is going to cost this team games. When they can't get stops and they're forced to take the ball out of the hoop the offense isn't nearly the juggernaut we're accustomed to. Looking at the key stretch that turned this game, a 16-4 run in the third quarter by the Blazers, it's pretty clear that perimeter defense and settling for for bad shots is what's causing these third quarter sinkholes. I don't know if it's as simple as my theory of subtracting Jameer Nelson or if it requires more maneuvering like playing zone and crashing the defensive glass rather than leaking out but I have confidence that Rick will figure it out.
The tough thing is ... when? Game tonight at Utah. Travel home. Game again. I don't think this team will have a true practice day until Monday and it's hard to simulate a third-quarter scenario on a practice court anyway.
HOW, WE ASK!?
How do you lose a game when…
You're a +10 in turnovers
You score 18 points in the paint in the first quarter
You shoot 100% from the free-throw line
You hold LaMarcus Aldridge to six second-half points
Let me tell you. You shoot 1-of-14 from three in the second half, you get out-rebounded by 17 in the second half, your bench gets outscored by 17 and your point guards shoot a combined 7-of-24 on the night. Still can't believe that Portland plays Steve Blake and Chris Kaman at the same time. It's too much. It looks like a casting call for extras to play Wildlings in Game Of Thrones.
WHAT WORKS
Let's take a look at what lineups are working for the Mavs and which ones aren't:

The Mavericks most effective lineup thus far on the season is Barea-Harris-Aminu-Wright-Dirk as they're a +13 in points shooting 57.7 percent on 25 possessions. Their second most potent lineup is the super-small combination of Nelson-Ellis-Harris-Parsons-Wright as they're a +8 shooting 77.8 percent on 13 possessions. (by the way, here's a link to the lineups if you're interested ).

You'll find something odd when you start sorting by point margins and trying to find the most potent Mavs lineup: in five of their seven best lineups, Jameer Nelson (the starting point guard) is not involved. Of their lineups that have played at least five minutes together their best pace comes from simply subbing in Al-Farouq Aminu for Dirk. I assume it's just a rebounding-leading-to-a-fast-break-type correlation but maybe they should start tinkering with third-quarter lineups specifically with an extra dose of Chief Aminu.



C'MON JAMEER



Let's just get this out of the way, Jameer Nelson has sucked in the first five games of this Maverick career. I honestly trust J.J. Barea more as a primary ball-handler at this point. Nelson has only seven more assists than turnovers for a starting point guard getting 26 minutes a game on the best offense in basketball.

How does that even happen?

He once again played a very inconsequential role in the Mavs offense, netting six points, four rebounds and one assist. While I'm here, allow me to lay some more numbers on you: Jameer is 59th in player efficiency rating for point guards at this point. There are only 63 point guards that have played. He's nestled 4 spots ahead of Jimmer Fredette(!!!!!!) for last in point guard PER.

He's also averaging a -6.9 on-court point differential per 100 possessions. On this team it's easier to unsubscribe to 24 Hour Fitness emails than to put up those kinds of numbers. Quite frankly, when Raymond Felton returns, I'm fine with him taking the majority of the starting point guard minutes so long as I don't have to witness Jameer Nelson dribble the life out of the basketball and then force a tough stepback.



DIRK AND LMA


People don't associate LaMarcus Aldridge and Dirk Nowitzki together that often whether it be because of differing ethnicity or whatever reason. I've always considered LMA as the closest thing to Dirk that this league has to offer. Check out the numbers through their age-28 seasons: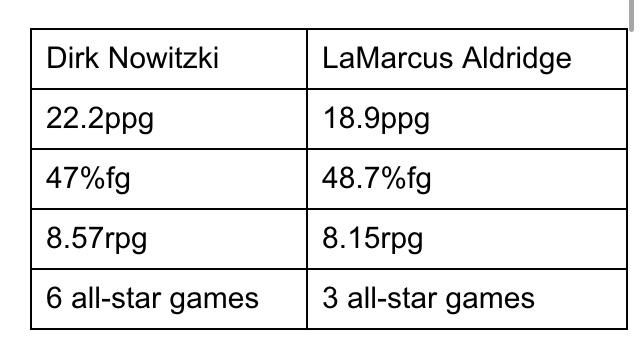 Something that can't really be displayed in a chart is the fact that these are probably the only two 6-11+ guys in the league that you want handling the ball with the clock ticking down. In now Aldridge's ninth season he's getting the Dirk treatment with second defenders blitzing from the baseline and teams putting a lot of defensive effort into not letting him touch the ball at all.

LMA finished with 20 points and seven rebounds on 10-of-16 shooting with a large portion of which coming when Chandler Parsons tried to D him up. That was less than great. I know Aldridge has expressed interest in being a lifetime Blazer despite the fact that his contract his expiring this off-season but one can dream of the Seagoville boy wearing No. 12 in a navy tank top with the Dallas skyline across the chest.

And Fish keeps saying LMA owns a house in Las Colinas that has an elevator and I think Fish should tell Cuban to add an LMA Elevator House to the Skyline jerseys.



QUICKIE



How in the hell did they let Chris Kaman score 12 points? That's the end of this subsection.





THE FINAL WORD


Portland was supposed to fall off this season due to the amount of close games they won last year but if Terry Stotts has those guys bought in to a defensive system that limits breakdowns and LMA/Dame can just be themselves I think we have yet again a bear of a team that should be on the incline and benefit from truncated West Coast swing scheduling (as long as they sacrifice Meyers Leonard to the Sky God). I won't dwell on this Mavericks loss because they shot poorly enough to lose to anyone in this league. The third-quarter point totals are what's easily quotable but the causation is the poor defense and the rebounding. This team needs to run. I'm sure Rick is in the lab right now. ... and I'm hoping they have a "lab'' in Utah on Friday.