CELTIC PRIDE
The Boston Celtics coming into the AAC conjures up a whole gaggle of subplots in my sports mainframe; Celtic Pride the award-winning movie, random white guys that the Mavericks drafted yet never played a minute in a Dallas uniform (Olynyk and Zeller), Rajon Rondo and his potential Mav-dom, Larry Legend, Gerald Wallace making more money than my entire family, the Brandon Bass/Marcin Gortat sleight-of-hand, Evan Turner's descent to NBA Vagabond Land like a dying star, and Marcus Smart shoving some ignorant fat a-hole in Lubbock. None of which I ever assumed would end up being overshadowed by a genuine nail-biting basketball game breaking out. But that's exactly what happened.
With 39.5 seconds remaining Bad Monta figured he'd take one more stab at throwing this game away as he fouled Avery Bradley on a three-point attempt, sending him to the line with a chance to tie the game. Luckily, Avery Bradley is still Avery Bradley and he missed the middle of the three attempts and the Mavericks navigated the icebergs well enough to escape with a 118-113 win in a game that they led by 31 at one point.
Chandler Parsons scored 29 points, including a key 3-pointer to help Dallas hang on after going up by 30 before halftime for the second time in two home games, and the Mavericks beat the Boston Celtics 118-113 Monday night. "It's concerning," said Chandler Parsons of the lost-lead habit, though he helped the cause greatly with 29 points. "I love how we never give up after we give up the lead. But we can't allow these teams to keep coming back in and cutting the lead."
THE BULLSH
This
Dallas Mavericks
third-quarter bullsh has to stop. I understand that the Celtics are one of the best third-quarter teams in the league (averaging 29 per coming in) and that's by far the Mavs worst (averaging 21 a game) frame but this Mavericks roster has no business stumbling through a -14 point differential quarter against a team that resembles a random collection of Topps trading cards.
"We'll be alright,'' Tyson Chandler insisted. "We're coming out and having such great first quarters and first halves that I think it is kind of natural to have a little bit of a letdown and take a breath. We'll get it fixed. We've got to be better than that."
OK. But ... Why is this happening?
Part of it is simple human nature to not act until you feel prompted to do so (and the NBA theorem that every team has a run in them). The other part is this team is just too damn good offensively that they never feel challenged to put the pedal down because they know they can reel off chunks of points in small windows. The third-quarter offense was sloppy and looked nothing like the creative attack I saw in the first two quarters. Better teams will make it count when you let them crawl out of a 26-point hole and find new life.
Thankfully the Celtics aren't that good.
OUR SUBMISSION
I'll be the first to submit this idea to the Mavs brotherhood: maybe don't let Jameer Nelson start the third quarter. It seems like the main problem is settling for poor looks and bad defensive principles causing too much scrambling and energy exerted. Just judging from the first four games I feel like those are two traps that Jameer Nelson falls into quite often.
I'd recommend Devin Harris starting the third quarter. I know Jameer is still trying to find his way in this offense and his defense is never going to be something to tweet home about but I am yet to be impressed with the way that he handles the subtle parts of the point guard responsibilities. It's easy to dogpile on the guy when he's coming off a game shooting 2-for-7 while he turned the ball over 2.5 times as often as he assisted and I'm willing to give it some time. This third-quarter problem has to be addressed, though, because other teams are going to start catching on. I think the best approach is to be proactive.
EASY BEING GREEN
The Jeff Green game.
That's how I'll remember what transpired at the AAC on Monday. 35 points from a cast-off player that was once traded for Kendrick Perkins and averages 14 points per game in his career was a little too much for me to stomach. Jeff Green was a nightmare and he was so consistent in every quarter of play that is was almost comical (9-9-10-7). Boston clearly wants their offense to flow through Green and he's honestly their best chance of scoring a Western Conference amount of points every night. It's still not a good chance and the formula for Celtics success feels like it operates at such a slim probability. The Celtics came into the game shooting 19 percent from 3 and Avery Bradley and Jeff Green did all they could to reverse that trend in a hurry. The duo went 9-of-18 from deep as each cracked the 30 point plateau swiftly raining on our parade with drops of below average perimeter defense. It got loose in that third quarter and they just tighten it back up.
DIRK'S FAVE FOE?
For whatever reason,
Dirk Nowitzki
loves playing Boston. He has the highest per game scoring average against the Celtics of any team he's ever played (26.2ppg). It's a good +1.5 points higher than the next team and you might not think that's a large margin but when you factor in nearly 1200 games those numbers don't wiggle much. He's accumulated nine different 30+ point performances in 29 career games vs Boston (including the 33-point, 23-board game in 2002 that's top-6 all-time for any Mavs player.). Tonight was just a really pedestrian 27 and 7 on 9-of-14 shooting while knocking down 4-of-5 threes. Oh yeah, and those eight fourth-quarter points were straight Highlander.
TY AS PAIN RELIEVER
Thinking back to last season against the Celtics they were always a pain in the ass to play. In particular the game that the Mavericks were outrebounded by 21 against them. That's not that much of a problem now with Tyson Chandler back in the fold. Tonight he had his first double-double of the season with 10 points and 12 boards.
Thank God we didn't keep Kelly Olynyk. Not being all that great at basketball is one thing but just lack of understanding of the game is another. The dude got two moving-screen violations in a matter of minutes putting himself in foul trouble. I'm aware that Shane Larkin didn't last long here either but I'm pretty sure the Tyson Chandler reunion deal doesn't get done if it's Calderon-Kelly Olynyk.
Just a thought. And one more from Tyson:
HAVING SAID ALL THAT
Now for the positive. If leading the league in offensive rating can win a championship then I'd suggest the Mavs have a shot. They've now scored 65+ points in three straight first halves. They came in shooting 54.2 percent in the first quarter and one-upped it by a healthy margin, knocking down 72.7 percent in the first for a gnarly 40-point quarter. Of course, you can thank the nine Boston turnovers for 19 points or the five three-pointers ... it really doesn't matter. The Mavs are caking on lethal amounts of drunk-on-offense icing early in games.
Coming into to this game I really didn't understand what this Celtics roster was even trying to resemble. After this game I have a better feel. I get their roadmap. The combination of Smart and Bradley are a real feisty duo that can cause a ton of teams problems. One more good draft coupled with a healthy return from a potential Rondo and/or Jeff Green deal and you're looking at a collection of talent that could threaten the top 6 in the East (which is an incredibly low bar, I know). Sitting in the throne room of the "Haves" leaves me with little patience for teams that are a move away from being a move away, though. The Mavericks still need to figure out how to split some of this offensive pie and share it with the third quarter. If accomplished, there's a real possibility of a prolonged winning streak on the horizon.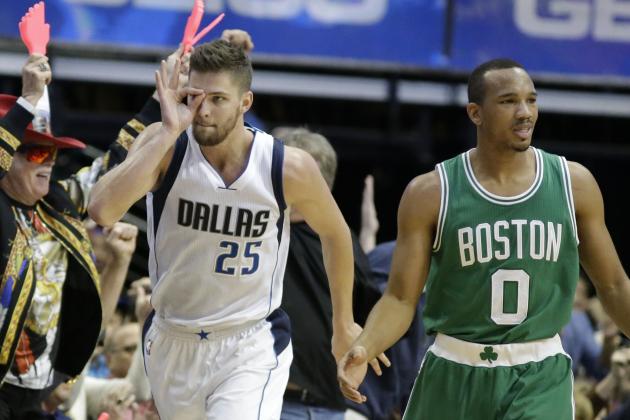 THE FINAL WORD
"We are happy to get the win and we have a couple of days to prepare for more tough games. We get on a plane for I-don't-know how long. These trips are so long you can't even figure out how many hours you are on the plane. We are going to Portland and then back to Utah. We will circle the wagons and work on getting it figured out." -- Rick Carlisle ... and isn't it great to be "circling the wagons'' after three wins in four outings?