DONUT 1: The Big Lead
The creative brains behind the scenes with the
Dallas Mavericks
(including Cash Sirois, along with Stevallica and his gang, and Skin Wade, who wrote the lyrics) really outdid themselves with this Run DMC video that premiered inside the AAC during Thursday night's 120-102 blowout win over the Jazz:
Professional athletes often envelop themselves in a cocoon of egotism and tend to take themselves more and more seriously these days. It's pretty refreshing to know that's not an issue for the Dallas Mavericks, who, led by
Dirk Nowitzki
, have captured a way to match professionalism with goofiness.
DONUT 2: Offensive Explosion
Saying that Mavericks' victory over the Jazz was a "taste of what Mavs' offense is capable of" wouldn't do the performance justice.
(Our game story is here;
and
Mike Marshall's All-Access Pass is here.
) The offense was just about as efficient as an offense can be. They were basically creating basketball porn in the first half.
We think people in Utah don't like basketball porn.
Dallas made its first eight shots and never took its foot off the neck of the Jazz. The Mavs shot 64 percent in the first quarter and 55 percent for the game. They had 52 points in the paint. They attacked. They moved the ball unselfishly. They were relentless. They had seven players reach double-figure scoring. The second unit was effective and Dallas had 36 bench points. They mixed and matched different lineups and the chemistry was terrific for the second game of the season.
Here's Dirk's Video Visit on the game and on the offense:
The defense will continue to be a work in progress, but on nights like Thursday — when the offense explodes at every level — it might not matter.
Don't tell Coach we said that, though.
DONUT 3: Welcome Home
On a night when Lebron James provided the most anticipated homecomings in the history of sports, J.J. Barea had a return of his own. The former NBA champion with the Mavericks signed with Dallas on Wednesday after being bought out by Minnesota.
Going in, it was unclear if Barea would have an immediate role in the rotation, but he checked into the game 1:33 left in the first quarter to a standing ovation. With 8:44 left in the second quarter he got on the board with a runner — patently over taller defenders — off the glass. JJB played 18 minutes, tallying four points, four rebounds and three assists. As Mavericks fan are used to seeing, he probed the defense, keeping his dribble alive and looked surprisingly comfortable with his teammates despite having had barely a day of shootaround under his belt.
If Thursday night was any indication, Barea will be more than just an insurance guard in case of injury; he will be a weapon for Rick Carlisle to use at his trusted discretion.
Here's Coach's presser wrapping up the win:
DONUT 4: The New Lob City?
It's early, but this could very well be the most above-the-rim Mavericks team ... ever? Dallas converted five alley-oops (three to Tyson Chandler, one to Al-Farouq Aminu and one to Brandon Wright) in THE FIRST QUARER ALONE. Chandler converted four in the game including a monster one-handed slam.
TY, what say you?
Wright, Aminu and Chandler are all lob threats every time they roll to the basket. Chandler Parsons also has shown that when he takes long strides to the basket in the half court he is driving to dunk. It's surprising every time he elevates, but he can really get up — even off one foot — and slam it home.
The Mavericks might have gotten a little carried away a few times against the Jazz as Devin Harris failed to connect on lobs to Monta Ellis and Richard Jefferson, but the threat of the alley-oop will open things up for drives by Harris, Ellis, Nelson and Barea as defenders play off them to prevent the lob.
RJ, by the way, sounds like he's ready to fit right in ...
DONUT 5: Lethally Small Doses of Dirk
In the Mavericks' season-opening loss to the Spurs there were a few rumblings of Dirk Nowitzki being too unselfish. If Chandler Parsons' last-second shot had given the Mavericks a victory there would have been no complaints. The truth is that Nowitzki was actually very efficient against the Spurs. He scored 18 points off of 7-of-11 shooting.
Here, Nowitzki scored 21 points off of 9-of-13 shooting. Of course, Nowitzki is welcome to take as many shots as he wants and it would be good offense, but if he can shoot anywhere from eight to 15 shots and still score 20 points that is an incredible level of efficiency. The beauty of this Mavericks roster is that he has enough offensive weapons around him to be able to do that.
A Nowitzki takeover is always a good thing, and we still say
Dirk must be the horse that gets ridden here in crunch time
... but these small doses of Dirk could be formula to long-term success.
DONUT 6: Controlling the Minutes
Obviously the Mavericks will not be able to blow every team out the way they did the Jazz, but Carlisle did an excellent job of conserving minutes with his starters. No starter reached 30 minutes. Every little bit of rest helps during an 82-game season and being able to restrict your starters' minutes while still getting optimal performances all around is an ideal situation. Parsons led the team in minutes with 29:06.
And you know, maybe it will occur to the players that the best way to shave a minute here or a minute there isn't to have Rick and his bench eyeballing a stopwatch; it's to gain 30-point leads and then maintain most of that bulge for the rest of the 48.
Of course, depth is nice, too. And way down the bench, Dallas has Charlie V, who popped into the boxscore in his first game as a Mav:
DONUT 7: Quotable
"I definitely wanted to bounce back. You never want to play like I did the 1st game, but every player has nights like that." - Chandler Parsons.
DONUT 8: D-League Donut
If you are a basketball guy or gal, you'll love this: Donnie Nelson, Eddie Najera Fish and R.J. Choppy all hanging out at Henry's Tavern is Frisco on a Saturday afternoon for the D-League draft. We're giving away authentic jerseys and tickets and fun ...
Get all the info here on the Texas Legends website and come out and join us!
DONUT 9: Stat of the Night
Tyson Chandler + Brandan Wright = 11-of-12 FG's for 27 points
Chandler was probably our "Dirkie'' player of the game for the Mavericks as he was an above-the-rim threat the entire game while patrolling the paint on defense as usual.
Wright doesn't have the size (or maybe the "presence'') to be a defender of Chandler's caliber, but he is arguably as potent an offensive threat. He is supremely athletic and his instincts around the basket are superb. He puts himself in terrific position to receive the ball and finish. He also recorded two blocked shots against the Jazz.
DONUT 10: Don't Worry About Parsons
Parsons' debut against the Spurs did not go well. He scored only five points off of 2-of-10 shooting and missed a potential game-winning shot. Having signed a three-year, $46-million contract in the offseason, the grumbles of disappointment come with the territory.
But no one has to worry about Parsons being overrated or a bad fit for the Mavericks. Thursday night he came back strong showing what he brings to the table. He scored 21 points off of 8-16 shooting and grabbed seven rebounds. He's a very valuable asset who can be a complementary player while also becoming an offensive focal point when playing with the second unit. Expect a lot more performances like we saw from Parsons on Thursday night than what he showed in the season-opener. ... and know that if the price of a high-performing automobile is high, but you need a high-performance automobile to win the race, and you can afford one ...
You purchase that $46-million automobile. Right?
Meanwhile, in Parsons' Video Visit, you see him accepting the blame and striving for the success ...
DONUT 11: Mavs at Pelicans on TV
We'll be talking Cowboys and Mavs today on The Fan at 11:30 and then ...
Tonight it's Mavs at New Orleans, and we've got the pregame show starting at 5:30 with Fish, Dana Larson and Bob Ortegel ... and then the Mavs' challenge of wrestling with the gifted Anthony Davis, 21, who registered one of the finest season-opening performances in NBA history. His 26-point, 17-rebound, nine-block effort in a win over the Magic marked the first time a player had put up such numbers in a season-opener since the NBA began keeping track of blocked shots in 1973-1974.
Jrue Holiday, Eric Gordon and Tyreke Evans will all start as "small guys'' but how Dallas deals with Davis and fellow inside player Omer Asik (at 7-0 also a double-double threat) is central to this game.
But the home team has to worry about an opposing 7-footer, too. In his four outings against the Pelicans last season, Nowitzki averaged 25.8 points and five rebounds per.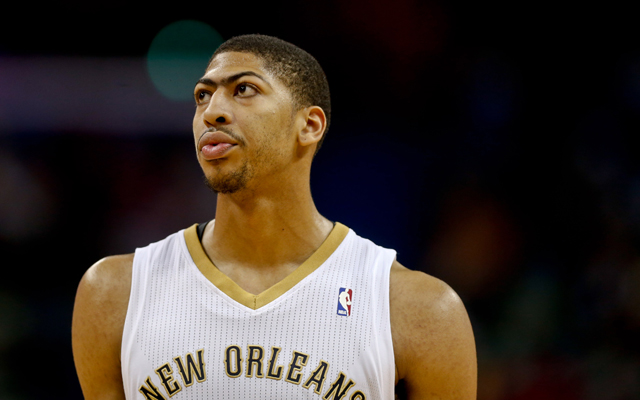 DONUT 12: The Final Word
"It's phenomenal numbers. ... Davis is a great young player ... He's pretty unique. Davis is actually longer than Garnett ... It's gonna be a big challenge. Getting bigger and bigger.'' -- Rick Carlisle on Anthony Davis.