DONUT 1: The Big Lead
First, to the training camp roster of the
Dallas Mavericks
D-League affiliate,
the Texas Legends.
It is, in a word, loaded.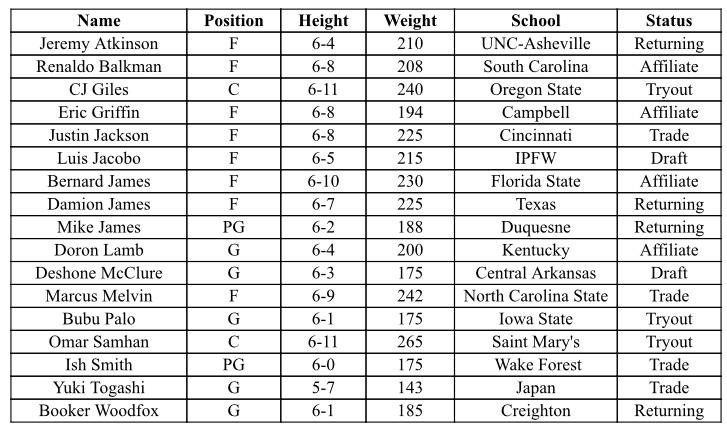 There are real NBA players in there, and real NBA prospects. The next
Dirk Nowitzki
? Not likely. Guys who have been NBA rotation players and can be again? Yes, there is lots of that.
What's most intriguing about it, though, is that the Legends aren't done "loading.''
DONUT 2: The Ledo Shuffle
Mavs sources tell DallasBasketball.com of the plan for Ricky Ledo, the still-young former second-rounder who, in part because he never played college ball, remains in need of development: Ledo will stay with the Mavs this week, even as the Legends open with road games at Bakersfield and LA.
But next weekend, when the Mavs are doing their thing, Ledo will be assigned to Frisco to play in the Legends' home-opening weekend set, Nov. 21 and Nov. 22. He'll be on the wing, he'll (ideally and eventually) be starting there, and the plan, at the present, is to leave the 6-7 swingman there for the bulk of the season.
Last year, Ricky thought this was a good idea because it allowed him a chance to play rather than sit. The arrangement was so thoroughly considered that Ricky's dad even pretty much moved to Frisco to help guide his son off the court the way Legends coach Eddie Najera and staff do so on the court.
DONUT 3: The starting lineup
So Ledo and Doron Lamb (a young NBA vet as a former second-round pick) can win the jobs on the wing. Mike James, at 39 a former NBA starter (in Dallas and elsewhere) and wishing to get his foot back in the league door, will be tough to beat out at point guard. (Though Ish Smith might've done so had he not already received the call-up to the NBA.) Damion James is probably the guy you pencil in at the 4, though Mavs camper Eddie Griffin is a very real prospect here. Oh, and I'll get to Renaldo Balkman in a sec.
And then there is Sarge.
DONUT 4: The Ultimate Tweener
"Tweener'' generally means a player who is stuck in limbo between two positions on the floor because he has a size or speed or bulk limitation. But Bernard "Sarge'' James is a tweener of a different sort, poised in limbo as someone who hasn't quite made an impact on the NBA level (hanging on as a fourth-string center for Dallas in the last couple of seasons) ... but also as someone who has the ability to completely dominate on the D-League level.
He did so in his single assignment to Frisco last year, scoring 38 points with 18 rebounds and four blocks, getting any shot he wanted, looking at 6-10 like an Hakeem-style force ...
But at one level down. One huge level down.
Sources tell me James declined an opportunity to play in China for $1.3 mil, in part because he's already got his $900K Mavs guaranteed money in his pocket, in part because he loves DFW, and in part because maybe the best way to stay close to re-entering the NBA is to not move thousands of miles away.
There is big-man depth in Frisco, with 6-11 Omar Samhan around. But Sarge's backstory (as an Air Force veteran), his quality as a person, and the promise of a basketball show on a nightly basis, are among the reasons he's going to be a ticket-selling hit for Donnie Nelson's franchise.
DONUT 5: Other storylines
*Renaldo Balkman, the organization thinks, has some "dawg'' in him, in a good way, that can rub off.
DB.com broke the story of Balkman's trek to Frisco.
*A longer trek for Yuki Togashi, who come to the Legends via Japan. He's 5-7, 150 ... but the Mavs even have some level of belief in his ability. It's not Chris Paul ability -- CP3 is his idol, Yuki tells me -- but it's crowd-pleasing, I bet.
Here's DB.com's stuff breaking the Yuki story.
*I hope you don't tire of me saying this, but we take all aspects of covering the Mavs very seriously. So yeah, we broke
the Nick Van Exel story, too, back on Oct. 6 -- complete with an exclusive interview with Nick. Enjoy.
DONUT 6: The James Gang
Three notables on this year's Legends roster share more than the name on the front of their jersey. Mike, Damion and Sarge are all (relatively) recognizable names.
But there are others to eyeball. Justin Jackson is a high-energy guard dog that protects the rim in a D-League-Larry Sanders-like fashion. At 6-9, Marcus Melvin brings a nice blend of size and shooting. Booker Woodfox is back, a Frisco institution with "Microwave'' offensive tendencies.
DONUT 7: Philosopher Doron
We are going to want to get to know Doron Lamb, if only because he's among Twitter's most prolific sports philosophers.
This one got me started: "Some of these girls act like puppets and these dudes are their puppet masters ... A woman with no ambition is a disgrace.''
And now I can't get enough. If you
follow Doron Lamb on Twitter,
you are pleasantly bombarded with these philosophical nuggets. Please do so, and
follow the Texas Legends
and
yours truly at FishSports as well.
DONUT 8: "Ah Chihuahua!"
The Legends have a tendency to go where no other D-League team has gone before. That's why part of the team's training camp is Mexico-based, why the floor in Frisco boasts a Chihuahua sponsorship, and why this franchise is a model for what D-League basketball can be. A proving ground for everyone from new assistant coach Gana Diop to Yuki Togashi to Chihuahua native Eddie Najera himself? Sure. But it's also a place to roll some dice in ways that can eventually alter the way the NBA forms partnerships, scouts players and even changes in-game rules.
As you can tell, I kinda like seeing this stuff on the ground floor.
DONUT 9: Fish and Chop on TV
The Legends have announced the return of their television broadcast partner, KTXD. ... and I'm a part of the deal as well. All 2014-15 Legends home games will once again be broadcast live on KTXD-47, with me working alongside RJ Choppy. The telecasts will begin with the Legends' home opener on Friday, November 21 against the Santa Cruz Warriors at 7 p.m. And they look and sound something like this:
DONUT 10: Call-up conundrum
The Legends engineered a five-team trade on draft day to acquire talent and with some front-office quick-stepping have five ex-Mavs on the roster, too, a group totaling two former first-round NBA guys. I have no qualms about calling this the most stacked camp roster I've seen in the D-League, and by the time we're done, the Legends are a real contender at this level.
But ...
This is the "developmental'' league. It's purpose, as far as the NBA is concerned, is to ready players to be fed to the big clubs. So ... There will be an issue holding onto these guys once the NBA scouts start coming to town.
DONUT 11: "Sneak Preview"
The Legends are hosting their annual "Fan Jam" on Nov. 18th, giving fans the opportunity to catch a sneak peek at this year's roster. The team will hold a scrimmage and possibly a few high-flying exhibitions before signing autographs and taking pictures. With a lineup that includes all these Mavs camp attendees, two former first-round draft picks and six guys with NBA minutes under their belt, the autograph session alone might be worth the visit.
There's no charge at the door, but bring a camera for the photo ops.
More info here on the Legends website.
DONUT 12: The Final Word
"Sometimes it's OK to be at the bottom, because there's nowhere else to go but UP.'' - Doron Lamb.