DONUT 1: The Big Lead
The
Dallas Mavericks
were accused by their coach of lacking competitiveness in Sunday's loss to Miami. The Mavs' immediate response to Rick Carlisle's charge? They came out flat on Tuesday against the Kings and fell behind by an embarrassing 24 points in the first quarter before eventually clawing back to earn the victory.
The antidote to not competitiveness and flatness? The victims that are the now 0-8 Philadelphia 76ers, who showed up at the AAC on Thursday and lost 123-70 in the most devastatingly one-sided blowout the Mavericks have ever administered.
The Mavs led by 28 at the end of the first quarter. A total of NINE different Mavericks scored in the first quarter alone. Their 73-29 lead after two quarters was the largest halftime deficit any NBA team has accomplished in the shot clock era. Every single Maverick that suited up scored in the game. As a team, Dallas shot 51 percent compared to 29.9 percent for Philadelphia. The Sixers turned the ball over 28 times.
But all of these things barely register compared to the most glaring number of all …
DONUT 2: Fifty-three points
Fifty-three points.
That's how many points the Mavericks beat Philadelphia by.
The 123-70 victory was the largest margin of victory in the history of the Mavericks franchise.
Two days after
Dirk Nowitzki
made individual history with his scoring, the Mavericks made history as a team in what will likely be the biggest blowout in the NBA this season.
Until the Sixers' next game, anyway.
DONUT 3: Measuring toughness
We make
our point about "toughness'' in last night's game story.
The numbers here are mind-boggling. Dallas opened with a 45-10 lead in the first 15 minutes! At halftime, the Mavs were up 73-29! For the game, the Mavs outscored the Sixers 20-3 in fast-break points and 24-8 in points in the paint! The Mavs could've gone scoreless in the second half and still won by three! The Sixers finished with more turnovers (27) than field goals (23)!
When Carlisle says his team is not "physical,'' he's obviously correct. But we think it's important to acknowledge that such a conclusion doesn't mean Dallas can't be "tough.''
The sort of relentless efficiency can mean "toughness.'' So can the focus of Dallas' deep bench, which was given ample opportunity here and never relented. The Mavs are shy in the "enforcer'' department. But when Monta showed off brass ones in drawing a charge on Tony Wroten to draw a charge at a point in the game when Dallas was up 40?
That's toughness. Heck, it's "physical play,'' too.
DONUT 4: Dirk's near perfection
Nowitzki, after moving into the ninth spot in the NBA's all-time scoring list on Tuesday,e carried that momentum with him into Thursday's game against the Sixers. The Big German didn't blink in his offensive execution, making his first five shots of the game.
It looked effortless for him Thursday night. In fact, with 10:20 left in the second quarter, Nowitzki was 5-5 from the field for 13 points and the Philadelphia 76ers were 4-20 for 10 points.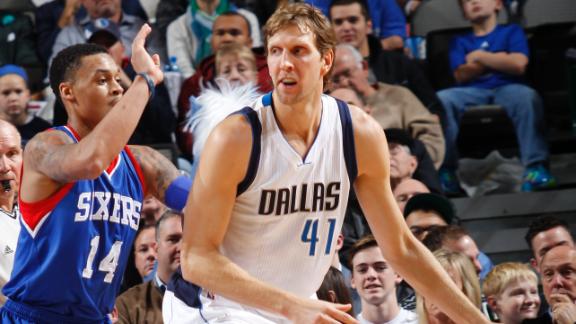 Nowitzki finished with an incredibly efficient 21 points off of 7-8 shooting, four assists and three rebounds in 21 minutes.
The rate of efficiency that Nowitzki is playing at early in the season is one of the most overlooked storylines thus far. Carlisle credited the roster that has been placed around him, that it is perfectly suited to supplement and support Nowitzki's game.
"Well, the personnel around Dirk is really the right personnel,'' Rick said. "Mark and Donnie have done a good job of getting movement guys, playmakers, and athletes around him. Tyson was always a great fit with him, Ellis is a great player with Dirk, Parsons fits this situation, and in the starting group, Nelson is a good player for us as a starter. He fits with that group.''
There's not much on-court proof about Jameer quite yet, even as Dallas sits at 6-3. But Carlisle's point is well-made. This has a chance to be a successful Dirk-friendly team.
DONUT 5: Throw Out the Tape
The Mavericks annihilated the Sixers. They executed with complete ease.
So, sure, if you want some evidence of the kind of things the Mavericks want to do on offense and defense, then go back and watch a replay of Thursday's game. We really do believe that being a basketball version of a team that would "steal from a beggar,'' as we said last night, is important.
And yet, Thursday's game was a rare instance in the NBA when a team did not work to make the Mavericks earn everything they were able to do on the court. Shots were uncontested, lanes to the basket were wide open and rebounds were there for the taking.
Monta Ellis, for example, recorded 17 points, four rebounds, four assists, and three steals. That's the kind of stat line that Ellis is capable of, but Thursday night was just an example of Ellis mercilessly preying on a team that had given up in the first quarter.
(And maybe
earning himself a "Dirkie'' in the process. Have you voted yet?)
It would be unwise to put too much stock into embarrassing a team that puts little stock of their own into winning basketball games.
After the game, Carlisle noted, "This is a favorable part of our schedule. We've got to take advantage of it."
What a polite gentleman Rick can be.
DONUT 6: Stats O' the Night
The Mavs are the only team in the shot-clock era (since 1954-55) to score 70-plus points in a first half while surrendering fewer than 30 points. Furthermore, If the Mavericks had failed to score a single point in second half they still would have won the game 73-70.
That pretty much sums it up.
DONUT 7: Hook up with DB.com!
Keep it here on DB.com as we will keep you posted in a variety of ways from inside your team ... Here on the HOME page,
and here on DB.com Boards
... Thanks for joining us as we launch our 15 season inside the Mavs!
Oh, and if you want to be
a Mavs Insider with Premium coverage? Click here
to take our free 7-day trial and then for 10 cents a day, you are among the most informed Mavs followers on the planet! Go Mavs and Go Premium!
Also, hook up on Twitter with
Fish
,
Mike Marshall
,
Michael Dugat
,
Jonny Auping
and
David Lord
.
DONUT 8: Quotable
It was a painful game to watch. Try to imagine coaching it.
What did 76ers coach Brett Brown have to say about losing 123-70 to the Mavericks?
"It's like water dripping on your forehead, and there's nowhere to hide."
DONUT 9: A Case Against Tanking
The best case against tanking might be, well, this game. Of course it is just one game, but it was an absolute embarrassment for the Philadelphia organization and something that a fan base should not have to experience. Blowouts happen; they're unavoidable. Just last week, the Mavericks were beaten handily by the Blazers and Heat consecutively. But the Sixers were not competitive for a single second of this game. They didn't field a competent team and the enthusiasm of their players was understandably absent.
The saddest thing to consider is that this team has the potential to be blown out just as badly by any contenders in this league. This is essentially just 'part of the process' for the Sixers.
Whether that process will work out in the end is impossible to say. What constitutes "working out" is also subjective. What if the Sixers are able to compile a number of draft picks and become a team that makes it to the second round of the playoffs in, let's say, 2017? What if drafting high nets them, oh, say, a player like Noel and a player like MCW?
Oh, wait. They already have a player like Noel and a player like MCW.
If you knew a young LeBron or Shaq or Duncan was your reward for this -- if you were guaranteed that -- the suffering would be worth it. But is that guy on the horizon? Is he landing in Philly? And is it going to lead to multiple titles, like the ones LeBron or Shaq or Duncan gave their fans?
Isn't there value and fun and pleasure (for an organization and its fans) in building, in competing, in
trying
? Isn't it a bastardization of the sport to do the opposite of
try
?
DONUT 10: Thanks to our pals and sponsors!
Here's
McKinneyDentist.com
... with us since 1995! Give "the finest dentists in the land'' a click and a call!
Thanks to
Red Rock Bar & Grill,
our north Dallas hangout for live music and sports!
Meet
LS Wealth Strategies,
with Woody and Bill helping to guide my family and available to do the same for you!
And
Dee Lincoln's,
the famous DFW restauranteur now with a new location near Park and Preston!
DONUT 11: From the Wolves
Saturday night the Mavericks will face another likely lotto team in the Minnesota Timberwolves, who will bring to Big D a roster nearly as young as the Sixers. And, like Philadelphia, Minnesota is in the middle of a rebuilding process.
Don't expect the same results.
The Mavericks are certainly a better team on paper and will come into the game as big favorites. But the Wolves are doing more than just throwing their young players out there; they are actively trying to develop them and instill winning mentalities in them. In other words, the Wolves compete.
They will bring perhaps the two most athletic rookies in the NBA in No. 1 pick Andrew Wiggins and Zach LaVine, a pair of 19-year-olds. They will drive to the basket at every opportunity and they will crash the offensive glass, making the Mavericks' perimeter defenders stay focused and defensively active.
Rubio's been hurt but Pek is in the middle. They also have veteran wing players like Kevin Martin and former Maverick Corey Brewer. They like to run the fast break and you can't leave them open behind the three-point line.
The Wolves are young, and they are just 2-5, but they are not tanking.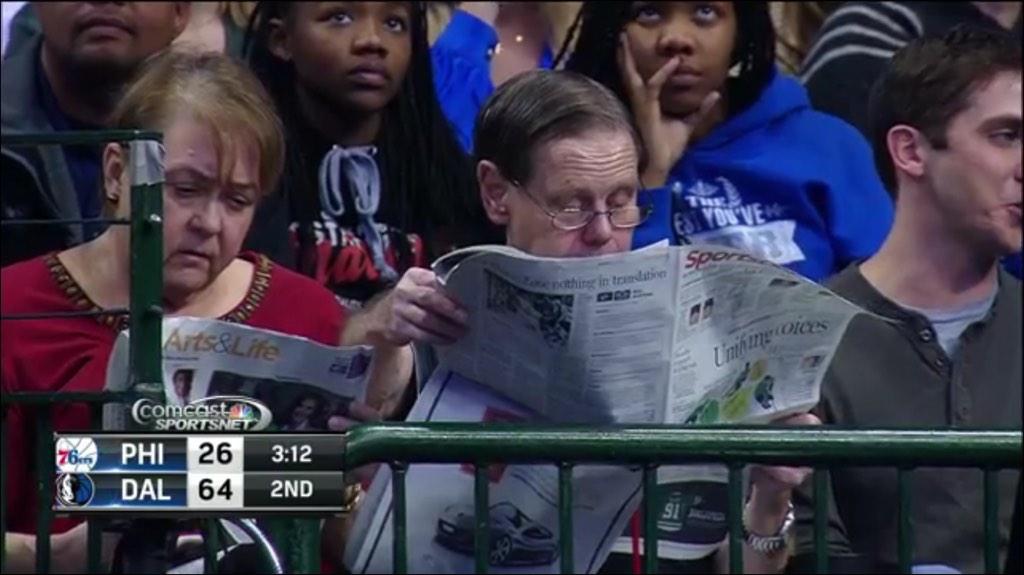 DONUT 12: The Final Word
If you are trying to convince a friend to start watching the NBA -- or even to teach the uninitiated of the value and beauty of sports in general -- don't let them anywhere near a television showing a Philadelphia 76ers game.