DONUT 1: Mavs at Toronto
The
Dallas Mavericks
kick off their four game road trip on tonight at Toronto to face the Raptors. I'm part of the (Emmy-award-winning!) "Mavs Live'' pregame show at 6 and then we've got the FOX Sports Southwest tipoff at 6:30 p.m.
The roadie is grueling ... but all involved might truly wish to cliche the heck out of this by taking it "one game at a time.'' Dallas has, in each of its last three games, arguably been distracted by issues not on the front burner -- most notably, I think, playing at Houston without Dwight (and losing), playing at home against a poor Indy team without Hibbert (and losing) and then on Wednesday playing at home against a poor Knicks team without Melo (and almost losing, before hitting the OT accelerator).
"This game is important,'' Tyson Chandler says of tonight's visit to Toronto. "I know they have the best record (in the NBA at 13-2). Long travel. It's Thanksgiving. It (is) going to be a tough one.''
Indeed, because the Raptors are not missing on bodies and they are not missing on any cylinders, either.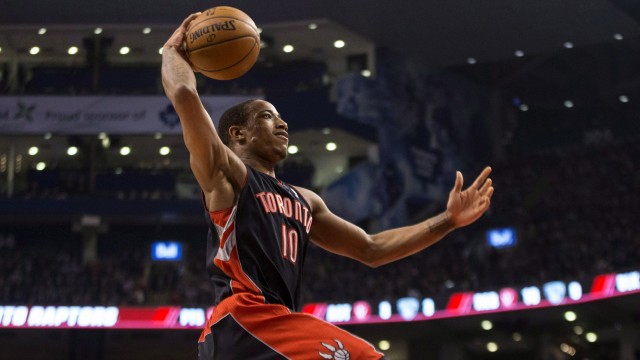 And ... along comes a Toronto offense that has in one season jumped from 13th in points per game (101.3) to second in the NBA in that category (at 108.0). DeRozan is a big weapon. Lou Williams has averaged 24.3 points in his last four games. Kyle Lowry can give you fits on the perimeter, especially if the Mavs are thin there (with Jameer Nelson questionable with back spasms and Raymond Felton working through ankle problems.)
DONUT 2: Compelling Casey
What's compelling about old friend Dwane Casey's work as the head coach in Toronto is that defense is supposed to be his calling card. He was Dallas' "defensive coordinator'' in the title run and has clearly installed that same tough-mindedness with this club.
Fighting back? Tyson Chandler, who exploded on his former team, the Knicks, as he posted season-highs in both points (17) and rebounds (25) for a very impressive double-double. His impact goes beyond the stat lines though as he probably had two of
the top five momentum-shifting plays in Dallas win over NY, (read about it here)
one being an alley-oop and the other being a punctuating dunk in overtime to give the Mavs the lead in the waning minute.
Somebody is going to have to grab the Mavs by the emotional collar tonight and carry them towards matching the effort and energy the Raptors get from Casey. I vote for TY.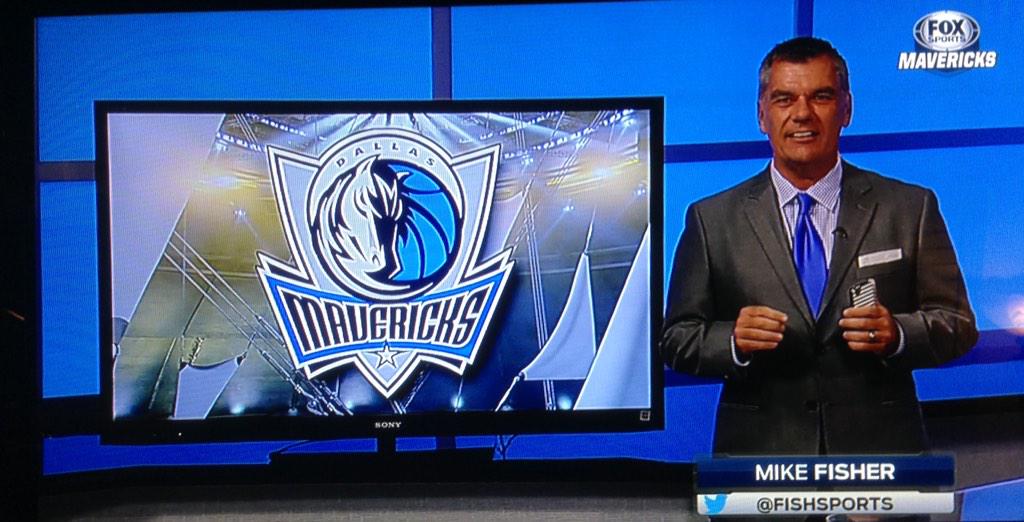 See you on TV tonight!
DONUT 3: "MontaBall'' was a success
Monta Ellis has an erratic side. He's high-energy and highly confident and so maybe "erraticism'' comes with the territory. But it's also worth noting that even through his struggles, he is what TV analyst Derek Harper the other night called a "gamer.''
Off the top of our heads, we thought at the time Wednesday that Monta was suffering though his worst game in a Dallas Maverick uniform. He was 1-of-9 shooting, wasn't getting calls despite forays to the rim, and with 4:28 left in regulation was stuck with more turnovers (three) than points (two).
Oh, and he was saddled in the second half of the fourth period with five fouls, too.
But then? Ellis hit a couple of free throws with 4:56 left in the fourth quarter. Then hit back-to-back jumpers to give the Mavs a one-point edge. Then in overtime missed a shot but somehow corralled an offensive rebound and saved the ball from going out of bounds, tossing back in play to Tyson Chandler, who finished to give the Mavs a two-point lead that they would not relinquish.
The final Ellis linescore is ... well, more "full'' than it is "dazzling.'' He finished with eight points on 3-of-13 shooting, with six assists, three steals, and a couple of rebounds.
But if you watched the whole game, watched it unfold without seeing him come unraveled, you know that in the end, "MontaBall'' was a success.
DONUT 4: Dirk's heavy lifting
Not unlike Monta, Dirk started slowly. And poorly. He had just four points at halftime, but finished with a game-high 30 points. He was an absolute monster in the second half and overtime, scoring clutch basket after clutch basket. He also effectively put the game away, scoring a basket with 43.9 seconds left in the OT to give the Mavs a four-point lead. The Knicks started playing the foul game after that and never caught up.
Dirk finished with 30 points on 11-of-24 shooting, six rebounds, two assists, and three steals. He also played a season-high 39 minutes. ... and that last number -- 39 -- is the key number tonight.
Go back to TY's original remark: The Raptors' NBA-best record ... The flight from DFW to Toronto. The holiday factor (missing loved ones, getting ready to shop, making arrangements for family ... you know ... LIFE.)
Maybe the Mavs' recent blowouts that have allowed Carlisle to keep some Dirk minutes in his pocket start paying off tonight, after a Knicks game in which Nowitzki played those 39 and the other four starters played even more than that.
But it's a concern here. Sluggishness to start. Exhaustion to finish. Hopefully effective-enough play in between.
DONUT 5: Stat O' The Day
The Mavericks have averaged 117 points in nine games against teams with losing records. Nothing to be ashamed of; this offense is supposed to do that. But when the Mavs play teams with winning records? They dip to 99 points per.
It's only November, but there is significance here. Once this team advances to the postseason, it's going to be about finding ways to score against the San Antonios, not just against the Phillys.
DONUT 6: Streaking
How good/hot are the Raptors, who have build a great record in part due to a 9-1 mark at home? And how unusual is it that they are this good/hot?
The Raptors haven't won seven straight -- something they'll try to accomplish tonight -- since a nine-game run March 22-April 9, 2002.
DONUT 7: Thanks to our pals and sponsors!
Here's
McKinneyDentist.com
... with us since 1995! Give "the finest dentists in the land'' a click and a call!
Thanks to
Red Rock Bar & Grill,
our north Dallas hangout for live music and sports!
Meet
LS Wealth Strategies,
with Woody and Bill helping to guide my family and available to do the same for you!
Thanks to
Estilo Gaucho,
authentic Brazilian cuisine, family-owned and operated and just named one of the top 100 steakhouses in America!
And
Dee Lincoln's,
the famous DFW restauranteur now with a new location near Park and Preston!
DONUT 8: Quoteboard
"I didn't shoot the ball (well) so I just tried to guard, defend, rebound, and make big plays like that impact the game." -- Chandler Parsons on his work vs. the Knicks. Which is true.
But I would also like him to shoot the ball well. Please and thank you.
DONUT 9: Cuban's realignment
Mark Cuban's answer to the imbalance between the NBA's Eastern and Western Conferences. Change teams around so there isn't an imbalance.
"Take teams that are currently in the central in the East, put them in the West,'' the Mavs owner said. "I don't think it changes the travel, it doesn't change the considerations for the playoffs. And I think it shakes things up in terms of balance of power today but I think it makes things more interesting."
"Interesting'' is the right word. But is that a reason for this sort of upheaval? Cuban doesn't see it as upheaval at all.
"I think Memphis stays West and the Texas teams, all three of us go East, and New Orleans," he said. "And Detroit, Chicago, Milwaukee and Indiana go West. It kind of shakes things up not just in interest but also in terms of how people rebuild. ... It makes both conferences very competitive for the short term.''
Yeah, the problem is, which conference a team is placed in isn't supposed to be for the "shirt term.'' What happens if, in a few years, the teams you thought were strong are weak, and vice-versa? Do you switch back? Musical-Chairs annually?
Rick Carlisle is on-record as believing "good teams'' and "bad teams'' are cyclical. Therefore, we can assume he wouldn't support a change. And I'm on-record as believing the elimination of conferences altogether -- an idea born from the simple fact that once upon a team baseball's "American League'' and "National League'' were somewhat separate entities -- makes the most sense in a modern-thinking world.
DONUT 10: Arc aches
From behind the arc for the Mavs on Wednesday? They finished 4-of-31 from three-point range, a putrid 12.9 percent. Why, Dirk, why?!
"I don't know," Nowitzki mumbled.
The Mavs also struggled defending the three-point line, allowing the Knicks to shoot 50 percent, which included former Maverick Jose Calderon going 7-of-9 from downtown.
DONUT 11: D-League Donut
While the Mavs are on the road, it's a good time for you to come down on the farm! RJ Choppy and I have the telecast of the
Texas Legends games tonight and Saturday on Channel 47
... but we'd also love to have you join us in person! Big fun with the best D-League team in the land ... join us in Frisco this weekend!
DONUT 12: The Final Word
"I mean, we're not playing really well right now. I think that's pretty obvious." - Dirk.